Summer in Valemount, British Columbia: Where the Mountains Move You
Imagine standing in the middle of a town with a view of three snow-capped mountain ranges. Welcome to Valemount in east-central British Columbia, a village with stand-out summer adventures and activities.
Just over an hour west of Jasper, Alberta, Valemount is in the Robson Valley, situated along and east of Highway 5 (Yellowhead Hwy) and nestled between the Rocky, Monashee and Cariboo mountains (to the east, south and west). It's a municipality with a big heart – and venturesome residents eager to show visitors what their playground is all about.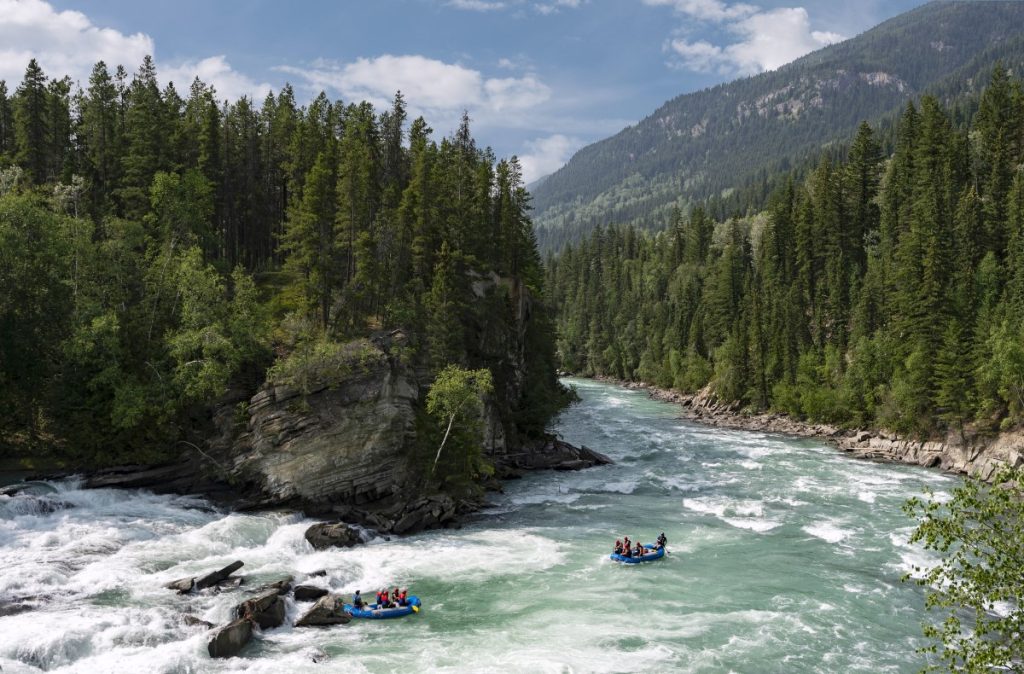 The land that would become Valemount is in the traditional territory of the Secwepemc Nation, Simpcw territory. The name Valemount was coined for the Canadian National Railway station there in 1927, and to this day it has a ViaRail station. It's the nearest community to BC's Mount Robson Provincial Park and its namesake, the highest peak in the Canadian Rockies. Choose from three campgrounds here: Lucerne, Robson River and Robson Meadows. From gentle meadows to alpine lookouts, there are hundreds of kilometres of trails to explore. (Note that the popular Berg Lake Trail will be open this summer to Kinney Lake only.) While in the area make a splash whitewater rafting on Class I to Class V rapids, or paddling or floating along the Fraser River (a clear, beautiful blue/green in this part of the province) or on the long and narrow Kinbasket Lake. Amidst the Rocky and Cariboo mountains it's actually a reservoir created by the construction of the Mica Dam; water levels can vary.
The viewpoint at Rearguard Falls Provincial Park provides an excellent opportunity to witness the end of a long journey for the mighty Chinook, the largest of the Pacific salmon. From the Fraser estuary in the province's lower mainland to this point, the fish travel upstream for over 1,200 km, though not all make it this far. George Hicks Regional Park also has a viewing platform for the salmon as they enter Swift Creek. Spawning season is generally August to September.
For other camping and RV options search via the Camping and RVing BC Coalition's campground webpage; Visit Valemount also has RV and camping information. The Valemount Visitor Centre can be found at 785 Cranberry Lake Rd (summer hours June-Sept, Mon-Fri 8:30 am-4:30 pm).
Mountain biking is a way of life in this part of BC. Be sure to check out the Valemount Bike Park. Minutes from the town core, it's a system of trails ranging from easy cross-country pedals and smooth and flowy downhills to steep and 'rooty' adrenaline-filled singletrack options. Cruise the trail and boardwalk along Cranberry Marsh (the Starratt Wildlife Management Area) where you can stop for birdwatching along the 6-km loop. Should you wish to rent a mountain bike or ebike swing by or call District Bike Co. or Bike & Bites; both shops service bikes too. Hiking trails in Valemount range from easy-medium-challenging; it's best to verify openings with the Visitor Centre before heading out as some trails may be closed for repairs or due to inclement weather. Perhaps you'll see Sasquatch near Mica Mountain (as sighted in 1955!) as you hike the Mica Mine Trail, the same trail where, in the 1890s, horses and mules hauled minerals down the mountain.
Three kilometres south of Valemount is Cedarside Regional Park on Little Cranberry Lake, a swimming spot with a sandy beach where dogs on leashes are welcome. There are toilets, picnic tables and fire pits; camping is not permitted.
Slow the pace down with some horseback riding or try fly, troll or spin cast fishing. Various species of trout fill nearby rivers and lakes (such as Moose and Shere lakes), as do Rocky Mountain whitefish. Valemount Pines Campground boasts a nine-hole golf course and grassy tent and RV campsites with spacious long-level pull-throughs and private back-in sites near a mountain.
Complement your fish dinner with a trip to the Valemount Farmers' Market, which runs every Thursday afternoon from late June to September. Along with regional produce you'll find arts and crafts. For other art options visit Mountain Driftwood Gallery & Gift. Many artisans sell in the area so check with the Visitor Centre for info on pottery, jewelry and antiques and collectibles. The Valemount Museum & Archive is located in an old railway station built in 1914. Learn about local pioneers, historic regional railroad towns and WWII Japanese internment camps. There are community events and summer festivals in and around Valemount such as the Annual Valemountain Days (June 9-11 this year), the annual Bike Fest (June 17) and Canada Day celebrations (July 1). Robson Valley Music Festival in the farming community of Dunster, 60km to the northeast, takes place on August 11-13.
Restaurant options include the Summit Grill and Cranberry Lounge in the Best Western Plus hotel and Cariboo Grill with fine comfort fare and an ample wine list in a cabin-like setting. The Gathering Tree specializes in breakfast and lunch and Valemount Swiss Bakery is known for its scrumptious sourdough breads. Get your mojo fix at Vale Coffee, a small batch roastery and takeaway café and if you're craving a pint head to Three Ranges Brewing Company for craft-brewed beer in their cozy tasting room or on the patio. The establishment is part of the BC Ale Trail, which lists over 220 craft breweries.
Whatever the outing or adrenaline rush – whether strolling past mountain wildflowers or chuting down rapids – summer in Valemount is bound to please all nature lovers.
For more information on Valemount go to the website at www.visitvalemount.ca, check out the Facebook and Instagram pages or if you are already in the area go to the Valemount Visitor Centre at 785 Cranberry Lake Rd, (250) 566-9893 visitorcentre@valemount.ca.
TIP: If you find this blog interesting why not subscribe to the enewsletter and never miss another story!
For campgrounds in this area and elsewhere in British Columbia check out the Camping Map.
Share your BC travel and camping photos using hashtag #campinbc #explorebc
It's always a great day to #CampInBC
Published: June 8, 2023
Last Updated: June 8, 2023