A Slice of the Mediterranean in the Heart of Vancouver Island, BC
Did you know the Cowichan Valley has one of the warmest annual temperature averages in all of Canada? It's comparable to the Mediterranean, but right in our own backyard! You'll find lush scenery, beautiful views and a plethora of activities for a family friendly camping trip. We visited the Cowichan Valley late in August and camped 3 nights in Lake Cowichan at Lakeview Park Campground. The campground had private beach access but as new visitors to the valley, we were ready to explore!
Chemainus
After travelling across from the BC mainland on BC Ferries through Nanaimo, we ventured south towards the Cowichan Valley. A must stop along the way is Chemainus. Follow the signs for easy RV parking and get your walking shoes ready. The downtown is easily set up for mural enthusiasts with foot prints leading a tour through over 40 murals (and sculptures too!). As a bonus, be sure to check out the Chemainus Candle Company down on Maple Lane for amazing beeswax products as well as the Christmas store downtown. We didn't plan on buying Christmas ornaments in August – but we did, twice!
Duncan
The Farmer's Market is listed on all the Top Things To Do in Duncan lists, so we had to check it out for ourselves. It did not disappoint! After hitting a local coffee shop, we strolled the numerous vendors through the market, took in the performances and even bumped into Batman and Spiderman. The market truly has something for everyone. We picked up the most amazing farm bread, fresh veggies for dinner that night and the kids picked out a heaping serving of frozen yogurt – a win for everyone! As a hockey family, we also had to see the largest hockey stick and puck in the world. They even mark the perfect place to stand to capture the best "raising the stick" photo.
Lake Cowichan
The Lakeview Park Campground was just a few minutes from the shops and amenities of Lake Cowichan. After dinner one evening we parked at the visitor's centre and made the short walk to the Trans Canada Trail. Even just a simple walk surrounded by huge maples and crossing the Cowichan River was captivating. The lake itself is stunning and perfect for swimming and boating.
Port Renfrew
On a whim we opted for the 1-hour road trip to Port Renfrew to visit Botanical Beach. While the drive is pretty curvy, the scenery is beautiful and the destination is more than worth the wait. After a 1km walk or so down to the beach, you are greeted with an amazing view of the Pacific Ocean. Witnessing the waves crashing on the rocks is an experience like none other. The beach itself is pebbly, but the rocky shelves are home to so many tide pools. We saw anemones, urchins, crabs and starfish, just to name a few.
Our visit to the Cowichan Valley was better than we could have expected. We only scratched the surface of activities available and could have easily extended our visit. Not only would we recommend this destination, but we will be sure to visit again.
TIP: If you find this blog interesting why not subscribe to the enewsletter and never miss another story!
If this area interest you, check out our drives:
From Coast to Coast on Vancouver Island: Vancouver to Tofino
Salish Sea Route
To locate campgrounds in the Cowichan Valley, on Vancouver Island or elsewhere in British Columbia check out the Camping Map.
Share your BC travel and camping photos using #campinbc
It's always a great day to #campinbc
Exploring Sechelt on British Columbia's Sunshine Coast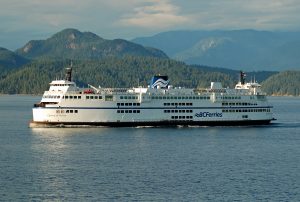 Camping season is upon us! Temperatures are heating up and the kids are almost out of school, which is a perfect combination for hitting the road and pitching your tent (or trailer, 5th wheel or RV), which is exactly what my family (and some of our friends) do every summer. One of our favourite spots to camp is the Sunshine Coast. Accessible by BC Ferry from Horseshoe Bay, the journey across Howe Sound takes 40 minutes and the viewscapes of Bowen and Gambier Islands are spectacular. Our favourite spot on the boat is on the sundeck in the front where it's the windiest! We always make a reservation, which, if you are planning to travel at peak times, is strongly recommended.
Upon arrival on the Sunshine Coast you may notice that time seems to ebb away and with it, the need for speed. Slow down and enjoy the drive from Langdale, through Gibsons to Sechelt. Highway 101 winds it's way along the coast and is dotted with signs for artisans, farm fresh produce, spectacular ocean views and beach access points. Pop into Roberts Creek for a Strait Coffee (roasted on the Sunshine Coast) at the Gumboot Café and wander down, towards the beach, to take a look at the mandala. Every summer, the mandala, with a new theme, is painted by a team of volunteers, and if you happen to be in Roberts Creek the day that they're painting, you're more than welcome to pitch in and paint a section yourself.
A visit to the Sunshine Coast isn't complete until you get out on the water. And our preferred way of doing this is on stand-up-paddleboards. Just a 5-minute drive from Sechelt, Porpoise Bay Provincial Park is located on the shores of Sechelt Inlet. The park has a sandy beach (and a playground), and is the perfect spot, for all abilities, to put a SUP in the water. Early morning's calm waters provide a serene opportunity for paddling and it's not uncommon to be visited by a curious seal. SUP board rentals (and kayaks) are available from a variety of operators, many of who will deliver the boards to your campsite.
A favourite hike of our group is the hike into Smuggler Cove Marine Provincial Park. The entrance to the park is just 15 minutes northwest of Sechelt and the 4-kilometre trail is suitable for all abilities. Enter the trail in dense forest and after a short walk you will reach a series of boardwalks over a bog. The bog is home to beavers, who, if you're lucky, can be spotted working on their lodges. The trail meanders through the forest, and viewpoints offer spectacular views of Georgia Straight and Welcome Passage. The view at the end of the trail is amazing and everyone in your group will love clambering out onto the rocky shoreline and exploring the tidal pools.
Don't miss the Sechelt Farmers and Artisans Market every Saturday during the summer. From 9am – 2:30pm Cowrie Street, in downtown Sechelt, comes to life with the sights, sounds and smells of baking, farm fresh produce, local artisans, hot food and entertainment. Why not grab the fixings for a picnic lunch to take on your hike to Smuggler Cove?
Arguably the best view of the ocean on the Sunshine Coast can be found at Davis Bay just south of Sechelt. When the tide is out a wide, sandy beach is revealed. The beach is perfect for building sandcastles and just happens to be home to the annual Davis Bay Sandcastle competition in July. There are lots of picnic tables and driftwood logs to perch on while you enjoy the ice cream cone that you grabbed from the shop across the street! Kids will often be spotted jumping off the pier, and it's an amazing spot to watch the sunset.
Hungry? Just because you're camping doesn't mean that you have to miss out on dining out. Sechelt, though small, has a wonderful dining scene. Try Lucky's Smokehouse for to-die-for pulled pork, settle in at the Lighthouse Pub for pub grub with a view or enjoy a locally-sourced meal with a visit to the Wobbly Canoe in Davis Bay. And be sure to visit the Sunshine Coast's newest craft cidery. The Bricker Cider Company opened last summer and have been serving up flights of their small-batch cider every day since.
When we visit the Sunshine Coast we camp at Porpoise Bay Provincial Park, a lovely little family-oriented campsite just minutes from downtown Sechelt.
Depending on when you visit, the community of Sechelt has a wonderful calendar of events.
Canada Day- July 1
Davis Bay Sandcastle Competition – July
Festival of the Rolling Arts – August
Festival of the Written Arts – August
If you go:
Fares on for the Langdale crossing are return fares. That's right, you only pay when you leave Horseshoe Bay!
Porpoise Bay Provincial Park is a "clean air park". Campfires are allowed only in the communal fire pits. However, campfires are sometimes banned altogether in all parks and campgrounds due to wildfires.
If this area interests you, check out our drive:
Salish Sea Route
TIP: If you find this blog interesting why not subscribe to the enewsletter and never miss another story!
For a list of RV parks, campgrounds, BC Provincial Parks and Forestry Sites check out CampingRVBC.com
Post your BC travel and camping photos using #CampinBC
It's always a great day to #campinbc
Planning Your Perfect Road Trip in British Columbia
Over the past six or seven years, my husband and I have taken the business of road-tripping seriously. From a 78-day camping trip across Canada with two people and a dog in a Hyundai Elantra to countless adventures around our home province of British Columbia, it is fair to say that we have planning a road trip down to a fine art. Whether you have an extended period of time or just a few days over a weekend, with a little planning and a whole lot of enthusiasm, you too can plan a perfect road trip to discover some of what British Columbia has to offer.
Be Flexible…
Road trips are one of my favourite ways to travel thanks to their flexibility. There is something about being able to stop at anything (and everything) that strikes your interest without having to worry about keeping to a tight tour schedule that just works for me. Nothing appealing to you in a particular spot? Move on. Can't imagine leaving town without visiting the third ice cream shop? No problem!
Being flexible allows you to take things as they come while travelling. One of the joys of a road trip is finding all the hidden gems along the way. One of my favourite road trip tips is to visit as many of the local Visitor Centres as possible. I was very fortunate that I spent ten years working at the Hope Visitor Centre & Museum Complex, and during this time I learned SO much about British Columbia. Each local Visitor Centre is a wealth of knowledge, and it is pretty much guaranteed that the counsellors will be able to point you to something unique and excellent to see or do in the community.  From the perfect hike to fascinating museums to the best local coffee, the best way to experience what a community has to offer is to speak to the locals – after all, they are the experts!
…But Not Too Flexible
My favourite way to travel is with no expectations, but the reality is that travelling, particularly in the summer, can be challenging when it comes to campsite reservations and ferry traffic. Doing some research ahead of time allows you to take calculated risks and have a backup plan if things go sideways. When I travel to Vancouver Island, I always weigh the benefits of flexibility with the guaranteed convenience (and also expense) of making a reservation. If I have lots of time and am sailing from Horseshoe Bay, I take a missed ferry as an opportunity to explore the village. If I am heading to the island for something with a specific timeline – a wedding, funeral, or other family obligation, for example, I am inclined to make a reservation to guarantee my timely arrival.
Another benefit of pre-trip planning is that it allows you to reduce your stress and have some increased flexibility. I know this may seem counterintuitive, but if you pull into the provincial park you intended to stay at and find it full, it is awfully nice to be able to recall from your research that there is another campsite 45 minutes up the road. This exact situation happened to us on a road trip in the Fraser Canyon when our intended spot (Skihist) was full, our "backup" spot (Goldpan) was full, and we ended up at the Acacia Grove RV Park in Spences Bridge. A valuable resource for camping research is the Camping & RV in BC website. Simply type in your destination (or thereabouts) and get a whole list of private, Provincial Park, and National Park campgrounds in the area.
Know Yourself…
One of the keys to a successful road trip is to know your likes and dislikes as a traveller. If you spend time each day haunting your local coffee shop, it is pretty likely that you will want to check out the best of the best in each community you travel through. If you can't go a day without strapping on your sneakers and going for a hike or jog, then checking out the local trails is a must. If, on the other hand, you find coffee and running the height of boredom, then don't spend your trip doing something just because someone told you they liked it. Do your research, keep an open mind, and then make your decisions about what you are going to see and do.
British Columbia is ripe road-tripping territory with endless gorgeous routes to explore. Over the next few months, I will be highlighting a few of my favourite road trip experiences in BC here on the blog. What are some of your favourite BC road trip routes?
Share your British Columbia travel and camping photos using #campinbc
BC's Gulf Islands National Park Reserve Offers Rich Opportunities for Exploring
The Gulf Islands are one of those places I forget how much I love until I revisit them. Recently my husband and I packed up our truck and camping gear, loaded our motorcycle into the back, and set out to explore Gulf Islands National Park Reserve on Pender and Saturna Islands.
Gulf Islands National Park Reserve was established in 2003 and stretches over 15 islands in the Salish Sea. Pender Island and Saturna Island have the largest park areas accessible by BC Ferries. Many of the other parts of the park are accessible only by kayak, sailboat, or powerboat.
No matter which island(s) you choose to visit, Gulf Islands National Park Reserve offers a wide variety of hiking, wildlife viewing, cycling, and watersport opportunities. The Gulf Islands are a place where time slows down, so make sure you plan lots of time for simply sitting by the ocean and relaxing.
What to Do
Gulf Islands National Park Reserve requires some extra planning to visit as destinations and park sites are scattered across many islands. Pender Island (actually two islands separated by a shipping canal dredged in the early 1900s) makes a great home base as it is (relatively) easily accessible via BC Ferries, offers several National Park sites on the island itself, and provides a great jumping-off point to visit other islands. On Pender Island, make sure you visit:
Roesland: A former holiday resort, Roesland today houses the Pender Islands Museum and serves as the operational headquarters for Gulf Islands National Park Reserve on Pender Island. Download the Parks Canada Explora App for a GPS-guided tour of the property and step back in time as you wander through the apple orchard, past the former seaside cottages, and out to the end of Roe Islet.
Mount Norman: Get your heart pumping with a short but steep 1.5 kilometre hike to the highest point on the Pender Islands. With spectacular views westward towards Victoria, Mount Norman is an excellent place to be as the sun dips low in the sky.
Roe Lake: For an easier stroll, take the moderate 1.5 kilometre loop around Roe Lake to visit one of the only freshwater lakes in the Gulf Islands.
Oak Bluffs: Another excellent place to take in the sunset, Oak Bluffs is another short but hilly walk with great views. From this location, make sure you keep your eyes peeled for passing Orca whales.
Saturna Island has the largest "chunk" of Gulf Islands National Park Reserve all in one area. The vast majority of Saturna's interior is protected area, and as such, it is an ideal destination for an off-the-beaten-path experience. On Saturna, take time to visit:
Mount Warburton Pike: As the highest spot on Saturna, and in all of Gulf Islands National Park Reserve, Mount Warburton Pike offers commanding views over the Salish Sea and the surrounding islands. Take an old logging road to the top for great views, and then carry on along the ridge of the island by foot.
East Point: Home to a lighthouse since the late 1800s, East Point marks the transition between Boundary Pass and the Strait of Georgia. Pack a picnic and spend the day exploring sandstone cliffs and grassy meadows, and watch wildlife pass by right in front of you. East Point is home to the Saturna Island Marine Research and Education Society (SIMRES), so you are in the right place to spot Orca whales, sea lions, seals, and a variety of sea birds.
Winter Cove: Make use of the Explora App you downloaded on Pender Island, and take a 1.5 kilometre guided walk at Winter Cove to explore the many types of vegetation found on the Gulf Islands. Take your time, and enjoy beautiful views of the Strait of Georgia along the way.
In the Area
On Pender Island, Brooks Point Regional Park is worth the trip all the way to the Southeastern tip of the island. The park offers grassy meadows and rocky shores, and the perfect place to enjoy a picnic lunch. Pender Island also offers a variety of excellent places to eat and drink. Plan to have at least one breakfast at Jo's Place, pick up beach snacks and a coffee or two at the Vanilla Leaf Bakery Café, sample local and amazing cider at the brand new Twin Island Cidery, and enjoy a glass of wine on the patio and a meal at the food truck at Sea Star Vineyards. Check in at the Pender Islands Community Hall to see what events and activities are on the menu for a truly local experience.
On Saturna Island, plan your visit to take in the Saturna Saturday Market where almost the whole island (all 350 residents!) shows up to buy local produce, preserves, locally made crafts, and artwork. Check the schedule ahead of time to see if you can time your trip to attend one of the excellent and informative SIMRES SeaTalks. We were lucky enough to catch a double feature about the Southern Resident Killer Whales and the Transient Orca Whales when we visited. As you leave from or return to the ferry, pop in to the Wild Thyme Coffee House – housed in a retro double-decker bus – for a drink and a snack. My favourite: the Orange Creamsicle tea latte.
Where to Stay
On Pender Island, Gulf Islands National Park Reserve offers up three camping locations. There is a drive-in site at Prior Centennial, a walk-in site at Shingle Bay, and a boat-in site at Bedwell Harbour's Beaumont Marine Park. All three sites are quite small, and reservations are highly recommended to guarantee your spot. On Saturna Island,  hike or boat access camping is available and can be reserved at Narvaez Bay. Reservations are strongly recommended.
Gulf Islands National Park Reserve offers rich opportunities for exploration. You can easily fill a long weekend exploring the islands accessible by BC Ferries, but if you want to go further afield and into the boat accessible only areas, you will certainly need more time. Visiting the Gulf Islands is the perfect break from the rush of everyday life as it truly allows you to reset yourself to "island time" and get in touch with the beauty that surrounds you at Gulf Islands National Park Reserve.
For more campgrounds in and around British Columbia check out the Camping Map at Camping & RVing BC.
Check out more blogs in the National Parks & Historic Sites series:
A Primer to Canada's National Parks in BC.
Explore Fort Langley & Gulf of Georgia Cannery Historic Sites and Check Out Some of BC's Fascinating History
BC's Gulf Islands National Park Reserve Offers Rich Opportunities for Exploring
BC's National Historic Sites Offer a Glimpse into the Past – Here are 3 to Explore
Kootenay National Park, BC Offers Great Vistas, Hiking & History
Visit Mount Revelstoke National Park in August for its Stunning Vistas & Wildflowers
Yoho National Park, BC – A Jewel in the Canadian Rockies
Glacier National Park: A Special BC Destination
Pacific Rim National Park Reserve – A Great Place to Visit in the Off Season
Share your BC camping and travel photos using hashtag #campinbc
Published: June 8th, 2017