Exploring North Vancouver Island, British Columbia – Sayward to Port McNeill
After years of camping on Vancouver Island, we decided this summer we would head to the north end of the island. The furthest north we had travelled was Campbell River and we really wanted to explore more remote locations.
In 8 days, we travelled north from Campbell River to Port Hardy and west from Port Hardy to Cape Scott Park. We explored communities such as Sayward, Telegraph Cove, Port McNeil, Port Alice and Port Hardy and many smaller communities in between. If you are looking for a camping trip filled with beaches, cooler temperatures, small remote communities and abundant wildlife then keep reading, we found it all.
Our first stop was the Village of Sayward, located about an hour north of Campbell River. Sayward is home to about 350 people with logging being a very prominent industry. Locals describe Sayward as a remote hidden gem that stays green most of the year due to the high amounts of rain. Plan to spend some time at Kelsey Harbour watching the sea lions, kayakers launching their boats and the logging operations in the bay. Western Forest Products operates a dry land log sort; this was something new for me to see the logs being dumped into the bay and the tugboats moving them around. I was surprised to see how the tugboats lean way over in the water without tipping over.
Before leaving Sayward, we made a quick stop at the unique Cable Café which was unfortunately closed at that time, but it is worth having a look at as its outside walls are covered with logging cable.
If you are interested in seeing the Dry Land Log Sort in action check out this video https://www.youtube.com/watch?v=PqkI-C82I1A
Moving north from Sayward, we stopped at the Keta Lake rest stop for a picnic lunch. It was a great shady place to stop with 4-5 picnic tables, outhouses and a couple of trails down to the lake.
Next stop was the community of Woss in the Nimpkish Valley (75km north of Sayward), home to the longest working railway in North America. We visited the Woss 113 Heritage Park celebrating 100 years of railway with interpretive signs describing the history of the town, the link to the logging industry and the railway. Locomotive 113 is on display, which is a steam engine that was built in 1920 in Portland and restored in 1988. The town has cell service, as well as two different types of electric-charging stations.
Next stop and our home for the next four nights was Alder Bay RV Park and Marina. Alder Bay is located just south of Port McNeill, open year-round with over 80 sites which are suitable for big RVs, as well as campervans and tents. Positives about this RV park include the super clean bathrooms, 8-minute showers for only $1 and the beautiful sunsets.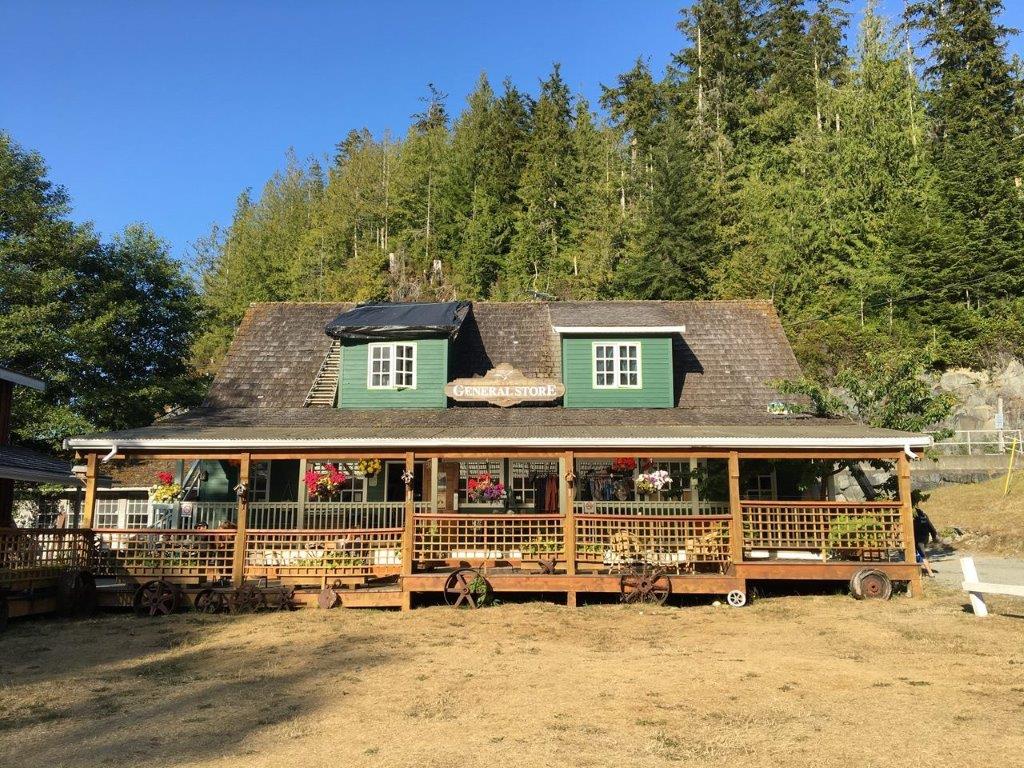 We had four jam-packed days while we stayed at Alder Bay; we spent an evening walking the boardwalk at Telegraph Cove and enjoying the setting sun. It was the perfect time for us to avoid the daytime crowds of tourists and those arriving for whale-watching trips. The General Store (established in 1942) is a welcoming business by the boat launch with all kinds of amenities including local products and wine/beer. Along the boardwalk are many of the original cabins which have been restored and available for vacationers to rent through Telegraph Cove Resort. It was fun to walk along the boardwalk and read the historic stories in front of each of the cabins. The Whale Interpretive Centre is located at the end of the boardwalk, just past the pub and restaurant, a must see for our next visit as it had closed at 6:00 pm.
The next day we headed over to Port Alice, about an hour's drive (paved road) from our campsite. Port Alice was named after Alice Whalen, mother of the four Whalen Brothers who founded the Whalen Pulp and Paper Company which built a pulp mill in Port Alice in 1917. After exploring the town and the 3km Sea Walk along the water we headed inland on the Alice Lake Loop to the Devil's Bath Cenote, Canada's largest cenote (unfortunately, no swimming access) and the Eternal Fountain, a stream with a beautiful waterfall that disappears into an underground cave. Both were accessible by logging roads and have short walks through the forest (pick up a map at the Port Alice Visitor Centre or use Backroad Maps).
After a rest day, we took the ferry from Port McNeill to Alert Bay (Cormorant Island) and Sointula (Malcolm Island). Check out the blogs written about Alert Bay – Island Hopping on Northern Vancouver Island, BC: Port McNeill to Alert Bay and Island Hopping on Northern Vancouver Island, BC: Port McNeill to Sointula.
Highlights at Alert Bay were the indigenous masks and beautiful drums at the U'mista Cultural Centre and at Sointula, the old buildings and the Beautiful Bay Trail at Bere Point Park. A little tip – you can visit both islands on the same day if you let the terminal attendant know, without double the fares!
Overall, an excellent first four days into our North Vancouver Island camping adventure!
For the second half of our trip see Port McNeill & Port Hardy to Coal Harbour & Cape Scott.
TIP: If you find this blog interesting why not subscribe to the enewsletter and never miss another story!
For camping accommodations in this area and elsewhere in British Columbia check out the Camping Map.
Share your BC travel and camping photos using hashtag #campinbc #explorebc.
Sooke to Port Renfrew: A Day Tour to Experience the Rugged Pacific Coast on Vancouver Island, British Columbia
Whenever friends or family visit Victoria and want to experience the rugged west coast but only have a day while on Vancouver Island, a drive to Port Renfrew is the place I take them! Along the route are sandy beaches, panoramic mountains and ocean views, sea lion caves, tidal pools, surfing, hiking trails and a variety of places to dine.
The route from Victoria downtown follows Highway 1 to Exit 10 (View Royal /Colwood) onto 1A that becomes Highway 14 to Port Renfrew. Highway 14 is paved to Port Renfrew and if you don't stop it's a four-hour return trip. Traffic is light on this highway so enjoy the drive.
Along the Highway 14 route to Port Renfrew are many places to explore – it would take days to see them all. I'll suggest a few must stops along the way and other places you may want to consider!!
First stop for me is Serious Coffee located just past the traffic circle on the left in Sooke. My favorite is the granola bar and lunch sandwiches which are available to go. There are a number of other options for food/beverages in Sooke.
Before you depart from Serious Coffee in Sooke set the trip odometer!!
At Muir Creek , just 13 kilometers from Sooke, there is easy access to the ocean. Turn left at the bridge into the parking lot. A flat easy access trail leads to Muir Beach.
Sheringham Point Lighthouse, a Canadian Heritage Lighthouse, is 18 kilometres from Sooke. The access road is between the Fire Hall and Shirley Delicious. Turn left on Sheringham Point Road and proceed 1 km to the parking lot on the right side where there is a short trail to the lighthouse. The site is open to the public daily from 9 am to 8 pm. Caution is recommended as the shore is exposed to high winds and rogue waves.
For lunch or dinner we often take firewood for a favorite meal of hot dogs roasted over the open fire at French Beach Provincial Park – just 3 kilometers past the Sheringham Point Road. There are fire pits beach side. Ocean access to French Beach is an easy walk just a couple of minutes from the parking lot. Enjoy the beach walk and keep an eye to the ocean for whales and sea otters, and bald eagles perched tree top.
At Kilometer 28 from Sooke is Sand Cut beach. The parking lot is on the left adjacent to the highway. The hike down is about 15 minutes through forest with boardwalks and stairs to the beach.
Past Sand Cut beach parking lot, the highway dips down to the ocean through Jordan River. Cold Shoulder Cafe is a few hundred metres from Jordan River Regional Park just past the bridge. It's on the corner where the highway makes a sharp right turn.
Continuing on Highway 14 to Port Renfrew, the next stop is Juan de Fuca Provincial Park. The park has four main areas: China Beach day use, China Beach Campground, the Juan de Fuca Marine Trail and Botanical Beach. Originally the trail was a lifesaving link from the graveyard of the Pacific that saw many shipwrecks along this coastal area.
China Beach day use and campground is at Kilometer 35 from Sooke. The trail to China Beach starts at the end of the parking lot to the left of the entrance road. Although a bit of steep walk down it's about 15 minutes along a wide and well maintained path to the beach. Enjoy the Sitka spruce, Douglas fir and cedar trees along the trail and when walking the beach watch for seals, sea lions and whales. This park is also a trail head for the Juan De Fuca Marine Trail that extends 47 kilometres to Port Renfrew.
For a stunning panoramic view of the Olympic Mountains in Washington State and Juan de Fuca Strait, take the North Main logging road right across from the entrance to China Beach day use. Proceed carefully up this active logging road for 2.2 kilometers and turn off the main road for about 100 meters. Although narrow there is sufficient space to turn around and return to Highway 14. Enjoy the views high above the water! Return down the logging road and turn right to Port Renfrew.
Continuing along Highway 14 to Port Renfrew at Kilometer 59 from Sooke is the turnoff to Sombrio Beach. This cobbled beach is popular for winter surfing and wilderness camping adjacent to the beach. If visiting during the winter a 4-wheel-drive vehicle might be required but most of the time the access road to the parking lot is accessible by car.
Proceed back to Highway 14, turn left and enjoy the short drive to Port Renfrew. If it's summertime, and the flowers are blooming under the Welcome to Port Renfrew sign, stop as the humming birds may be feeding!!
Continue driving on Highway 14 as it takes you through Port Renfrew to Botanical Beach parking lot.
There is a coastal hiking trail along Botanical Beach that is the terminus of the Juan de Fuca Trail. The trail provides access to rugged beaches with geological rock features, and at low tide there are many rich tidal pools and kelp beds to view marine life. Explore the tidal area and see pools filled with brilliantly colored marine life. But remember to just view the marine life and avoid touching the water in these sensitive ecosystem pools. Sea urchins, barnacles, mussels, anemones and sea cucumbers are just some of the thriving intertidal life. I suggest "Seashore of British Columbia Guide" to identify mammals, fish, anemones, cucumbers, crabs and many other species.
If you want to experience viewing at its best visit Botanical Beach during low tide. I suggest checking the tide table for Port Renfrew. It's best to arrive at the Park at least 1 hour before low tide. The time of the low tide will obviously determine when you have to depart. Please keep in mind when exploring the beaches and pools to be aware of wave activity and increasing water levels should the tide start coming in while you are exploring!!
So take your lunch with you and find a spot on the beach. If you didn't bring a lunch then enjoy some of the food offerings in Renfrew. I like Bridgeman's West Coast Eatery located on the dock at Pacific Gateway Marina. Other activities include kayaking and salt water fishing.
Enjoy the rugged west coast drive.
TIP: If you find this blog interesting why not subscribe to the enewsletter and never miss another story!
Also, check out the Pacific Marine Circle Tour.
For places to camp on Vancouver Island and elsewhere in British Columbia go to Camping & RVing BC Camping Map.
Share your BC travel and camping pictures using hashtag #campinbc, #explorebc, #bcnice, #green
It's always a great day to #campinbc
Kayaking in British Columbia's Nootka Sound Off the West Coast of Vancouver Island
The west coast of Vancouver Island contains many hundreds of kilometres of coastline, ranging from protected inlets to wild and windswept shorelines. Multi-day ocean kayaking trips are an excellent way to explore some of the hidden treasures of the BC coast. When looking for a kayaking location offering a diversity of scenery, Nootka Sound scores highly as it offers both calm and protected waters in and around Bligh Island and the Spanish Pilot Group and the exposed, "next stop Japan," sort of views that make the west coast famous.
Nootka Sound is accessible from Gold River, a thousand-or-so resident town just over an hour west of Campbell River. What it lacks in cell phone service, Gold River certainly makes up for in beauty. With towering mountains and lush forests (well, those parts that don't bear the scars of decades of clear cutting), Gold River is the gateway to a wilderness paradise. Nootka Sound can be accessed directly from Gold River via private boat, an extremely long paddle, or the unique experience of the MV Uchuck III which will wet-launch potential paddlers anywhere along its route through Nootka Sound and Kyuquot Sound. For our trip, we chose none of the above, opting instead to drive another hour along logging roads in order to launch ourselves further up the inlet at the Cougar Creek Rec Site.
Launching complete, we paddled out of Cougar Creek and headed for Bligh Island Marine Provincial Park. The park is a popular recreational destination, known for its good fishing and protected waters. Our original destination for the night, a user- maintained campsite at Charlie's Beach on Bligh Island, turned out to be extremely busy, so we sought an overnight home instead on nearby Vernaci Island. While the marine park encompasses the southern part of Bligh Island, the Villaverde Islands, the Pantoja Islands, Verdia Island, Vernaci Island, and Spouter Island, good campsites are few and far between. Anyone who has paddled on the BC coast knows the struggle of the often nearly vertical water-rock-trees configuration; so when a good campsite is available, make yourself at home!
On day two, it was time to leave the protected part of Nootka Sound, take advantage of the perfect weather, and head to the exposed outer coast beyond Burdwood Point. As we set out, the sun was shining, the winds were calm, and the ocean had just enough gentle swell to be a reminder that nothing but thousands of kilometres of ocean lay directly ahead. Our crossing was uneventful, and before long we were paddling into a large crescent shaped bay rimmed by a smooth pebble beach. Rocky islets just off-shore provided picture-perfect views, and we made sure to set our tents up to maximize the panorama before us. All was perfect, and we spent the afternoon lounging in the sun and fishing off the rocks.
The west coast is an undeniably wild place, and by evening the weather had shifted and a storm was blowing in. The now relentless wind had whipped the ocean into a frenzy, turning the previously calm bay into a scene from Oahu's famous North Shore. The picture-perfect rocky islets broke up the waves and made the view to the right akin to looking into a washing machine.
The winds raged on all night, and when we woke in the morning we knew that despite the glorious sunshine, there was a zero percent chance that we were getting off the beach that day. Sometimes, when it comes to Mother Nature, all you can do is watch, snack on dehydrated cheese, and wait her out! Fortunately for us, our enormous beach provided plenty of walking opportunities and there was even a creek, complete with shallow pools sheltered from the wind, which made a perfect place to break out our air mattresses and enjoy a float. The day passed with many rounds of wilderness bocce and naps, and by the time we were huddled around the marine radio listening to the forecast while cooking dinner, we had our plan: wake up very early and make a break for it while the wind and swells were forecast to be more manageable.
As the sun rose the next morning, we loaded up our gear, investigated the fresh bear tracks on the beach, and set out into the surf. The first hour or so of our paddle was, in the words of my father, "entertaining." While we were paddling through the type of waves that make your companions disappear, we were far from the only ones on the water. If you paddle early in Nootka Sound, you are guaranteed to see recreational fisherman hauling their catch out of the water all around you.
TIP: If you find this blog interesting why not subscribe to the enewsletter and never miss another story!
Before we knew it, we were back inside the protected waters of the Spanish Pilot Group and the relentless wind and waves had completely disappeared. The power of Mother Nature is incredible, and it is so important to always be prepared for an extended and unexpected stay.
The remainder of our trip was all calm seas and sunshine and before long our trip was at an end. Nootka Sound is a wonderful place to explore for kayakers of all levels. The protected inner islands provide peaceful paddling, while the exposed outside is great for those comfortable with big seas and surf landings. With so much still to explore in the area, I am sure we will be back to see more of what Nootka Sound has to offer.
For camping and RVing options in British Columbia go to the Camping Map.
Share your BC travel and camping pictures using hashtag #campinbc, #explorebc, #bcnice, #green
It's always a great day to #campinbc
Published: August 4th, 2022