Exploring North Vancouver Island, British Columbia – Port McNeill & Port Hardy to Coal Harbour & Cape Scott
After a busy first-four days we moved campsites from Alder Bay RV Park and Marina to Cluxewe Resort, located just 15 minutes north of Port McNeill. Cluxewe Resort is centred on the ancestral land of the Kwakiutl First Nation and is indigenous owned and operated by the friendliest helpful staff. This resort is open year-round with lots of camping options (ocean front, full service, no service etc.) and cottages available for rent. We walked for hours on the rocky beach in each direction of the resort, enjoyed beautiful sunsets and watched campers fishing for salmon off the shore.
From our new homebase, we headed over to Coal Harbour (no, not the one in Vancouver). It was a short 30-minute drive from the campsite on paved roads. Coal Harbour is located on Quatsino Sound which provides boat access to communities such as Holberg and Port Alice. It is a busy harbour with float plane and boat traffic.
We took the mail boat over to Quatsino from the dock in Coal Harbour, a small boat-access-only community with a population of only 43. The "mail boat run" delivers mail on Mondays and Thursdays, costs $25pp, and is about a one-hour trip.
After our boat ride to Quatsino, we visited the museum in the Float Plane Hanger by the dock. We learned all about its whaling history; the industry closed in 1967 due to declining stock. It also has a history of being an air force base during World War 2, a mining town (it had a 350 metre deep open-pit copper mine which closed in 1996) and now focusing on logging, tourism and fishing. The museum has a huge 6 metre jawbone of a blue whale, apparently the largest in the world! We also checked out the chain saw display, old engines and a 1917 Ford Model T and a 1928 Ford Model A.
The next morning, at about 10:00 am, we headed off on our day-long trip to Cape Scott Park on the northern tip of the Island. Be prepared for 65km each way on a dusty, bumpy logging road. We have a 4-wheel drive truck which handled the roads well, but also passed a number of low-clearance cars which also seemed to be safely navigating the road. The road was in fairly good condition as much of it had been recently graded; but from what I had read, conditions are constantly changing. There are also lots of warning signs as this is an active logging road, and the logging trucks have the right-of-way. We were incredibly impressed by the accurate signage all the way to the parking lot at Cape Scott Park.
First stop on our trip was the small village of Holberg (population of 35), about 50km along the road. At one time Holberg was a floating logging camp; now, just the remnants of the old wood pilings can be seen on the inlet. A must-stop is the Holberg Pitstop; it is a general store and features lodging. You can stock up on everything from sunscreen to beer and stay overnight in one of the newly-renovated rooms. Next trip we will definitely stay overnight, so we can explore more of the west coast area.
After the "pitstop" we continued on our way to Cape Scott Provincial Park; we were impressed with the road improvement after Holberg (or maybe we were just getting used to the bumps). We arrived at the parking lot around noon with a few spots left and headed off on the trail to San Josef Bay, a 45-minute one-way hike along a well maintained crushed-gravel trail. There are pit toilets at the trail head, as well as, at San Josef Bay. There are also bear caches at the bay and a number of beach-side campsites. We planned ahead so we arrived at low tide, so we could walk from San Josef Bay to Second Beach. It was a gorgeous, sunny day and we loved walking in the shallow surf on the beautiful, soft, sand. Beach features included caves, sea stacks, and wildlife. Other hikers continued along the full 26km Cape Scott Trail.
After our visit to San Josef Bay, we returned to Holberg and the Scarlet Ibis Pub for nachos and a nice, cold drink on the patio overlooking Holberg Inlet. Known for being Vancouver Island's Most Remote Pub, we found the staff incredibly friendly and the food, good. It was great to sit on the patio with the locals and learn more about the area.
Last stop before heading back to our campsite was the car wash just south of Port McNeill to get our dusty truck cleaned up and ready for our last adventure day before heading home.
The next morning, we went to Storey's Beach on Beaver Harbour Road just south of Port Hardy. The tide was out, and we felt like we could walk for miles on the blackish sandy beach. This is a beautiful stretch of sand that I would highly recommend. It is good for kayaking too.
TIP: If you find this blog interesting why not subscribe to the enewsletter and never miss another story!
We spent the rest of the day enjoying the beach and sunset back at Cluxewe Resort and some barbequed salmon from Scarlet Point Seafoods in Port Hardy. A great way to finish off our North Vancouver Island trip!
To read about the first half our trip go to Sayward to Port McNeill.
For camping accommodations in this area and elsewhere in British Columbia check out the Camping Map.
Share your BC travel and camping photos using hashtag #campinbc #explorebc
It's always a great day to #campinbc
Bridge Lake Provincial Park Nestled in the Interlakes Region of British Columbia's Cariboo
When planning a family camping trip for family stretching from Vancouver Island to the far north of BC, we recently settled on meeting in the middle, so to speak, and packed up for a week in the Cariboo.
Bridge Lake is one of many, many lakes in the Interlakes District, a region known for fishing. In fact, Highway 24, stretching from 100 Mile House to Little Fort, is often referred to as the Fishing Highway and Bridge Lake is situated smack dab in the centre.
Bridge Lake Provincial Park is quite large, at just over 400 hectares, and protects undeveloped shoreline and numerous islands within Bridge Lake itself. A small campground is located just three kilometres from the community of Bridge Lake at the south end of the lake. The Bridge Lake Provincial Park campground has 13 vehicle accessible campsites, and 3 "walk in" campsites right along the water, perfect for those willing to walk the extra 50 feet down the wide, well maintained trail.
As we were travelling with our tent trailer, we opted for one of the vehicle accessible campsites and were pleased to find our site to have a nice mix of sun and shade and lots of privacy. There is one set of outhouses in the campground loop, and one additional outhouse near the day use boat launch and walk in tenting area. There is no water available at the campsite as the previous well has been decommissioned, so it is important to plan ahead and either bring the water you need with you or be prepared to buy small bottles at one of the nearby general stores. Cell service was spotty in the campground, but several places in the park, including the boat launch, had improved reception.
Bridge Lake Provincial Park campground is located on a little peninsula that sticks out into Bridge Lake. The peninsula is criss-crossed by trails, and it is easy to walk for a kilometre or two just by following the obvious trail leaving near campsite number three and then exploring the various trails that branch down to the water. Stick to the main path and eventually you will circle back to the boat launch and walk in camping area.
Bridge Lake is an excellent water destination. During our trip we spent lots of time exploring the bay near the boat launch by paddleboard. A short paddle out of the bay brought us to a white buoy marking an unexpected shallow spot where stacked boulders littered the lake bottom making the water in which we were paddling sometimes less than a foot deep. The rocks were a bit slippery, but with caution you can have your very own walking on water moment!
For those looking for a longer paddle, there are plenty of options as well. We explored the south-east portion of the lake's shoreline as an 8 kilometre paddle which included several blue herons, lots of daydreaming about owning one of the many waterfront recreational properties, a stream flowing into the lake, and a number of small islands including one rocky outcrop that I nicknamed Seagull Island for obvious reasons.
In true Cariboo form, our trip was complete with both spectacular sunsets and spectacular thunderstorms.
Throughout the course of our trip, it seems that the campsite had 3 or 4 vehicle accessible spaces that remained empty each night. That being said, the camper turnover was nearly 100%, and we had different campsite neighbours every night of our trip. My impression is that many people used Bridge Lake Provincial Park as a stopping off point between two other destinations, but having spent the better part of a week there, I still feel like we have only scratched the surface of what the region offers and we will certainly be back!
TIP: If you find this blog interesting why not subscribe to the enewsletter and never miss another story!
Check out the blog on the Bridge Lake Ice Caves! There is an excellent series of walking and hiking trails at the Recreation Site as well as beautiful views over Bridge Lake and the ice caves themselves are fascinating both geologically and historically.
For campgrounds in this area and elsewhere in British Columbia check out the Camping Map.
Share your BC travel and camping photos using hashtag #campinbc #explorebc
It's always a great day to #CampInBC
Boating and Other Watersports are Popular in British Columbia
Does floating along in a kayak on the quiet waters of a sheltered cove appeal to you? Or, is experiencing the thrill of whitewater rafting or dancing on the wake of a boat on water skis more your style? Perhaps you enjoy the flap of the sails on the open water, or the oneness of paddleboarding.
With over 25,000 inland lakes and thousands of kilometers of rivers, plus close to 27,000 kilometers of coastline in BC, you are spoiled for choice when it comes to water activities. The region's diverse and natural beauty provides a stunning backdrop for an abundance of boating opportunities, and if you combine your boating and watersports with a camping trip you are set for a fun-filled vacation.
Boat Licensing and Regulations
All motorized boats (over 10hp) are required to be licensed. For details go to Transport Canada.
In order to operate a power-driven boat in Canada, individuals must be 16 years of age or over and hold a Canadian Boating License or Proof of Competency indicating they understand the rules of the water and how to safely operate a boat. This applies whether the boat is owned or rented. Restrictions are in place for persons under the age of 16.
Transport Canada's Safe Boating Guide is a comprehensive guide to boating in BC and Canada. Foreign recreational boaters can find information here.
Boating Equipment and Safety
Certain safety equipment is required no matter the type of pleasure craft. This includes a Personal Floatation Device (PFD) or Lifejacket for each person. Watertight flashlight, bailer and flares are also required. Review the relevant section in the Safe Boating Guide produced by Transport Canada.
Wind and storms can spring up at any time. Ensure you have a way of communicating with emergency services should the need arise.
Nautical charts can provide locations of various obstacles to look out for such as low bridges and underground cables. Be alert and watch for large vessels such as ferries, tugs and floatplanes. Take a compass with you. And be aware of swimmers, divers and water skiers.
There are certain areas where no boats, or only non-motorized boats, are allowed and there are other restrictions on some lakes and waterways in BC. Watch for the appropriate signs including (but not limited to): 1) No gas or diesel engines 2) Maximum Speed 3) Power Limit 4) No boats.
Protect yourself and obtain insurance. For larger vessels, marine insurance is required, for smaller pleasure craft you may be able to add to your home insurance policy.
Other Useful Information
Camping & RV in BC has a google map that shows where all the private campgrounds, provincial parks, national parks and recreation sites are and each listing indicates whether they are on the water, have a marina, boat rentals and more.
Read blogs on the Camping & RV in BC website that highlight some of our visitor's favourite places for boating and water activities.
TIP: If you find this blog interesting why not subscribe to the enewsletter and never miss another story!
For place to camp in British Columbia go to the Camping Map
For more information, visit:
Ahoy BC
BC Coastal Marine Parks
HelloBC
Share your BC camping and travel photos using hashtag #campinbc, #explorebc, #bcnice
It's always a great day to #campinbc
Pender Island, British Columbia: The Perfect Weekend Away
If you are looking for a new adventure, why not consider one of the Gulf Islands situated off the east coast of Vancouver Island, British Columbia? A few summers ago we decided to pick one or two Gulf Islands each year to explore, and Pender Island proved to be an excellent choice.
To get to Pender Island, you take a ferry either from Tsawwassen or from Swartz Bay. When planning your trip, remember to check the routes and schedules on the BC Ferries website because they vary depending on the time of the year. If you are travelling during peak times, it is well worth making a reservation.
On our trip, we departed from Tsawwassen south of Vancouver and stopped at both Galiano and Mayne Islands before arriving at Otter Bay on North Pender Island; it took a little less than 2 hours with no transfers. If you are coming from Swartz Bay (Sidney, Vancouver Island), then the ferry is about 40 minutes.
Pender Island is actually two islands (North Pender and South Pender) joined by a small one-lane bridge, which was built in 1955. The canal was dredged in the early 1900s to allow the passage of boats including the SS Iroquois, a steamboat ferry which provided transportation between the Gulf Islands, Sidney and Nanaimo. Unfortunately in 1911 it sank outside Sidney, killing over 20 people.
We spent a lot of time exploring the 34 square kilometers of the islands; we wanted to see as much as possible on our few days there. Based on 2021 census data there are just over 2,400 full-time residents on the north island and about 300 on the south. It is the second largest of the Gulf Islands that we have visited: Salt Spring (11,635), Galiano (1,396), Mayne (1,304) and finally, Saturna (465) which we still have on our list to visit. It was interesting looking up the census data as I really had a sense that the south island was much less populated with a more rural/farming feel.
There is no public transportation on the island but, as with Mayne Island, they have "car stops" set up to encourage giving those travelling-on-foot a ride. Apparently Pender Island was the first island to start the program and it has been successfully running since 2008; it now has 29 stops. The Pender Island Chamber of Commerce has a great map which highlights all the car stops on the island.
When planning a place to stay, I would recommend Prior Centennial Campground on North Pender Island with 17 sites. There are lots of trails in the park and, for those interested in Disc Golf, there is a trail from the campsite to the Golf Island Disc Park. Reservations at this park are through the Parks Canada website. Speaking of golf, and considering that my husband is an avid golfer, we had to check out the Pender Island Golf and Country Club, a nine-hole course known for its challenging shots and beautiful views.
For those arriving on Pender Island by boat, there is moorage available at Port Browning Marina Resort near Bedwell Harbour. We had lunch at the pub on their patio and enjoyed the view and excellent food.
We also had a great picnic lunch at Hope Bay. For dessert we picked up some chocolates at Pender Island Chocolates. On our next visit we plan to have a lunch or dinner at the HUB at Hope Bay.
Our getaways always seem to focus on food and hiking!
We found some fun trails on North Pender around Magic Lake and will definitely return to Mount Norman on South Pender. We picked up Mount Norman trail head on Ainslie Point Road (just off Canal Road). The first part of the trail winds its way through the lush, beautiful trees before you start the climb to the summit which is the highest point on Pender at 800 feet. From the observation platform at the top, you will have a panoramic view of the surrounding islands, including Salt Spring.
Since I am a bit of a history buff, we had to visit the Pender Island Museum at Roesland in the Gulf Islands National Park Reserve (2408 South Otter Bay Road). Roesland is an old homestead with the museum in the historic Roe House. For 70+ years, it was the heart of the rustic Roesland Resort, attracting families year after year.
The museum website describes the Roe house as being built in "1908, and a "kit" house ordered from a Vancouver Island lumber company. All the pre-cut lumber was delivered to Roesland by barge and put together on its log base in about a week. Total cost for the three-bedroom house: $589.62!
It was a beautiful sunny day on our visit; we enjoyed tea and goodies in the historic Roe House. The property and buildings sit on Roe Inlet which has lots of easy walking trails around the property.
TIP: If you find this blog interesting why not subscribe to the enewsletter and never miss another story!
Pender is perfect for a weekend getaway and year-round holiday destination. I would suggest a visit any season; whether you choose the busy summer months or the sleepy shoulder seasons, you will not be disappointed.
Check out Four Reasons to Visit Pender Island This Fall
For places to RV and camp in British Columbia go to the Camping Map.
Share your BC travel and camping photos using hashtag #campinBC, #exploreBC, BCnice
Camping at its best: Revelstoke to Galena Bay, British Columbia
If you are looking for some great camping and hiking, check out the corridor (Highway 23) between Revelstoke and Galena Bay. Surrounded by stunning mountain views – Selkirk Mountains on the east and Monashee Mountains on the west – this area is worth the trip!
Just south of Revelstoke, the Columbia River widens creating Upper Arrow Lake at the north and Lower Arrow Lake with its southern end near Castlegar.
In this blog, I want to share two great campsites on Upper Arrow Lake: Blanket Creek Provincial Park and Arrow Lakes Provincial Park (Shelter Bay Site) plus some great hikes.
Travelling about 25 kilometres south from Revelstoke, you will reach Blanket Creek Park. I can't pinpoint just one reason why this park has evolved into my favourite provincial park of the past few years but from seeing how busy it is becoming, I am not alone.
I love walking and hiking and find that there are lots of choices within the park and plenty more close by. Just walking around the camping area, there are a little over 100 campsites so it is a good size park for meandering up and down the roads around the campsites. The park also has lots of trails including the 1.5 kilometer Columbia River Trail that runs along the lake and around the man-made swimming lagoon. On our recent visit to the park we were also able to walk a long way along the beach which was accessible as the water levels had dropped quite significantly since the beginning of the summer.
The Nature Trail at the south end of the park takes you to the original Domke homestead and farm. This historic site was developed into the park in 1982. As you explore the site, you may see the original rock-work and signs with more historic information.
For those wanting a short up-hill walk, the trail to the 12 metre high Sutherland Falls in the park provides a beautiful view. The falls are created by Blanket Creek flowing from above.
Not far from the park gates there are a number of hiking trails including the Begbie Creek and Mount MacPherson Trails, as well as Mount Revelstoke and Glacier National Park near Revelstoke. This past trip we hiked to Begbie Falls and then down to the lake; it was an easy 1-kilometre trail through the dense forest and moss-covered ground.
Along with hiking there are lots of swimming spots along the lake, plus it is a great place for boating and fishing. Unique to this park is the man-made swimming lagoon, a circular lagoon surrounded by sandy beach. I read one article that stated that the water circulates every 24-48 hours.
Just south down the road (about 25 km south of Blanket Creek) is the Shelter Bay Site which was created in 1981 and has 17 first-come-first-serve campsites. Highlights of this park include swimming along the shores of the lake and easy access for boating. The park includes a concrete boat launch with lots of parking.
For those interested in exploring further south, the 20-minute ferry which crosses the lake from Shelter Bay to Galena Bay is located just south of the campsite gates. From the other side of the lake, your adventure can continue to communities like Nakusp and the hot springs at Halcyon and Nakusp.
Even though I love the hiking and lush green forests of this area, it is always fun to set off on our next adventure for more hiking and great camping.
TIP: If you find this blog interesting why not subscribe to the enewsletter and never miss another story!
If this area interests you, check out our drive:
Mountains, Lakes & Rivers in the West Kootenays and Boundary Country
For other campgrounds in this area or elsewhere in British Columbia go to the Camping Map.
Share your BC camping and travel photos using hashtag #campinbc #BCNice and #ExploreBC
Tunkwa Lake Resort in BC's Gold Country – Come for the Loons, Not the Tunes
It was August long weekend and we were looking for a premier fishing destination, yet without too much travel. Tunkwa Lake Resort checked all the boxes, plus also added some sentimental value as it was where my husband learned to ride his bike many years ago. Located just a one-hour drive from Kamloops, Tunkwa Lake Resort is on the other side of Logan Lake when coming in from Highway 5. It offers both campsites and cabins, as well as boat rentals. While we only stayed for the long weekend, many stay longer and the resort operates through all four seasons.
Upon checking in we learned of the resort catch phrase – Come for the Loons, not the Tunes – and quickly saw this to be true. It was very quiet and peaceful throughout the resort at all times. This is the perfect location to reconnect with nature and disconnect from the world of technology. That is aided by the fact that cell phone reception is quite limited.
The first priority for us was getting ready to fish. We rented a boat and the staff were knowledgeable and helpful with getting it ready and orienting us to the lake. They also helped us pick out the best, tried and true tackle. Both kids enjoyed looking at all the tackle in the store and each picked out a lucky fly. The fish were jumping like crazy, although catching them proved to be much more difficult!
The mark of a good fishing trip is leaving with a good story, and we had a doozy. Having been shut out thus far, the boys hit the lake bright and early Sunday morning. Finally, a bite! They reeled it close and my 7-year-old was anxious to help get the fish in the boat. Somehow during the netting process the line broke and the fish escaped, with the hook, line and the bobber in tow! Disappointment ensued of course as they watched the bobber swim away. But then it happened… a nearby fisherman who no doubt saw the events unfold was able to net the fish. He kindly delivered the fish to my son and we will always remember the one that almost got away!
In addition to fishing we found numerous ways to enjoy the area. Tunkwa Lake itself is beautiful and if you're lucky you'll even see the wild horses roaming the meadow on the other side. Also adjacent to the lake is Tunkwa Provincial Park with many campsites, a boat launch and access to nearby Leighton Lake. There are several day use areas as well as numerous hiking and walking trails to explore. We enjoyed the little path through Tunkwa Lake Resort that leads over to the point, just on the other side of the camping area. Many different kinds of birds can be spotted in the little lagoon, and a perfect bench awaits for you to take in the view, watch the fish jump or just sit back and enjoy the quiet. Much like many years ago, the resort is bike friendly. The kids loved that they could ride with virtually no traffic and their favourite destination was the playground. We also enjoyed the open spaces for bubbles and family games of tag.
Overall, our weekend at Tunkwa Lake Resort was everything we wanted it to be – accessible, peaceful and kind enough to provide rainbow trout for dinner!
For other camping options in this area and all of British Columbia go to our Camping Map.
Share your BC camping and travel photos using hashtag #campinbc.
Kentucky-Alleyne Provincial Park near Merritt, BC Offers Lots to Explore plus New Campsites
I have many fond camping memories from my childhood. Countless weekends spent in tree-shaded sites, camping dinners eaten around the picnic table, falling asleep in my family's tent – and later, when we upgraded, our 1975 tent trailer. One camping memory, however, stands out in my mind and this little adventure occurred at a place called Kentucky-Alleyne.
Kentucky-Alleyne Provincial Park is located just off Highway 5A between Merritt and Princeton. Surrounded by rolling ranch land, Kentucky-Alleyne boasts two sparkling turquoise lakes that draw anglers from near and far. This is how my family ended up there. Our neighbour down the street, an avid fisherman, recommended the site. My parents packed up the tent trailer, threw in the fishing gear, and loaded my brother and I into the vehicle for a weekend in the wilderness.
Two main things stand out to me from that trip: the spectacular beauty and the incredible heat. Merritt in the summertime can be a hot place, and my child's memory of this trip is akin to being baked alive under a white tarp that failed spectacularly in its job to provide a shady place to recover from the heat.
So, it was with some minor trepidation (and a close eye on the weather forecast) that I packed up the same tent trailer and headed back to Kentucky-Alleyne Provincial Park this year, determined to give the site a second chance. After all, my neighbour from all those years ago said it was one of his favourite sites.
What I found delighted me. A mix of lakefront, wide-open, and treed sites (the treed offerings only to be improved when the beautiful and brand new 33-site Forest Loop opens Canada Day weekend), shimmering waters that made me believe at times that I had been transported someplace tropical, and a breeze that kept even the most exposed campsites comfortable in the early-June heat.
We set up our home away from home in the terraced Alleyne portion of the campground. While the Kentucky Lake campground offers a number of reservable, lake front sites, Alleyne is first-come first-served. For those looking to travel this summer, the new Forest Loop site will also be first-come first-served for the remainder of 2019.
The beautiful setting of the park that I recalled from my childhood had not been exaggerated. From the terraced Alleyne campground, we had a gorgeous view down the lake and beyond to the rolling hills of Douglas Lake Ranch. From our site, we had just a short walk to the waterfront where we launched our canoe and kayaks and spent hours on the water. For those interested in land-based activities, a four kilometre trail circles Kentucky Lake and the new Forest Loop campground makes for a great walk or bike ride.
The park features lakes that are clear and cold and perfect for fishing. Both Kentucky and Alleyne Lakes are stocked annually with rainbow trout from the Summerland Trout Hatchery and are limited to boats with 10hp motors. While we were there, numerous anglers trolled quietly back and forth across the lake, but on the water it never felt crowded. The East and West Ponds, located between Kentucky and Alleyne Lakes, are also stocked and are limited to those under the age of 16, creating a unique opportunity to encourage children to take up fishing.
One unique feature of Kentucky-Alleyne Provincial Park is its annual toad migration. Each summer, usually in late July or early August, tens of thousands of Western Toads migrate from their breeding ground in the West Pond to the surrounding forests. At this time, some trail and campsite closures in the park may occur in order to ensure maximum safety for this at-risk species. If you visit during this time, please respect the wildlife that calls this protected area home: view the migration from a distance and follow all directions from park staff.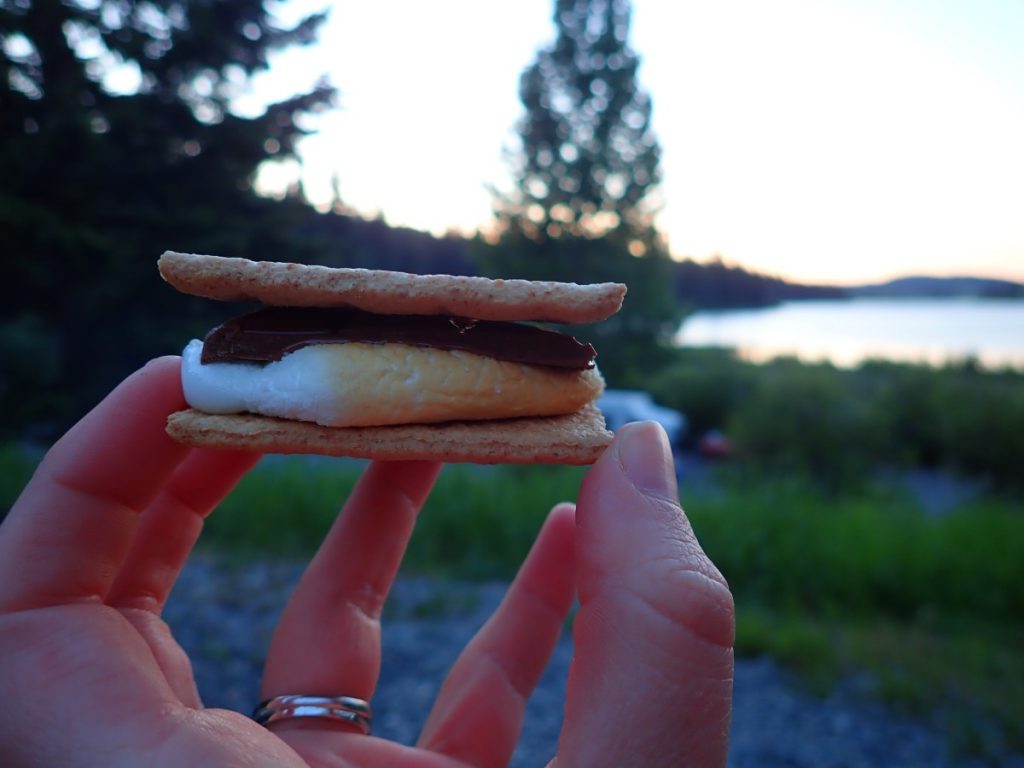 Kentucky-Alleyne Provincial Park is an undeniably beautiful location. The cold turquoise waters are the perfect antidote for the often relentless summer sun of BC's interior. The addition of the new Forest Loop provides more capacity in the park and increases the number of sites offering shade. The recent upgrades in the park, coupled with 33 new first-come first-served sites for 2019, makes Kentucky-Alleyne a perfect park to explore this summer.
Looking for other campgrounds in BC? Check out the Camping Map.
Share your BC travel and camping photos using hashtag #campinbc
Coast Along British Columbia's Famed Fishing Highway 24 in the Cariboo
While travelling east-west between the Southern Cariboo's 100 Mile House (above the Fraser Plateau) and the town of Little Fort in BC's Thompson River Valley, you'll find the historic Highway 24 – also known as BC's Fishing Highway.
Only 97 kilometres in length (60 miles), this short yet incredibly scenic route offers quite a few places to relax, rest up and eat – along with plenty to do, see and experience – along the way. (More than fishing – think boating, swimming, wildlife viewing and more.)
Though paved and modern, what's interesting is that the route for Highway 24 (or Fishing Highway) has remained essentially the same since gold seekers and fur traders used it so many centuries ago.
After the gold discovery in the Northern Cariboo region and the gold rush of the 1800s that soon followed, the area's wilderness trails became important roads that led to the northern gold fields for thousands upon thousands of gold seekers. Along these routes, a myriad of roadhouses sprang up offering stopover points to these weary travellers. As well, the water from the area's hundreds of local lakes and connecting streams throughout these forested areas created a natural and rewarding setting for cattle ranching.
Today, the area supports key BC industries that include logging, ranching and tourism and several of the early roadhouses have been restored and are now used as recreational buildings and/or resorts.
This picturesque Highway 24 also follows a trail originally used by the Shuswap people as a trading route, and then later developed – in the early 19th century – by the Hudson's Bay Company to bring furs from the northern BC region to Fort Kamloops and the Columbia River. In fact, sections of the Hudson's Bay Fur Brigade Trail can still be seen towards the highway's eastern end, which has been aptly preserved and named as a "heritage trail."
Though named the "Fishing Highway," this route offers seemingly endless wilderness with boundless outdoor opportunities such as bird watching, boating and canoeing, hiking, horseback riding, mountain biking, swimming and other activities. (During winter, there's also snowmobiling and snowshoeing.)
You'll find this idyllic route dotted with beautiful lakes boasting picnicking areas (and bathrooms), along with cafes/restaurants, shops and places to rest up and stay for the night.
Indeed, along this relatively expanse of highway, you'll find nearly a dozen lakes dotting the scenery – with each offering opportunities to discover and explore the area, including Bridge Lake Provincial Park, Crystal Lake Recreation Site, Deka Lake (known for its sizable lake trout and rainbow trout), Eagan Lake, the peaceful and wilderness surrounded Fawn Lake (also known for its rainbow trout at certain times of the year), the five-kilometre long Hathaway Lake, the scenic Horse Lake offering views of rolling hills and vibrant colours in the fall season, Interlakes, the forested Lac Des Roches (which includes many little islands), Sheridan Lake (known for its crystal-clear water and abundant rainbow trout) and Sulphurous Lake (featuring a rocky shoreline and surrounded by low mountains).
Many of the above lakes also boast an array of other activities (along with fishing) and overnight accommodations that range from rustic cabins and RV parking to charming bed & breakfast spots, camping, upscale resorts.
Interested in learning more? Check out this YouTube clip of the Fishing Highway in action and click here for more information on this popular route.
TIP: If you find this blog interesting why not subscribe to the enewsletter and never miss another story!
If the Fishing Highway interests you, check our suggested drives:
Following the BC Gold Rush Trail through the Cariboo & Beyond
Canadian Rockies, Cowboy Country to Coast Mountains
For campgrounds in this area and elsewhere in British Columbia go to the Camping Map.
Share your BC travel and camping photos using hashtag #campinbc, #explorebc
Save
Save
Save
Save
Published: October 11th, 2018