Discovering Camping in British Columbia in the Fall Season
It's time to bring out the sweaters and store the flip flops! The fall season is a perfect time to avoid the crowds and explore BC while camping. In the shoulder season, Provincial Parks and private campgrounds usually have space available, allowing you to be spontaneous in where you camp.
My husband Allan and I took a 1,500 km trip through BC a few years ago (pre COVID), with a 24ft RV rented from CanaDream.  We "loosely" followed Highway 3 from the Vancouver area, up north on Highway 6, and ending by following Route 97 south until we hit Highway 3 again. This route gave us amazing variety in the landscapes we saw. In the morning we might cross a high mountain pass surrounded by majestic evergreens. By lunchtime we were in the Okanagan area, surrounded by bald hills and semi-arid desert. The majority of roads had little traffic, so we enjoyed pleasant drives each day.  
We started the trip by spending two nights at Fort Camping in Fort Langley. The campground location was ideal for having a level campsite with clean restrooms. A short stroll brought us to the charming town of Fort Langley with more options for restaurants, boutiques and ice cream shops than was possible to explore. Since we had our bikes, we enjoyed taking the Fort to Fort Trail, a paved path off the main road. Naturally one end of that trail ended at Fort Langley National Historic Site, a chance to step back in time.
Since we had a flexible schedule, we could discover some hidden attractions along the way. One of our favourite spots was the Grist Mill in Keremeos, 47 km (29 miles) northwest of Osoyoos. Because of the heavy rain, we needed our umbrellas but that didn't stop us from enjoying the site. A cozy café offered Grist Mill cookies and scones, while the outdoor displays gave insight into how the belts and gears coordinated to grind local wheat into flour.
The Kettle River Museum in Midway packs a large amount of history in a small space. We explored the actual KVR Station, part of the legendary Kettle River Railway. The museum offers a look at how people lived before electricity and motors. You can even tour the last caboose from the railroad line.
A highlight of the trip was driving through the Okanagan valley and seeing all the fruit stands. It seemed as if there was a competition going on as to who could make the most elaborate pumpkin displays. We'd stop at one stand to buy apples and admire the pumpkins. 10 minutes later we'd stop to buy corn because we were attracted to another pumpkin display.
Our route also took us past numerous wineries…many, many wineries! The Kelowna area alone has five designated wine routes. Just follow the signs which are displayed along the road. Most signs give the name of the winery as well as how far it is off the road. Some places offer wine tours where you relax on a bus while going from one winery to another. No need to select a designated driver!
Our favourite campground was Kekuli Bay Provincial Park south of Vernon. Almost every campsite has an amazing view overlooking Kalamalka Lake. It's worth getting up early to see the sunrises. The Okanagan Rail Trail is a designated bike and hike path that goes directly through the campground. We did a 20-mile ride that goes right next to the shore. Best of all, the trail is flat!
We saw a small sign for the Nikkei Internment Memorial Centre near New Denver in the Kootenay Rockies and decided to stop. It is the only site in Canada dedicated to telling the story of the 22,000 people of Japanese descent that were interned in Canada. We toured the actual 14ft by 28ft "shacks" that housed two families with up to six children each. The centre also has displays of clothing, furniture, and a peace garden and communal bath house. A sobering yet very informative place to stop.
TIP: If you find this blog interesting why not subscribe to the enewsletter and never miss another story!
Our road trip through BC only scratched the surface. We didn't get to explore Vancouver Island or gawk at the astonishing hoodoos in the East Kootenays. We did get to experience camping in Provincial Parks and privately-owned campgrounds, meeting other campers along the way. Those we stayed at are listed below. Now we're planning our next route to check out even more that BC offers!
Fort Camping – Fort Langley
Cottonwoods Meadows RV Country Club – Chilliwack
Hazelmere RV Park – Surrey
Kekuli Bay Provincial Park – Vernon
Brookvale Holiday Resort – Osoyoos
Kootenay River RV Park – Castlegar
Sugar Lake 2 Mile – Cherryville
For other campgrounds in the area or elsewhere in British Columbia go to the Camping Map.
Share your BC travel and camping photos using hashtag #campinbc
It's always a great day to #campinbc.
The Cost of an RV Vacation in Canada
The cost of an RV vacation can be equated to travelling in Canada – there's a lot of choice and there are many variables to consider.
Where will you go RVing and for how long? Will you buy a trailer or motorhome or will you rent one, and how many travellers will there be? What about additional expenses such as insurance and storage?
Affordability
In January of this year the 2020 Family Vacation Cost Analysis was released by the Recreation Vehicle Dealers Association (RVDA) of Canada, the Canadian Recreational Vehicle Association (CRVA) and Go RVing Canada. The updated study was based on a family of two adults and two children travelling by different modes of transport and staying in various types of lodging. Five trips were analyzed (all with a high season 'start date' of Friday, July 16, 2021):
In addition to trip expenditures such as fuel and food costs (showing that RVers spend less on dining out compared to hotel vacationers), the study also factored in estimated costs of various types of RV ownership (insurance, maintenance, storage and eventual depreciation).
Overall, the 2020 Family Vacation Cost Analysis concluded that RV travel "remains an affordable and a cost-effective way to vacation" and that "based on the parameters and data samples in the study, RV vacations are generally less expensive than those where the travel party stays in a hotel/motel".
Rental Options
RV rental costs vary depending on which rental company or platform you select and the location, what type of unit you choose, the age of the RV, and more. You may opt for extra insurance, kilometer package rates, convenience kits for the family (which can average $75/pp) and don't forget the GST and PST.
Expect to pay between $75-$150/night to rent most small trailers and campervans, while fifth wheels run from $60-$150/night, with larger trailers and motorhomes around $100-$250/night. A 25-ft Class C motorhome (with bed over the cab) can go for $1,000-$1,200/week, and Class A motorhomes, which range in size from 30-45 ft, are roughly $175-$275/night.
Jeff McSweeney of Vernon owns and operates Vantastic Campervan Rentals. All of his 2-person units are fully restored classic Chevy vans that, says McSweeney, "have been safety inspected, have new tires and brakes, and are fully equipped with fridge, stove, furnace and a coldwater sink". Vantastic offers long weekend and week-plus options as well as longer trips (3-day rentals are $520, 7 days cost $1,160 and a 10-day rental is currently $1,580.) Adds McSweeney: "…our average Canadian booking is five days. We offer tips on places to go, sites to see and free places to camp along the way."
Meridian RV Rentals, which has locations in both Port Coquitlam and 100 Mile House, lists a Class B off-season one-week rental for 4 people at $265/night. The prep fee is $90 and it offers optional 500 km or 1,000 km packages ($195 or $380 respectively).
Chilliwack-based Brad Harvey, sales rep for Canadian ultra-light trailer manufacturer ProLite, says that RV sales are currently "through the roof" and quoted ProLite weekly rentals (for 2-5 people) at between $625-$725/week.
To Buy or Not
There is always the option to purchase. As one RV dealer states on its website: "Money saved from hotel trips will help to easily make trailer payments."
Some RV sales companies have vacation cost calculators on their websites. Research your finance options if this is required (RV dealers can assist with this; some banks specialize in it and even offer online loan calculators) and don't forget the costs of insuring and storing your unit if the latter is a necessity.
One Coquitlam family lucked out last year when a friend called them about someone putting up a 'For Sale' sign on a trailer. They had been actively looking and the market was "crazy due to COVID". They quickly purchased the 30-ft 2009 Class C Coachmen Freelander. The sale price was $28,000 and it needed a new water tank, which the owner installed himself for $900. "I feel like we got a good deal," said the owner. The family plans to use the RV to replace some of their vacation travel, to "safely visit" and spend time with other friends who RV, and to eventually attend the kids' sports meets and tournaments.
Campgrounds
RV campsites in Canada cost anywhere from $40-$75/night, depending on location, size, and access to electricity and sewage. Expect to pay more at campgrounds or parks in high season and budget for additional costs such as laundry, wood, propane refills (average $20 for a 20 lb tank) and activities such as canoe or kayak rentals.
British Columbia has over 1,700 campgrounds and they range from rustic to full-service. The four campground options are: national parks (Parks Canada), provincial campgrounds (BC Parks), privately operated campgrounds and RV parks (including municipal campgrounds), and recreation sites and Trails BC (operated by the provincial government). Check out BC campgrounds at campingrvbc.com.
RV Life
The vacation plusses that RVing provides are many, particularly during these pandemic times: you have your own space, you can bring what you need and stock up along the way, and you can cook and BBQ at your convenience or choose to dine out.
RV trips are certainly on the rise in Canada, and how affordable one is will depend on many factors. Have fun figuring it out and happy and safe exploring.
TIP: If you find this blog interesting why not subscribe to the enewsletter and never miss another story!
For campgrounds and RV parks in British Columbia check out the Camping Map at campingrvbc.com.
Share your BC camping and travel photos using hashtag #campinbc, #exploreBC and #bcnice
Campers Etiquette – Is there such a thing?
What is etiquette in a campground?  Well, it's the respect for others that starts upon your arrival at the Campground.  It doesn't matter who you are, how much money you have or do not have, what fancy toys you have – It is a respect for the fellow camper and the campground.  The last thing you or the Campground want is to have Mr. and Mrs. Obnoxious spilling out into the park.
What is a common problem operator's encounter?  I spoke with a campground owner recently and the screening of perspective guests is key to everyone having a good night's rest and a great camping experience.  She says if someone is booking a group of "young adults without children", then it's generally a no-go for them.  Of course this does not mean they are turning away all "more than two adult" parties without children, it just means that they carefully consider it.
I myself have stayed at many campgrounds which includes private and provincial and even some recreation sites and the rules are somewhat similar:
Each person/vehicle/guest must register.
Make yourself and others in your party familiar with the campground, look at the rules and the site map.
Quiet time – (10:00 PM to 7:00 AM) times may vary at each campground. This is the one that is very troublesome for a lot of campers.  Small children wake at early hours because they are put to bed so early, PARENTS, please keep them occupied quietly until the posted quiet time ends.  Allowing the children to scream at 5:30 am really travels through the park, especially in quiet campgrounds located near water.  And this goes for the night owls too.  Our voices carry and can be heard further than the neighbouring campsite.
Pets must be on a leash at all times. Noisy, unattended pets will not be tolerated. And remember to mention the breed of your dog when booking, as some parks restrict certain breeds – and please understand that each campground has different rules pertaining to which breeds they do or do not allow, no one is singling you out.
Campfires are not permitted in every campground, this pertains to wood and propane firepits, so please check with the park you are booking to make sure they are permitted. And if wood burning campfires are permitted, use only the supplied fire rings and do not move them.  The campground has deemed that ring area the safest for your campfire enjoyment.  The tossing of anything other than wood into your fire is not permitted, this includes your unwanted food scraps.  They may not all be incinerated by the time the fire is out and this attracts unwanted pests such as mice and raccoons. Also, the burning of plastic cups, cutlery, cigarette butts, bottle caps is not a great practice either.  These items, not only do they not completely burn up and send toxic fumes into the air for you and your family, but they remain in the fire pit long after you are gone and someone will have to remove this debris.  Remember to keep the fire small and under control. Under the Wildfire Act regulations, campfires cannot be larger than 0.5 meters by 0.5 meters – roughly a foot-and-a-half by a foot-and-a-half. Please obey current fire bans.  Also the transferring of firewood, from campground to campground is shied upon by the Canadian Food Inspection Agency because pests in your firewood can destroy our forests.
Alcohol is only permitted in registered campsites.
External speaker systems are not allowed at most parks – but if they are, keep it in your campsite by turning the volume down as the rest of the campground may not enjoy your choice of music.
Generators are another area of concern for a lot of campers, not just you – the owner of the generator – but the surrounding campers. Last thing they want to hear is an extremely noisy machine interrupting their quiet time.  When choosing one ask for a demonstration so you know what you're getting yourself into. Also remember placement of it – try to situate it as far away from your neighbours and follow the parks usage times.  Every campground has certain usage times, usually twice a day.
Always be courteous and respectful of other campers as "It's always a great day to #CampinBC"
Packing Your RV & Picking a Campground
Late winter and early spring is the time when we start thinking about the warmer days to come and the camping trips we will take this year. So to get us really into the camping mood it's time to visit one of the RV and camping consumer shows that showcase the latest in recreational vehicles, camping gear, places to camp and more. If you are new to RVing and have already decided on which RV will suit your family, you might need some tips on how to pack your RV and pick a campground.
There is an abundance of information that will assist you by way of websites, printed materials and videos. Below are two videos that we hope will help as you plan your upcoming camping season.
The first, Packing Your RV, provides tips on storing groceries, cooking tips, how much water to put in your water tank, recreational items to take with you, and more. You will also want to decide what kitchenware (dishes, pots & pans, cutlery), bedding, etc. that you will need.
Next is picking a campground. There are so many sources of information and many campers like to select their campsite online and others like to have that camping directory in their hand. The good news is there is plenty of both available.
First you will need to have an idea of where you want to camp then research what is available. Because there is such a vast choice of campsites, decide what your requirements are e.g. on-site services (electricity, water, sewer), pull-thru sites, flush toilets & showers, playground, swimming, WiFi. These are just a few. The BC Super Camping Guide lists some 200 privately owned RV parks and campgrounds and national parks, all with a brief description and symbols to help you make your choice. Go Camping BC details the Provincial Parks in the province. These guides are available at many consumer RV shows and is also available online. To do research on the web go to Where to Camp on the Camping & RVing in BC website. This includes all types of camping found in British Columbia as well as trails and stocked fishing lakes.
No matter your type of camping, get out this summer and enjoy what nature has to offer.
Links to help you enjoy your RV and camping trips.
Share your BC camping, RVing and travel photos using #CampinBC
5 Great Tips for the New Camper in British Columbia
If you live in Canada you know that a camping trip is one of the best ways to see this amazing country. To fully embrace what makes Canada so special, invite someone who has never camped before to join you on your next camping trip and introduce them to one of Canada's best features – the wilderness!
Over the past couple of years every time my daughter and I were getting set for a weekend camping trip, one of my friends would mention that she would love to try camping. She didn't grow up in Canada and hadn't had a chance as a kid to experience camping. This summer our schedules finally worked out and my friend and her daughter joined us for their first time ever camping adventure.
Both families learned a lot over the weekend and here are my top 5 tips to make an intro to a camping trip a success.
1. Keep it short and simple
We decided that our guests would join us on Saturday morning and spend the day and one night at the site. One night is a great way to get a good feel for camping but not too overwhelming for new campers.
2. Make a list of all the camping gear that they will need
List everything from sleeping gear to clothes that they will require including extras like sunscreen and bug spray. Have your new camper check out the list and let you know what they need to borrow. For our trip, we supplied all the camping gear (tent, stove, dishes, etc) and also ended up bringing an extra inflatable mattress for them.
3. Pick somewhere with a little bit of everything
We booked the weekend at Ellison Provincial Park in the Okanagan which is a great site for new campers. Ellison Provincial Park has flush toilets, running water, a beach, mountains, playground for the kids, and nature trails which all gave a great first impression. It's also full of families and different camper set ups – everything from the small single tent to luxury RVs and everything in between.
One of the interesting things I learned over the weekend was about the perception of camping. It wasn't that they didn't have equipment or access to equipment, it's that for my friends (and likely many others as well) they had the impression that camping is about driving way into the woods, clearing your own site and being totally isolated from civilization. While some camping is like that, having access to reserveable spots at Provincial Parks and local campgrounds really opens up the camping world to newcomers, which is less overwhelming and scary!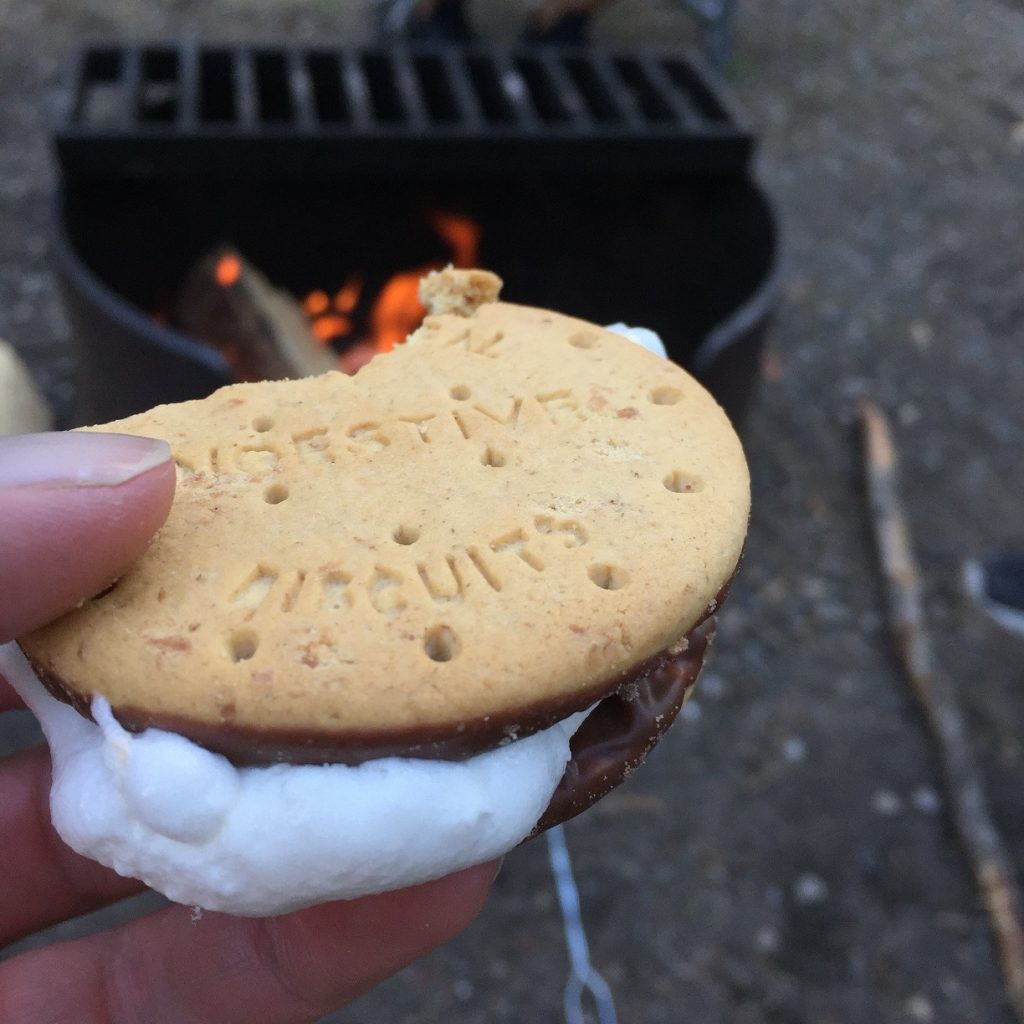 4. Keep the food simple
Don't turn off new campers by making elaborate Pinterest worthy meals that also require endless hours of clean up!  Go classic, s'mores, hotdogs on sticks over the campfire, simple bacon and eggs for breakfast.  Try and mix campfire and camp stove cooking as well. We decided to make pizzas using Pie Irons for dinner but didn't get the fire going far enough in advance so I ended up constantly trying to get the fire relit, getting some coals going, and supervising the use of the pie irons….in hindsight I should have just followed my own advice and kept it simple and planned to do hot dogs over the fire for dinner. My new little camping buddy agreed – she wondered why we didn't have hot dogs!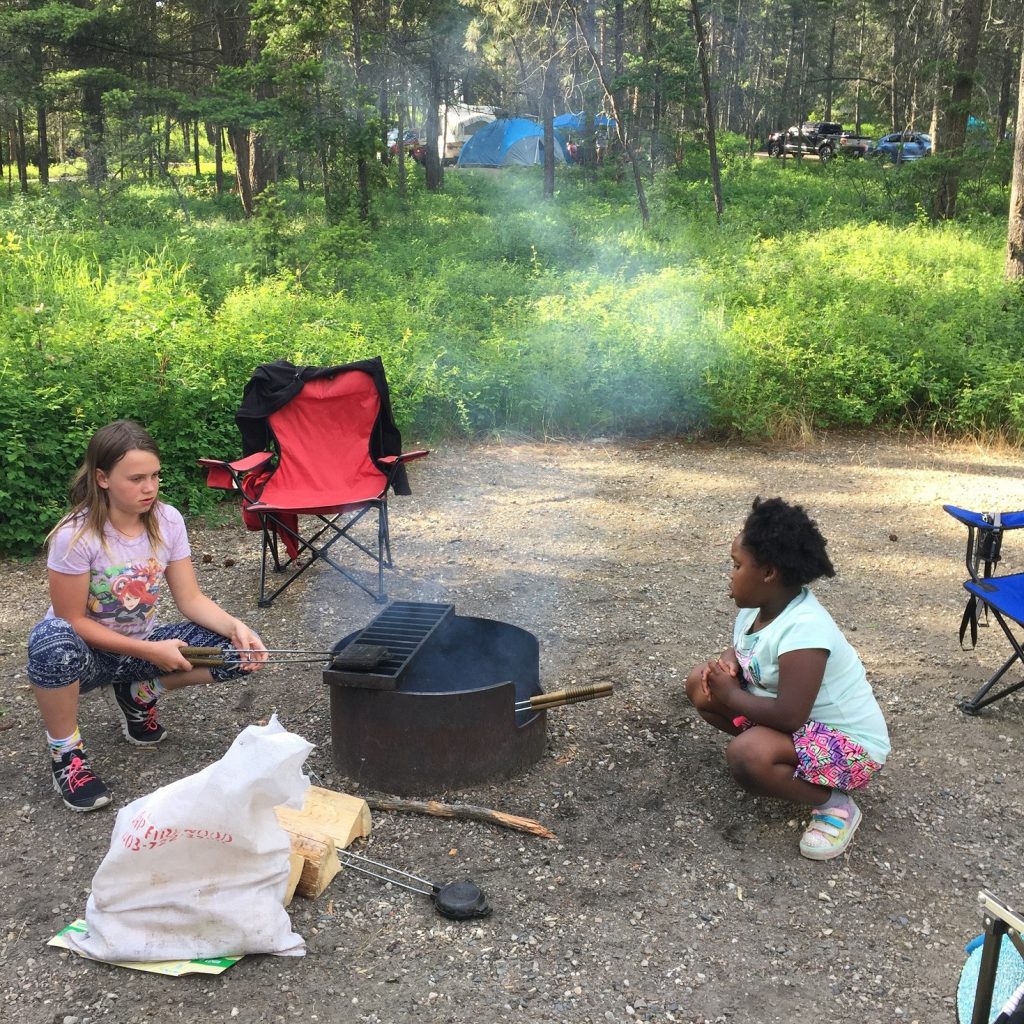 5. Be prepared for questions
Everything from how reservations at the park work, to how to use the stove, to what kind of bug/bird/rock/animal is that!  The adage "no question is a bad question" is very true in this situation. The Park Rangers and operators are your best resource. When you check in, think of all the questions that your new campers might ask and get the answers ahead of time. While you are chatting with the Ranger make sure you pick up a copy of Jerry's Scavenger hunt for the kids to do as well. Or you can download before you set out on your trip. Go to Jerry's Nature Quest for all the information. It's an amazing tool to fight any boredom that your camping kids might have, plus they receive a cool prize when they complete it.
Then just go with the flow.  Set some boundaries for the kids, get out some snacks, settle into the camp chairs and let the kids adventure while the adults get a true taste of why camping is so great.  Sit back, relax, listen to the birds and the sounds of kids exploring, and just enjoy Canada.
TIP: If you find this blog interesting why not subscribe to the enewsletter and never miss another story!
To locate campgrounds in BC go to Where to Camp at Camping & RVing BC.
Post your BC camping and travel photos using hashtag #campinbc.
It's always a great day to #Campinbc.
Some Fall Fishing Destinations & Campgrounds in BC
Now that summer holidays have officially  come to an end, this is definitely not the time to pack away your gear just yet. Especially not your fishing stuff.  In fact, the best fishing is still to come at lakes and rivers across British Columbia. Here are some great fall fishing destinations that were recommended by our friends at Go Fish BC!
Thompson River, Spences Bridge
The interior lake fisheries are heating up, but for river fishing enthusiasts, rainbow trout fishing in the Thompson is still good and salmon are moving through.
Anglers must have the appropriate Freshwater Fishing licence and non-tidal salmon stamp. Abide by the regulations, including using a single barbless hook, and remember to check both the provincial Freshwater Fishing Regulations Synopsis and in-season regulation changes as well as the in-season salmon regulations on Fisheries and Oceans Canada's website prior to heading out. The river becomes a classified water on October 1 each year.
Nearby Campgrounds:
Juniper Beach Provincial Park
Juniper Beach Provincial Park is a convenient overnight camping spot for travellers on Hwy 1. Both CNR and CPR railway tracks run by the park; an attraction to train-buffs. This park is popular for boating, fishing and photography.
Open until: Mid-October with full services and little or no services until December 31.
Acacia Grove RV Park Cabins
RV park and cabins with kitchens in a lush setting overlooking the scenic Thompson River, famous for steelhead fishing, whitewater rafting and mountain sheep. 15/30 amp, full hook-ups, pull-thrus, laundromat, free hot showers, flush toilets, small convenience grocery store, pay phones, game room, horseshoes, lawn bowling, volleyball. Pets welcome. Open year round
Jim Smith Lake (Jim Smith Lake Prov Park) in the East Kootenay's, near Cranbrook
Stocked with catchable sized trout, the lake also has bass and perch. Very user-friendly lake, any and all methods should apply. Special fishing regulations include bass daily limit of 8, unlimited perch retention and no powered boats.
Nearby Campgrounds:
Jimsmith Lake 
Sunbathing, swimming, non-motorized boating and picnicking are popular activities at Jimsmith Provincial Park.
Open until Oct. 11 (campground is accessible but may not offer full services such as water, security, etc.)
Mount Baker RV Park 
A convenient East Kootenay Rockies RV park in Cranbrook. Many large shade trees, Joseph Creek and a warm friendly atmosphere. Can accommodate big rigs, also tent sites. Wireless internet, cable, laundry, ice, phone, hot showers. Pet friendly. Big Rig Friendly. Open until Oct. 31
Ross Lake, south end of the Skagit Valley Provincial Park near Hope
This is a large reservoir lake spanning Canada and the United States. Fish for bull trout (char), rainbow trout and brook char until November 1. If the bite is slow, try fishing the October cadis hatch on the Skagit River. No fishing November 1 – June 30. Abide by the regulations, including bait ban and single barbless hook, and remember to check the provincial Freshwater Fishing Regulations Synopsis for catch quotas.
Nearby Campgrounds:
Skagit Valley Provincial Park 
The Skagit Valley was carved by retreating glaciers is characterized by excellent outdoor recreation in a natural, wilderness-like setting. Visitors to the park can enjoy hiking, river fishing, camping and picnicking. Open until Mid-October.
Now to the packing list, which I am sure will include a mountain of rain gear for everyone! And of course hot chocolate and baileys for the adults…yum. 
Rafting on the Elaho River in Squamish, BC
When the sun is beating down as it has been in BC for the last few weeks, the only thing you want to be near is cool, refreshing water.
Not one for being idle, I've found the best remedy (more…)
Published: July 31st, 2013