7 Steps to Getting Your Camper or RV ready for the Camping Season
When we get a day or two of sunshine at this time of year I, like others who Camp/RV, start counting the days until our first trip. So, it's time to plan the number of camping trips and prepare the trailer for the first outdoor adventure. We have a 24.5-foot Denali and here are the seven main steps I take to prepare.
1. Start Booking Your Camping Spots
It's time to do the camping mambo, so to speak. We turn to our calendars, or in my case my cell phone's digital one. I plan all my trips in that handy, trusty little box, that does such a good job that I have now enlisted it to telling me when to book. This year I want to camp in a BC Provincial Park and go online to BC Parks reservation system to make a booking. They have information on their site about how far in advance you can book and which sites require a reservation. I check with friends to see who will join in, and then enter my data and book it as soon as I can. If you prefer you can call the BC Parks call centre.
Reservations for 2023 open in March for Parks Canada sites, and private campgrounds are already booking up fast. Get more information on most campgrounds in BC here.
2. Air Out The Unit And Give It A Good Clean
So now I've booked my site, and it's time to "wake up" my summer home. Laugh at my wording, but it has been a cold, rainy, snowy fall and winter so it's time to think about the unveiling of the RV, Motorhome or even the tent. Who says you can't bring out the tent and dust it off, set it up and make sure that all the zippers, pulls and guy wires are intact? Great time to give it a wash and really air it out. Tenters often don't give a thought to their sleeping accommodation until packing the vehicle for the trip or worse, they arrive at the location and find that its missing pieces or it has "had" a winter stow-a-way. Let this year be different – a prepared year.
It really doesn't matter what your mode of camping is, they all have similarities that need attending to. Chances are your RV or camper has been closed up, unattended for the last five months. First thing to do is take off the protective covering you used for storing. But before pulling it off, why not give it a really good shampoo and a hose down and let it dry, before packing it away for the next five plus months. You will feel better about storing the cover clean, so when it comes time to put the RV to sleep for next winter it's one less thing to do.
3. Time For Maintenance on Your Tires
We have finished washing and drying the cover which is stored for the season -– what's next? Tires. The vehicle has been leaning on them for the winter and might just be a little "tired", so why not take the time now to rotate, clean and grease the bearings. Checking over every inch of the outside is the best place to start. Make sure there are no new problems that need attending to.
4. Water System On Board? Time For A Good Flushing
If you have a travel trailer, tent trailer, fifth wheel, motorhome or even a truck camper, chances are you have a water system attached that you winterized for the winter. You used a non-toxic antifreeze designed for RVs and will now need to flush the system out with fresh water until there is no more pink water flowing. Once this is done, some people like to add a ¼ cup of liquid bleach and run it through the tank and then flush it once again with fresh water. Once this is done, it is now time to turn the heater's bypass valve into the operating (normal) position and check each and every tap and faucet for leaks. Better to find it now rather than on a camping trip.
5. Check Your Batteries
Always wear protective safety gear when checking batteries at any time. First, make sure you have disconnected the hook-up power (the 120V power cord) and then make sure that all power is in the OFF position. We trickle charge our trailer all winter to maintain charge to the battery – other friends remove their batteries in the fall and keep them stored with a trickle charge in their shed or garage. Check the battery connections to make sure that they are clean and that the terminals have not corroded over the fall and winter. Check all sides including the bottom of the battery for cracks, as this sometimes happens during a severe winter freeze. Replace all cracked batteries. Check the battery fluid levels and only use "distilled water".
6. Inspect Propane Tanks
Propane tanks are the next item up for inspection. Make sure the tanks are in the off position. This is where you want to check hoses, regulators and valves for premature aging and/or drying out. If you notice any of the above, replace and then proceed to testing the refrigerator, stove and furnace.
TIP: If you find this blog interesting why not subscribe to the enewsletter and never miss another story!
7. Clean the Inside
Final things to do, is give the whole inside a complete wash, vacuum and wipe out all cupboards and drawers. I always do a thorough clean before putting the RV to sleep for the winter but I also do a spring clean to freshen the trailer. It allows me to check for leaks, mold or if pests have entered. I then open windows to air out the rig to make sure I have clean air for the first trip. As well as inside, I clean out the passthroughs and repacking this allows me to confirm I have all items needed for the first camping trip and to purge unwanted items.
For more tips check out: RV Maintenance Tips for Keeping Your Exterior in Top Shape
To locate places to camp in BC go to the Camping Map.
Share your BC travel and camping pictures using hashtag #campinbc, #explorebc
It's always a great day to #CampinBC
Camping at its best: Revelstoke to Galena Bay, British Columbia
If you are looking for some great camping and hiking, check out the corridor (Highway 23) between Revelstoke and Galena Bay. Surrounded by stunning mountain views – Selkirk Mountains on the east and Monashee Mountains on the west – this area is worth the trip!
Just south of Revelstoke, the Columbia River widens creating Upper Arrow Lake at the north and Lower Arrow Lake with its southern end near Castlegar.
In this blog, I want to share two great campsites on Upper Arrow Lake: Blanket Creek Provincial Park and Arrow Lakes Provincial Park (Shelter Bay Site) plus some great hikes.
Travelling about 25 kilometres south from Revelstoke, you will reach Blanket Creek Park. I can't pinpoint just one reason why this park has evolved into my favourite provincial park of the past few years but from seeing how busy it is becoming, I am not alone.
I love walking and hiking and find that there are lots of choices within the park and plenty more close by. Just walking around the camping area, there are a little over 100 campsites so it is a good size park for meandering up and down the roads around the campsites. The park also has lots of trails including the 1.5 kilometer Columbia River Trail that runs along the lake and around the man-made swimming lagoon. On our recent visit to the park we were also able to walk a long way along the beach which was accessible as the water levels had dropped quite significantly since the beginning of the summer.
The Nature Trail at the south end of the park takes you to the original Domke homestead and farm. This historic site was developed into the park in 1982. As you explore the site, you may see the original rock-work and signs with more historic information.
For those wanting a short up-hill walk, the trail to the 12 metre high Sutherland Falls in the park provides a beautiful view. The falls are created by Blanket Creek flowing from above.
Not far from the park gates there are a number of hiking trails including the Begbie Creek and Mount MacPherson Trails, as well as Mount Revelstoke and Glacier National Park near Revelstoke. This past trip we hiked to Begbie Falls and then down to the lake; it was an easy 1-kilometre trail through the dense forest and moss-covered ground.
Along with hiking there are lots of swimming spots along the lake, plus it is a great place for boating and fishing. Unique to this park is the man-made swimming lagoon, a circular lagoon surrounded by sandy beach. I read one article that stated that the water circulates every 24-48 hours.
Just south down the road (about 25 km south of Blanket Creek) is the Shelter Bay Site which was created in 1981 and has 17 first-come-first-serve campsites. Highlights of this park include swimming along the shores of the lake and easy access for boating. The park includes a concrete boat launch with lots of parking.
For those interested in exploring further south, the 20-minute ferry which crosses the lake from Shelter Bay to Galena Bay is located just south of the campsite gates. From the other side of the lake, your adventure can continue to communities like Nakusp and the hot springs at Halcyon and Nakusp.
Even though I love the hiking and lush green forests of this area, it is always fun to set off on our next adventure for more hiking and great camping.
TIP: If you find this blog interesting why not subscribe to the enewsletter and never miss another story!
If this area interests you, check out our drive:
Mountains, Lakes & Rivers in the West Kootenays and Boundary Country
For other campgrounds in this area or elsewhere in British Columbia go to the Camping Map.
Share your BC camping and travel photos using hashtag #campinbc #BCNice and #ExploreBC
A Primer to Canada's National Parks in British Columbia
National Parks are one of my favourite places to visit. In fact, after my husband and I got married in 2014, we packed almost everything we owned into a storage locker and set out on what turned out to be a 78-day camping trip across Canada focused primarily on visiting our National Parks and National Historic sites, guided by our National Geographic Guide to the National Parks of Canada.
Parks Canada has 148 National Parks, Historic Sites, and Marine Conservation Areas in the country. Of these 148 sites, nineteen are in British Columbia, which gives us plenty to explore!
Here are a few highlights to whet your appetite!
Hiking in Yoho National Park
The 8.5 kilometre one-way trail in Yoho National Park to the Twin Falls Tea House National Historic Site is definitely worth your sweat! On the way back, take the alternate route passing by Marpole Lake for some spectacular views and to enjoy the black and orange streaked cliffs.
Meadows in the Sky Parkway, Mount Revelstoke National Park
How often do you get to cover almost 2,000 metres of elevation in just 26-kilometres – and on a good paved road, nonetheless! Mount Revelstoke National Park provides that opportunity. For those feeing more adventurous however, leave the car at the bottom and hike the 10-kilometre Summit Trail to the top.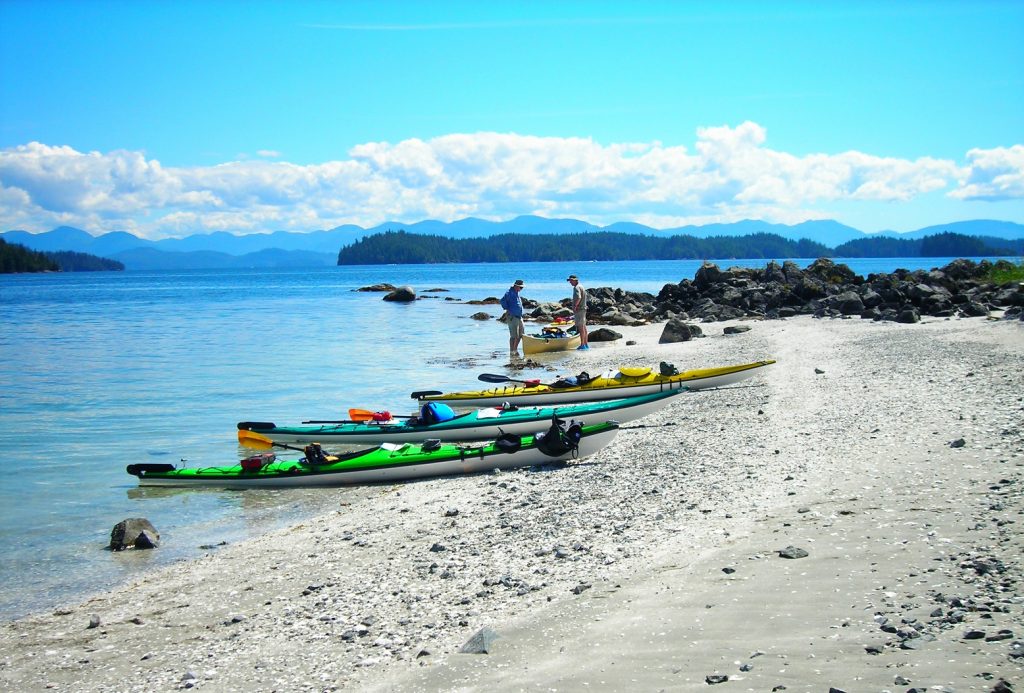 Kayaking the Broken Group Islands in Pacific Rim National Park Reserve
For an adventure like none other, leave the city behind and head to Pacific Rim National Park Reserve's Broken Group Islands. The Broken Group is made up of over one hundred islands of various sizes, some of which offer camping. If you are an experienced kayaker, you can head out on your own. If not, many tour operators can assist you with all stages of your trip. Make sure you give yourself at least three or four days to paddle to really experience the Broken Group.
Relaxing at Radium Hot Springs in Kootenay National Park
For utter relaxation, head to Radium Hot Springs in Kootenay National Park and soak your troubles away. The odourless and clear naturally heated mineral pools are the biggest in Canada. The facility also offers a full-service day spa in case you are somehow still holding on to your worries after your soak in the hot springs.
Step back in History at Fort Langley National Historic Site
No matter which National Park or National Historic Site you choose, breathtaking scenery and fascinating history are waiting for you. Canada's National Parks truly are some of the best places in the world, and living in British Columbia, we are so lucky to have many of them in our own backyard. The National Parks and National Historic Sites in British Columbia are:
Yoho National Park
Rogers Pass National Historic Site
Mount Revelstoke National Park
Glacier National Park
Kootenay National Park
Gulf of Georgia Cannery National Historic Site
Fort Langley National Historic Site
Gulf Islands National Park Reserve
Fort Rodd Hill and Fisgard Lighthouse National Historic Sites
Pacific Rim National Park Reserve
Fort St. James National Historic Site
Gwaii Haanas National Park Reserve and Haida Heritage Site
Gwaii Haanas National Marine Conservation Area Reserve and Haida Heritage Site
Chilkoot Trail National Historic Site
TIP: If you find this blog interesting why not subscribe to the enewsletter and never miss another story!
Note: During the summer of 2020 amid the ongoing COVID-19 pandemic you may find some services, facilities and programs closed. For private campgrounds check at BC private campgrounds. For information on BC Parks go to the BC Provincial Parks website and Parks Canada for their updated details. Please make sure you follow BC's health and safety recommendations when camping and traveling in this province.
For more campgrounds in and around British Columbia check out the Camping Map at Camping & RVing BC.
Check out more blogs in the National Parks & Historic Sites series:
A Primer to Canada's National Parks in BC.
Explore Fort Langley & Gulf of Georgia Cannery Historic Sites and Check Out Some of BC's Fascinating History
BC's Gulf Islands National Park Reserve Offers Rich Opportunities for Exploring
BC's National Historic Sites Offer a Glimpse into the Past – Here are 3 to Explore
Kootenay National Park, BC Offers Great Vistas, Hiking & History
Visit Mount Revelstoke National Park in August for its Stunning Vistas & Wildflowers
Yoho National Park, BC – A Jewel in the Canadian Rockies
Glacier National Park: A Special BC Destination
Pacific Rim National Park Reserve – A Great Place to Visit in the Off Season
Share your BC camping and travel photos using hashtag #campinbc, #TravelinBCLocal, #ExploreBCLocal, #StayLocal #BCLocalStaycation
5 Fun Family Adventures Near Wasa Lake in the East Kootenays, BC
Wasa Lake is the warmest lake in the Kootenays and is a popular summer camping destination. This Provincial campground has 104 sites (66 of them are reservable), an amphitheatre for parks talks, nature trail, kids (or adventurous adults) bike park, as well as washrooms with flush toilets and showers. Wasa Lake itself is a short walk or bike ride through the campground and has sandy beaches, a playground, boat launch and grassy picnic areas.
Although the weather was warm when we visited it wasn't hot, sunny beach weather, so we opted to explore the local area and discovered some amazing places to visit just a short drive away.
Here are five fun things to do in the area.
Explore Wasa Lake Provincial Park
We spent the better part of a day just exploring our surroundings, especially enjoying the small bike park located within the campground. It's perfect for younger riders with small jumps, obstacles like planks, bridges, rocks, and small ravines to challenge their skills.  Also, be sure to check BC Parks website for contests and things to do. You can also download a pamphlet for Jerry's Nature Quest which includes some fun games to do in the park.
Visit Fort Steele
Fort Steele is a heritage town located about 20 minutes drive from Wasa. The town has heritage houses and businesses to explore, gold panning, a bakery, an ice cream parlour and a few restaurants as well. We spent several hours exploring the town and had a great time. Be sure to take a ride on the steam train if you go – it's a fun way to step back in time.
Visit Cranbrook
Cranbrook is home of the Canadian Museum of Rail Travel. At one time this town was the major train hub for the area and is now home to a unique rail museum with restored train cars to wander through and explore. Cranbrook is the closest city to Wasa to restock your supplies and is one of the Kootenays major centres so you'll find several large grocery and hardware stores, shopping in the mall as well as in the downtown core. It's a great place to explore on days when the weather just isn't on your side!
Hit a Hot Springs (or two)
Fairmont Hot Springs, Radium Hot Springs and Lussier Hot Springs are all close by. Fairmont and Radium are developed hot springs with several pools, change rooms, places to eat and lots of parking. They are both great options for the whole family with Fairmont being the closer of the two at just a short 45-minute drive away. Lussier Hot Springs is a natural hot springs, so you'll have to park and hike in – no services, change rooms are available, it's definitely for the more adventurous campers!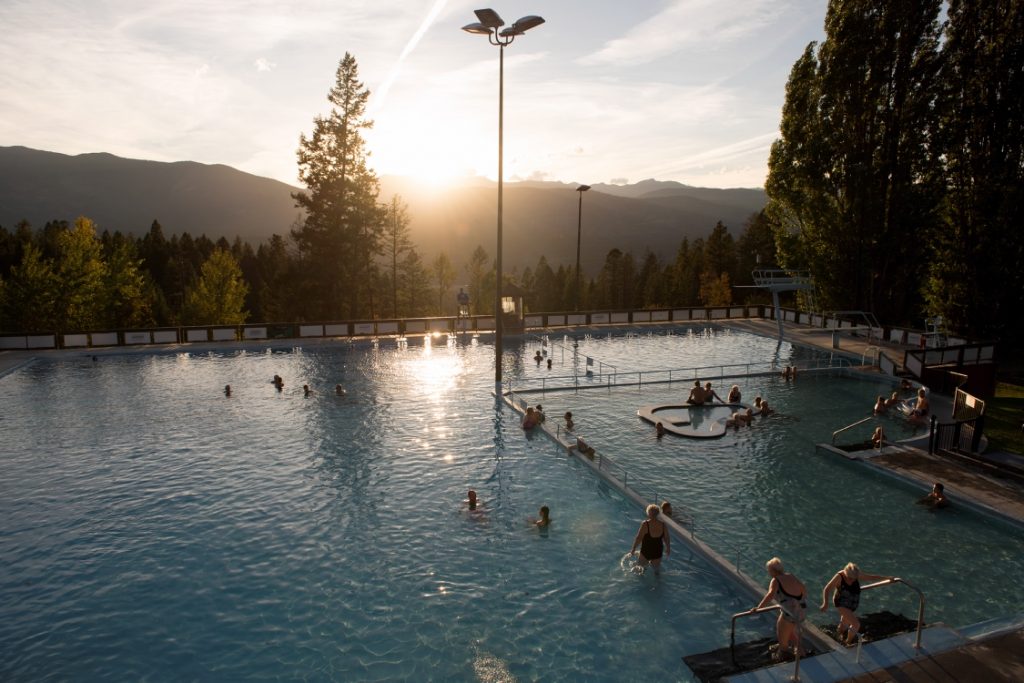 Bike One of the Loop Trails
Take one of the Loop bike trails and explore a bit more of the Wasa area. There are two bike loops to get you out of the campsite and exploring the area. The first: Wasa Lake Lions way, is a shorter loop that is a good walking trail as well, although at 8 km you'll need to be sure you have good walking shoes on and water for the walk. It's a paved flat trail, great for the whole family as even very young riders can manage this one. The second loop is the Lazy Loop bike path, and don't get confused by the name…the path isn't lazy – that's the name of the lake the path takes you to. This route is 33 km round-trip and takes you up into the mountains to get there!
We had a great time at Wasa Lake Provincial Park and exploring the East Kootenays. We're looking forward to a return visit next year.
To locate other campgrounds in this area or elsewhere in British Columbia go to the Camping Map.
Share your BC camping and travel photos using hashtag #campinbc
Save
Save
Save
"Unglamping" in BC: Camping Unplugged
I must admit, three years ago, camping without hookups scared me. Our camping companions suggested that we try Herald Provincial Park in the Shuswap in British Columbia's Okanagan region – a campsite without power, water or sewer. I panicked, no microwave, rice cooker or outlets to charge my cell phone. But more importantly, how would I make my coffee in the morning without my coffee maker?
At first, we told our friends that we were unable to make it as camping without hookups or dry camping was just not for us.  Finally, they persuaded us to go and are we ever glad we did!
In order to have an enjoyable and memorable dry camping trip, I have learned a few tricks.
Cooking shortcuts
To make cooking easier, I plan ahead by making meals that are easy to prepare.  I usually bring the first two meals, frozen dinners that I have prepared such as chili or spaghetti sauce. Not only are they quick to heat up but they use few pots which in turn cuts down on cleaning too many dishes. If I know we are going to have many dishes, I use paper plates, which we use as fire starters in the evening. To solve the coffee dilemma, we boil water and use the single serve instant coffee packs or a coffee press.
Light
When we camp with hookups, we have unlimited use of inside and outside lights. The first time we were dry camping, we learned pretty fast that we couldn't leave the lights on too long. Although we have two deep cycle batteries, they only last for a limited amount of time. We figured a way around this problem by installing LED lightbulbs which have a longer life and draw much less power than regular lightbulbs. In addition, a recent gift from friends, a 90W Coleman solar panel, works well to provide auxiliary power. We have also stocked up on flashlights and hang glowsticks in the trailer to provide a small amount of light overnight, plus the colours look nice!
Relaxation and serenity
Initially, I thought dry camping would be more work. I was wrong. There is no need to plug in or connect the water and sewer hose.  Just put down the jacks, pull out a few camping chairs,, put up a hammock and it's time to relax.  The sites we have experienced are large, quiet and quite private.
More choice and great value
Since we have been venturing to new campgrounds, I realize how many beautiful sites we have been missing out on that we consciously avoided in the past. There are many more campgrounds to choose from when we are not restricted to serviced sites. In addition, the price of an unserviced site can be half the price of a serviced site.
Unglamping has given us a whole new outlook on camping. By unplugging and opening ourselves up to a new experience, it has offered us more opportunities to try out different regions of BC, reconnect with nature and get closer to the true camping experience.
For places to camp in British Columbia check out the Camping Map or search Campgrounds.
Share your BC travel and camping photos using hashtag #campinbc
"Camping with Teenagers: Is there WIFI?"
Ah yes, the first question my teenage sons ask when we suggest or venture to a new campground, "Is there WIFI?"
Gone are the days when our sons would hop in the car without questioning where we were camping and what there was to do there.
When our children were young, camping was fairly simple. We ensured the car was packed with lots of snacks and activities to combat boredom and fighting. We carefully chose campgrounds that had all the amenities for young children such as beaches and playgrounds. Overall, everyone was happy and for the most part, easily entertained. Camping with teenagers, can be much more challenging.
It can be tough to pull teenagers away from WIFI, friends and video games.
So how do we do it?
1. Consultation
Prior to the camping season, we research different campgrounds and put together a list of previous sites we have stayed. As a family, we decide which campsites to book.
2. Travel with family friends
Gone are the days when our sons would play at the beach or playground with anyone who happened to be there. Our teenagers are much happier when camping with friends. Although we still plan one or two trips a year with just our family, we tend to book the rest with families whose children are similar ages.
3. Location and activities are key
All of our camping friends with teenagers agree, camping for a week with a main focus on beachcombing and sand castles, does not cut it anymore. The campgrounds we choose have a variety of different activities such as paddle boarding, canoeing, basketball hoops and fishing holes. Although we do stay at some campgrounds year after year, we always find new ones to explore for a brand new experience.
4. Independence and downtime
For years, I was guilty of scheduling our holiday to make sure we made use of every minute of our trip. When they were young, everyone just went along with my plan however that does not work anymore. Now, I usually plan a main activity in the mid-morning (not too early!) such as a hike or kayak on the lake, then everyone has downtime to relax, read a book, take a nap or take the paddle board down to the water.
By the end of each camping trip, the teenagers have survived without WIFI and they tuck away their memories from another trip.
At the end of last camping season, I thought to myself how camping with teenagers has its challenges yet has many more benefits. They assist with setting up the trailer and site, are very independent (I don't have to accompany them on every bike ride or trip down to the lake) and offer great campfire discussions.
For places to camp in British Columbia check out the Camping Map.
Share your BC travel and camping photos using hashtag #campinbc
Golden Ears Provincial Park has Lots of Camping Options
Out for one last trip with my camping buddies and every year we choose Golden Ears Provincial Park as our end of "summer" camping trip not just because it's close to home for the group, but it's also quiet and serene. If you just sit with your eyes closed you will hear the birds – chickadees, robins and the occasional raven as well as see some sweet little Chipmunks.
We have stayed in Alouette and Gold Creek campgrounds numerous times over the years. Golden Ears is one of the busiest Provincial Parks run by BC Parks and it is less than a two hour drive from downtown Vancouver (approximately 48 kms). Golden Ears is located 18 kilometres north of Maple Ridge and covers 55,000 hectares. The park was named after the twin peaks which are referred to as "Golden Ears".
There are three main campgrounds as well as a walk-in Campground at Alder Flats on the West Canyon Trail. There is a sanidump for the RVers and don't worry if you don't have the coins – you can pay at the ticket booth. There is a boat launch, a highly popular day use area that has canoe rentals. The lake has a roped off area for swimming and water fun and is large enough for water skiing.
Alouette Campground – the largest campground has 205 back in well treed campsites, a great playground for the children and also has lighted flush washrooms with showers as well as pit toilets strategically placed throughout the campsite. Its main camping season runs from the middle of June to the beginning of September.
To go to North Beach Campground you will need to check in at the ticket booth and they will give you directions to get to this little unknown part of paradise that has 54 campsites including some great pull-through campsites that are great for RVs, but be forewarned, there is no running water and pit toilets are the only washrooms available, so this could mean a short drive down to one of the other two campgrounds that have water taps. It does operate from the middle of June to the beginning of September. Gold Creek Campground which has 149 sites that can accommodate tents, tent trailers, travel trailers and I've seen a few big rigs and it operates from March to the beginning of October and also has winter camping starting the first week of October which runs until the end of March. There are also two group sites available year-round that can accommodate 15-30 people.
Are you wanting to get in touch with nature? There are quite a few trails around with different levels from beginner to novice. You have to check the posted signs because not all trails allow bicycles and are meant for foot traffic only. Some of the trails are Menzies Trail, East Canyon and West Canyon as well as a switchback trail and the Eric Dunning Trail. The ticket booth has a great Trail map for purchase. There's also a lower and upper falls trail. And if you get really adventurous, there's even horse trails. Now that's not all, there's a store on site that carries the basics, so if you forget something it's right there for you. But remember it is only open during the summer months.
For more info on the park visit Golden Ears Park.
For places to camp in British Columbia go to Camping & RVing BC Camping Map.
Post your BC travel and camping photos using the hashtag #CampinBC
Campers Etiquette – Is there such a thing?
What is etiquette in a campground?  Well, it's the respect for others that starts upon your arrival at the Campground.  It doesn't matter who you are, how much money you have or do not have, what fancy toys you have – It is a respect for the fellow camper and the campground.  The last thing you or the Campground want is to have Mr. and Mrs. Obnoxious spilling out into the park.
What is a common problem operator's encounter?  I spoke with a campground owner recently and the screening of perspective guests is key to everyone having a good night's rest and a great camping experience.  She says if someone is booking a group of "young adults without children", then it's generally a no-go for them.  Of course this does not mean they are turning away all "more than two adult" parties without children, it just means that they carefully consider it.
I myself have stayed at many campgrounds which includes private and provincial and even some recreation sites and the rules are somewhat similar:
Each person/vehicle/guest must register.
Make yourself and others in your party familiar with the campground, look at the rules and the site map.
Quiet time – (10:00 PM to 7:00 AM) times may vary at each campground. This is the one that is very troublesome for a lot of campers.  Small children wake at early hours because they are put to bed so early, PARENTS, please keep them occupied quietly until the posted quiet time ends.  Allowing the children to scream at 5:30 am really travels through the park, especially in quiet campgrounds located near water.  And this goes for the night owls too.  Our voices carry and can be heard further than the neighbouring campsite.
Pets must be on a leash at all times. Noisy, unattended pets will not be tolerated. And remember to mention the breed of your dog when booking, as some parks restrict certain breeds – and please understand that each campground has different rules pertaining to which breeds they do or do not allow, no one is singling you out.
Campfires are not permitted in every campground, this pertains to wood and propane firepits, so please check with the park you are booking to make sure they are permitted. And if wood burning campfires are permitted, use only the supplied fire rings and do not move them.  The campground has deemed that ring area the safest for your campfire enjoyment.  The tossing of anything other than wood into your fire is not permitted, this includes your unwanted food scraps.  They may not all be incinerated by the time the fire is out and this attracts unwanted pests such as mice and raccoons. Also, the burning of plastic cups, cutlery, cigarette butts, bottle caps is not a great practice either.  These items, not only do they not completely burn up and send toxic fumes into the air for you and your family, but they remain in the fire pit long after you are gone and someone will have to remove this debris.  Remember to keep the fire small and under control. Under the Wildfire Act regulations, campfires cannot be larger than 0.5 meters by 0.5 meters – roughly a foot-and-a-half by a foot-and-a-half. Please obey current fire bans.  Also the transferring of firewood, from campground to campground is shied upon by the Canadian Food Inspection Agency because pests in your firewood can destroy our forests.
Alcohol is only permitted in registered campsites.
External speaker systems are not allowed at most parks – but if they are, keep it in your campsite by turning the volume down as the rest of the campground may not enjoy your choice of music.
Generators are another area of concern for a lot of campers, not just you – the owner of the generator – but the surrounding campers. Last thing they want to hear is an extremely noisy machine interrupting their quiet time.  When choosing one ask for a demonstration so you know what you're getting yourself into. Also remember placement of it – try to situate it as far away from your neighbours and follow the parks usage times.  Every campground has certain usage times, usually twice a day.
Always be courteous and respectful of other campers as "It's always a great day to #CampinBC"
Spring Has Sprung! Try Some Spring Fishing & RVing on Central Vancouver Island, BC
Looking to bring out that fishing rod a little early this year? Here are four RV accessible campsites open year-round on central Vancouver Island located on or near a fishable lake or river. Beat the summer heat and enjoy some spring camping and fishing!
Arrowvale Riverside Campground and Cottages
Offering a traditional camping experience with over forty sites, Arrowvale Campground and Cottages in Port Alberni is ideal for a small family adventure or a large group camp-out. There are unserviced or serviced sites, with many close to the Somass River. Sproat Lake Provincial Park is a short drive away from the campground, where you can hike and fish the day away. Rainbow trout, cutthroat trout and even kokanee, a land-locked sockeye salmon, can be caught along the shore or by boat on this scenic lake.
Chemainus River Campground
Enjoy a scenic getaway at Chemainus River Campground, located on 23 acres along the Chemainus River. Soak in the views atop the river escarpment. Discover wildlife on the property, including eagles, ravens, woodpeckers, squirrels, deer and beaver. Lawn games and swimming can be found along their private beach.
This campground is in a freshwater fishing hub, with Chemainus Lake, Fuller Lake and Lake Cowichan all just a stone's throw away. Hike around Chemainus Lake to find a secret spot to catch rainbow trout, cutthroat trout and brook char from shore, or bring a belly boat to explore the lake. Fuller Lake has a dock, so you can cast for larger rainbow trout living in the cooler, deeper waters. Lake Cowichan offers fishing spots from shore and boat rentals to explore the further reaches of the lake.
Horne Lake Regional Park Campground
Don't let the unpaved road deter you from spending a weekend at Horne Lake Regional Park, located near Qualicum Beach. Over five kilometers of riverfront and lake front RV sites are yours to enjoy and explore, almost all with a view of the water. The famous Horne Lake Caves Provincial Park is down the road from the campground and is fun for the whole family. A boat ramp, canoe and kayak rentals, a dock, and ample shore access allow anglers of all ages and abilities to spend their days on the water. Cutthroat trout, kokanee, rainbow trout and brook char can be caught year-round.
Riverside RV & Camping
Located in the beautiful Cowichan Valley, Riverside RV & Camping is a full-service RV and camping destination. The entire site is covered by treed and grassy areas, all along the world class Cowichan River. Take your pick of RV sites, as they offer full or partial hook-ups for 50 RV units and 25 tenting spots in shady or sunny spaces. If you are looking for a beautiful day trip, venture to Lake Cowichan to enjoy fishing from shore or by boat. On foot, find a quiet spot along the Cowichan River and try your luck along the river bank.
Don't forget to purchase your licence and read and understand the Freshwater Fishing Regulations before you head out. And if you've never tried fishing and want to give it a try, you can borrow a rod and tackle for free from the Freshwater Fisheries Society of BC's Vancouver Island Trout Hatchery in Duncan.
For other RV and camping accommodation go to Camping Map or Camping Search.
Share your BC travel and Camping photos using #campinbc.
Exploring Four of the Best RV Parks in the South Okanagan, British Columbia
On a crisp, sunny morning last spring, I headed to the Okanagan from Coquitlam to attend the Interior RV Consumer Show in Penticton. I make this trip annually to distribute camping directories for British Columbia but this year decided to take my time and explore some RV Parks in the southern region of the Okanagan Valley.
My destination on the first day was Osoyoos. I headed through the Fraser Valley on Hwy 1 to Hope then took the Crowsnest Hwy (Hwy 3) which is a gorgeous scenic drive over mountain passes and along rivers into the lush agricultural lands of the Okanagan with an abundance of orchards, vineyards and more.
Along the way it's worth taking a break at Manning Park. In the picnic area you'll see marmots scurrying in and out of underground burrows and bold whiskey jacks looking to share any snacks you are eating. Further on is Princeton which has several family style cafes, pubs and bistros to suit everyone's taste. I recommend a stop here if you are wanting refreshments.
On your way to Osoyoos you will pass through the quaint mining town of Hedley and the self-described "fruit capital of Canada" Keremeos. April is a little early to buy local fruit but the many fruit stands are open and worth a visit. Leaving Keremeos you head southwest to Osoyoos passing through Oliver. Check out the blog Take a Break Along the Crowsnest Hwy for more things to see and do along this route.
I arrived at my first overnight stop of Nk'Mip Resort in Osoyoos. This is a popular RV park with some 350 sites including 120 lakefront sites on the beach, 30/50 amp service, tent sites, convenience store, marina with equipment rentals, boat launch and more.
This resort is a wonderful spot to stay as it has so much to offer. In addition, the Restaurant at Spirit Ridge serves fabulous food, then there is the Solstice Spa, Desert Cultural Centre, Nk'Mip Cellars, Vineyard & Winery, Sonora Dunes Golf Course. And it's only a short 2 km walk or drive to the main street in Osoyoos.
After a good night's sleep, I left Nk'Mip to head back to Penticton. Before leaving Osoyoos I decided to try the local neighbourhood café, JoJo's, which is situated on the main street. What a great find. They make everything from scratch and if you are craving a muffin, cookie or eggs benny this is the place to go.
After enjoying a tasty breakfast I headed to Gallagher Lake Resort in Oliver. They have several lovely camping cabins near the beach and over 140 campsites. There are many amenities available including RV hookups, a convenience store, laundry, plus for the energetic – tennis, pickleball, volleyball court, and for the less strenuous – horseshoe pits. The campground is right on Gallagher Lake with their own private sandy beach.
Whilst in Oliver I also dropped in on The Orchard at Oliver, an RV park & motel. The campsites are set in a beautiful orchard and is a great place to relax and take in the laid-back atmosphere that is the Okanagan. You can also try something different and rent one of their rustic cabanas.
After leaving Oliver, I stopped for a quick snack in Okanagan Falls at Tickleberry's. I had never visited before, so it was a special treat. This is a family-run business known for its delicious homemade ice cream of over 50 flavours, homemade fudge, chocolates, kettle korn, and a wide range of gifts and local crafts to purchase. This is a fun experience and well worth the stop.
The last campground I visited on this trip was Barefoot Beach Resort in Penticton. This is a fairly new resort opposite Skaha Lake offering Yurts and tenting sites. Each yurt comes with a deck, two chairs and BBQ and lovely landscaped grounds. You can also enjoy the Barefoot Beach House Restaurant and Beverage House, relax on the roof top patio and enjoy fresh, Spanish-inspired cuisine, with a frosty margarita in one hand and some fantastic food in the other. They also offer a juice bar, second scoop ice cream and a rental hut and beachwear for all your needs.
From Barefoot Beach Resort I headed to the Penticton Trade & Convention Centre for the Interior RV Show. It was a whirlwind visit to the South Okanagan and next time I shall visit longer and take a few side trips to local wineries.
For the many camping opportunities in the South Okanagan and all of BC check out Where to Camp at Camping & RV in BC.
Published: March 15th, 2018