Kentucky-Alleyne Provincial Park near Merritt, BC Offers Lots to Explore plus New Campsites
I have many fond camping memories from my childhood. Countless weekends spent in tree-shaded sites, camping dinners eaten around the picnic table, falling asleep in my family's tent – and later, when we upgraded, our 1975 tent trailer. One camping memory, however, stands out in my mind and this little adventure occurred at a place called Kentucky-Alleyne.
Kentucky-Alleyne Provincial Park is located just off Highway 5A between Merritt and Princeton. Surrounded by rolling ranch land, Kentucky-Alleyne boasts two sparkling turquoise lakes that draw anglers from near and far. This is how my family ended up there. Our neighbour down the street, an avid fisherman, recommended the site. My parents packed up the tent trailer, threw in the fishing gear, and loaded my brother and I into the vehicle for a weekend in the wilderness.
Two main things stand out to me from that trip: the spectacular beauty and the incredible heat. Merritt in the summertime can be a hot place, and my child's memory of this trip is akin to being baked alive under a white tarp that failed spectacularly in its job to provide a shady place to recover from the heat.
So, it was with some minor trepidation (and a close eye on the weather forecast) that I packed up the same tent trailer and headed back to Kentucky-Alleyne Provincial Park this year, determined to give the site a second chance. After all, my neighbour from all those years ago said it was one of his favourite sites.
What I found delighted me. A mix of lakefront, wide-open, and treed sites (the treed offerings only to be improved when the beautiful and brand new 33-site Forest Loop opens Canada Day weekend), shimmering waters that made me believe at times that I had been transported someplace tropical, and a breeze that kept even the most exposed campsites comfortable in the early-June heat.
We set up our home away from home in the terraced Alleyne portion of the campground. While the Kentucky Lake campground offers a number of reservable, lake front sites, Alleyne is first-come first-served. For those looking to travel this summer, the new Forest Loop site will also be first-come first-served for the remainder of 2019.
The beautiful setting of the park that I recalled from my childhood had not been exaggerated. From the terraced Alleyne campground, we had a gorgeous view down the lake and beyond to the rolling hills of Douglas Lake Ranch. From our site, we had just a short walk to the waterfront where we launched our canoe and kayaks and spent hours on the water. For those interested in land-based activities, a four kilometre trail circles Kentucky Lake and the new Forest Loop campground makes for a great walk or bike ride.
The park features lakes that are clear and cold and perfect for fishing. Both Kentucky and Alleyne Lakes are stocked annually with rainbow trout from the Summerland Trout Hatchery and are limited to boats with 10hp motors. While we were there, numerous anglers trolled quietly back and forth across the lake, but on the water it never felt crowded. The East and West Ponds, located between Kentucky and Alleyne Lakes, are also stocked and are limited to those under the age of 16, creating a unique opportunity to encourage children to take up fishing.
One unique feature of Kentucky-Alleyne Provincial Park is its annual toad migration. Each summer, usually in late July or early August, tens of thousands of Western Toads migrate from their breeding ground in the West Pond to the surrounding forests. At this time, some trail and campsite closures in the park may occur in order to ensure maximum safety for this at-risk species. If you visit during this time, please respect the wildlife that calls this protected area home: view the migration from a distance and follow all directions from park staff.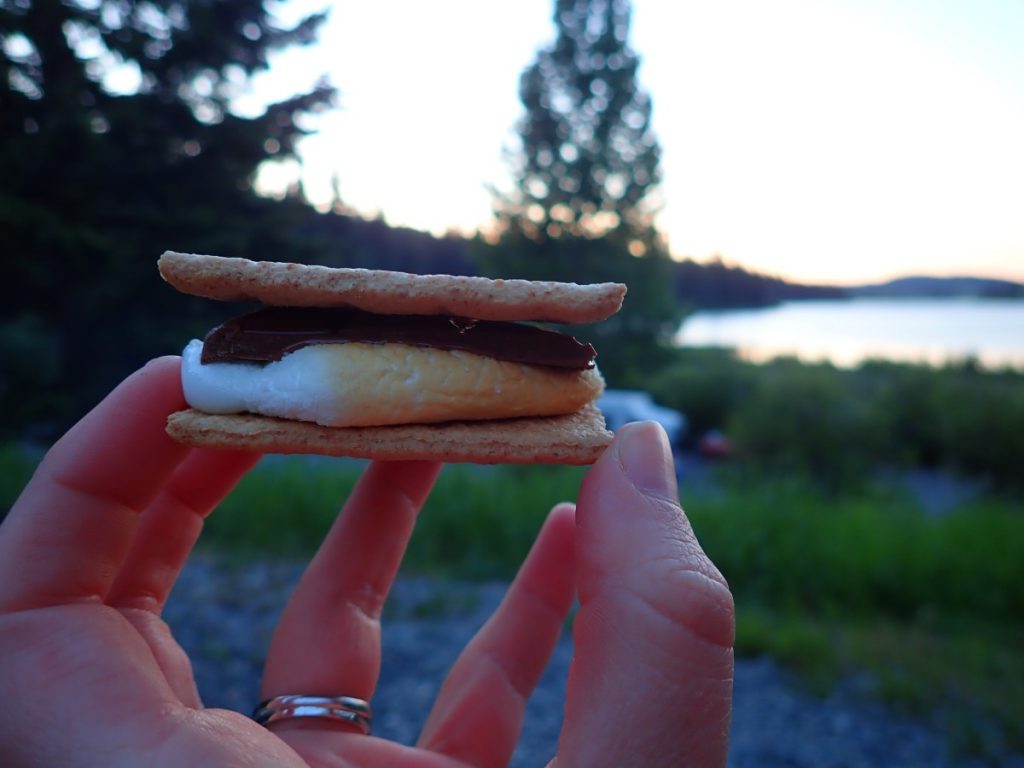 Kentucky-Alleyne Provincial Park is an undeniably beautiful location. The cold turquoise waters are the perfect antidote for the often relentless summer sun of BC's interior. The addition of the new Forest Loop provides more capacity in the park and increases the number of sites offering shade. The recent upgrades in the park, coupled with 33 new first-come first-served sites for 2019, makes Kentucky-Alleyne a perfect park to explore this summer.
Looking for other campgrounds in BC? Check out the Camping Map.
Share your BC travel and camping photos using hashtag #campinbc
Published: June 6th, 2019