Five Spots to Ice Fish and Camp this Winter in British Columbia
Ice-fishing is often overlooked as a winter activity, especially if you live in southern B.C. But fishing doesn't stop when the temperatures drop – it only gets more exciting. Ice-fishing is a very social activity that requires only a limited amount of gear or experience. When solidly frozen, an entire lake becomes accessible without the need of a boat, and you don't need the often-complicated casting techniques required in other fisheries. It's as simple as drilling a hole, and dropping a line.
It is important to exercise caution, however. Always make sure the ice is thick enough to ensure a safe trip. Before you walk out onto ice, it needs to be at least 10 centimetres (four inches) thick if you are fishing alone, and at least 38 centimetres (15 inches) thick before you drive your truck onto it. Remember that a freshwater fishing licence is still required for ice-fishing, and that you should check the regulations for any closures or restrictions.
With these points in mind, along with some basic gear, you can be set for some fun times on the ice this winter. And the good news is, with many parks open year 'round that are close to great hardwater lakes, you can make a wintertime camping trip out of it.
Here are our top five spots, with recreational vehicle or camping spots close by, to try ice-fishing this winter:
Alleyne Lake (near Merritt)
Kokanee provide an exciting winter fishery in this lake. The trick is finding schools of fish. Using a fishfinder is your best bet, but if you don't have one, start at the bottom and work your way up through the water column until you find a school.
Note: The neighbouring lake, Kentucky SE Pothole, located 50 metres east of Kentucky Lake, is closed to ice-fishing.
Camping: Check out the Winter Camping Map for campgrounds open year-round in the Merritt and surrounding area.
Swan Lake (near Vernon)
This is a great spot to fish in the winter, although you should exercise extreme caution to ensure the lake is entirely frozen before venturing out. Swan Lake is located only moments away from Vernon's downtown centre. As you can catch rainbow trout weighing up to a kilogram (about two pounds) in size, make sure to bore your holes with an ice auger that is at least 15 centimetres (six inches) in diameter. Since fish are more lethargic in the winter, bites can be fairly light, and using a fishing bobber can help you detect when a trout is softly nibbling your bait.
Camping: Check out the Winter Camping Map for campgrounds open year-round in the Vernon and surrounding area.
Edith Lake (Kamloops)
Target both brook char and rainbow trout in Edith Lake. For brook char, try fishing with mealworms close to the shoreline. The water is clear in the shallows, and since a brookie's bite can be very light, by laying down and looking into your hole through the ice, you will be able to see when a brookie has taken your bait and is on your line. Move out to a spot over a little deeper water, and use a big attractor spoon, followed by a hook and worm on a short leader, to try your luck for rainbow trout.
Camping: Check out the Winter Camping Map for campgrounds open year-round in the Kamloops and surrounding area.
Ness Lake (Prince George)
Ness Lake is currently stocked with both kokanee and rainbow trout. However, brook char are also present in the lake, which presents many different fishing options for the hardwater angler. Ice-fishing gear and an auger can be borrowed for free for up to a week from the Prince George Visitor Centre.
Camping: Check out the Winter Camping Map for campgrounds open year-round in the Prince George and surrounding area.
Whiteswan Lake (Canal Flats)
If Lussier Hot Springs weren't reason enough to try ice-fishing at Whiteswan Lake, the quality of the rainbow trout in this lake is. Since the East Kootenays can be very cold, make sure you pack along appropriate warm clothing. You may want to think about getting an ice shelter.
Camping: Check out the Winter Camping Map for campgrounds open year-round in this area.
TIP: If you find this blog interesting why not subscribe to the enewsletter and never miss another story!
Check out winter camping in British Columbia for over 150 provincial parks and private campgrounds that are open year round.
Share your winter BC camping & fishing photos using hashtag #campinbc.
It's always a great day to #CampinBC
5 Fun Family Adventures Near Wasa Lake in the East Kootenays, BC
Wasa Lake is the warmest lake in the Kootenays and is a popular summer camping destination. This Provincial campground has 104 sites (66 of them are reservable), an amphitheatre for parks talks, nature trail, kids (or adventurous adults) bike park, as well as washrooms with flush toilets and showers. Wasa Lake itself is a short walk or bike ride through the campground and has sandy beaches, a playground, boat launch and grassy picnic areas.
Although the weather was warm when we visited it wasn't hot, sunny beach weather, so we opted to explore the local area and discovered some amazing places to visit just a short drive away.
Here are five fun things to do in the area.
Explore Wasa Lake Provincial Park
We spent the better part of a day just exploring our surroundings, especially enjoying the small bike park located within the campground. It's perfect for younger riders with small jumps, obstacles like planks, bridges, rocks, and small ravines to challenge their skills.  Also, be sure to check BC Parks website for contests and things to do. You can also download a pamphlet for Jerry's Nature Quest which includes some fun games to do in the park.
Visit Fort Steele
Fort Steele is a heritage town located about 20 minutes drive from Wasa. The town has heritage houses and businesses to explore, gold panning, a bakery, an ice cream parlour and a few restaurants as well. We spent several hours exploring the town and had a great time. Be sure to take a ride on the steam train if you go – it's a fun way to step back in time.
Visit Cranbrook
Cranbrook is home of the Canadian Museum of Rail Travel. At one time this town was the major train hub for the area and is now home to a unique rail museum with restored train cars to wander through and explore. Cranbrook is the closest city to Wasa to restock your supplies and is one of the Kootenays major centres so you'll find several large grocery and hardware stores, shopping in the mall as well as in the downtown core. It's a great place to explore on days when the weather just isn't on your side!
Hit a Hot Springs (or two)
Fairmont Hot Springs, Radium Hot Springs and Lussier Hot Springs are all close by. Fairmont and Radium are developed hot springs with several pools, change rooms, places to eat and lots of parking. They are both great options for the whole family with Fairmont being the closer of the two at just a short 45-minute drive away. Lussier Hot Springs is a natural hot springs, so you'll have to park and hike in – no services, change rooms are available, it's definitely for the more adventurous campers!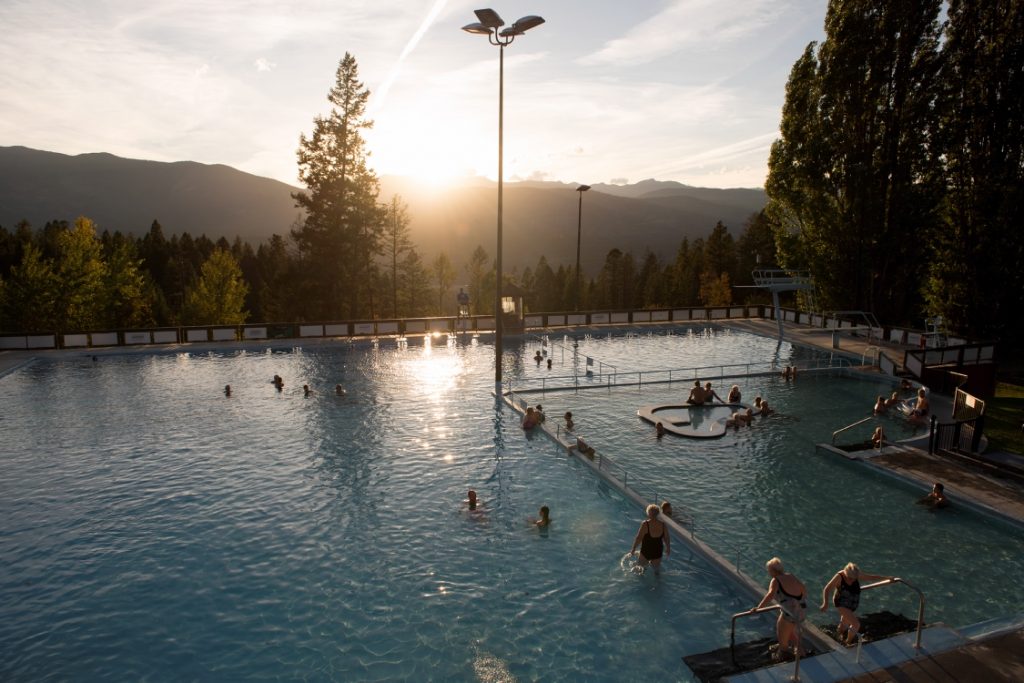 Bike One of the Loop Trails
Take one of the Loop bike trails and explore a bit more of the Wasa area. There are two bike loops to get you out of the campsite and exploring the area. The first: Wasa Lake Lions way, is a shorter loop that is a good walking trail as well, although at 8 km you'll need to be sure you have good walking shoes on and water for the walk. It's a paved flat trail, great for the whole family as even very young riders can manage this one. The second loop is the Lazy Loop bike path, and don't get confused by the name…the path isn't lazy – that's the name of the lake the path takes you to. This route is 33 km round-trip and takes you up into the mountains to get there!
We had a great time at Wasa Lake Provincial Park and exploring the East Kootenays. We're looking forward to a return visit next year.
To locate other campgrounds in this area or elsewhere in British Columbia go to the Camping Map.
Share your BC camping and travel photos using hashtag #campinbc
Save
Save
Save
Kootenay National Park, British Columbia Offers Great Vistas, Hiking & History
Kootenay National Park, an often-overlooked neighbour to Alberta's more popular Rocky Mountain Parks of Banff and Jasper, makes the perfect daytrip when exploring the region. It also offers enough to keep you busy for a weekend all on its own if you like stunning vistas, great hiking, and interesting history.
An added bonus to Kootenay National Park is that, unlike it's BC neighbour, Glacier National Park, it offers things to see and do year-round.  We visited Kootenay National Park at Easter during a particularly snowy year and still found ample things to do and see – just make sure you pack appropriately for the weather and check in at the Parks Canada visitor centre in Radium Hot Springs to make sure you don't accidentally tread into avalanche territory if you are planning a winter visit.
What to Do
Kootenay National Park is a relatively narrow corridor stretching from Radium Hot Springs in BC to near Banff in Alberta. Established in 1920, the park provides road access to the Rocky Mountains from the Kootenays and protects a wide variety of environments including steep canyons, grassy meadows, steamy hot springs, roaring rivers, and fascinating ochre beds.
One of the best ways to explore Kootenay National Park is to use the Parks Canada Explora Kootenay App to take a GPS-guided driving tour of the 94-kilometre Banff-Windermere highway. Simply download the app, select if your travels are starting at the Radium Hot Springs end or the Banff end, and use Bluetooth to connect the app to your car stereo system. As you drive, the app will detect your location and provide you with suggestions for stopping points, interesting interviews with Parks staff about flora, fauna, and history, and the perfect amount of silence to help you simply enjoy the views.
When we visited, we actually did the driving tour twice – once listening to the app's stories, history, and information while making only short stops, and once to visit the locations that required more time. At the Radium Hot Springs end of the road, there are a lot of stops close together and I found it a bit overwhelming at first, so doing it twice really helped to cut down on the feeling of having to do everything in a rush.
Here are a few highlights of what you can see and do in Kootenay National Park:
Sinclair Canyon: As you enter Kootenay Park from the Radium end you will be immediately impressed as you drive through Sinclair Canyon. Park just past the canyon and walk back through it – you will feel tiny as the walls tower above you.
Radium Hot Springs Pools: Bring your bathing suit and soak your cares away in the hot pool or get your exercise swimming laps in the cool pool.
Kootenay Valley Viewpoint: Make sure you stop for a photo at this stunning location overlooking the Kootenay River.
Dog Lake Trail: A less busy but completely worthwhile walk crossing the Kootenay River via suspension bridge and carrying on to Dog Lake. If you are short on time, turn around at the second bridge.
Paint Pots: Take a walk back in history to orange ochre beds used by local First Nations and later European miners. Keep your eyes out for the mining equipment left behind.
Marble Canyon: One of the most popular sites in Kootenay Park is this deep and narrow gorge where you can cross and re-cross the canyon on walking bridges.
Lightning Alley: As you drive through the park, you will notice the landscape of wildfire over and over again. Use the Explora App to hear an interview with firefighters and Parks staff about this unique corridor.
Continental Divide: Stand with one foot in BC and one in Alberta – and perhaps more interestingly, stand with one foot where all water runs to the Pacific Ocean and one foot where all water runs to the Atlantic Ocean.
In the Area
One of the benefits of visiting Kootenay National Park is the close proximity to so many other things to see and do. In the area, plan a visit to Invermere for the perfect afternoon treat at Gerry's Gelato followed up by sampling a flight at the very funky Arrowhead Brewing.
Continue south and take a hike in the Hoodoos Trail near Fairmont Hot Springs for spectacular views – just stay away from the edge! If you still have time, carry on to visit Fort Steele Heritage Town near Cranbrook. On your way back, stop by Lussiar Hot Springs – a natural spring that bubbles out near the edge of the Lussiar River in Whiteswan Lake Provincial Park.
Where to Stay
Kootenay National Park offers a number of frontcountry and backcountry camping options. The Redstreak Campground near Radium is the largest and accepts reservations, but first-come first-served camping is also available at Marble Canyon and McLead Meadows during the summer months. For backcountry excursions, plan a multi-day hike along the 55-kilometre Rockwall Trail – just make sure to make your reservations in advance for this classic Rocky Mountain trek.
Kootenay National Park provides an excellent reprieve from the hustle and bustle common in Banff and Jasper without losing anything in terms of scenery or things to do. It is definitely one of my favourite parks to visit in the Canadian Rockies.
For more campgrounds in and around British Columbia check out the Camping Map at Camping & RVing BC.
Check out more blogs in the National Parks & Historic Sites series:
A Primer to Canada's National Parks in BC.
Explore Fort Langley & Gulf of Georgia Cannery Historic Sites and Check Out Some of BC's Fascinating History
BC's Gulf Islands National Park Reserve Offers Rich Opportunities for Exploring
BC's National Historic Sites Offer a Glimpse into the Past – Here are 3 to Explore
Kootenay National Park, BC Offers Great Vistas, Hiking & History
Visit Mount Revelstoke National Park in August for its Stunning Vistas & Wildflowers
Yoho National Park, BC – A Jewel in the Canadian Rockies
Glacier National Park: A Special BC Destination
Pacific Rim National Park Reserve – A Great Place to Visit in the Off Season
Share your BC camping and travel photos using hashtag #campinbc
Published: July 6th, 2017