5 Fun Family Adventures Near Wasa Lake in the East Kootenays, BC
Wasa Lake is the warmest lake in the Kootenays and is a popular summer camping destination. This Provincial campground has 104 sites (66 of them are reservable), an amphitheatre for parks talks, nature trail, kids (or adventurous adults) bike park, as well as washrooms with flush toilets and showers. Wasa Lake itself is a short walk or bike ride through the campground and has sandy beaches, a playground, boat launch and grassy picnic areas.
Although the weather was warm when we visited it wasn't hot, sunny beach weather, so we opted to explore the local area and discovered some amazing places to visit just a short drive away.
Here are five fun things to do in the area.
Explore Wasa Lake Provincial Park
We spent the better part of a day just exploring our surroundings, especially enjoying the small bike park located within the campground. It's perfect for younger riders with small jumps, obstacles like planks, bridges, rocks, and small ravines to challenge their skills.  Also, be sure to check BC Parks website for contests and things to do. You can also download a pamphlet for Jerry's Nature Quest which includes some fun games to do in the park.
Visit Fort Steele
Fort Steele is a heritage town located about 20 minutes drive from Wasa. The town has heritage houses and businesses to explore, gold panning, a bakery, an ice cream parlour and a few restaurants as well. We spent several hours exploring the town and had a great time. Be sure to take a ride on the steam train if you go – it's a fun way to step back in time.
Visit Cranbrook
Cranbrook is home of the Canadian Museum of Rail Travel. At one time this town was the major train hub for the area and is now home to a unique rail museum with restored train cars to wander through and explore. Cranbrook is the closest city to Wasa to restock your supplies and is one of the Kootenays major centres so you'll find several large grocery and hardware stores, shopping in the mall as well as in the downtown core. It's a great place to explore on days when the weather just isn't on your side!
Hit a Hot Springs (or two)
Fairmont Hot Springs, Radium Hot Springs and Lussier Hot Springs are all close by. Fairmont and Radium are developed hot springs with several pools, change rooms, places to eat and lots of parking. They are both great options for the whole family with Fairmont being the closer of the two at just a short 45-minute drive away. Lussier Hot Springs is a natural hot springs, so you'll have to park and hike in – no services, change rooms are available, it's definitely for the more adventurous campers!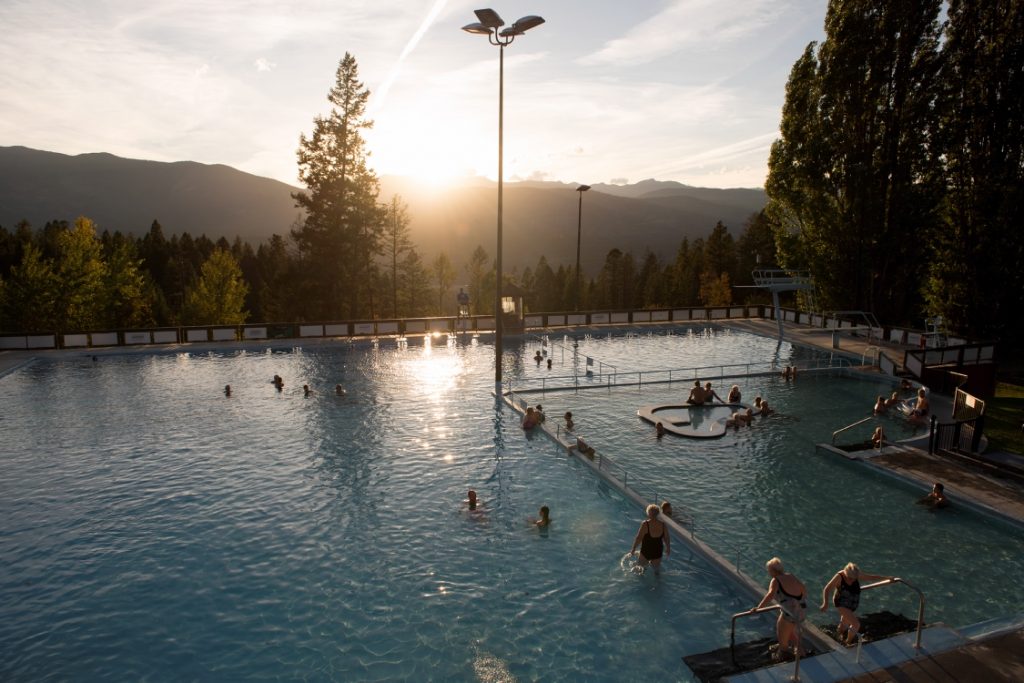 Bike One of the Loop Trails
Take one of the Loop bike trails and explore a bit more of the Wasa area. There are two bike loops to get you out of the campsite and exploring the area. The first: Wasa Lake Lions way, is a shorter loop that is a good walking trail as well, although at 8 km you'll need to be sure you have good walking shoes on and water for the walk. It's a paved flat trail, great for the whole family as even very young riders can manage this one. The second loop is the Lazy Loop bike path, and don't get confused by the name…the path isn't lazy – that's the name of the lake the path takes you to. This route is 33 km round-trip and takes you up into the mountains to get there!
We had a great time at Wasa Lake Provincial Park and exploring the East Kootenays. We're looking forward to a return visit next year.
To locate other campgrounds in this area or elsewhere in British Columbia go to the Camping Map.
Share your BC camping and travel photos using hashtag #campinbc
Save
Save
Save
Published: August 28th, 2019