Summer in Valemount, British Columbia: Where the Mountains Move You
Imagine standing in the middle of a town with a view of three snow-capped mountain ranges. Welcome to Valemount in east-central British Columbia, a village with stand-out summer adventures and activities.
Just over an hour west of Jasper, Alberta, Valemount is in the Robson Valley, situated along and east of Highway 5 (Yellowhead Hwy) and nestled between the Rocky, Monashee and Cariboo mountains (to the east, south and west). It's a municipality with a big heart – and venturesome residents eager to show visitors what their playground is all about.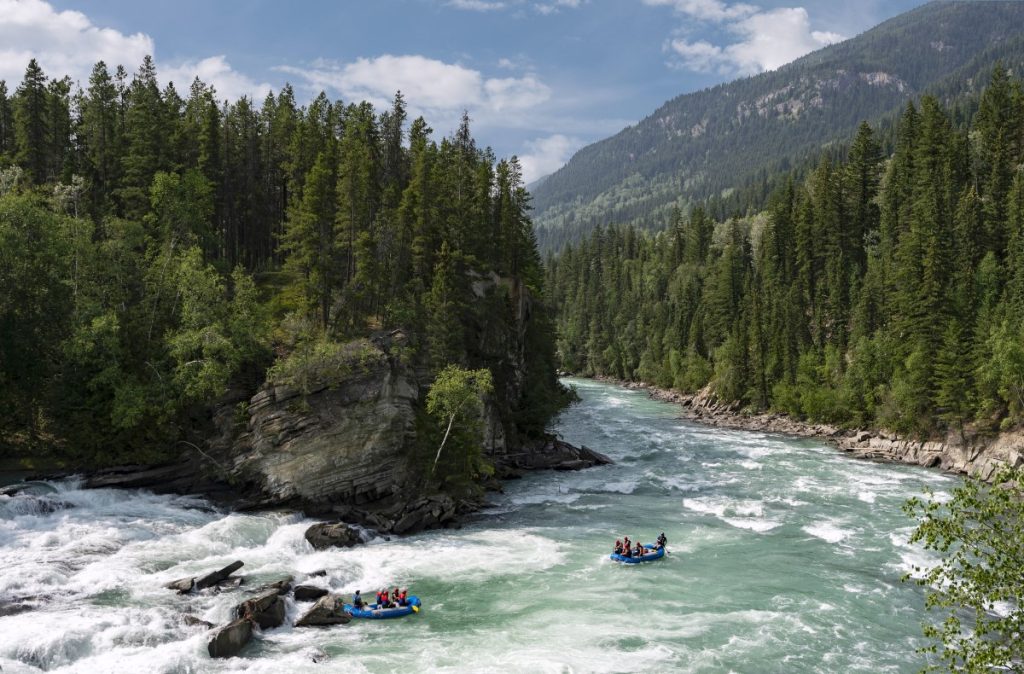 The land that would become Valemount is in the traditional territory of the Secwepemc Nation, Simpcw territory. The name Valemount was coined for the Canadian National Railway station there in 1927, and to this day it has a ViaRail station. It's the nearest community to BC's Mount Robson Provincial Park and its namesake, the highest peak in the Canadian Rockies. Choose from three campgrounds here: Lucerne, Robson River and Robson Meadows. From gentle meadows to alpine lookouts, there are hundreds of kilometres of trails to explore. (Note that the popular Berg Lake Trail will be open this summer to Kinney Lake only.) While in the area make a splash whitewater rafting on Class I to Class V rapids, or paddling or floating along the Fraser River (a clear, beautiful blue/green in this part of the province) or on the long and narrow Kinbasket Lake. Amidst the Rocky and Cariboo mountains it's actually a reservoir created by the construction of the Mica Dam; water levels can vary.
The viewpoint at Rearguard Falls Provincial Park provides an excellent opportunity to witness the end of a long journey for the mighty Chinook, the largest of the Pacific salmon. From the Fraser estuary in the province's lower mainland to this point, the fish travel upstream for over 1,200 km, though not all make it this far. George Hicks Regional Park also has a viewing platform for the salmon as they enter Swift Creek. Spawning season is generally August to September.
For other camping and RV options search via the Camping and RVing BC Coalition's campground webpage; Visit Valemount also has RV and camping information. The Valemount Visitor Centre can be found at 785 Cranberry Lake Rd (summer hours June-Sept, Mon-Fri 8:30 am-4:30 pm).
Mountain biking is a way of life in this part of BC. Be sure to check out the Valemount Bike Park. Minutes from the town core, it's a system of trails ranging from easy cross-country pedals and smooth and flowy downhills to steep and 'rooty' adrenaline-filled singletrack options. Cruise the trail and boardwalk along Cranberry Marsh (the Starratt Wildlife Management Area) where you can stop for birdwatching along the 6-km loop. Should you wish to rent a mountain bike or ebike swing by or call District Bike Co. or Bike & Bites; both shops service bikes too. Hiking trails in Valemount range from easy-medium-challenging; it's best to verify openings with the Visitor Centre before heading out as some trails may be closed for repairs or due to inclement weather. Perhaps you'll see Sasquatch near Mica Mountain (as sighted in 1955!) as you hike the Mica Mine Trail, the same trail where, in the 1890s, horses and mules hauled minerals down the mountain.
Three kilometres south of Valemount is Cedarside Regional Park on Little Cranberry Lake, a swimming spot with a sandy beach where dogs on leashes are welcome. There are toilets, picnic tables and fire pits; camping is not permitted.
Slow the pace down with some horseback riding or try fly, troll or spin cast fishing. Various species of trout fill nearby rivers and lakes (such as Moose and Shere lakes), as do Rocky Mountain whitefish. Valemount Pines Campground boasts a nine-hole golf course and grassy tent and RV campsites with spacious long-level pull-throughs and private back-in sites near a mountain.
Complement your fish dinner with a trip to the Valemount Farmers' Market, which runs every Thursday afternoon from late June to September. Along with regional produce you'll find arts and crafts. For other art options visit Mountain Driftwood Gallery & Gift. Many artisans sell in the area so check with the Visitor Centre for info on pottery, jewelry and antiques and collectibles. The Valemount Museum & Archive is located in an old railway station built in 1914. Learn about local pioneers, historic regional railroad towns and WWII Japanese internment camps. There are community events and summer festivals in and around Valemount such as the Annual Valemountain Days (June 9-11 this year), the annual Bike Fest (June 17) and Canada Day celebrations (July 1). Robson Valley Music Festival in the farming community of Dunster, 60km to the northeast, takes place on August 11-13.
Restaurant options include the Summit Grill and Cranberry Lounge in the Best Western Plus hotel and Cariboo Grill with fine comfort fare and an ample wine list in a cabin-like setting. The Gathering Tree specializes in breakfast and lunch and Valemount Swiss Bakery is known for its scrumptious sourdough breads. Get your mojo fix at Vale Coffee, a small batch roastery and takeaway café and if you're craving a pint head to Three Ranges Brewing Company for craft-brewed beer in their cozy tasting room or on the patio. The establishment is part of the BC Ale Trail, which lists over 220 craft breweries.
Whatever the outing or adrenaline rush – whether strolling past mountain wildflowers or chuting down rapids – summer in Valemount is bound to please all nature lovers.
For more information on Valemount go to the website at www.visitvalemount.ca, check out the Facebook and Instagram pages or if you are already in the area go to the Valemount Visitor Centre at 785 Cranberry Lake Rd, (250) 566-9893 visitorcentre@valemount.ca.
TIP: If you find this blog interesting why not subscribe to the enewsletter and never miss another story!
For campgrounds in this area and elsewhere in British Columbia check out the Camping Map.
Share your BC travel and camping photos using hashtag #campinbc #explorebc
It's always a great day to #CampInBC
Wintering in BC's Okanagan? Check out Things To Do from Kelowna to Penticton
Snowbirds and off-season RVers head to British Columbia's mid-Okanagan, sometimes called the "Napa of the North", for more than its sunny and mild winter days. There are plenty of activities and things to try, both out of doors and in.
Kelowna
The largest city in the Okanagan, Kelowna has a thing or two to boast about. It's hip and urban yet outdoorsy, surrounded by water, mountains and agriculture, and has a fantastic food and wine scene based on local produce. Its winters are generally temperate with scenic snowshoe trails and powdery ski runs an easy drive away.
Looking for things to do in the winter? Browse some unique boutiques and shops (Bernard avenue and Pandosy Village, near the beach, are musts), sip a cider, gin or beer in a tasting room, or enjoy a farm-to-table meal. If you're hankering for BC-caught oysters or a Friday fish fry head to Codfathers Seafood Market. It's owned and operated by fishmongers who promote sustainable harvesting.
Wintertime in Kelowna means annual festivals and events and winter wine tours offer a variety of vineyards and trails to visit. Tourism Kelowna has a helpful webpage that lists what farms, markets and orchards are open. The snowy season is a great time to purchase jams, preserves, honey and cheese.
Arts and entertainment ranges from galleries and museums to events and live shows. Kelowna Museums organizes workshops and operates the Okanagan Heritage Museum, the Okanagan Military Museum and the unique Laurel Packinghouse, which is part museum part venue area.
There are a number of winter hiking spots in and around Kelowna, including Johns Family Nature Conservancy Regional Park, Rose Valley Regional Park, Myra Bellevue Provincial Park and Bear Creek Provincial Park. Mission Creek Greenway has over 20 kilometres of trails, including an area where you can spot salmon spawning.
Just 20 minutes east of the city is the Kelowna Nordic Ski and Snowshoe Club which has 75 km of groomed ski trails which meander through beautifully wooded forests and hills. Dogs are allowed on the snowshoe trails (all 70 kms) and about 1/3 of the ski trails. You can ice skate at Stuart Park, a free outdoor rink with a fire pit for warming up, hike at Knox Mountain Park, just north of downtown, and walk along the waterfront boardwalk; the trail connects to the Rotary Marsh Park, a fantastic spot for birding.
Ski and snowboard options include Big White Ski Resort (to the east) and SilverStar Mountain Resort (to the northeast), both around an hour's drive from Kelowna; shuttle service is available. These winter playgrounds also offer snowmobiling, snowshoeing and fat tire biking. For a real bird's eye view in winter book a helicopter tour with OK Heli.
After such activity relax and get pampered at a local day spa or salon. It seems fitting while in Kelowna to try a Vinotherapy massage, where the residue (pips and pulps) of wine making are rubbed into the skin.
Summerland
The town of Summerland, a leader in the agri-tourism business, is on the lower end of Okanagan Lake with Peachland to the north and Penticton to the south. Nearby vineyard slopes and hills provide outstanding viewpoints of the valleys and lake.
There are many parks and trails to explore. A popular winter hike, snowshoe or cross-country outing is the Kettle Valley Railway Trail, part of the Trans Canada Trail. The rail line was once used to transport silver ore to the BC coast. There's also the 268-acre Mount Conkle Park and its 'Bonk Loop', and for a fantastic view of Summerland hike or snowshoe up the volcanic dome of Giant's Head.
Indoor winter options include the rink at Summerland Arena or the Summerland Community Centre for bingo or a game of billiards or shuffleboard. Tour Summerland Art Gallery, the Summerland Museum and Archives Society and try specialty shops such as Summerland Sweets, which has manufactured fruit syrup, jam and candy since 1962. For some cool nostalgia check out Nixdorf Classic Cars, which boasts an inventory of 100 vehicles from 1936 to 1970, and even a muscle car section. If you're craving craft beer, be sure to visit Detonate Brewing and Giant's Head Brewing. Click here for a list of community events in Summerland.
Penticton
The hub of the South Okanagan for outdoor recreation, Penticton has over 80 wineries in the region, and over a dozen combined craft breweries, cideries and distilleries in and around downtown.
There are plenty of restaurants and ambiances to choose from, from pubs and casual spots to elegant bistros and even the rooftop patio at Slackwater Brewing, which hosts trivia nights. Be sure to check out the Penticton Ale Trail which highlight's the town's breweries and eateries. Many wineries remain open during the winter; contact the winery before setting out and do sample some ice wines. There are several wine tour companies you can book with should you prefer not to drive. Click here for a winter dining guide courtesy of Penticton Visitor Centre.
Try your hand at the Cascades Casino or watch a flick at the Landmark Cinemas. For an art fix visit the Penticton Art Gallery and shop or the Lloyd Gallery (representing over 40 Canadian artists) or give an improv workshop a go with the Penticton Arts Council.
Shows and lessons are held at the Leir House Cultural Centre and the local Elks Lodge has art workshops, as do some of the local wineries such as Noble Ridge Vineyard where you can make a silk scarf while enjoying a glass of wine. There's also Pottery at Artables.
Take in a show at the Dream Café, the Cleland Community Theatre, or the South Okanagan Events Centre, where you can also watch the Junior A Penticton Vees hockey team.
The Penticton Community Centre offers special programs and activities along with its pool and fitness area and the Penticton Curling Club has leagues from November to March. For a winter walk you can easily access the Kettle Valley Rail Trail or rent a fat bike from Freedom Bike Shop to cruise along it, or perhaps a snowshoe tour with Hoodoo Adventures is more your thing.
Brand-new to Penticton is its much-anticipated outdoor skating rink. This fully refrigerated centrally located rink can operate in temperatures up to 10°C and will offer free rentals.
Just over 30 minutes southwest is Apex Mountain Resort for downhill skiing and snowboarding; there's also a 1-km ice skating loop, ice rink and tubing area for the kid in you. Apex organizes evening snowshoe outings followed by dinner and wine at its Gunbarrel Saloon, which has many times been named best après-ski bar in Canada!
For epic cross-country skiing and snowshoeing head to the Nickel Plate Nordic Centre, just west of Apex. Shuttle bus services are available. Golf in late winter in Penticton is possible, depending on the weather of course. Contact Penticton Golf & Country Club for more information.
For information when in the area go to:
Kelowna Visitor Centre: 238 Queensway Avenue, Kelowna
Summerland Visitor Centre: 15600 Highway BC 97, Summerland
Penticton Visitor Centre: 888 Westminster Ave W #120, Penticton
Want to read more on Winter Activities check out https://www.campingrvbc.com/category/activities/winter-activities/
TIP: If you find this blog interesting why not subscribe to the enewsletter and never miss another story!
Share your BC travel and camping photos using hashtag #CampInBC, #ExploreBC, #BCNice
For places to camp in BC in the winter go to https://www.campingrvbc.com/winter/
Powell River, British Columbia, Insulated by Nature
Two ferries from the lower Mainland or one from Vancouver Island to get to Powell River could leave you feeling isolated, but locals prefer to think of it as being insulated from the busy world and high crime.  Powell River, situated on the side of a mountain is wrapped in forest, insulated by nature. With hundreds of lakes behind it and the ocean at its feet, locals have the best of both worlds.
Powell River and area population (Lund, Texada, Savary Island) is about 20,000. There are box stores, independent stores and eateries covering a wide range of tastes. At the south end of Powell River sit by the sea at "Seasider Bistro & Wine Bar" or at the north end closer to Lund enjoy a spectacular view of Okeover Inlet at "Laughing Oyster Restaurant." It's open April to October. If you want to enjoy a meal "on" the water "The Boardwalk in Lund" has gluten free cooking while a golden sun sets into the ocean.
Lund is either the beginning or the end of Highway 101 depending on who you ask. It once was a fishing village now a tourist destination for those taking off for Savary Island or other islands. "Historic Lund Hotel" was originally built in 1895, now owned by Tla'amin Nation. It has 31 rooms, a store, restaurant, pub, laundromat, and Tug Uhm Art Gallery. Camp at "Sunlund By-The-Sea Campground & Cabin," a 5 minute walk to the hotel and "downtown" Lund. Sunlund offers full facilities; pets are welcome, laundromat and showers surrounded by forest. What a setting to wake up in before going to Nancy's Bakery for one of their famous blackberry cinnamon buns. Fuel up before you leave Powell River. There isn't a service station in Lund.
If you're ready for a hike try the Sunshine Coast Trail. At 180 km. with 13 huts it's the longest free hut-to-hut trail in Canada. Pick up part of it at "Inland Lake Provincial Park" with spacious campsites among the trees. It has a 13 km wheelchair accessible trail around the lake. The road to the park is a good gravel road about 20 mins from Powell River. It's open year-round with free camping from mid-September to mid-May.
Is canoeing your desire? The Canoe Route is 57 km long taking you through 8 lakes with portages.
We live in Powell River but our favorite campground is downtown by the ocean. "Willingdon Beach Campground" has 81 sites, some full-service, some beside the beach, others snugged under the trees. An easy walking trail joins it through towering cedar and Douglas fir where pesky squirrels beg for peanuts. At one time it was the rail bed for bringing logs down from the lake to the log dump on the beach. Old logging equipment rests along the trail.  It's only 5 minutes from Westview Ferry terminal to Texada Island or Vancouver Island.
Historic Powell River Townsite was where it all started. Dr. Israel Wood Powell discovered the area in 1881 and established logging camps but thousands of years before him it was home to Tla'amin First Nations. A pulp and paper mill was built 1910- 1912 and went on to become the largest newsprint mill in the world. The company built a lovely town based on the English Garden plan. Take a walk around the old homes; tour Dr. Henderson's home and when you're tuckered out stop at "Townsite Brewery." From a 1931 building the "Townsite Market" has grown with individual stores selling produce, unique products from hand-made chocolates to children's clothes and more. "The Old Courthouse Inn" owners decorated each room in an antique theme and serve delicious meals in the cozy café. Go to the movies at the Patricia Theatre, the longest running theatre in Canada. In 1995 the federal government proclaimed this area a National Historic District.
If it's culture you want, Powell River has it every month of the year. In August they shut down Highway 101/Marine Drive to celebrate the blackberry at the Blackberry Festival. Lund is famous for their Shellfish Festival in May. Every 2 years International Choral Fest Kathaumixw fills the air with music for five days. For a complete list of all that is happening in the area stop by the Powell River Visitor's Information Centre, 4760 Joyce Ave. They have a gift store and WIFI.
There is just too much to tell in a short period of time. You'll just have to discover how Powell River is insulated by nature for yourself. Warning: People have been known to come for a visit and 30 years later they are still here.
If this area interests you, check out our drive:
Salish Sea Route
TIP: If you find this blog interesting why not subscribe to the enewsletter and never miss another story!
For Camping and RV parks in the area and elsewhere in BC go to the camping map.
Share your BC camping and travel photos using hashtag #campinbc, #explorebc
It's always a great day to #campinbc
Published: May 23rd, 2019