Discovering Camping in British Columbia in the Fall Season
It's time to bring out the sweaters and store the flip flops! The fall season is a perfect time to avoid the crowds and explore BC while camping. In the shoulder season, Provincial Parks and private campgrounds usually have space available, allowing you to be spontaneous in where you camp.
My husband Allan and I took a 1,500 km trip through BC a few years ago (pre COVID), with a 24ft RV rented from CanaDream.  We "loosely" followed Highway 3 from the Vancouver area, up north on Highway 6, and ending by following Route 97 south until we hit Highway 3 again. This route gave us amazing variety in the landscapes we saw. In the morning we might cross a high mountain pass surrounded by majestic evergreens. By lunchtime we were in the Okanagan area, surrounded by bald hills and semi-arid desert. The majority of roads had little traffic, so we enjoyed pleasant drives each day.  
We started the trip by spending two nights at Fort Camping in Fort Langley. The campground location was ideal for having a level campsite with clean restrooms. A short stroll brought us to the charming town of Fort Langley with more options for restaurants, boutiques and ice cream shops than was possible to explore. Since we had our bikes, we enjoyed taking the Fort to Fort Trail, a paved path off the main road. Naturally one end of that trail ended at Fort Langley National Historic Site, a chance to step back in time.
Since we had a flexible schedule, we could discover some hidden attractions along the way. One of our favourite spots was the Grist Mill in Keremeos, 47 km (29 miles) northwest of Osoyoos. Because of the heavy rain, we needed our umbrellas but that didn't stop us from enjoying the site. A cozy café offered Grist Mill cookies and scones, while the outdoor displays gave insight into how the belts and gears coordinated to grind local wheat into flour.
The Kettle River Museum in Midway packs a large amount of history in a small space. We explored the actual KVR Station, part of the legendary Kettle River Railway. The museum offers a look at how people lived before electricity and motors. You can even tour the last caboose from the railroad line.
A highlight of the trip was driving through the Okanagan valley and seeing all the fruit stands. It seemed as if there was a competition going on as to who could make the most elaborate pumpkin displays. We'd stop at one stand to buy apples and admire the pumpkins. 10 minutes later we'd stop to buy corn because we were attracted to another pumpkin display.
Our route also took us past numerous wineries…many, many wineries! The Kelowna area alone has five designated wine routes. Just follow the signs which are displayed along the road. Most signs give the name of the winery as well as how far it is off the road. Some places offer wine tours where you relax on a bus while going from one winery to another. No need to select a designated driver!
Our favourite campground was Kekuli Bay Provincial Park south of Vernon. Almost every campsite has an amazing view overlooking Kalamalka Lake. It's worth getting up early to see the sunrises. The Okanagan Rail Trail is a designated bike and hike path that goes directly through the campground. We did a 20-mile ride that goes right next to the shore. Best of all, the trail is flat!
We saw a small sign for the Nikkei Internment Memorial Centre near New Denver in the Kootenay Rockies and decided to stop. It is the only site in Canada dedicated to telling the story of the 22,000 people of Japanese descent that were interned in Canada. We toured the actual 14ft by 28ft "shacks" that housed two families with up to six children each. The centre also has displays of clothing, furniture, and a peace garden and communal bath house. A sobering yet very informative place to stop.
TIP: If you find this blog interesting why not subscribe to the enewsletter and never miss another story!
Our road trip through BC only scratched the surface. We didn't get to explore Vancouver Island or gawk at the astonishing hoodoos in the East Kootenays. We did get to experience camping in Provincial Parks and privately-owned campgrounds, meeting other campers along the way. Those we stayed at are listed below. Now we're planning our next route to check out even more that BC offers!
Fort Camping – Fort Langley
Cottonwoods Meadows RV Country Club – Chilliwack
Hazelmere RV Park – Surrey
Kekuli Bay Provincial Park – Vernon
Brookvale Holiday Resort – Osoyoos
Kootenay River RV Park – Castlegar
Sugar Lake 2 Mile – Cherryville
For other campgrounds in the area or elsewhere in British Columbia go to the Camping Map.
Share your BC travel and camping photos using hashtag #campinbc
It's always a great day to #campinbc.
Snowbirds! Explore the Communities South of Vancouver and the Fraser Valley
Two trips to take on bright sunny days this winter that will provide a flavour of the local communities and regions south of Vancouver – Richmond and Delta as well as White Rock and Langley.
Our first trip starts in Richmond then heads south to the Village of Steveston, across to Delta and the Village of Ladner. There are some lovely and decent country roads you can take to these destinations but as it's winter we will let you decide which way to get there. (Check out the Google Map in our Winter Things To Do).
A historic landmark, the Gulf of Georgia Cannery situated in the Village of Steveston in Richmond has interactive and fascinating displays showcasing the machinery, tools and life in the West Coast fishing industry over a century ago. For the month of December the Cannery also hosts the Festival of Trees, decorated and sparkling for the holiday season.
For close to six weeks leading up to December 31 Steveston lights up and celebrates the festive season in style. Entertainment, food and fun provide a great way to spend a few hours alongside the waterfront. For more info: Steveston's Winter in the Village
More interactive displays highlight what life was like in the early days of Steveston Village at the Britannia Shipyards National Historic Site.
If you enjoy watching birds in their habitat the Reifel Bird Sanctuary in Delta is a must on your list. It is home to thousands of snow geese that over-winter and many species live here year-round. Hundreds of acres of wetlands are criss-crossed by trails and quiet places to observe the birds.
Located in Delta is the Historic Village of Ladner. The original village is very small but offers some fun opportunities to poke around coffee spots and unique shops, fashion and gift boutiques, home décor, crafts and even a seed shop that yes, while it is a garden shop, also has interesting gifts.
Our second trip starts in White Rock. White Rock is a seaside community south of Surrey and Langley, its eastern neighbour, offers a country experience. Several golf courses are here and are open throughout the year when weather permits. This region is dotted with wineries, cideries, gardens, fruit and dairy farms open to the public, and even a turkey farm with a bistro.
A short distance east of White Rock, following 8th Avenue, will bring you to Campbell Valley Regional Park. This is a significant park with many kilometres of hiking, biking and horse trails. If you want to get out and stretch your legs this is a good place to visit.
Chaberton Estate Winery located on 216 Street is just around the corner from Campbell Valley Park. It is a well-known award-winning winery offering a variety of red and white wines. Sample some of these wines in the tasting room followed by a delightful lunch in the Bacchus Bistro which offers up an authentic French menu.
Up for some more wine tasting? A short distance further east on 232 Street is Backyard Vineyards. They produce award-winning bold reds and bubblies that will tingle on the palate.
When was the last time you went to a drive-in theatre? You can relive those days for a nostalgic evening by visiting the Twilight Drive In Theatre. Showings and times are all on their website.
Fort Langley National Historic Site provides a glimpse into history when the Hudson Bay Company established a small post here to trade furs with the First Nations. Explore the various historic buildings and watch live demonstrations by costumed storytellers that showcase what life was like here in the 1800s. A short walk from here is the community of Fort Langley which is known for its unique antique shops, eateries and gift boutiques.
How about taking in a hockey game? The Vancouver Giants are Vancouver's major junior hockey team and play in the Western Hockey League out of the Langley Events Centre. Giants' games are an affordable alternative to the Vancouver Canucks, and you never know, you may be watching the next Wayne Gretzky!
TIP: If you find this blog interesting why not subscribe to the enewsletter and never miss another story!
For other drives from Vancouver check out:
Vancouver to Harrison Hot Springs via the Scenic Hwy 7
Vancouver to Whistler on the Sea to Sky Highway
Explore the Communities South of Vancouver and the Fraser Valley
For RV parks and other camping accommodations check out the Winter Camping Map.
Share your camping and BC travel photos using hashtag #CampInBC #ExploreBC #BCNice
A Primer to Canada's National Parks in British Columbia
National Parks are one of my favourite places to visit. In fact, after my husband and I got married in 2014, we packed almost everything we owned into a storage locker and set out on what turned out to be a 78-day camping trip across Canada focused primarily on visiting our National Parks and National Historic sites, guided by our National Geographic Guide to the National Parks of Canada.
Parks Canada has 148 National Parks, Historic Sites, and Marine Conservation Areas in the country. Of these 148 sites, nineteen are in British Columbia, which gives us plenty to explore!
Here are a few highlights to whet your appetite!
Hiking in Yoho National Park
The 8.5 kilometre one-way trail in Yoho National Park to the Twin Falls Tea House National Historic Site is definitely worth your sweat! On the way back, take the alternate route passing by Marpole Lake for some spectacular views and to enjoy the black and orange streaked cliffs.
Meadows in the Sky Parkway, Mount Revelstoke National Park
How often do you get to cover almost 2,000 metres of elevation in just 26-kilometres – and on a good paved road, nonetheless! Mount Revelstoke National Park provides that opportunity. For those feeing more adventurous however, leave the car at the bottom and hike the 10-kilometre Summit Trail to the top.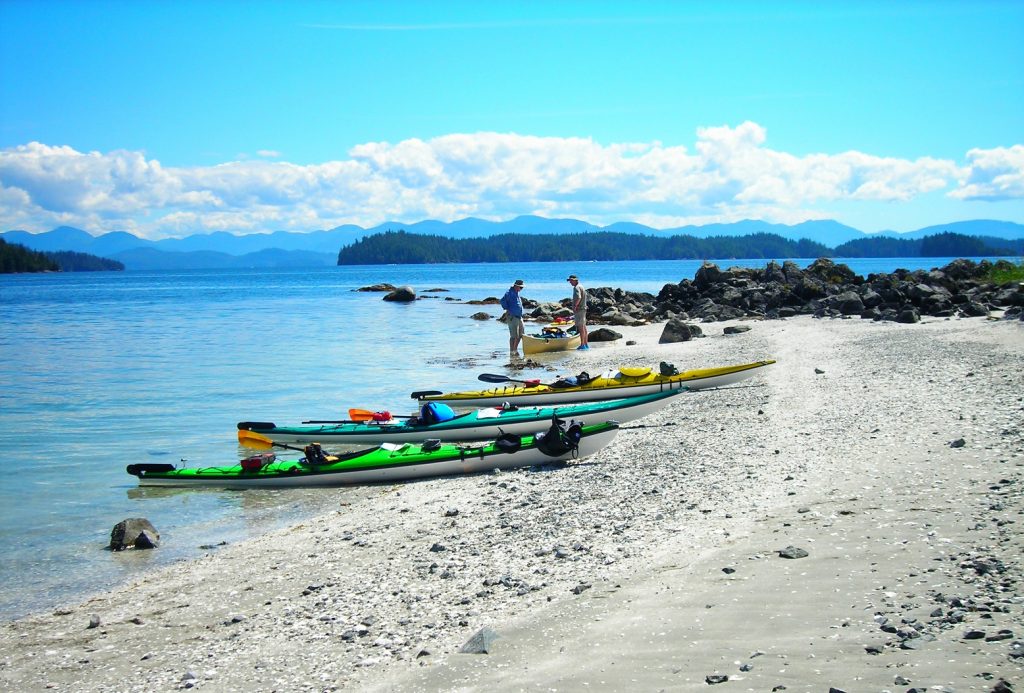 Kayaking the Broken Group Islands in Pacific Rim National Park Reserve
For an adventure like none other, leave the city behind and head to Pacific Rim National Park Reserve's Broken Group Islands. The Broken Group is made up of over one hundred islands of various sizes, some of which offer camping. If you are an experienced kayaker, you can head out on your own. If not, many tour operators can assist you with all stages of your trip. Make sure you give yourself at least three or four days to paddle to really experience the Broken Group.
Relaxing at Radium Hot Springs in Kootenay National Park
For utter relaxation, head to Radium Hot Springs in Kootenay National Park and soak your troubles away. The odourless and clear naturally heated mineral pools are the biggest in Canada. The facility also offers a full-service day spa in case you are somehow still holding on to your worries after your soak in the hot springs.
Step back in History at Fort Langley National Historic Site
No matter which National Park or National Historic Site you choose, breathtaking scenery and fascinating history are waiting for you. Canada's National Parks truly are some of the best places in the world, and living in British Columbia, we are so lucky to have many of them in our own backyard. The National Parks and National Historic Sites in British Columbia are:
Yoho National Park
Rogers Pass National Historic Site
Mount Revelstoke National Park
Glacier National Park
Kootenay National Park
Gulf of Georgia Cannery National Historic Site
Fort Langley National Historic Site
Gulf Islands National Park Reserve
Fort Rodd Hill and Fisgard Lighthouse National Historic Sites
Pacific Rim National Park Reserve
Fort St. James National Historic Site
Gwaii Haanas National Park Reserve and Haida Heritage Site
Gwaii Haanas National Marine Conservation Area Reserve and Haida Heritage Site
Chilkoot Trail National Historic Site
TIP: If you find this blog interesting why not subscribe to the enewsletter and never miss another story!
Note: During the summer of 2020 amid the ongoing COVID-19 pandemic you may find some services, facilities and programs closed. For private campgrounds check at BC private campgrounds. For information on BC Parks go to the BC Provincial Parks website and Parks Canada for their updated details. Please make sure you follow BC's health and safety recommendations when camping and traveling in this province.
For more campgrounds in and around British Columbia check out the Camping Map at Camping & RVing BC.
Check out more blogs in the National Parks & Historic Sites series:
A Primer to Canada's National Parks in BC.
Explore Fort Langley & Gulf of Georgia Cannery Historic Sites and Check Out Some of BC's Fascinating History
BC's Gulf Islands National Park Reserve Offers Rich Opportunities for Exploring
BC's National Historic Sites Offer a Glimpse into the Past – Here are 3 to Explore
Kootenay National Park, BC Offers Great Vistas, Hiking & History
Visit Mount Revelstoke National Park in August for its Stunning Vistas & Wildflowers
Yoho National Park, BC – A Jewel in the Canadian Rockies
Glacier National Park: A Special BC Destination
Pacific Rim National Park Reserve – A Great Place to Visit in the Off Season
Share your BC camping and travel photos using hashtag #campinbc, #TravelinBCLocal, #ExploreBCLocal, #StayLocal #BCLocalStaycation
Explore Fort Langley & Gulf of Georgia Cannery Historic Sites & Check Out Some of BC's Fascinating History
British Columbia has a rich and fascinating history and Parks Canada National Historic Sites highlight pieces of this history. BC's National Historic Sites are spread out through the province, from East to West and from North to South. Several of the sites are within an easy day trip of Vancouver and the Fraser Valley. Others will require more planning and commitment. All are worth visiting.
Today we are highlighting two National Historic Sites, Fort Langley and Gulf of Georgia Cannery. Both are easily accessible day trips from Metro Vancouver, and in our next blog we will be talking about three National Historic Sites that are spread throughout the province and would make a great part of any summer vacation.
A common thread through many of Canada's National Historic Sites (and Parks) is the Xplorers Program for the young and young at heart. This program includes a booklet highlighting activities at each site. As children complete the activities, they work their way toward earning a certificate and souvenir. The program is a great way to keep kids engaged and learning, and offers a lot of fun opportunities.
Fort Langley National Historic Site
Growing up in Hope, Fort Langley National Historic Site is the one I have been to the most often. A popular location for school field trips, Sunday strolls, and taking out of town visitors, Fort Langley continues to expand its offerings to ensure that there is something new to experience every time you visit. Recently, Fort Langley became one of 20 participating locations in the new Club Parka Program – a learning opportunity complete with singing, dancing, and activity pages. There is also a fun photo scavenger hunt you can complete while visiting the fort.
Fort Langley is a great place to explore. There are replica and original buildings, costumed interpreters, and live demonstrations throughout the day. Visit the blacksmith shop, the barrel workshop, and the garden to get a glimpse of what daily life looked like at Fort Langley in 1827. After you work up an appetite, visit the Lelam' Café inside the fort for a bowl of salmon chowder or elk stew complete with herb bannock. For a longer excursion, consider booking an oTENTik tent and staying the night inside the fort.
The community of Fort Langley is worth a visit while you are in the area. Pop down the street to browse in one of the many antique shops and make sure you stop in at Wendel's Bookstore & Café for an afternoon treat. If you still have time, pay a visit to the nearby Fort Wine Co. and sample some of their grape-free wines or enjoy a pitcher of sangria with friends.
Gulf of Georgia Cannery National Historic Site
Fishing on the West Coast comes alive at the Gulf of Georgia Cannery in Steveston. The cannery, built in 1894, operated until 1979 when it was closed. The building sat abandoned until Parks Canada purchased it in 1984, and then was officially opened as a National Historic Site in 1994.
While visiting the cannery, join in on one of the free, guided tours – they are well worth it. Just keep in mind that inside the cannery is two or three degrees cooler than whatever the weather is outside and the tour takes about 45 minutes. Bring a coat! After your tour, take a few minutes to soak up the sunshine (hopefully!) in the red Adirondack chairs overlooking the Steveston Harbour and the Salish Sea. Snap a photo and #sharethechair to commemorate your visit.
Once you are done at the Cannery, take a stroll along the waterfront. Head down to the docks, and you may be lucky enough to see one of the sea lions that call the harbour home. Sample amazing fish and chips or other seafood delights for lunch, and then head inland a block or two and you will suddenly find yourself transported to Storybrooke, Maine – the setting of ABC's Once Upon A Time – where you can visit some of the most recognizable filming locations from the show.
BC has some of the best National Historic Sites in the country. Our diversity of mountain and ocean sites guarantees that you will find something to suit your interests – all while learning about BC's fascinating history.
If this area interests you, check out our drives:
Coast Mountain Circle Route (Vancouver Round Trip via Lytton, Lillooet & Whistler)
Side Trips from Vancouver Offer Plenty To Do in the Winter
For more campgrounds in and around British Columbia check out the Camping Map at Camping & RVing BC.
TIP: If you find this blog interesting why not subscribe to the enewsletter and never miss another story!
Check out more blogs in the National Parks & Historic Sites series:
A Primer to Canada's National Parks in BC.
Explore Fort Langley & Gulf of Georgia Cannery Historic Sites and Check Out Some of BC's Fascinating History
BC's Gulf Islands National Park Reserve Offers Rich Opportunities for Exploring
BC's National Historic Sites Offer a Glimpse into the Past – Here are 3 to Explore
Kootenay National Park, BC Offers Great Vistas, Hiking & History
Visit Mount Revelstoke National Park in August for its Stunning Vistas & Wildflowers
Yoho National Park, BC – A Jewel in the Canadian Rockies
Glacier National Park: A Special BC Destination
Pacific Rim National Park Reserve – A Great Place to Visit in the Off Season
Share your BC camping and travel photos using hashtag #campinbc
Published: May 11th, 2017