Discovering Camping in British Columbia in the Fall Season
It's time to bring out the sweaters and store the flip flops! The fall season is a perfect time to avoid the crowds and explore BC while camping. In the shoulder season, Provincial Parks and private campgrounds usually have space available, allowing you to be spontaneous in where you camp.
My husband Allan and I took a 1,500 km trip through BC a few years ago (pre COVID), with a 24ft RV rented from CanaDream.  We "loosely" followed Highway 3 from the Vancouver area, up north on Highway 6, and ending by following Route 97 south until we hit Highway 3 again. This route gave us amazing variety in the landscapes we saw. In the morning we might cross a high mountain pass surrounded by majestic evergreens. By lunchtime we were in the Okanagan area, surrounded by bald hills and semi-arid desert. The majority of roads had little traffic, so we enjoyed pleasant drives each day.  
We started the trip by spending two nights at Fort Camping in Fort Langley. The campground location was ideal for having a level campsite with clean restrooms. A short stroll brought us to the charming town of Fort Langley with more options for restaurants, boutiques and ice cream shops than was possible to explore. Since we had our bikes, we enjoyed taking the Fort to Fort Trail, a paved path off the main road. Naturally one end of that trail ended at Fort Langley National Historic Site, a chance to step back in time.
Since we had a flexible schedule, we could discover some hidden attractions along the way. One of our favourite spots was the Grist Mill in Keremeos, 47 km (29 miles) northwest of Osoyoos. Because of the heavy rain, we needed our umbrellas but that didn't stop us from enjoying the site. A cozy café offered Grist Mill cookies and scones, while the outdoor displays gave insight into how the belts and gears coordinated to grind local wheat into flour.
The Kettle River Museum in Midway packs a large amount of history in a small space. We explored the actual KVR Station, part of the legendary Kettle River Railway. The museum offers a look at how people lived before electricity and motors. You can even tour the last caboose from the railroad line.
A highlight of the trip was driving through the Okanagan valley and seeing all the fruit stands. It seemed as if there was a competition going on as to who could make the most elaborate pumpkin displays. We'd stop at one stand to buy apples and admire the pumpkins. 10 minutes later we'd stop to buy corn because we were attracted to another pumpkin display.
Our route also took us past numerous wineries…many, many wineries! The Kelowna area alone has five designated wine routes. Just follow the signs which are displayed along the road. Most signs give the name of the winery as well as how far it is off the road. Some places offer wine tours where you relax on a bus while going from one winery to another. No need to select a designated driver!
Our favourite campground was Kekuli Bay Provincial Park south of Vernon. Almost every campsite has an amazing view overlooking Kalamalka Lake. It's worth getting up early to see the sunrises. The Okanagan Rail Trail is a designated bike and hike path that goes directly through the campground. We did a 20-mile ride that goes right next to the shore. Best of all, the trail is flat!
We saw a small sign for the Nikkei Internment Memorial Centre near New Denver in the Kootenay Rockies and decided to stop. It is the only site in Canada dedicated to telling the story of the 22,000 people of Japanese descent that were interned in Canada. We toured the actual 14ft by 28ft "shacks" that housed two families with up to six children each. The centre also has displays of clothing, furniture, and a peace garden and communal bath house. A sobering yet very informative place to stop.
TIP: If you find this blog interesting why not subscribe to the enewsletter and never miss another story!
Our road trip through BC only scratched the surface. We didn't get to explore Vancouver Island or gawk at the astonishing hoodoos in the East Kootenays. We did get to experience camping in Provincial Parks and privately-owned campgrounds, meeting other campers along the way. Those we stayed at are listed below. Now we're planning our next route to check out even more that BC offers!
Fort Camping – Fort Langley
Cottonwoods Meadows RV Country Club – Chilliwack
Hazelmere RV Park – Surrey
Kekuli Bay Provincial Park – Vernon
Brookvale Holiday Resort – Osoyoos
Kootenay River RV Park – Castlegar
Sugar Lake 2 Mile – Cherryville
For other campgrounds in the area or elsewhere in British Columbia go to the Camping Map.
Share your BC travel and camping photos using hashtag #campinbc
It's always a great day to #campinbc.
Hiking to French Mine Near Hedley in British Columbia's Okanagan
While recently camped at Stemwinder Provincial Park we were searching for a hike in the region. A quick search on AllTrails brought up the Nickelplate French Mine Loop, a 6.3km circular trail near Hedley BC.
We departed Stemwinder early in the day to avoid the heat as best we could and headed east to Hedley. Hedley is a very small community located between Princeton and Keremeos along Highway 3. Hedley has a rich mining history, and from the highway you can see the remains of the old Mascot Gold Mine stretching up the mountainside. Visiting the Mascot Gold Mine has long been on my bucket list, and thanks to an $800,000 grant from the province as part of a COVID relief program, the mine is slated to reopen to visitors in 2023. In the meantime, however, we thought we would head into the backcountry to explore the French Mine.
To access the French Mine site, head east past Hedley and turn off on the Hedley Nickel Plate Road after about 3 kilometres. The Nickel Plate Road, sometimes called the Corkscrew Road, is aptly named. As we wound our way up the mountainside, we enjoyed spectacular views of the valley below.
Eventually we reached our designated start point and parked our truck and headed out on foot. We chose to hike to the Lower French Mine site first, which turned out to be a beautiful walk along an old road. As it turned out, the access road to the lower French Mine could probably be considered vehicle accessible. However, I was happy we decided to park the truck and walk in as it gave us the opportunity to really enjoy the views.
When we arrived at the Lower French Mine site we spent some time looking at the old mining infrastructure. An old ore chute and a concentrator are on the main level, and a short walk up a trail just past the concentrator takes hikers to an open shaft that heads back into the mountainside. When we visited, I was shocked by the serious wind tunnel effect when I stood in front of the mineshaft as ice-cold air poured out of the tunnel around me.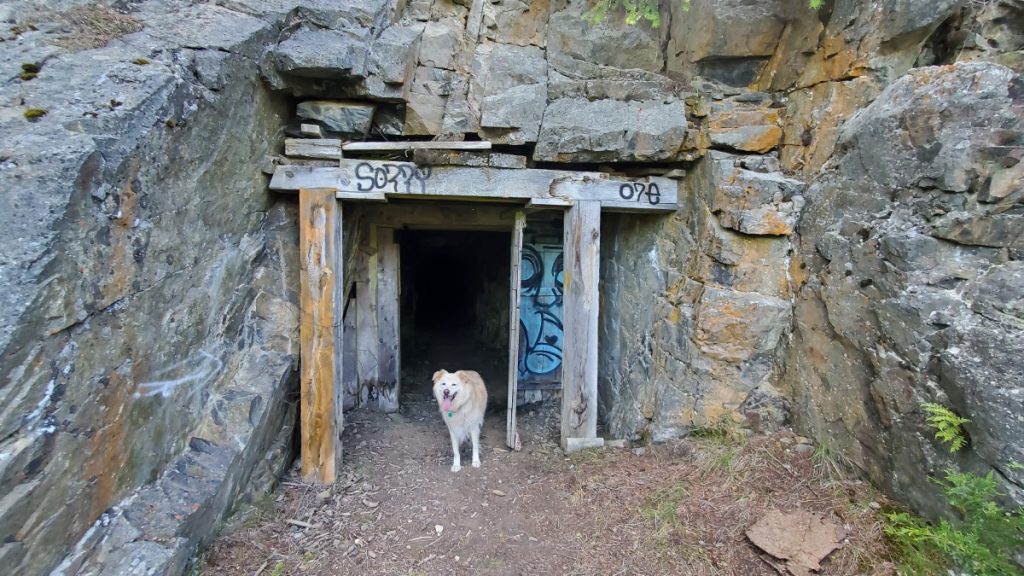 AllTrails indicates that there is a loop hike, and all we needed to do was head uphill and we would come to the Upper French Mine. I 100% do not recommend the scramble between the two mine sites unless you are an experienced scrambler or are part mountain goat. Alas, we did not know this, so as we climbed upwards, I was crossing everything I have that this was the correct trail, and I wouldn't have to turn around and go back the way we had come up.
Fortunately for me, after 20 or so tense moments, we re-emerged on level ground, scooted along a couple narrow ledges, jumped down a small cliff, and arrived at the Upper French Mine Site. As it turns out, this site is also vehicle accessible. Seriously – skip the scramble linking the two sites and from the Lower French Mine, just walk back the way you came then drive up to the Upper French Mine and save yourself the stress!
Anyway, at the Upper French Mine I was amazed to discover a massive network of tunnels and mineshafts in the mountainside. These shafts have a completely different feel than the one at the lower mine site. The main entrance is enormous, and shafts branch off in every direction imaginable. We stayed in the enormous central cavern, but I'm sure people more adventurous and better equipped than us could spend a lot of time exploring the area.
Since we were parked at the bottom and there was no way I was going back the way we arrived, we returned to our vehicle by hiking out the access road to the Upper French Mine, then down a portion of the Hedley Nickel Plate Road. All in all, our hike was around 7km and took about two hours. Both the Lower and Upper portions of French Mine are worth visiting, but as I have emphasized above, I would do it as two separate trips and not try to link them via the scramble described online.
I am always fascinated by the marks humans leave on the landscape and the French Mine area is a perfect example of this, making it a worthwhile daytrip in the Similkameen area.
TIP: If you find this blog interesting why not subscribe to the enewsletter and never miss another story!
For camping accommodations in British Columbia check out the Camping Map.
Share your BC travel and camping photos using hashtag #campinbc, explorebc
It's always a great day to #campinbc
Plan a Camping Trip to British Columbia's Similkameen Valley
BC Parks reservations can be tricky to come by for a summer weekend, so when we snagged a last minute reservation for Stemwinder Provincial Park in BC's Similkameen Valley we were excited to get out and try a new campsite.
Previously we have camped at nearby Bromley Rock Provincial Park (see our blog) so we had an idea of what the area would be like. The campsite at Stemwinder consists of 28 vehicle accessible campsites sandwiched between Highway 3 and the Similkameen River. The campground is generally laid out on two levels, the top level is right beside the highway and the sites are fairly open. The lower level, beside the river, is more treed. Our site was located right on the corner where you drive from the upper bench to the lower bench, so while it was surrounded on three sides by the campground road it still managed to be decently private since we really only had one neighbour.
The campsite at Stemwinder has pit toilets and one hand pump (on the lower level) for water. There are two short trails leading from near campsites 12 and 13 to access the river. Caution is advised, though, as Poison Ivy lurks just off the established trail! When we visited it was still quite early in the season and the Similkameen River was high. Later in the season the water would be lower and exploring the shoreline would be an option, although BC Parks cautions that the river runs fast and excellent swimming skills are required for anyone venturing into the water at this location. For a more relaxing swimming destination, head to Bromley Rock.
Stemwinder Provincial Park makes an excellent location to use as a base to explore the surrounding area. On our trip, we spent our first day visiting nearby Keremeos. Keremeos offers a huge selection of orchards and vineyards. Pick up a winery and cidery passport at your first stop of the day, and then visit a total of either three or five locations in order to be entered to win a Similkameen Wine Lovers Package. On our visit we focused on the Similkameen cideries and had a great time visiting each location and sampling their offerings.
There are plenty of opportunities to travel back in time in Keremeos. The Red Bridge, originally built in 1907 as a railway bridge, is one of the only covered bridges left on the west coast. Keremeos Grist Mill and Gardens is a provincial heritage site home to a functional water wheel from 1877. The site offers workshops, a restaurant, heritage gardens, an RV campground, and lots more.
Before heading back to our campsite, we made sure to pop in at some of the many fruit stands in Keremeos. Fresh fruit and samosas were on the menu for us and both were delightful!
Stemwinder Provincial Park is a great weekend or stopover destination when travelling through the Similkameen region. There is a lot to experience, whether you prefer sampling from vineyards and orchards, exploring a heritage site, or getting out for a hike such as the one at nearby French Mine (see blog).
TIP: If you find this blog interesting why not subscribe to the enewsletter and never miss another story!
Share your BC travel and camping photos using hashtag #campinbc, explorebc
It's always a great day to #campinbc
Spring Activities Abound in the Okanagan
In the mountains there is still plenty of white stuff, but in the valleys, once the snow melts, the trees start to bloom and the leaves turn green.
There are a variety of activities available in early spring, especially because the temperate climate of the Okanagan is so warm early in the season. Consider indulging in some of the following if you're looking to get camping this spring:
If you're a fan of wines and brews, consider taking one of the area's many wine tours. In Kelowna, you can take the Lakeshore Wine Route, starting at Sperling Vineyards to CedarCreek Estate Winery. Home of the award-winning restaurant, Home Block, CedarCreek is a popular way to enjoy the valley and the views of Okanagan Lake. As your day winds down, you can head back to Apple Valley Orchard and RV Park for a good night's rest. The next day, you'll be geared up to head down to Penticton to explore one of the province's mighty Ale Trail destinations. In fact, Penticton was recently named Canada's Craft Beer Capital!
You're wise to spend several days using Kelowna as your home base, especially in spring. The flowers are out and the birds are singing, so it's a great time to visit. Plan to spend a day visiting the Kettle Valley Railway in Myra-Bellevue Provincial Park, where you can enjoy biking, hiking and walking across the 18 trestles that still exist from the decommissioned railway line.
Of course, spring skiing is still an option if you're so inclined, with Big White Resort, located just 60 kilometres east of Kelowna, a short day trip away. Other great accommodations in the Kelowna area include Okanagan RV Park, West Eagle Campground and Holiday Park RV & Condo Resort.
It's a great time of year to visit the South Okanagan, as the fruit trees are in bloom in early April. Their heady scent permeates the air. In Penticton, you can enjoy time at a variety of different campgrounds and resorts, including Oxbow RV Resort, South Beach Gardens Campground or Barefoot Beach Resort. While in Penticton, you can enjoy all kinds of different activities and events. In fact, Visit Penticton has a great events calendar you can enjoy year round. Some favourite activities around the Penticton area include a day trip on the Kettle Valley Steam Railway in Summerland (and don't forget to swing by Summerland Sweets while you're in town, or to indulge the adults' sweet tooth, consider a visit to Bottleneck Drive. You'll have a chance to enjoy breweries, wineries, distilleries and cideries, all in close proximity to each other).
As you wind your way south, golf, swimming, boating and hiking are top activities to enjoy. Outside the busy summer season, there are many places to see and things to do that are just waiting to enjoy. Book a spot at Gallagher Lake, where you'll enjoy amazing views among the ponderosa pines any time of year. If you plan on staying in sleepy Oliver, consider booking at Lakeside Resort, a full-service year-round resort that's budget friendly. It's also near Nk'Mip Canyon Desert Golf Course, if you're looking to practice your swing. Also in Oliver is Fairview Mountain golf course, which is known to be open (weather permitting, of course) 11 months of the year! While you're in town, swing by the Oliver Visitor's Centre, as there are events going on all year round in Canada's Wine Capital.
Closer to the border is Osoyoos, known as Canada's Warmest Welcome, where – if you're not careful – you could drift across the American border, which bisects Osoyoos Lake. In town, you have a variety of options for accommodations, including Brookvale Holiday Resort and Cabana Beach Resort.
Stationed in Osoyoos also allows you to head east into Boundary Country or west to the Similkameen on day trips. Each are wonderful (consider visiting the Rock Creek Fall Fair, and don't forget Keremeos is known as Canada's Fruit Stand Capital) and are close enough to stay in Osoyoos, the only true desert in Canada, while exploring all the Okanagan has to offer.
For campgrounds in the Okanagan and elsewher in British Columbia go to the Camping Map.
Share your BC camping photos using hashtag #campinbc
Osoyoos, BC: Desert Camping in the Winter
Osoyoos is well known as a destination for summer camping, but what about in the winter?
"Canada's desert" is located near the Washington State border in the South Okanagan. It is a beautiful desert area wrapped around Osoyoos Lake with more wineries and orchards than you can imagine. Hot, dry summers, fresh fruit and a warm swimming lake make this a popular place for tourists in the summer.
We decided to check out Osoyoos a little more closely in the winter since it is such a popular destination in the summer. It is known for often having short, dry winters and is an attractive destination for snowbirds.
The day we arrived the temperature was hovering around zero degrees Celsius with some snow on the ground. We checked in with some locals to get ideas on what to do in the winter. One recommendation was to head up to Mount Baldy Resort, a ski hill just 45 minutes from Osoyoos. It has a great tobogganing hill for kids but is also popular for their cross-country ski trails, snowshoeing and downhill skiing. If you plan it right, we were told you can ski and golf on the same day. For golfing, there is the championship-level Osoyoos Golf Club plus a number of executive nine-hole courses.
For winter camping we were very impressed with the large Nk'Mip Campground and RV Park located on the east side of Osoyoos Lake. We have camped there many times in the early spring and summer both in our tent and trailer, but it is also popular in the winter, with RVs set up for the colder weather. It has over 350 sites, wireless internet, clubhouse, indoor pool and hot tub which is open in the winter months.
Just above the campground is the Nk'Mip Desert Cultural Centre and Nk'Mip Cellars with their patio restaurant open April to October. We had a chance to enjoy their beautiful view overlooking the vineyards with the campground and lake in the distance. We learned that the winery was the first Indigenous-owned and-operated winery in North America. With an impressive selection of award winning wines, we enjoyed some wine tasting and wandered around the gift shop.
After a visit to the cellar we headed back into town to the newly renovated Sage Pub. It was a busy place, with clientele of all ages, views of the lake and lots of big screens for the sports enthusiasts. One of the recommendations we had received earlier in the day was to try their Shepherds Pie which did not disappoint my husband. Even though our waitress said they are well-known for steak and pizza, I opted for their staff favourite and delicious Mexi Skins!
We rounded out our Osoyoos trip with a visit to my favourite Home Hardware on Main Street (check out the reviews online; it is way more than a hardware store).
TIP: If you find this blog interesting why not subscribe to the enewsletter and never miss another story!
So put Osoyoos on your list for your next winter getaway. It is more than Canada's hotspot in summer; it features plenty of cold season indoor and outdoor activities that cater to all levels of RVers and campers.
For campgrounds & RV Parks in Osoyoos and other communities in British Columbia check out the Camping Map.
Share your BC camping and travel photos using hashtag #campinbc.
Exploring Four of the Best RV Parks in the South Okanagan, British Columbia
On a crisp, sunny morning last spring, I headed to the Okanagan from Coquitlam to attend the Interior RV Consumer Show in Penticton. I make this trip annually to distribute camping directories for British Columbia but this year decided to take my time and explore some RV Parks in the southern region of the Okanagan Valley.
My destination on the first day was Osoyoos. I headed through the Fraser Valley on Hwy 1 to Hope then took the Crowsnest Hwy (Hwy 3) which is a gorgeous scenic drive over mountain passes and along rivers into the lush agricultural lands of the Okanagan with an abundance of orchards, vineyards and more.
Along the way it's worth taking a break at Manning Park. In the picnic area you'll see marmots scurrying in and out of underground burrows and bold whiskey jacks looking to share any snacks you are eating. Further on is Princeton which has several family style cafes, pubs and bistros to suit everyone's taste. I recommend a stop here if you are wanting refreshments.
On your way to Osoyoos you will pass through the quaint mining town of Hedley and the self-described "fruit capital of Canada" Keremeos. April is a little early to buy local fruit but the many fruit stands are open and worth a visit. Leaving Keremeos you head southwest to Osoyoos passing through Oliver. Check out the blog Take a Break Along the Crowsnest Hwy for more things to see and do along this route.
I arrived at my first overnight stop of Nk'Mip Resort in Osoyoos. This is a popular RV park with some 350 sites including 120 lakefront sites on the beach, 30/50 amp service, tent sites, convenience store, marina with equipment rentals, boat launch and more.
This resort is a wonderful spot to stay as it has so much to offer. In addition, the Restaurant at Spirit Ridge serves fabulous food, then there is the Solstice Spa, Desert Cultural Centre, Nk'Mip Cellars, Vineyard & Winery, Sonora Dunes Golf Course. And it's only a short 2 km walk or drive to the main street in Osoyoos.
After a good night's sleep, I left Nk'Mip to head back to Penticton. Before leaving Osoyoos I decided to try the local neighbourhood café, JoJo's, which is situated on the main street. What a great find. They make everything from scratch and if you are craving a muffin, cookie or eggs benny this is the place to go.
After enjoying a tasty breakfast I headed to Gallagher Lake Resort in Oliver. They have several lovely camping cabins near the beach and over 140 campsites. There are many amenities available including RV hookups, a convenience store, laundry, plus for the energetic – tennis, pickleball, volleyball court, and for the less strenuous – horseshoe pits. The campground is right on Gallagher Lake with their own private sandy beach.
Whilst in Oliver I also dropped in on The Orchard at Oliver, an RV park & motel. The campsites are set in a beautiful orchard and is a great place to relax and take in the laid-back atmosphere that is the Okanagan. You can also try something different and rent one of their rustic cabanas.
After leaving Oliver, I stopped for a quick snack in Okanagan Falls at Tickleberry's. I had never visited before, so it was a special treat. This is a family-run business known for its delicious homemade ice cream of over 50 flavours, homemade fudge, chocolates, kettle korn, and a wide range of gifts and local crafts to purchase. This is a fun experience and well worth the stop.
The last campground I visited on this trip was Barefoot Beach Resort in Penticton. This is a fairly new resort opposite Skaha Lake offering Yurts and tenting sites. Each yurt comes with a deck, two chairs and BBQ and lovely landscaped grounds. You can also enjoy the Barefoot Beach House Restaurant and Beverage House, relax on the roof top patio and enjoy fresh, Spanish-inspired cuisine, with a frosty margarita in one hand and some fantastic food in the other. They also offer a juice bar, second scoop ice cream and a rental hut and beachwear for all your needs.
From Barefoot Beach Resort I headed to the Penticton Trade & Convention Centre for the Interior RV Show. It was a whirlwind visit to the South Okanagan and next time I shall visit longer and take a few side trips to local wineries.
For the many camping opportunities in the South Okanagan and all of BC check out Where to Camp at Camping & RV in BC.
Roadtrekking in British Columbia's Southern Interior
Recently we took our Roadtrek van on a camping trip "Roadtrekking" through some of the not so well-known but delightful smaller towns in the Okanagan area of the southern interior of British Columbia. The first day, we left the Vancouver area and headed up Highway 1 and the Crowsnest Hwy 3 to Princeton. We spent the first night in the Princeton municipal park campground which has full hook-ups with free Wifi and is located right beside the Similkameen River on Highway 3. It is a great place to stop overnight. Another camping option is the Princeton golf club across the road with free Wifi and firewood for campers.
The next morning, continuing on Crowsnest Hwy 3, we headed to Keremeos, locally known as 'the fruit capital of Canada', and along the way visited the small, historic town of Hedley. This is well worth the stop as you can take a tour of the old Mascot Gold Mine and discover the life of a gold miner through modern technology of light and sound. You can also visit the Discovery Centre and explore the museum and gift shops. Once in Keremeos we stayed at the Eagle RV Park located on Hwy 3.
Much in need of some exercise after our drive, we walked the hiking/biking trail to the historic Red Bridge, the sole survivor of five covered railroad bridges that serviced the gold mining industry around the Hedley-Princeton area in the early 1900s. If you head east on the trail, it takes you to the town centre past many of the fruit stands. During the season, make sure you pick up some of the local fruit and veg to eat on your trip or to take home. Also worth a visit in Keremeos is The Grist Mill and Gardens, a BC Heritage Site.
On day 3 we headed east to the resort town of Osoyoos, a favourite destination for campers seeking beaches, swimming and boating in scenic Osoyoos Lake. We then drove north on Hwy 97 to Oliver where we stopped for lunch. On the main street we discovered a small bakery called the "Artisan Shop" run by a lovely lady from Montreal. The delicious lunch was a spinach and feta quiche, a mushroom filled bun and for desert, a pear filled danish and raspberry tart. Oliver also has a beautiful hiking/biking trail on an abandoned railway bed which is part of the Kettle Valley Rail Trail that will take you to Osoyoos. It is about a 50 km round trip that makes a great day outing.
Continuing north through Okanagan Falls (you must stop for an icecream at Tickleberry's) our day concluded in Peachland with an overnight stay at Todd's RV Park located on the main road in downtown Peachland. This is a great family friendly place that has been in business for 60 years, has full hook-ups and is right across from the beach. We spent the evening strolling along the beach, investigating the shops and enjoying the beautiful view across Okanagan Lake. The next morning, we visited the Art Gallery and Tourist Information Centre located in the old school house on Beach Avenue. They have a live video feed of the bat colony that roosts in the attic every summer. There is a great selection of bat themed t-shirts, hats and they even have bat guano for sale to fertilize your garden. The next time we are in the Peachland area, we will be checking out the Stave Pipe and Trepanier hiking trails and Parrot Island sanctuary.
After a great few days of camping, we headed home via the Hwy 97c connector that runs from Peachland to Merritt and then down the Coquihalla Hwy 5 to Hope. With so many unique towns in British Columbia we will soon be off to do more exploring in beautiful British Columbia.
Save
Published: September 8th, 2016