Osoyoos & Oliver, in the Okanagan, British Columbia – Offers Plenty To Do in the Summer
For a unique British Columbia experience, head to Canada's only true desert destination: Osoyoos. Located at the southern end of the Okanagan Valley, Osoyoos averages over 2,039 hours of sunshine every year and temperatures regularly hit the upper 30s in July and August. Fruit and wine abound, making Osoyoos an ideal summertime vacation destination.
To maximize your time in Osoyoos, it is important to take the temperatures into consideration. Start your day early at the Nk'Mip Desert Cultural Centre to learn about the unique ecosystem that makes up the traditional territory of the Osoyoos Indian Band. After taking in the indoor exhibits, head outside (bring water and sunscreen!) and wander through over two kilometres of maintained trails complete with interpretive displays featuring everything from local flora and fauna to a reconstruction of a traditional village. Take the time to complete the upper portion of the loop through the hillside of wild sage and antelope brush – the views are spectacular.
If the heat during your walk at the Cultural Centre gets too much for you to bear, head to Osoyoos Lake which is known for being the warmest freshwater lake in Canada. Sẁiẁs (Haynes Point) Provincial Park is the perfect place to unroll your beach towel for a swim or simply to nap in the sunshine. If walking is more your speed, the park is also home to a lush wetland habitat and an interpretive trail through the marsh will delight birdwatchers of all ages.
Once you have soaked up the sunshine at the beach, head for town and stop for some of the Okanagan's best gelato at Roberto's Gelato. Recommended flavours include Okanagan Apricot, Kulfi (Pistachio & Cardamom), Mango, and Chocolate Hazelnut.
In the afternoon, visit the Rattlesnake Canyon, a mining town themed amusement park complete with mini golf, go-karts, a rock-climbing wall, bumper boat, and the Tornado swing chair, which provides a great elevated view of Osoyoos.
If you are still seeking activity as the day goes on, consider heading to the Osoyoos Oxbows – a unique wetland ecosystem formed in the 1950s when the Okanagan River was straightened. Read about the Oxbows at the outdoor kiosk, and then meander along the trail listening for sounds of diverse migratory and resident birds. If you are really ambitious, bring your bicycle and cycle the 18-kilometre International Bike and Hike Trail heading north which runs parallel to the Okanagan River channel.
A 20 minute drive north is the town of Oliver. Described as the "Wine Capital of Canada" thanks to the more than 35 wineries that surround the town, Oliver is known for it's abundant orchards, spectacular vineyards, and arid climate.
It is hard to speak about Oliver without speaking about wine. I am always particularly taken with wineries with unique attributes, and a few of my favourites are definitely in Oliver. Platinum Bench Estate Winery & Artisan Bread Co. forever has a place in my heart thanks to their pairing of great wine with amazing artisan bread baked on site. For me it is a toss up between their Gorgonzola & Fig and Double Cream Brie & Pear varieties. Delicious.
If a laid back lunch is what you are after, without a doubt you need to visit the Masala Bistro at the Kismet Estate Winery. The location is convenient and the patio, from which you can sample very, very good Indian food, offers gorgeous views over the vineyards. I have to admit, when I was at Kismet there was a long line at the tasting bar so I skipped that part entirely and headed straight for the most perfect samosas I have ever tasted. The wine will have to wait for my next visit, I suppose!
If you have some time to spend in Oliver and you love the outdoors, a hike up McIntyre Bluff does not go amiss. Leaving from Covert Farms – a 650-acre organic farm and vineyard on a plateau north of Oliver – the McIntyre Bluff trail departs right from the wine shop. Parking is well marked and there is a trail log you can sign before you leave. The route heads through the Covert Farms property before starting uphill. The trail has a mostly gradual elevation gain over the next 2.5 kilometres, at which point you arrive at Rattlesnake Lake.
After Rattlesnake Lake, the trail first descends and then ascends more rapidly over the next few kilometres. Eventually the trail levels out and there is a short ridge walk before the view opens up and you are left breathless not from the climb but from the scenery. From the summit, views stretch south over Covert Farms, Oliver, and beyond. To the east, the cliff edge plummets over 850 feet to the valley bottom below. To the north, Vaseux Lake gleams. The entire trip took us about 3.5 hours and is perfectly rounded out with a stop at Covert Farms for wine tasting, a charcuterie board featuring farm-fresh products, and a wander around the property. With a little planning, and plenty of water and sunscreen as the trail is mostly exposed, McIntyre Bluff makes the perfect adventurous addition to any Oliver vacation.
Osoyoos and Oliver are the perfect places to kick back and relax in the sunshine for a couple of days while still offering a variety of activities that will be sure to keep the whole family entertained.
TIP: If you find this blog interesting why not subscribe to the enewsletter and never miss another story!
For places to camp in the South Okanagan and elsewhere in British Columbia go to Camping & RVing BC Camping Map.
Post your BC travel and camping photos using the hashtag #CampinBC
Plan to Visit Marble Canyon Provincial Park in British Columbia's Cariboo Region
The dry interior of the province is one of our favourite camping destinations. Marble Canyon Provincial Park, located along Highway 99 between Cache Creek and Lillooet, fits the bill for everything we like.
The campsite offers 30 high density, first-come-first-serve sites and on a sunny weekend afternoon, it is pretty much guaranteed that the campground will be over capacity between the campers and the day-trippers. As the afternoon wears on, some of the day users will depart, and there is a chance that late arrivals may find a campsite in one of the parking-lot style sites. For those lucky enough to snag one of the premium lakefront sites, the busyness of the park melts away.
The campsite at Marble Canyon Provincial Park is bookended by Crown and Turquoise Lakes. When the water is high, the two lakes merge and visitors can kayak or paddle board between both lakes. A full circumnavigation of the two lakes is about two kilometres. For those looking for a longer paddle, just up the road is Pavilion Lake (watch for the next blog published soon), a gorgeous lake home to extremely rare freshwater microbialites studied by NASA!
One of our favourite things to do when visiting Marble Canyon Provincial Park is to hike to the waterfall on the opposite side of the lake. From the campsite, walk or drive to the north end of Crown Lake. From here, follow the trail along the non-highway side of the lake for about three quarters of a kilometre. The trail skirts along the lakeshore in places and climbs the hillside in others. Before long, visitors will arrive at a beautiful waterfall. In the winter, this waterfall freezes and is hilariously referred to as Icy BC (and a variety of other thematic route names including Body Shop and No Deductible) by ice climbers.
Marble Canyon Provincial Park protects a dramatic landscape of steep limestone cliffs and lovely lakes. It is extremely busy during the summer with campers and day-trippers alike, but it makes an excellent shoulder season destination as well. The first time we ever visited Marble Canyon Provincial Park was the last weekend of September – warm sunny days but certainly below freezing overnight. Our trip was instigated by a desire to climb a few of the many rock-climbing routes in the area. While it has been almost a decade since that climbing trip, Marble Canyon Provincial Park is a place we keep going back to – and keep finding new things to explore when we are there.
If you are looking for widely spaced campsites and a moderate climate, Marble Canyon Provincial Park is probably not the place for you. The campground is undeniably squishy, but for us it works, as when the small beach is busiest, during the heat of the day, we prefer to be on or in the water. During early mornings, late afternoons, and evenings, Marble Canyon Provincial Park can be a peaceful and beautiful destination for a weekend getaway.
TIP: If you find this blog interesting why not subscribe to the enewsletter and never miss another story!
For other camping opportunities in this area and throughout BC go to the Camping Map
Share your BC travel and camping pictures using hashtag #campinbc, #explorebc, #bcnice, #green
It's always a great day to #campinbc
Big Bar Lake Provincial Park in the Cariboo, British Columbia
If you don't mind a little jaunt off the beaten (and paved) path, Big Bar Lake Provincial Park, 42 kilometres northwest of Clinton, makes an excellent weekend escape in the South Cariboo.
Dusk was setting as we arrived at our campsite and a quick reconnaissance showed that we had a path directly from our site down to the water's edge. In addition to these site-to-lake trails, the park also has numerous locations to access the water including a boat launch and day use area with picnic tables and an adventure playground.
Big Bar Lake is a gorgeous canoe destination. The water sparkles and there are numerous places where the shallow, sandy bottom gives an almost tropical appearance. The lake is well known as a fishing destination, but despite our best efforts we came up empty handed on this trip. Other fishermen we talked to said the fishing had been hot a few days before, but things had slowed considerably, which made us feel slightly better about the situation!
After tucking our rods away, we decided to paddle to the end of the lake and look at all the cabins on the opposite side of the lake from the campground. The cabins range from gorgeous and modern to derelict and abandoned looking. Some rustic structures right near the end of the lake left me wondering the history of the property and wishing I knew more about the history of the region as a whole.
Before long, unsettled weather struck and we could see black clouds building at the campground end of the lake. Bad weather can come up quickly on the water, and we had barely made the decision to turn around and head home when we were stuck with gale force winds, driving rain and hail, and extremely rough water. Boating safety is paramount, and it is essential that anyone headed out on the water, no matter how calm it appears, be prepared. At an absolute minimum, this means always wearing a life jacket. Because we were canoeing with a dog, we decided to take extra precautions and pull up on shore and wait for the squall to pass. As we were hunkered down, we saw several paddle boarders wearing only bathing suits and carrying no safety equipment whatsoever struggling to make it to shore. Thankfully, the storm passed quickly and everyone was safe, but this was a sobering reminder of how quickly things can turn bad on the water.
Next, we decided to trade water for land and hike the 3.5 kilometre Otter Marsh Interpretive Trail that leaves from the day use area of the park. Make sure you wear mosquito protection as the mosquitos were ferocious and most of our hike actually took place at a light jog. But the views were spectacular and the interpretive signage along the trail did a great job of educating us about the area and pointing out specific features to look for including tree species, glacial activity, volcanic activity, and the diversity of grassland and forest habitats.
Since we travelled early in the camping season, we were happy to have a waterfront site in the Lakeside Campground from which we could view the lake while sipping tea and reading books. If we travelled to Big Bar Lake during the height of summer, the Upper Campground, which was completely empty while we were there, might be more appealing as it provides more shade and larger campsites, including double sites, than the higher density, waterfront area where we stayed.
TIP: If you find this blog interesting why not subscribe to the enewsletter and never miss another story!
Whether you are seeking land or water adventures, it's always a great day to #campinbc and Big Bar Lake Provincial Park is an excellent destination to explore.
For other camping options in this area and elsewhere in British Columbia go to our Camping Map.
Share your BC travel and camping photos using hashtag #campinbc #explorebc #bcnice.
Camping in British Columbia's West Kootenays: Checking out three great campsites
Camping in the West Kootenay's is a great way to explore the area and visit communities like Nakusp and Burton. So in July 2020, we visited three campgrounds near or on the shores of Arrow Lake and the town of Nakusp.
KBR Campground
2 km north of Nakusp lies KBR Campground with 40 campsites. This campground is in a great location for those who want to explore the area, through hiking, shopping, eating out in Nakusp, or relaxing in the hot springs across the road. A new addition this summer is their koi pond. KBR is a great location for travellers on the go.
Three Islands Resort
15 km south of Nakusp is Three Islands Resort. Located on Summit Lake, this campsite is a paradise for campers with easy access to the lake, lots of local ATV trails and very helpful owners. What we liked about this campground was the lovely beach and boat launch plus lots of choice for sites, whether you are looking for tenting, full service or lakeshore sites.
Burton Historical Park
36 km south of Nakusp is the community of Burton with its rich history. Founded in 1895, Burton was originally a gold rush town. Its destiny dramatically changed with the signing of the Columbia River Treaty (between Canada and the United States) and the building of the Keenleyside Dam in the early 1960s which controlled the flow of water in the river for hydro-electric power. This was a very traumatic time for many of the long-time residents in the area who were forced to leave or relocate when the valley was flooded.
Near the original town site is the RV Park we stayed at; it is called Burton Historical Park. This park is a real gem, sitting on the shores of Arrow Lake. There are lots of sites along the lake, as well as great amenities such as hot showers, great beach access and a sani-dump. The Seniors Trail (named in honour of the local seniors group who developed it) leads from the campsite south along the lake to the site of the old cemetery. The campsite host at the park shared with us that in the early spring when the water levels are low, you can still see remnants of the old foundations.
While we were camping at Burton we walked up the road to the Burton Bean, a farm stand with lots of local seasonal fruits and vegetables along with all kinds of neat treasures from local vendors and artisans. If you are looking for eggs, this is the place to go. This has to be the cutest chicken yard I have ever seen, full of happy hens!
A little further up the road we stopped in at Burton City Cider to try some of their local cider and their yummy pizza.
We then meandered across the highway, to the community of Burton. Even though many of the original buildings on the lake were either burned or torn down, we walked past many that were relocated including the old general store which is now closed.
If you are looking for great camping, a beautiful part of BC and plenty of things to do, check out the Nakusp area and make it a destination for your next summer camping trip.
TIP: If you find this blog interesting why not subscribe to the enewsletter and never miss another story!
If this area interests you, check out our drive:
Mountains, Lakes & Rivers in the West Kootenays and Boundary Country
For other campgrounds in this area or elsewhere in British Columbia check out the Camping Map
Share your BC travel and camping photos using hashtag #campinbc, #BCNice, #explorebc
Camping at its best: Revelstoke to Galena Bay, British Columbia
If you are looking for some great camping and hiking, check out the corridor (Highway 23) between Revelstoke and Galena Bay. Surrounded by stunning mountain views – Selkirk Mountains on the east and Monashee Mountains on the west – this area is worth the trip!
Just south of Revelstoke, the Columbia River widens creating Upper Arrow Lake at the north and Lower Arrow Lake with its southern end near Castlegar.
In this blog, I want to share two great campsites on Upper Arrow Lake: Blanket Creek Provincial Park and Arrow Lakes Provincial Park (Shelter Bay Site) plus some great hikes.
Travelling about 25 kilometres south from Revelstoke, you will reach Blanket Creek Park. I can't pinpoint just one reason why this park has evolved into my favourite provincial park of the past few years but from seeing how busy it is becoming, I am not alone.
I love walking and hiking and find that there are lots of choices within the park and plenty more close by. Just walking around the camping area, there are a little over 100 campsites so it is a good size park for meandering up and down the roads around the campsites. The park also has lots of trails including the 1.5 kilometer Columbia River Trail that runs along the lake and around the man-made swimming lagoon. On our recent visit to the park we were also able to walk a long way along the beach which was accessible as the water levels had dropped quite significantly since the beginning of the summer.
The Nature Trail at the south end of the park takes you to the original Domke homestead and farm. This historic site was developed into the park in 1982. As you explore the site, you may see the original rock-work and signs with more historic information.
For those wanting a short up-hill walk, the trail to the 12 metre high Sutherland Falls in the park provides a beautiful view. The falls are created by Blanket Creek flowing from above.
Not far from the park gates there are a number of hiking trails including the Begbie Creek and Mount MacPherson Trails, as well as Mount Revelstoke and Glacier National Park near Revelstoke. This past trip we hiked to Begbie Falls and then down to the lake; it was an easy 1-kilometre trail through the dense forest and moss-covered ground.
Along with hiking there are lots of swimming spots along the lake, plus it is a great place for boating and fishing. Unique to this park is the man-made swimming lagoon, a circular lagoon surrounded by sandy beach. I read one article that stated that the water circulates every 24-48 hours.
Just south down the road (about 25 km south of Blanket Creek) is the Shelter Bay Site which was created in 1981 and has 17 first-come-first-serve campsites. Highlights of this park include swimming along the shores of the lake and easy access for boating. The park includes a concrete boat launch with lots of parking.
For those interested in exploring further south, the 20-minute ferry which crosses the lake from Shelter Bay to Galena Bay is located just south of the campsite gates. From the other side of the lake, your adventure can continue to communities like Nakusp and the hot springs at Halcyon and Nakusp.
Even though I love the hiking and lush green forests of this area, it is always fun to set off on our next adventure for more hiking and great camping.
TIP: If you find this blog interesting why not subscribe to the enewsletter and never miss another story!
If this area interests you, check out our drive:
Mountains, Lakes & Rivers in the West Kootenays and Boundary Country
For other campgrounds in this area or elsewhere in British Columbia go to the Camping Map.
Share your BC camping and travel photos using hashtag #campinbc #BCNice and #ExploreBC
Off the Beaten Track: Nisga'a Memorial Lava Bed Park
For those who don't mind a drive, Anhluut'ukwsim Laxmihl Angwinga'asanskwhl Nisga'a – a.k.a. Nisga'a Memorial Lava Bed Park – 100 kilometres north of Terrace, in Northern British Columbia, offers a truly wonderful adventure.
Not many places can lay claim to being the home of the most recent and most easily accessible volcanic landscape in British Columbia, being the first provincial park to share management between BC Parks and a First Nation, and being home to the first "modern day" treaty in British Columbia – the "Nisga'a Final Agreement" of 2000. Nisga'a Memorial Lava Bed Park is a fantastic destination for those looking to combine history, culture, geology, and outdoor recreation.
Our adventure began at the Terrace Visitor Centre where we picked up a copy of the Nisga'a Auto Tour, a map detailing points of cultural and geological importance. One hour later, we arrived at Lava Lake – the southernmost end of the park. The lake offers a nice day-use area with a boat launch, possibilities for swimming, and a fascinating geological history.
Lava Lake was formed approximately 250 years ago when the Tseax River was dammed by a basalt lava flow. Today the river remains, the milky green water flowing underneath the blanket of lava covering the landscape and creating a now-you-see-it-now-you-don't effect in places where the lava rock has collapsed and the river is again visible.
There are several places along the Auto Tour where you can take short walks to scenic spots on the water. The Beaupre Falls trail is only one kilometre return, and offers beautiful views of a cascading waterfall. A little further up the road, the Vetter Creek trail provides a short walk and a fascinating story about "Phantom Fish" – spawning steelhead that have been swept over a waterfall on the Tseax River only to be trapped when the river disappears underneath the lava rock. These "Phantom Fish," sometimes visible below the falls, reportedly have large heads and elongated, snake-like bodies. Unfortunately, the "Phantom Fish" were all in hiding the day we were there!
Moving away from the water, the Auto Tour highlights some really interesting volcanic landscapes. The Crater Creek trail travels across "A-A" lava, a type of chunky and sharp lava that covers smoother lava called "Pahoehoe" found below. From the pictures, you might be wondering how the Crater Creek trail got its name since there is no water in sight. As it turns out, the original creek is up to 30 meters below your feet, an underground river flowing through passageways in the lava except during extreme floods, when the water comes bubbling to the surface and pushes the jagged "A-A" lava aside creating the gullies through which the trail now meanders.
As you walk the trails in Nisga'a Memorial Lava Bed Park one of the most striking things is the almost moon-like landscape. Nowhere is this more evident than Auto Tour stop number eleven – the Tree Mould trail. If you are anything like me, the concept of a "Tree Mould" is completely foreign. Thanks to the interpretive signage provided by BC Parks, I learned how during a volcanic eruption molten lava often surrounds trees and lights them on fire. In cases where the lava hardens quickly, the tree burns away leaving a hollow tube where the tree used to be. In some cases, an imprint of the tree bark is even left behind as a reminder of what used to be there!
Following our Auto Tour, we set up camp for the night at the 16-site Vetter Creek campsite. The site is really nice and surrounded by forest, a different landscape than much of the park visited during the Auto Tour. Right next to the campground is the park's Visitor Centre, a beautiful building where you can learn more about Nisga'a culture and history, get maps of the area, and purchase souvenirs.
Nisga'a Memorial Lava Bed Park offers a huge range of cultural, geological, and outdoor recreation opportunities and unfortunately we only had a limited time to explore the area. I definitely feel like I "missed out" on some of the park's unique features and am hoping to get back there sooner rather than later. Next time, I will make a point of signing up for the three kilometre guided hike to the rim of the Tseax crater. I will also spend more time exploring the four Nisga'a communities located near the park boundaries: Gitlakdamix (New Aiyansh), Gitwinksihlkw (Canyon City), Laxalts'ap (Greenville) and the Nisga'a Museum, and Gingolx (Kincolith).
Nisga'a Memorial Lava Bed Park may be off the beaten path, but in my opinion it can't be beat when it comes to combining culture, history, and geology. You will not be disappointed!
For places to camp in British Columbia go to the Camping Map
Share your BC camping photos using hashtag #campinbc
Five Spots to Ice Fish and Camp this Winter in British Columbia
Ice-fishing is often overlooked as a winter activity, especially if you live in southern B.C. But fishing doesn't stop when the temperatures drop – it only gets more exciting. Ice-fishing is a very social activity that requires only a limited amount of gear or experience. When solidly frozen, an entire lake becomes accessible without the need of a boat, and you don't need the often-complicated casting techniques required in other fisheries. It's as simple as drilling a hole, and dropping a line.
It is important to exercise caution, however. Always make sure the ice is thick enough to ensure a safe trip. Before you walk out onto ice, it needs to be at least 10 centimetres (four inches) thick if you are fishing alone, and at least 38 centimetres (15 inches) thick before you drive your truck onto it. Remember that a freshwater fishing licence is still required for ice-fishing, and that you should check the regulations for any closures or restrictions.
With these points in mind, along with some basic gear, you can be set for some fun times on the ice this winter. And the good news is, with many parks open year 'round that are close to great hardwater lakes, you can make a wintertime camping trip out of it.
Here are our top five spots, with recreational vehicle or camping spots close by, to try ice-fishing this winter:
Alleyne Lake (near Merritt)
Kokanee provide an exciting winter fishery in this lake. The trick is finding schools of fish. Using a fishfinder is your best bet, but if you don't have one, start at the bottom and work your way up through the water column until you find a school.
Note: The neighbouring lake, Kentucky SE Pothole, located 50 metres east of Kentucky Lake, is closed to ice-fishing.
Camping: Check out the Winter Camping Map for campgrounds open year-round in the Merritt and surrounding area.
Swan Lake (near Vernon)
This is a great spot to fish in the winter, although you should exercise extreme caution to ensure the lake is entirely frozen before venturing out. Swan Lake is located only moments away from Vernon's downtown centre. As you can catch rainbow trout weighing up to a kilogram (about two pounds) in size, make sure to bore your holes with an ice auger that is at least 15 centimetres (six inches) in diameter. Since fish are more lethargic in the winter, bites can be fairly light, and using a fishing bobber can help you detect when a trout is softly nibbling your bait.
Camping: Check out the Winter Camping Map for campgrounds open year-round in the Vernon and surrounding area.
Edith Lake (Kamloops)
Target both brook char and rainbow trout in Edith Lake. For brook char, try fishing with mealworms close to the shoreline. The water is clear in the shallows, and since a brookie's bite can be very light, by laying down and looking into your hole through the ice, you will be able to see when a brookie has taken your bait and is on your line. Move out to a spot over a little deeper water, and use a big attractor spoon, followed by a hook and worm on a short leader, to try your luck for rainbow trout.
Camping: Check out the Winter Camping Map for campgrounds open year-round in the Kamloops and surrounding area.
Ness Lake (Prince George)
Ness Lake is currently stocked with both kokanee and rainbow trout. However, brook char are also present in the lake, which presents many different fishing options for the hardwater angler. Ice-fishing gear and an auger can be borrowed for free for up to a week from the Prince George Visitor Centre.
Camping: Check out the Winter Camping Map for campgrounds open year-round in the Prince George and surrounding area.
Whiteswan Lake (Canal Flats)
If Lussier Hot Springs weren't reason enough to try ice-fishing at Whiteswan Lake, the quality of the rainbow trout in this lake is. Since the East Kootenays can be very cold, make sure you pack along appropriate warm clothing. You may want to think about getting an ice shelter.
Camping: Check out the Winter Camping Map for campgrounds open year-round in this area.
TIP: If you find this blog interesting why not subscribe to the enewsletter and never miss another story!
Check out winter camping in British Columbia for over 150 provincial parks and private campgrounds that are open year round.
Share your winter BC camping & fishing photos using hashtag #campinbc.
It's always a great day to #CampinBC
5 Fun Family Adventures Near Wasa Lake in the East Kootenays, BC
Wasa Lake is the warmest lake in the Kootenays and is a popular summer camping destination. This Provincial campground has 104 sites (66 of them are reservable), an amphitheatre for parks talks, nature trail, kids (or adventurous adults) bike park, as well as washrooms with flush toilets and showers. Wasa Lake itself is a short walk or bike ride through the campground and has sandy beaches, a playground, boat launch and grassy picnic areas.
Although the weather was warm when we visited it wasn't hot, sunny beach weather, so we opted to explore the local area and discovered some amazing places to visit just a short drive away.
Here are five fun things to do in the area.
Explore Wasa Lake Provincial Park
We spent the better part of a day just exploring our surroundings, especially enjoying the small bike park located within the campground. It's perfect for younger riders with small jumps, obstacles like planks, bridges, rocks, and small ravines to challenge their skills.  Also, be sure to check BC Parks website for contests and things to do. You can also download a pamphlet for Jerry's Nature Quest which includes some fun games to do in the park.
Visit Fort Steele
Fort Steele is a heritage town located about 20 minutes drive from Wasa. The town has heritage houses and businesses to explore, gold panning, a bakery, an ice cream parlour and a few restaurants as well. We spent several hours exploring the town and had a great time. Be sure to take a ride on the steam train if you go – it's a fun way to step back in time.
Visit Cranbrook
Cranbrook is home of the Canadian Museum of Rail Travel. At one time this town was the major train hub for the area and is now home to a unique rail museum with restored train cars to wander through and explore. Cranbrook is the closest city to Wasa to restock your supplies and is one of the Kootenays major centres so you'll find several large grocery and hardware stores, shopping in the mall as well as in the downtown core. It's a great place to explore on days when the weather just isn't on your side!
Hit a Hot Springs (or two)
Fairmont Hot Springs, Radium Hot Springs and Lussier Hot Springs are all close by. Fairmont and Radium are developed hot springs with several pools, change rooms, places to eat and lots of parking. They are both great options for the whole family with Fairmont being the closer of the two at just a short 45-minute drive away. Lussier Hot Springs is a natural hot springs, so you'll have to park and hike in – no services, change rooms are available, it's definitely for the more adventurous campers!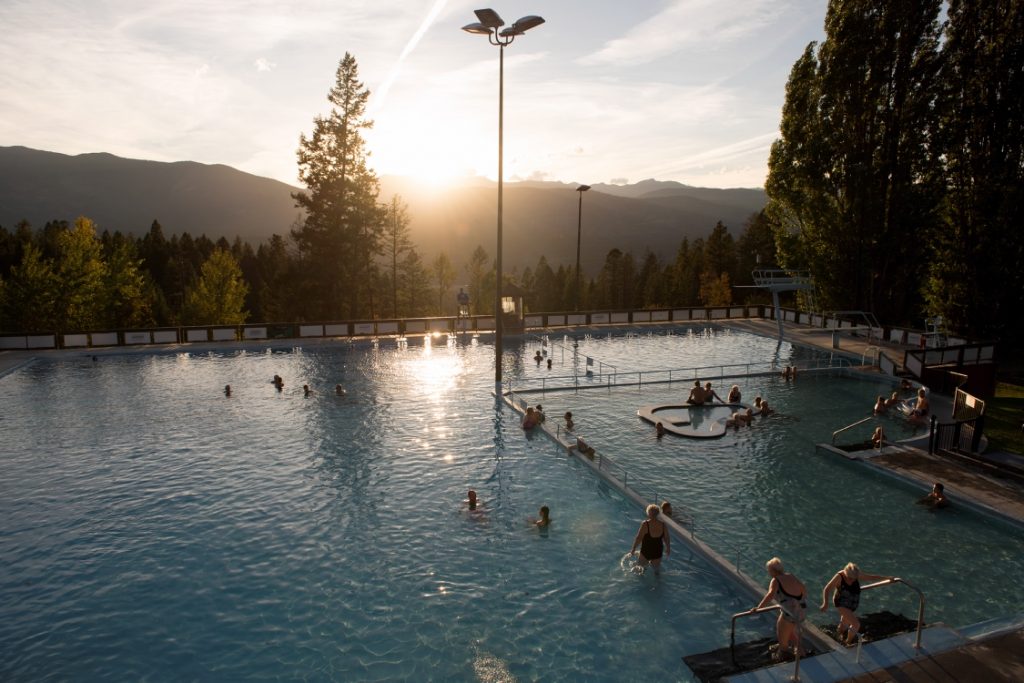 Bike One of the Loop Trails
Take one of the Loop bike trails and explore a bit more of the Wasa area. There are two bike loops to get you out of the campsite and exploring the area. The first: Wasa Lake Lions way, is a shorter loop that is a good walking trail as well, although at 8 km you'll need to be sure you have good walking shoes on and water for the walk. It's a paved flat trail, great for the whole family as even very young riders can manage this one. The second loop is the Lazy Loop bike path, and don't get confused by the name…the path isn't lazy – that's the name of the lake the path takes you to. This route is 33 km round-trip and takes you up into the mountains to get there!
We had a great time at Wasa Lake Provincial Park and exploring the East Kootenays. We're looking forward to a return visit next year.
To locate other campgrounds in this area or elsewhere in British Columbia go to the Camping Map.
Share your BC camping and travel photos using hashtag #campinbc
Save
Save
Save
A Slice of the Mediterranean in the Heart of Vancouver Island, BC
Did you know the Cowichan Valley has one of the warmest annual temperature averages in all of Canada? It's comparable to the Mediterranean, but right in our own backyard! You'll find lush scenery, beautiful views and a plethora of activities for a family friendly camping trip. We visited the Cowichan Valley late in August and camped 3 nights in Lake Cowichan at Lakeview Park Campground. The campground had private beach access but as new visitors to the valley, we were ready to explore!
Chemainus
After travelling across from the BC mainland on BC Ferries through Nanaimo, we ventured south towards the Cowichan Valley. A must stop along the way is Chemainus. Follow the signs for easy RV parking and get your walking shoes ready. The downtown is easily set up for mural enthusiasts with foot prints leading a tour through over 40 murals (and sculptures too!). As a bonus, be sure to check out the Chemainus Candle Company down on Maple Lane for amazing beeswax products as well as the Christmas store downtown. We didn't plan on buying Christmas ornaments in August – but we did, twice!
Duncan
The Farmer's Market is listed on all the Top Things To Do in Duncan lists, so we had to check it out for ourselves. It did not disappoint! After hitting a local coffee shop, we strolled the numerous vendors through the market, took in the performances and even bumped into Batman and Spiderman. The market truly has something for everyone. We picked up the most amazing farm bread, fresh veggies for dinner that night and the kids picked out a heaping serving of frozen yogurt – a win for everyone! As a hockey family, we also had to see the largest hockey stick and puck in the world. They even mark the perfect place to stand to capture the best "raising the stick" photo.
Lake Cowichan
The Lakeview Park Campground was just a few minutes from the shops and amenities of Lake Cowichan. After dinner one evening we parked at the visitor's centre and made the short walk to the Trans Canada Trail. Even just a simple walk surrounded by huge maples and crossing the Cowichan River was captivating. The lake itself is stunning and perfect for swimming and boating.
Port Renfrew
On a whim we opted for the 1-hour road trip to Port Renfrew to visit Botanical Beach. While the drive is pretty curvy, the scenery is beautiful and the destination is more than worth the wait. After a 1km walk or so down to the beach, you are greeted with an amazing view of the Pacific Ocean. Witnessing the waves crashing on the rocks is an experience like none other. The beach itself is pebbly, but the rocky shelves are home to so many tide pools. We saw anemones, urchins, crabs and starfish, just to name a few.
Our visit to the Cowichan Valley was better than we could have expected. We only scratched the surface of activities available and could have easily extended our visit. Not only would we recommend this destination, but we will be sure to visit again.
TIP: If you find this blog interesting why not subscribe to the enewsletter and never miss another story!
If this area interest you, check out our drives:
From Coast to Coast on Vancouver Island: Vancouver to Tofino
Salish Sea Route
To locate campgrounds in the Cowichan Valley, on Vancouver Island or elsewhere in British Columbia check out the Camping Map.
Share your BC travel and camping photos using #campinbc
It's always a great day to #campinbc
5 BC Places to Visit for Outdoor Fun and Winter Camping
If you thought that camping and RVing was devoted solely to those months without snow, you would be wrong. British Columbia is fast becoming a destination for RVing and camping, particularly with those who live in colder climes. Here are five fun things to do and places to camp in BC's winter months.
Winter Activities On British Columbia's Sunshine Coast
From the artistic community of Gibsons northeast to the harbour village of Lund, mountains meet the sea along the Sunshine Coast, a mainland area uniquely only accessible by ferry, boat or plane. Winters are typically mild and range from 2 to 10ºC (20 to 50°F) during the day. In lower elevations, rains keep the flora and forests lush, while higher areas see snow.
There's plenty to do both inside and out if you're RVing here in the winter. Make sure to get out on the water and head up some slopes. You will be rewarded with majestic views and an excellent chance of seeing animals in their natural environment. Read more.
Five Spots to Ice Fish and Camp this Winter in British Columbia
Ice fishing is often overlooked as a winter activity, especially if you live in southern B.C. But fishing opportunities do not stop when the temperature freezes – they only get more exciting. Ice fishing is a very social sport and requires only a limited amount of gear or experience. The entire lake becomes accessible without the need of a boat and you don't need the often complicated casting techniques required in other fisheries. It's as simple as drilling a hole and dropping a line. Try some winter camping while you're at it; there are many parks open year-round close to great hard water lakes. Here are our top 5 spots to try ice fishing this winter with RV spots close by. Read more.
Winter RV Adventure for Camping Newbies at Sunshine Valley & Manning Park, BC
If only we had known how amazing RVing in the winter is, we would have taken this trip a long time ago! Our journey started in earnest on a Wednesday morning when we had made arrangements to pick up a rental RV from CanaDream. We had already checked in online five days before, uploaded required documents and information, paid our deposit and reviewed demo videos so we knew all about the RV we were renting before we arrived. Upon arrival, we were greeted by friendly staff who checked that all of our details were in order and then my husband and I did a thorough walk-through of the unit. Read more.
5 Ways to Enjoy Winter in Wine Country, Okanagan, British Columbia
As cooler temperatures emerge, and the snow blankets the vineyards, the valley transforms from a sun-soaked paradise to the ultimate winter destination. From champagne powder to frozen waterfalls to theatrical sleigh ride shows, the winter can be a magical time to explore the Okanagan. Read more.
Vancouver Island, BC Off-Season Adventures
'Canada's Mediterranean', is how I like to refer to Central Vancouver Island. It offers more year-round outdoor recreational opportunities in mind-blowing scenery than I'll ever have time to enjoy in one lifetime. But I'm trying – and the best part is that so many activities are absolutely free!
To get you started let me give you just a couple of very different 'cool season' activities on different parts of the Island, along with two fantastic year-round RV parks located close to each mini adventure. Read more.
TIP: If you find this blog interesting why not subscribe to the enewsletter and never miss another story!
For places to camp in BC in the winter go to winter camping.
Share your BC travel and camping photos using hashtag #campinbc
It's always a great day to #CampinBC
Published: December 20th, 2018