A 10-day Tour in a C-Class Motorhome Exploring British Columbia's Coastal Mountains
I've always wanted to go exploring in a Motorhome from Vancouver to the Cariboo and to see some of the Coastal Mountains en route. So, we took a circle route that started out east on Hwy 1 and ended up back on Hwy 99 to Vancouver. In between we followed scenic Hwys 3, 5, the Fishing Hwy 24 and 97. This is part 1 of 2 that took us on our journey.
This trip was booked in 2019, postponed, and rescheduled 4 times due to the Covid pandemic, so to finally make the trip a reality was more than joyous. The other thing that I was extremely excited about, was knowing that I was taking this trip with my adult son, a videographer, which meant great photos to record great memories.
The first morning we made our way out to Delta, BC in the rain. It was our first stop of the trip – to pick up our Motorhome rental unit from Fraser Way RV Rentals on Cliveden Avenue.
We were greeted by the most knowledgeable young man, Lucas. Lucas gave us the rundown of the rental process, which is not that daunting after all. Then he took us outside to meet the 22' foot home on wheels. For such a compact unit, it packs nicely. The outside of the unit had eight lockable doors to the storage areas, and we were able to store two bundles of firewood, table, chairs, an extra propane tank, propane firepit, camera gear all in one cubby. Another storage area was great for groceries until we arrived at the first destination and could move things around.
Our next stop was at Save-On-Foods to pick up the food perishables that we didn't pack ahead of time.
It was a wet ride to Camperland RV Resort at Bridal Falls on Hwy 1 where we had pre-booked our first night. We backed the unit into the treed site, hooked up to the power, water and sewer and hunkered down in the unit for the night listening to the rain pelt down. Just when we thought it was over – nope here comes another wave of rain harder than the last.
Morning came, and we had a slight reprieve from the rain, so we put out the awning to at least get one photo of our stay. Packed up and headed east.
Day 2 started with a 50 km drive to The Hope Slide on Hwy 3 which was noted as the second largest recorded landslide in Canada and happened in 1965, and even after all the years that have passed, you can still see the magnitude of the slide. Well worth a stop to investigate.
Another 50 km drive took us to Manning Park, where we joyfully watched the ground squirrels bobbing in and out of the numerous holes in the field in front of the resort. Managed to get this little one who was quite interested in the camera.
From Manning Park, you take the turn off right across the highway from the resort and drive up the twisty road to Cascade Lookout. The area was a buzz. Whiskey Jacks above and the cutest little chipmunks scurrying at our feet. The views are just breathtaking – well worth the drive.
Driving west back from Manning Park we took the turn-off to Hwy 5. Our next destination for the night was Moonshadows RV Park and Campground in Merritt (160 km from Manning Park). Stopped in the office, had a chat with Carol. She told us all about the Coldwater River that the park sits beside and that Moonshadows RV Park is one of the parks that country music fans flock to in the summer for what was once called The Merritt Mountain Music Festival, now known as Rockin River Country Music Fest. You can hear music from Legends like Tim McGraw and Jo Dee Messina. Carol told us thousands of camping chairs take up residence in the river for the entire weekend – I guess this is what makes Country Music so "cool" in Merritt!
If you want to visit during that time, I suggest calling Carol now to see what's available as it fills up fast – so fast that they have to open an adjacent field just for the tenters. We were able to go out for a short walk before the mosquitoes came out for their nightly visit. The next morning, we had our breakfast at the campsite picnic table in the sun before heading out. Please note that our trip was five months before the devastating floods that swept through Merritt.
Day 3 and 4: We drove north on Hwy 5 another 90 km to Kamloops. Stopped in town long enough to get a few supplies and see some deer making their way through downtown. We took the Paul Lake exit off Hwy 5 to head to Pinantan Lake Resort some 25 km off the main highway.
As you drive down the road into the resort you are greeted with an old world look of antiques and some rustic buildings. We set up on one of the lakeview sites that overlooked a huge field where children were playing soccer. There was a communal firepit, washroom and laundry facilities. Later that evening, as the night drew in, we played a game of night bocce with a glow-in-the-dark Playboule Bocce set. In the morning we ventured around the property, taking photos and flew the drone for an ariel view.
TIP: If you find this blog interesting why not subscribe to the enewsletter and never miss another story!
Want to read more? Watch for our 2nd blog that continues into the Cariboo, along Fishing Hwy 24, south on Hwy 97 to Cache Creek, Lillooet, then Hwy 99 to Whistler and home.
For camping in this area and throughout BC go to the Camping Map
Share your BC travel and camping pictures using hashtag #campinbc, #explorebc, #bcnice, #green
It's always a great day to #campinbc
Five Spots to Ice Fish and Camp this Winter in British Columbia
Ice-fishing is often overlooked as a winter activity, especially if you live in southern B.C. But fishing doesn't stop when the temperatures drop – it only gets more exciting. Ice-fishing is a very social activity that requires only a limited amount of gear or experience. When solidly frozen, an entire lake becomes accessible without the need of a boat, and you don't need the often-complicated casting techniques required in other fisheries. It's as simple as drilling a hole, and dropping a line.
It is important to exercise caution, however. Always make sure the ice is thick enough to ensure a safe trip. Before you walk out onto ice, it needs to be at least 10 centimetres (four inches) thick if you are fishing alone, and at least 38 centimetres (15 inches) thick before you drive your truck onto it. Remember that a freshwater fishing licence is still required for ice-fishing, and that you should check the regulations for any closures or restrictions.
With these points in mind, along with some basic gear, you can be set for some fun times on the ice this winter. And the good news is, with many parks open year 'round that are close to great hardwater lakes, you can make a wintertime camping trip out of it.
Here are our top five spots, with recreational vehicle or camping spots close by, to try ice-fishing this winter:
Alleyne Lake (near Merritt)
Kokanee provide an exciting winter fishery in this lake. The trick is finding schools of fish. Using a fishfinder is your best bet, but if you don't have one, start at the bottom and work your way up through the water column until you find a school.
Note: The neighbouring lake, Kentucky SE Pothole, located 50 metres east of Kentucky Lake, is closed to ice-fishing.
Camping: Check out the Winter Camping Map for campgrounds open year-round in the Merritt and surrounding area.
Swan Lake (near Vernon)
This is a great spot to fish in the winter, although you should exercise extreme caution to ensure the lake is entirely frozen before venturing out. Swan Lake is located only moments away from Vernon's downtown centre. As you can catch rainbow trout weighing up to a kilogram (about two pounds) in size, make sure to bore your holes with an ice auger that is at least 15 centimetres (six inches) in diameter. Since fish are more lethargic in the winter, bites can be fairly light, and using a fishing bobber can help you detect when a trout is softly nibbling your bait.
Camping: Check out the Winter Camping Map for campgrounds open year-round in the Vernon and surrounding area.
Edith Lake (Kamloops)
Target both brook char and rainbow trout in Edith Lake. For brook char, try fishing with mealworms close to the shoreline. The water is clear in the shallows, and since a brookie's bite can be very light, by laying down and looking into your hole through the ice, you will be able to see when a brookie has taken your bait and is on your line. Move out to a spot over a little deeper water, and use a big attractor spoon, followed by a hook and worm on a short leader, to try your luck for rainbow trout.
Camping: Check out the Winter Camping Map for campgrounds open year-round in the Kamloops and surrounding area.
Ness Lake (Prince George)
Ness Lake is currently stocked with both kokanee and rainbow trout. However, brook char are also present in the lake, which presents many different fishing options for the hardwater angler. Ice-fishing gear and an auger can be borrowed for free for up to a week from the Prince George Visitor Centre.
Camping: Check out the Winter Camping Map for campgrounds open year-round in the Prince George and surrounding area.
Whiteswan Lake (Canal Flats)
If Lussier Hot Springs weren't reason enough to try ice-fishing at Whiteswan Lake, the quality of the rainbow trout in this lake is. Since the East Kootenays can be very cold, make sure you pack along appropriate warm clothing. You may want to think about getting an ice shelter.
Camping: Check out the Winter Camping Map for campgrounds open year-round in this area.
TIP: If you find this blog interesting why not subscribe to the enewsletter and never miss another story!
Check out winter camping in British Columbia for over 150 provincial parks and private campgrounds that are open year round.
Share your winter BC camping & fishing photos using hashtag #campinbc.
It's always a great day to #CampinBC
Getting back to Nature Any Time of Year
Winter camping in the Thompson Okanagan brings family and friends together.
Camping can be enjoyed any time of year; all the smartest people know that. And, thanks to the increase in popularity over the last few years in year-round RV travel, winter camping is more popular than ever before.
The Thompson Okanagan has a variety of camping locations that are available year-round, offering amenities and services for short and long-term camping; your choices abound!
Marrying the popular skiing site of Silver Star Resort outside of Vernon is the Cedar Falls Campground. With about 30 sites available, it's a great destination for families on a budget and outdoor enthusiasts alike. Steps from BX Falls Trail and about 30 minutes from the ski hill, Cedar Falls offers 18 fully equipped sites and 14 sites that offer power but not water. Information is available at Cedar Falls Campground.
"We have seen a real increase in our winter camping visitors," says winter site manager Gail Sweeney. She and her husband are on site over the winter to assure that the roads are plowed, the on-site coin laundry facilities are fully stocked and the washrooms and shower facilities are sparkling.
Also in Vernon is Swan Lake RV Park and Campground. Located right on the shores of Swan Lake, nature is never far away. This quiet and family-friendly campground features coin showers and a small laundromat. There is a 20 per cent discount on daily rates for long-term campers and owners Orville and Audrey recommend reserving early for a winter spot. More information can be found at Swan Lake RV and Campground.
Heading south and located on the banks of Coldwater River just south of Merritt is Moon Shadows RV Park and Campground, where there are 25 fully serviced RV spots, 25 non-serviced RV spots and 19 tenting spots, all available year round. The fully serviced campsites have electric and Wi-Fi capabilities, as well as sewer and water hookups. There are also wheelchair accessible washrooms and bathing facilities at the administration building. Learn more at Moon Shadows RV Park & Campground.
In the South Okanagan, where it feels like winter barely kisses the land, are the communities of Penticton, Oliver and Osoyoos. Snowbirds flock to the area, as temperatures are mild and snow is rare. In fact, golfing is available almost year-round at the local golf courses.
Penticton has several year-round campgrounds, including Wright's Beach Camp. Located on the shores of Skaha Lake, this large campground has more than 200 sites, most of which are fully serviced and offer a lake view. In the winter, there are 44 sites that offer either 30 or 50 amp service. For more information, click on Wright's Beach Campground. In Oliver, Apple Beach RV Park is a family-owned RV park open year-round. Its sites are fully powered and large, while pets and kids are welcome. Hosts Gary and Marilyn Johnson are friendly and welcoming, and the lakeside campground is known for being quiet and tidy. More information is available at Apple Beach RV Park.
Known as Canada's Warmest Welcome, Osoyoos changes from its bustling tourist destination in the summer to a more sedate welcome in the winter. On the shores of Osoyoos Lake is Nk'mip RV Park, which is open year-round and has fully powered sites, laundry facilities and an indoor swimming pool. There are weekly and monthly rates available. Learn more at Nk'mip RV Park.
Further west along Hwy 3 is Manning Park Resort and Skyview RV Campground. Open year-round the campground features 60 large pull-through and back-in sites in winter and all have full services with 50-amp power, water, and sewer. There is also a large modern washhouse.
TIP: If you find this blog interesting why not subscribe to the enewsletter and never miss another story!
For winter and year-round camping opportunities in the Thompson Okanagan and all of British Columbia go to the Camping Page.
Share your BC camping photos using hashtag #CampinBC.
Exploring British Columbia's Recreation Sites and Trails: Lundbom Lake
Sometimes, the weather can be tough in the lower mainland of British Columbia. Rain and overcast skies can put a serious damper on our motivation to get out of the house and into the great outdoors. Last spring, we put the dreary weather behind us and headed to the Nicola Valley to explore Lundbom Lake, one of BC's fabulous Recreation Sites.
After doing some preliminary research at home, we discovered that Lundbom Lake, less than half an hour from Merritt, offered a huge range of outdoor activity opportunities including fishing, horseback riding, mountain biking, and ATVing. Without a second thought, we loaded up our dog, our tent trailer, and our mountain bikes and headed for the much sunnier weather of BC's interior for a weekend getaway.
Accessing Lundbom Lake is quite simple. From Merritt, take Highway 5A/97C (the Okanagan Connector) then turn off on Lundbom Lake Road – a well maintained gravel road. Upon leaving the highway, you first pass the Laurie Guichon Grasslands Interpretive Area. This is a really neat area with interpretive signage, a short trail, a viewing platform, and a wildlife tree. It makes for an interesting and informative stop to learn about grasslands ecology and local history.
Next the road passes Marquart Lake, the first option for camping. Marquart Lake is interesting because the water level has been rapidly decreasing and you can clearly see where the lake used to be. Marquart Lake has both tenting and RV sites, but we chose to carry on to Lundbom Lake, another 5-10 minutes down the road.
As you crest the hill and begin the descent towards Lundbom Lake, you first come to the Lundbom Lake West campground. This site offers quite a few campsites, as well as horse corrals. As we are not horseback riders, we chose to keep going on the road around Lundbom Lake until we came to the Lundbom Lake East campground. Here we found our perfect campsite: sunny, only feet from the lake, and level – which made it easy to set up our tent trailer!
After establishing our campsite, we had a great evening of board games, a campfire, and simply enjoying the beautiful weather. We were visited by the site operator who collected our camping fees (a very reasonable $12 per night) and gave us some tips on mountain biking in the area.
The next morning we unloaded our bikes, met up with family, and headed for the Lundbom/Tent Mountain Bike Trail. The trail, a 12-kilometer route managed by the Merritt Mountain Bike Association, is a fantastic beginner to intermediate ride leaving right from the campground. The trail has rolling hills, making it ideal for beginner mountain bikers like me who are nervous about the steep downhill sections of some mountain biking trails! The route follows old access roads and horse trails and is a great mix of open grasslands and treed areas which would provide welcome relief from the hot sun during the summer months.
As always when camping, it is important to remember that we are heading into areas where wildlife is present. On our bike ride, we saw a bear out enjoying the sunshine. Fortunately, the bear had very little interest in us and headed the other way as soon as it heard us coming, but it is always important to be Bear Aware  when heading into the wilderness.
After our ride we returned to the campground where we had a great conversation with a woman who was out for a day of fishing. She told us that Lundbom Lake has amazing fishing opportunities and even gave us a hint as to the "secret spot" to catch the biggest fish!
Our weekend at Lundbom Lake gave us a break from the dreary lower mainland weather and the opportunity to easily (and inexpensively) access the outdoors. We will definitely be back as our weekend away only scratched at the surface of the many things to do at this BC Recreation Site.
For a range of camping opportunities in British Columbia visit Where to Camp and share your BC camping and travel photos on #CampinBC.
First published November 2017 and updated September 2019.
Kentucky-Alleyne Provincial Park near Merritt, BC Offers Lots to Explore plus New Campsites
I have many fond camping memories from my childhood. Countless weekends spent in tree-shaded sites, camping dinners eaten around the picnic table, falling asleep in my family's tent – and later, when we upgraded, our 1975 tent trailer. One camping memory, however, stands out in my mind and this little adventure occurred at a place called Kentucky-Alleyne.
Kentucky-Alleyne Provincial Park is located just off Highway 5A between Merritt and Princeton. Surrounded by rolling ranch land, Kentucky-Alleyne boasts two sparkling turquoise lakes that draw anglers from near and far. This is how my family ended up there. Our neighbour down the street, an avid fisherman, recommended the site. My parents packed up the tent trailer, threw in the fishing gear, and loaded my brother and I into the vehicle for a weekend in the wilderness.
Two main things stand out to me from that trip: the spectacular beauty and the incredible heat. Merritt in the summertime can be a hot place, and my child's memory of this trip is akin to being baked alive under a white tarp that failed spectacularly in its job to provide a shady place to recover from the heat.
So, it was with some minor trepidation (and a close eye on the weather forecast) that I packed up the same tent trailer and headed back to Kentucky-Alleyne Provincial Park this year, determined to give the site a second chance. After all, my neighbour from all those years ago said it was one of his favourite sites.
What I found delighted me. A mix of lakefront, wide-open, and treed sites (the treed offerings only to be improved when the beautiful and brand new 33-site Forest Loop opens Canada Day weekend), shimmering waters that made me believe at times that I had been transported someplace tropical, and a breeze that kept even the most exposed campsites comfortable in the early-June heat.
We set up our home away from home in the terraced Alleyne portion of the campground. While the Kentucky Lake campground offers a number of reservable, lake front sites, Alleyne is first-come first-served. For those looking to travel this summer, the new Forest Loop site will also be first-come first-served for the remainder of 2019.
The beautiful setting of the park that I recalled from my childhood had not been exaggerated. From the terraced Alleyne campground, we had a gorgeous view down the lake and beyond to the rolling hills of Douglas Lake Ranch. From our site, we had just a short walk to the waterfront where we launched our canoe and kayaks and spent hours on the water. For those interested in land-based activities, a four kilometre trail circles Kentucky Lake and the new Forest Loop campground makes for a great walk or bike ride.
The park features lakes that are clear and cold and perfect for fishing. Both Kentucky and Alleyne Lakes are stocked annually with rainbow trout from the Summerland Trout Hatchery and are limited to boats with 10hp motors. While we were there, numerous anglers trolled quietly back and forth across the lake, but on the water it never felt crowded. The East and West Ponds, located between Kentucky and Alleyne Lakes, are also stocked and are limited to those under the age of 16, creating a unique opportunity to encourage children to take up fishing.
One unique feature of Kentucky-Alleyne Provincial Park is its annual toad migration. Each summer, usually in late July or early August, tens of thousands of Western Toads migrate from their breeding ground in the West Pond to the surrounding forests. At this time, some trail and campsite closures in the park may occur in order to ensure maximum safety for this at-risk species. If you visit during this time, please respect the wildlife that calls this protected area home: view the migration from a distance and follow all directions from park staff.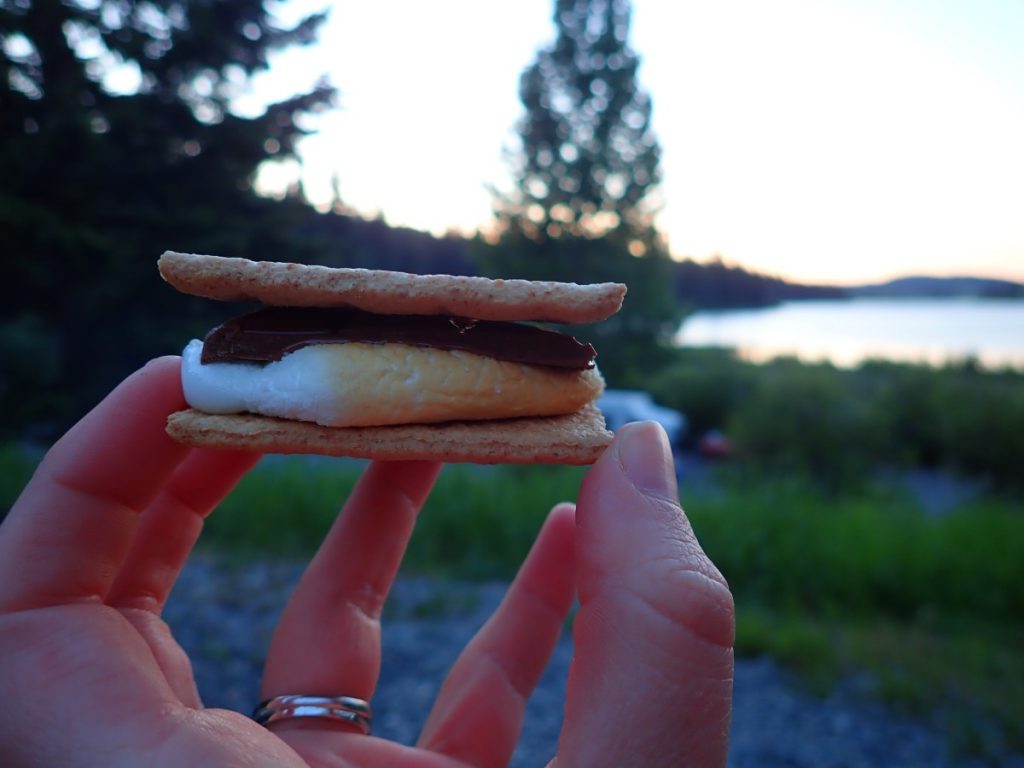 Kentucky-Alleyne Provincial Park is an undeniably beautiful location. The cold turquoise waters are the perfect antidote for the often relentless summer sun of BC's interior. The addition of the new Forest Loop provides more capacity in the park and increases the number of sites offering shade. The recent upgrades in the park, coupled with 33 new first-come first-served sites for 2019, makes Kentucky-Alleyne a perfect park to explore this summer.
Looking for other campgrounds in BC? Check out the Camping Map.
Share your BC travel and camping photos using hashtag #campinbc
Roadtrekking in British Columbia's Southern Interior
Recently we took our Roadtrek van on a camping trip "Roadtrekking" through some of the not so well-known but delightful smaller towns in the Okanagan area of the southern interior of British Columbia. The first day, we left the Vancouver area and headed up Highway 1 and the Crowsnest Hwy 3 to Princeton. We spent the first night in the Princeton municipal park campground which has full hook-ups with free Wifi and is located right beside the Similkameen River on Highway 3. It is a great place to stop overnight. Another camping option is the Princeton golf club across the road with free Wifi and firewood for campers.
The next morning, continuing on Crowsnest Hwy 3, we headed to Keremeos, locally known as 'the fruit capital of Canada', and along the way visited the small, historic town of Hedley. This is well worth the stop as you can take a tour of the old Mascot Gold Mine and discover the life of a gold miner through modern technology of light and sound. You can also visit the Discovery Centre and explore the museum and gift shops. Once in Keremeos we stayed at the Eagle RV Park located on Hwy 3.
Much in need of some exercise after our drive, we walked the hiking/biking trail to the historic Red Bridge, the sole survivor of five covered railroad bridges that serviced the gold mining industry around the Hedley-Princeton area in the early 1900s. If you head east on the trail, it takes you to the town centre past many of the fruit stands. During the season, make sure you pick up some of the local fruit and veg to eat on your trip or to take home. Also worth a visit in Keremeos is The Grist Mill and Gardens, a BC Heritage Site.
On day 3 we headed east to the resort town of Osoyoos, a favourite destination for campers seeking beaches, swimming and boating in scenic Osoyoos Lake. We then drove north on Hwy 97 to Oliver where we stopped for lunch. On the main street we discovered a small bakery called the "Artisan Shop" run by a lovely lady from Montreal. The delicious lunch was a spinach and feta quiche, a mushroom filled bun and for desert, a pear filled danish and raspberry tart. Oliver also has a beautiful hiking/biking trail on an abandoned railway bed which is part of the Kettle Valley Rail Trail that will take you to Osoyoos. It is about a 50 km round trip that makes a great day outing.
Continuing north through Okanagan Falls (you must stop for an icecream at Tickleberry's) our day concluded in Peachland with an overnight stay at Todd's RV Park located on the main road in downtown Peachland. This is a great family friendly place that has been in business for 60 years, has full hook-ups and is right across from the beach. We spent the evening strolling along the beach, investigating the shops and enjoying the beautiful view across Okanagan Lake. The next morning, we visited the Art Gallery and Tourist Information Centre located in the old school house on Beach Avenue. They have a live video feed of the bat colony that roosts in the attic every summer. There is a great selection of bat themed t-shirts, hats and they even have bat guano for sale to fertilize your garden. The next time we are in the Peachland area, we will be checking out the Stave Pipe and Trepanier hiking trails and Parrot Island sanctuary.
After a great few days of camping, we headed home via the Hwy 97c connector that runs from Peachland to Merritt and then down the Coquihalla Hwy 5 to Hope. With so many unique towns in British Columbia we will soon be off to do more exploring in beautiful British Columbia.
Save
Published: September 8th, 2016