Camping at its best: Revelstoke to Galena Bay, British Columbia
If you are looking for some great camping and hiking, check out the corridor (Highway 23) between Revelstoke and Galena Bay. Surrounded by stunning mountain views – Selkirk Mountains on the east and Monashee Mountains on the west – this area is worth the trip!
Just south of Revelstoke, the Columbia River widens creating Upper Arrow Lake at the north and Lower Arrow Lake with its southern end near Castlegar.
In this blog, I want to share two great campsites on Upper Arrow Lake: Blanket Creek Provincial Park and Arrow Lakes Provincial Park (Shelter Bay Site) plus some great hikes.
Travelling about 25 kilometres south from Revelstoke, you will reach Blanket Creek Park. I can't pinpoint just one reason why this park has evolved into my favourite provincial park of the past few years but from seeing how busy it is becoming, I am not alone.
I love walking and hiking and find that there are lots of choices within the park and plenty more close by. Just walking around the camping area, there are a little over 100 campsites so it is a good size park for meandering up and down the roads around the campsites. The park also has lots of trails including the 1.5 kilometer Columbia River Trail that runs along the lake and around the man-made swimming lagoon. On our recent visit to the park we were also able to walk a long way along the beach which was accessible as the water levels had dropped quite significantly since the beginning of the summer.
The Nature Trail at the south end of the park takes you to the original Domke homestead and farm. This historic site was developed into the park in 1982. As you explore the site, you may see the original rock-work and signs with more historic information.
For those wanting a short up-hill walk, the trail to the 12 metre high Sutherland Falls in the park provides a beautiful view. The falls are created by Blanket Creek flowing from above.
Not far from the park gates there are a number of hiking trails including the Begbie Creek and Mount MacPherson Trails, as well as Mount Revelstoke and Glacier National Park near Revelstoke. This past trip we hiked to Begbie Falls and then down to the lake; it was an easy 1-kilometre trail through the dense forest and moss-covered ground.
Along with hiking there are lots of swimming spots along the lake, plus it is a great place for boating and fishing. Unique to this park is the man-made swimming lagoon, a circular lagoon surrounded by sandy beach. I read one article that stated that the water circulates every 24-48 hours.
Just south down the road (about 25 km south of Blanket Creek) is the Shelter Bay Site which was created in 1981 and has 17 first-come-first-serve campsites. Highlights of this park include swimming along the shores of the lake and easy access for boating. The park includes a concrete boat launch with lots of parking.
For those interested in exploring further south, the 20-minute ferry which crosses the lake from Shelter Bay to Galena Bay is located just south of the campsite gates. From the other side of the lake, your adventure can continue to communities like Nakusp and the hot springs at Halcyon and Nakusp.
Even though I love the hiking and lush green forests of this area, it is always fun to set off on our next adventure for more hiking and great camping.
TIP: If you find this blog interesting why not subscribe to the enewsletter and never miss another story!
If this area interests you, check out our drive:
Mountains, Lakes & Rivers in the West Kootenays and Boundary Country
For other campgrounds in this area or elsewhere in British Columbia go to the Camping Map.
Share your BC camping and travel photos using hashtag #campinbc #BCNice and #ExploreBC
A Primer to Canada's National Parks in British Columbia
National Parks are one of my favourite places to visit. In fact, after my husband and I got married in 2014, we packed almost everything we owned into a storage locker and set out on what turned out to be a 78-day camping trip across Canada focused primarily on visiting our National Parks and National Historic sites, guided by our National Geographic Guide to the National Parks of Canada.
Parks Canada has 148 National Parks, Historic Sites, and Marine Conservation Areas in the country. Of these 148 sites, nineteen are in British Columbia, which gives us plenty to explore!
Here are a few highlights to whet your appetite!
Hiking in Yoho National Park
The 8.5 kilometre one-way trail in Yoho National Park to the Twin Falls Tea House National Historic Site is definitely worth your sweat! On the way back, take the alternate route passing by Marpole Lake for some spectacular views and to enjoy the black and orange streaked cliffs.
Meadows in the Sky Parkway, Mount Revelstoke National Park
How often do you get to cover almost 2,000 metres of elevation in just 26-kilometres – and on a good paved road, nonetheless! Mount Revelstoke National Park provides that opportunity. For those feeing more adventurous however, leave the car at the bottom and hike the 10-kilometre Summit Trail to the top.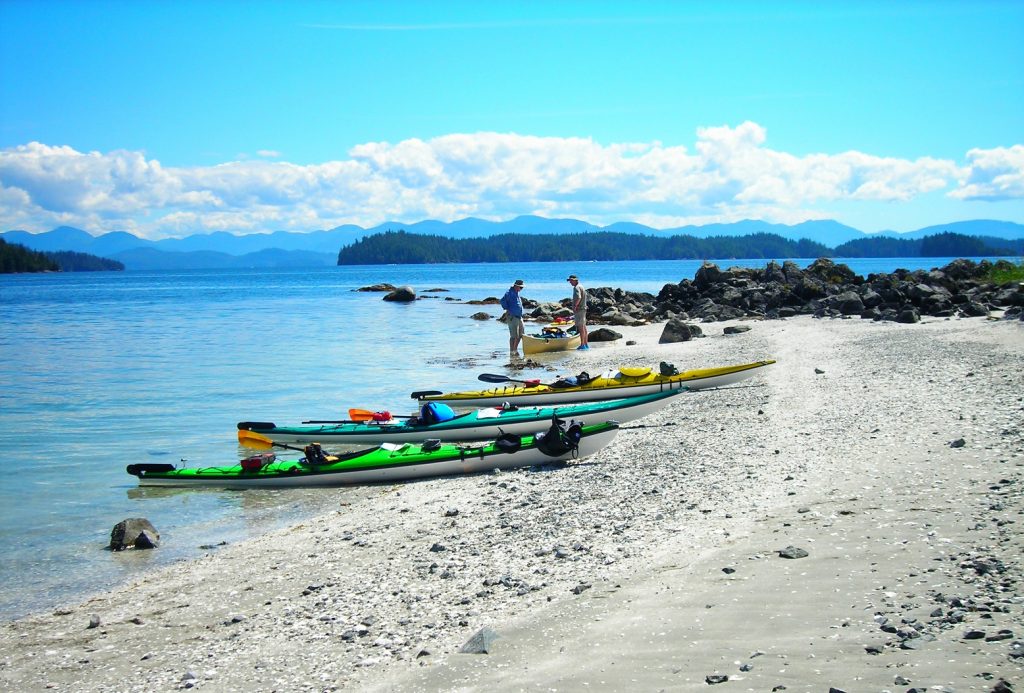 Kayaking the Broken Group Islands in Pacific Rim National Park Reserve
For an adventure like none other, leave the city behind and head to Pacific Rim National Park Reserve's Broken Group Islands. The Broken Group is made up of over one hundred islands of various sizes, some of which offer camping. If you are an experienced kayaker, you can head out on your own. If not, many tour operators can assist you with all stages of your trip. Make sure you give yourself at least three or four days to paddle to really experience the Broken Group.
Relaxing at Radium Hot Springs in Kootenay National Park
For utter relaxation, head to Radium Hot Springs in Kootenay National Park and soak your troubles away. The odourless and clear naturally heated mineral pools are the biggest in Canada. The facility also offers a full-service day spa in case you are somehow still holding on to your worries after your soak in the hot springs.
Step back in History at Fort Langley National Historic Site
No matter which National Park or National Historic Site you choose, breathtaking scenery and fascinating history are waiting for you. Canada's National Parks truly are some of the best places in the world, and living in British Columbia, we are so lucky to have many of them in our own backyard. The National Parks and National Historic Sites in British Columbia are:
Yoho National Park
Rogers Pass National Historic Site
Mount Revelstoke National Park
Glacier National Park
Kootenay National Park
Gulf of Georgia Cannery National Historic Site
Fort Langley National Historic Site
Gulf Islands National Park Reserve
Fort Rodd Hill and Fisgard Lighthouse National Historic Sites
Pacific Rim National Park Reserve
Fort St. James National Historic Site
Gwaii Haanas National Park Reserve and Haida Heritage Site
Gwaii Haanas National Marine Conservation Area Reserve and Haida Heritage Site
Chilkoot Trail National Historic Site
TIP: If you find this blog interesting why not subscribe to the enewsletter and never miss another story!
Note: During the summer of 2020 amid the ongoing COVID-19 pandemic you may find some services, facilities and programs closed. For private campgrounds check at BC private campgrounds. For information on BC Parks go to the BC Provincial Parks website and Parks Canada for their updated details. Please make sure you follow BC's health and safety recommendations when camping and traveling in this province.
For more campgrounds in and around British Columbia check out the Camping Map at Camping & RVing BC.
Check out more blogs in the National Parks & Historic Sites series:
A Primer to Canada's National Parks in BC.
Explore Fort Langley & Gulf of Georgia Cannery Historic Sites and Check Out Some of BC's Fascinating History
BC's Gulf Islands National Park Reserve Offers Rich Opportunities for Exploring
BC's National Historic Sites Offer a Glimpse into the Past – Here are 3 to Explore
Kootenay National Park, BC Offers Great Vistas, Hiking & History
Visit Mount Revelstoke National Park in August for its Stunning Vistas & Wildflowers
Yoho National Park, BC – A Jewel in the Canadian Rockies
Glacier National Park: A Special BC Destination
Pacific Rim National Park Reserve – A Great Place to Visit in the Off Season
Share your BC camping and travel photos using hashtag #campinbc, #TravelinBCLocal, #ExploreBCLocal, #StayLocal #BCLocalStaycation
Published: June 24th, 2020