Summer in Valemount, British Columbia: Where the Mountains Move You
Imagine standing in the middle of a town with a view of three snow-capped mountain ranges. Welcome to Valemount in east-central British Columbia, a village with stand-out summer adventures and activities.
Just over an hour west of Jasper, Alberta, Valemount is in the Robson Valley, situated along and east of Highway 5 (Yellowhead Hwy) and nestled between the Rocky, Monashee and Cariboo mountains (to the east, south and west). It's a municipality with a big heart – and venturesome residents eager to show visitors what their playground is all about.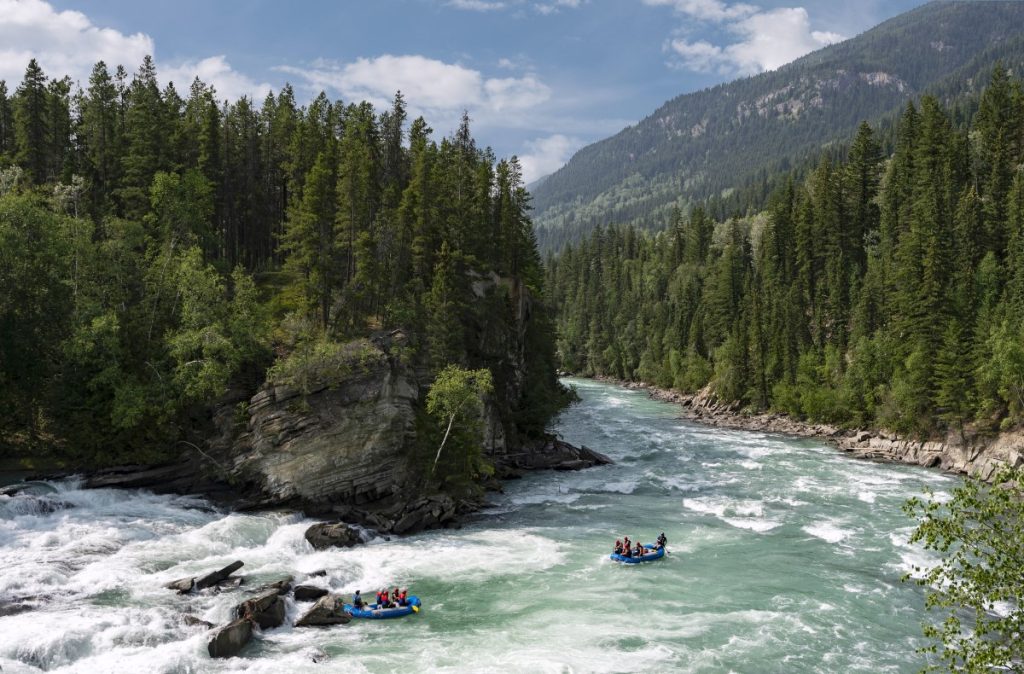 The land that would become Valemount is in the traditional territory of the Secwepemc Nation, Simpcw territory. The name Valemount was coined for the Canadian National Railway station there in 1927, and to this day it has a ViaRail station. It's the nearest community to BC's Mount Robson Provincial Park and its namesake, the highest peak in the Canadian Rockies. Choose from three campgrounds here: Lucerne, Robson River and Robson Meadows. From gentle meadows to alpine lookouts, there are hundreds of kilometres of trails to explore. (Note that the popular Berg Lake Trail will be open this summer to Kinney Lake only.) While in the area make a splash whitewater rafting on Class I to Class V rapids, or paddling or floating along the Fraser River (a clear, beautiful blue/green in this part of the province) or on the long and narrow Kinbasket Lake. Amidst the Rocky and Cariboo mountains it's actually a reservoir created by the construction of the Mica Dam; water levels can vary.
The viewpoint at Rearguard Falls Provincial Park provides an excellent opportunity to witness the end of a long journey for the mighty Chinook, the largest of the Pacific salmon. From the Fraser estuary in the province's lower mainland to this point, the fish travel upstream for over 1,200 km, though not all make it this far. George Hicks Regional Park also has a viewing platform for the salmon as they enter Swift Creek. Spawning season is generally August to September.
For other camping and RV options search via the Camping and RVing BC Coalition's campground webpage; Visit Valemount also has RV and camping information. The Valemount Visitor Centre can be found at 785 Cranberry Lake Rd (summer hours June-Sept, Mon-Fri 8:30 am-4:30 pm).
Mountain biking is a way of life in this part of BC. Be sure to check out the Valemount Bike Park. Minutes from the town core, it's a system of trails ranging from easy cross-country pedals and smooth and flowy downhills to steep and 'rooty' adrenaline-filled singletrack options. Cruise the trail and boardwalk along Cranberry Marsh (the Starratt Wildlife Management Area) where you can stop for birdwatching along the 6-km loop. Should you wish to rent a mountain bike or ebike swing by or call District Bike Co. or Bike & Bites; both shops service bikes too. Hiking trails in Valemount range from easy-medium-challenging; it's best to verify openings with the Visitor Centre before heading out as some trails may be closed for repairs or due to inclement weather. Perhaps you'll see Sasquatch near Mica Mountain (as sighted in 1955!) as you hike the Mica Mine Trail, the same trail where, in the 1890s, horses and mules hauled minerals down the mountain.
Three kilometres south of Valemount is Cedarside Regional Park on Little Cranberry Lake, a swimming spot with a sandy beach where dogs on leashes are welcome. There are toilets, picnic tables and fire pits; camping is not permitted.
Slow the pace down with some horseback riding or try fly, troll or spin cast fishing. Various species of trout fill nearby rivers and lakes (such as Moose and Shere lakes), as do Rocky Mountain whitefish. Valemount Pines Campground boasts a nine-hole golf course and grassy tent and RV campsites with spacious long-level pull-throughs and private back-in sites near a mountain.
Complement your fish dinner with a trip to the Valemount Farmers' Market, which runs every Thursday afternoon from late June to September. Along with regional produce you'll find arts and crafts. For other art options visit Mountain Driftwood Gallery & Gift. Many artisans sell in the area so check with the Visitor Centre for info on pottery, jewelry and antiques and collectibles. The Valemount Museum & Archive is located in an old railway station built in 1914. Learn about local pioneers, historic regional railroad towns and WWII Japanese internment camps. There are community events and summer festivals in and around Valemount such as the Annual Valemountain Days (June 9-11 this year), the annual Bike Fest (June 17) and Canada Day celebrations (July 1). Robson Valley Music Festival in the farming community of Dunster, 60km to the northeast, takes place on August 11-13.
Restaurant options include the Summit Grill and Cranberry Lounge in the Best Western Plus hotel and Cariboo Grill with fine comfort fare and an ample wine list in a cabin-like setting. The Gathering Tree specializes in breakfast and lunch and Valemount Swiss Bakery is known for its scrumptious sourdough breads. Get your mojo fix at Vale Coffee, a small batch roastery and takeaway café and if you're craving a pint head to Three Ranges Brewing Company for craft-brewed beer in their cozy tasting room or on the patio. The establishment is part of the BC Ale Trail, which lists over 220 craft breweries.
Whatever the outing or adrenaline rush – whether strolling past mountain wildflowers or chuting down rapids – summer in Valemount is bound to please all nature lovers.
For more information on Valemount go to the website at www.visitvalemount.ca, check out the Facebook and Instagram pages or if you are already in the area go to the Valemount Visitor Centre at 785 Cranberry Lake Rd, (250) 566-9893 visitorcentre@valemount.ca.
TIP: If you find this blog interesting why not subscribe to the enewsletter and never miss another story!
For campgrounds in this area and elsewhere in British Columbia check out the Camping Map.
Share your BC travel and camping photos using hashtag #campinbc #explorebc
It's always a great day to #CampInBC
Biking and Cycling in British Columbia is a Popular Pastime
Mountain Biking
Navigating a world class single-track at top speeds, through magnificent canopied forests, down mountains with stunning vistas that lead to lush valleys and lakes beyond, is an experience that a mountain bike enthusiast yearns for. British Columbia offers all of these outstanding features and provides hundreds of opportunities to satisfy every mountain biker's dream. You don't have to be an expert to experience many of these rides however, trails abound for the novice and for the whole family.
Cycling
Prefer a gentler two-wheel experience? Then you can take to one of the many trails that most communities, parks and all regions in British Columbia offer. Most are paved or gravel and generally flat. There are short 3-5km rides and all-day trail rides waiting to tempt the outdoor enthusiast and avid cyclist of all ages. Major trails criss-cross parts, or all, of British Columbia including, the Trans Canada Trail which traverses the country and in BC stretches from Victoria on Vancouver Island to the Rocky Mountains in the east. In the north, the Trail follows the Alaska Hwy from Dawson Creek into the Yukon. Crossing the southern part of BC are cycle trails that have been developed on abandoned rail trails. Some of these include: the Kettle Valley Railway, predominantly in the Thompson Okanagan Region; Nakusp & Slocan Railway and the Columbia & Western Railway both in the Kootenay Rockies Region.
Biking Safety
Helmets are mandatory in British Columbia. If cycling on the road you require a white headlight visible from 150 meters and a rear red reflector visible at 100 meters.
The rules of the road apply to cyclists in the same way as drivers. Respect signs and traffic around you.
When on trails, remember you are sharing the trails with hikers and sometimes horseback riders. Be courteous, respect other people's property and the environment. Stay on the posted trails at all times and watch for wild animals. For more information, review the Top 10 Safety Tips provided by HUB Cycling.
If mountain biking, especially in more remote areas, ensure you take extra inner tubes and a first aid kit with you, plus water and food. Weather can change quickly, so make sure you have appropriate clothing and always ride in a group where possible. Trail maps are generally available at local bike shops. These are useful as you may not be able to access Wi-Fi.
Other Useful Information
Camping & RV in BC has a google map that shows where all the private campgrounds, provincial parks, national parks and recreation sites are and each listing indicates whether they have access to cycling trails and mountain biking.
Read blogs on the Camping & RV in BC website that highlight some of our visitor's favourite places for biking.
For camping in British Columbia go to the Camping Map.
TIP: If you find this blog interesting why not subscribe to the enewsletter and never miss another story!
For more information on biking, cycling and trails, visit:
Mountain Biking BC
Trails BC
HelloBC
Recreational Tourism Cycling
Trail Forks
Recreation Sites and Trails BC
Share your BC camping and travel photos using hashtag #campinbc, #explorebc, #bcnice
It's always a great day to #campinbc
Exploring British Columbia's Recreation Sites and Trails: Lundbom Lake
Sometimes, the weather can be tough in the lower mainland of British Columbia. Rain and overcast skies can put a serious damper on our motivation to get out of the house and into the great outdoors. Last spring, we put the dreary weather behind us and headed to the Nicola Valley to explore Lundbom Lake, one of BC's fabulous Recreation Sites.
After doing some preliminary research at home, we discovered that Lundbom Lake, less than half an hour from Merritt, offered a huge range of outdoor activity opportunities including fishing, horseback riding, mountain biking, and ATVing. Without a second thought, we loaded up our dog, our tent trailer, and our mountain bikes and headed for the much sunnier weather of BC's interior for a weekend getaway.
Accessing Lundbom Lake is quite simple. From Merritt, take Highway 5A/97C (the Okanagan Connector) then turn off on Lundbom Lake Road – a well maintained gravel road. Upon leaving the highway, you first pass the Laurie Guichon Grasslands Interpretive Area. This is a really neat area with interpretive signage, a short trail, a viewing platform, and a wildlife tree. It makes for an interesting and informative stop to learn about grasslands ecology and local history.
Next the road passes Marquart Lake, the first option for camping. Marquart Lake is interesting because the water level has been rapidly decreasing and you can clearly see where the lake used to be. Marquart Lake has both tenting and RV sites, but we chose to carry on to Lundbom Lake, another 5-10 minutes down the road.
As you crest the hill and begin the descent towards Lundbom Lake, you first come to the Lundbom Lake West campground. This site offers quite a few campsites, as well as horse corrals. As we are not horseback riders, we chose to keep going on the road around Lundbom Lake until we came to the Lundbom Lake East campground. Here we found our perfect campsite: sunny, only feet from the lake, and level – which made it easy to set up our tent trailer!
After establishing our campsite, we had a great evening of board games, a campfire, and simply enjoying the beautiful weather. We were visited by the site operator who collected our camping fees (a very reasonable $12 per night) and gave us some tips on mountain biking in the area.
The next morning we unloaded our bikes, met up with family, and headed for the Lundbom/Tent Mountain Bike Trail. The trail, a 12-kilometer route managed by the Merritt Mountain Bike Association, is a fantastic beginner to intermediate ride leaving right from the campground. The trail has rolling hills, making it ideal for beginner mountain bikers like me who are nervous about the steep downhill sections of some mountain biking trails! The route follows old access roads and horse trails and is a great mix of open grasslands and treed areas which would provide welcome relief from the hot sun during the summer months.
As always when camping, it is important to remember that we are heading into areas where wildlife is present. On our bike ride, we saw a bear out enjoying the sunshine. Fortunately, the bear had very little interest in us and headed the other way as soon as it heard us coming, but it is always important to be Bear Aware  when heading into the wilderness.
After our ride we returned to the campground where we had a great conversation with a woman who was out for a day of fishing. She told us that Lundbom Lake has amazing fishing opportunities and even gave us a hint as to the "secret spot" to catch the biggest fish!
Our weekend at Lundbom Lake gave us a break from the dreary lower mainland weather and the opportunity to easily (and inexpensively) access the outdoors. We will definitely be back as our weekend away only scratched at the surface of the many things to do at this BC Recreation Site.
For a range of camping opportunities in British Columbia visit Where to Camp and share your BC camping and travel photos on #CampinBC.
First published November 2017 and updated September 2019.
Coast Along British Columbia's Famed Fishing Highway 24 in the Cariboo
While travelling east-west between the Southern Cariboo's 100 Mile House (above the Fraser Plateau) and the town of Little Fort in BC's Thompson River Valley, you'll find the historic Highway 24 – also known as BC's Fishing Highway.
Only 97 kilometres in length (60 miles), this short yet incredibly scenic route offers quite a few places to relax, rest up and eat – along with plenty to do, see and experience – along the way. (More than fishing – think boating, swimming, wildlife viewing and more.)
Though paved and modern, what's interesting is that the route for Highway 24 (or Fishing Highway) has remained essentially the same since gold seekers and fur traders used it so many centuries ago.
After the gold discovery in the Northern Cariboo region and the gold rush of the 1800s that soon followed, the area's wilderness trails became important roads that led to the northern gold fields for thousands upon thousands of gold seekers. Along these routes, a myriad of roadhouses sprang up offering stopover points to these weary travellers. As well, the water from the area's hundreds of local lakes and connecting streams throughout these forested areas created a natural and rewarding setting for cattle ranching.
Today, the area supports key BC industries that include logging, ranching and tourism and several of the early roadhouses have been restored and are now used as recreational buildings and/or resorts.
This picturesque Highway 24 also follows a trail originally used by the Shuswap people as a trading route, and then later developed – in the early 19th century – by the Hudson's Bay Company to bring furs from the northern BC region to Fort Kamloops and the Columbia River. In fact, sections of the Hudson's Bay Fur Brigade Trail can still be seen towards the highway's eastern end, which has been aptly preserved and named as a "heritage trail."
Though named the "Fishing Highway," this route offers seemingly endless wilderness with boundless outdoor opportunities such as bird watching, boating and canoeing, hiking, horseback riding, mountain biking, swimming and other activities. (During winter, there's also snowmobiling and snowshoeing.)
You'll find this idyllic route dotted with beautiful lakes boasting picnicking areas (and bathrooms), along with cafes/restaurants, shops and places to rest up and stay for the night.
Indeed, along this relatively expanse of highway, you'll find nearly a dozen lakes dotting the scenery – with each offering opportunities to discover and explore the area, including Bridge Lake Provincial Park, Crystal Lake Recreation Site, Deka Lake (known for its sizable lake trout and rainbow trout), Eagan Lake, the peaceful and wilderness surrounded Fawn Lake (also known for its rainbow trout at certain times of the year), the five-kilometre long Hathaway Lake, the scenic Horse Lake offering views of rolling hills and vibrant colours in the fall season, Interlakes, the forested Lac Des Roches (which includes many little islands), Sheridan Lake (known for its crystal-clear water and abundant rainbow trout) and Sulphurous Lake (featuring a rocky shoreline and surrounded by low mountains).
Many of the above lakes also boast an array of other activities (along with fishing) and overnight accommodations that range from rustic cabins and RV parking to charming bed & breakfast spots, camping, upscale resorts.
Interested in learning more? Check out this YouTube clip of the Fishing Highway in action and click here for more information on this popular route.
TIP: If you find this blog interesting why not subscribe to the enewsletter and never miss another story!
If the Fishing Highway interests you, check our suggested drives:
Following the BC Gold Rush Trail through the Cariboo & Beyond
Canadian Rockies, Cowboy Country to Coast Mountains
For campgrounds in this area and elsewhere in British Columbia go to the Camping Map.
Share your BC travel and camping photos using hashtag #campinbc, #explorebc
Save
Save
Save
Save
A Perfect Moment: Mountain Biking in Northern British Columbia
On every trip, there is that golden moment: when everything has come together just right, when all the miles travelled, the hard work and effort pays off and you experience a sensation of perfect calm and contentment.
My moment comes standing on the shores of Kager Lake, a small pristine body of water located in the woods just outside of the Village of Burns Lake in central BC. It is a beautiful summer's evening nearing dusk and everything is lit up with soft golden light, the trees lining the shore, the water, even the bodies of my friends and travelmates as they dive off a dock and swim about, yelling and laughing.
The Kager Lake Recreation site is the crown jewel of mountain bike destinations in northern BC with up to 70 kms of mind-blowing single track radiating outwards from the campground up and around Boer Mountain. I'm covered in dust and mud, bug bites, my legs and arms checkered in small cuts and bruises that come from flying through the woods on a mountain bike, and I simply couldn't feel any happier or content.
With the support of Camping and RV BC Council, myself and a group of media professionals have just completed an epic eight day mountain bike trip across Northern BC all along the Yellowhead Highway, seeking out new and exciting riding opportunities. And opportunities there are. Northern BC is an emerging destination for mountain biking with communities such as Prince George, Fort St. James, Vanderhoof, Burns Lake, Smithers and Terrace only a few hours apart and hosting 100s of kilometres of world class trails waiting to be discovered.
And there is no better way to experience the area and take full advantage of the riding than cruising through it in an RV. In each location we find spectacular campgrounds such as Paarens Beach Provincial Park on the shores of Stewart Lake, Riverside Municipal Campground in Smithers on the banks of the Nechako, to Ferry Island Municipal Campground located on small Island midstream in the Stikine, all within easy riding distance and access to spectacular trails.
You do not need to be a hardened professional to enjoy riding in Northern BC. There are an abundance of beginner and intermediate rides, including trails suitable for the whole family. A number of stops including Prince George, Burns Lake, and Smithers have bike parks with kid friendly options. Similarly, you don't need the latest and greatest in bike technology. An all-mountain bike with decent suspension and you're good to go. There are bike shops in each of the larger communities, but be sure to pack extra tubes and a first aid kit. Most of the trails are not extreme backcountry, but these are wild areas, so proper planning and precautions are highly recommended. Be prepared for sudden changes in weather with proper rain gear, pack lots of water and food, ride in a group and always let someone know where you're going and when you expect to be back. There are bears and other wild animals, so exercise caution at all times and make lots of noise. Detailed trail maps are available at local bike stores as well as through mountainbikingbc.ca and trailforks.com (limited cell reception, so be sure to carry hard copies).
Each day of our trip has been a blur of activity, rising in the early morning, setting out on a 4 to 6 hour long ride, before cleaning ourselves up in the parking lot at the trail head and then driving to the next location. An itinerary and approach that would be near impossible without a fully equipped RV.
The waters of Kager Lake are cold and refreshing, perfect for breathing new life into bodies tired and sore from days of riding.  I dive under the surface the laughter from my friends ringing in my ears.  I resurface shaking the water off my skin and reveling in the perfection of the moment.
If Northern BC interests you, check out our drives:
RV Adventure in Northern BC – Following the Yellowhead Hwy to Prince George
Exploring Northern British Columbia – a Circle Tour Adventure: Tour 3 Yellowhead Hwy
TIP: If you find this blog interesting why not subscribe to the enewsletter and never miss another story!
For campgrounds in this area and elsewhere in British Columbia go to the Camping Map.
Share your BC travel and camping photos using hashtag #campinbc
Published: June 3rd, 2016