5 Great Tips for the New Camper in British Columbia
If you live in Canada you know that a camping trip is one of the best ways to see this amazing country. To fully embrace what makes Canada so special, invite someone who has never camped before to join you on your next camping trip and introduce them to one of Canada's best features – the wilderness!
Over the past couple of years every time my daughter and I were getting set for a weekend camping trip, one of my friends would mention that she would love to try camping. She didn't grow up in Canada and hadn't had a chance as a kid to experience camping. This summer our schedules finally worked out and my friend and her daughter joined us for their first time ever camping adventure.
Both families learned a lot over the weekend and here are my top 5 tips to make an intro to a camping trip a success.
1. Keep it short and simple
We decided that our guests would join us on Saturday morning and spend the day and one night at the site. One night is a great way to get a good feel for camping but not too overwhelming for new campers.
2. Make a list of all the camping gear that they will need
List everything from sleeping gear to clothes that they will require including extras like sunscreen and bug spray. Have your new camper check out the list and let you know what they need to borrow. For our trip, we supplied all the camping gear (tent, stove, dishes, etc) and also ended up bringing an extra inflatable mattress for them.
3. Pick somewhere with a little bit of everything
We booked the weekend at Ellison Provincial Park in the Okanagan which is a great site for new campers. Ellison Provincial Park has flush toilets, running water, a beach, mountains, playground for the kids, and nature trails which all gave a great first impression. It's also full of families and different camper set ups – everything from the small single tent to luxury RVs and everything in between.
One of the interesting things I learned over the weekend was about the perception of camping. It wasn't that they didn't have equipment or access to equipment, it's that for my friends (and likely many others as well) they had the impression that camping is about driving way into the woods, clearing your own site and being totally isolated from civilization. While some camping is like that, having access to reserveable spots at Provincial Parks and local campgrounds really opens up the camping world to newcomers, which is less overwhelming and scary!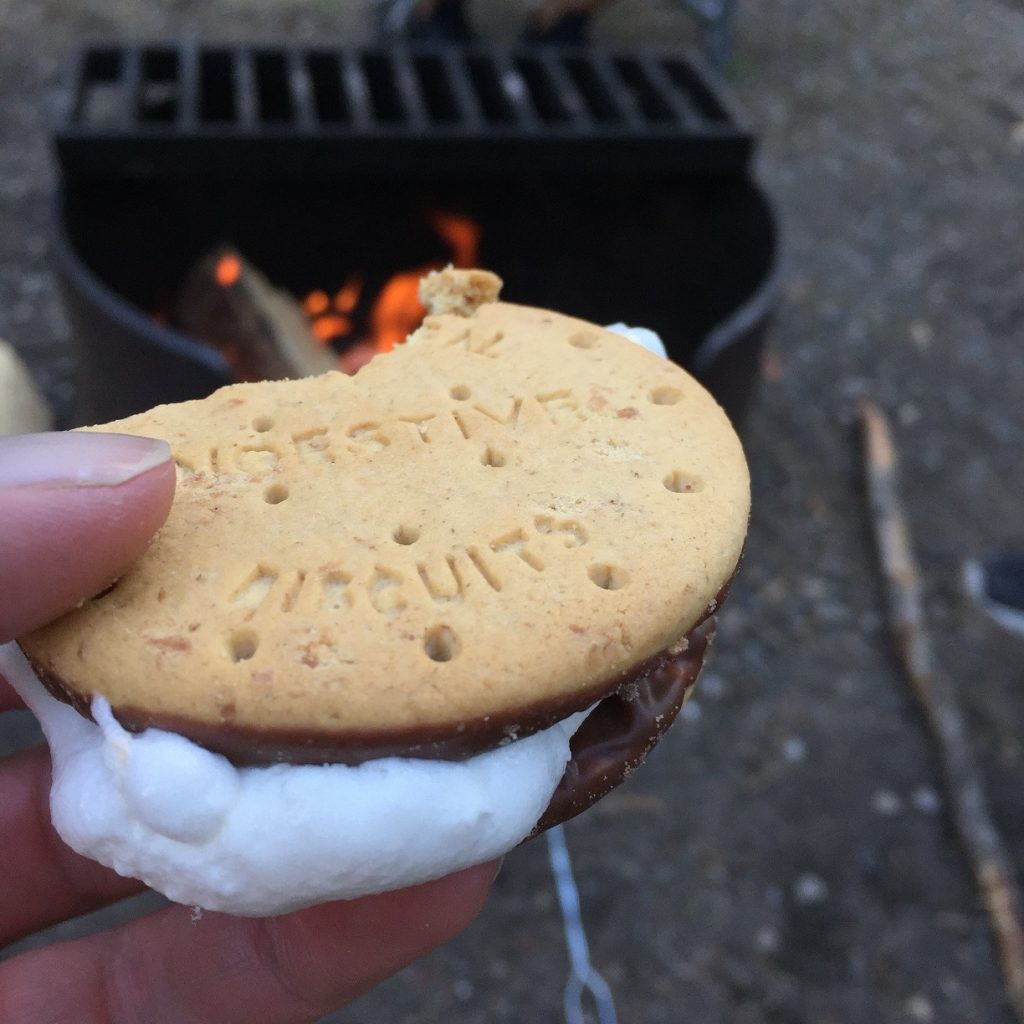 4. Keep the food simple
Don't turn off new campers by making elaborate Pinterest worthy meals that also require endless hours of clean up!  Go classic, s'mores, hotdogs on sticks over the campfire, simple bacon and eggs for breakfast.  Try and mix campfire and camp stove cooking as well. We decided to make pizzas using Pie Irons for dinner but didn't get the fire going far enough in advance so I ended up constantly trying to get the fire relit, getting some coals going, and supervising the use of the pie irons….in hindsight I should have just followed my own advice and kept it simple and planned to do hot dogs over the fire for dinner. My new little camping buddy agreed – she wondered why we didn't have hot dogs!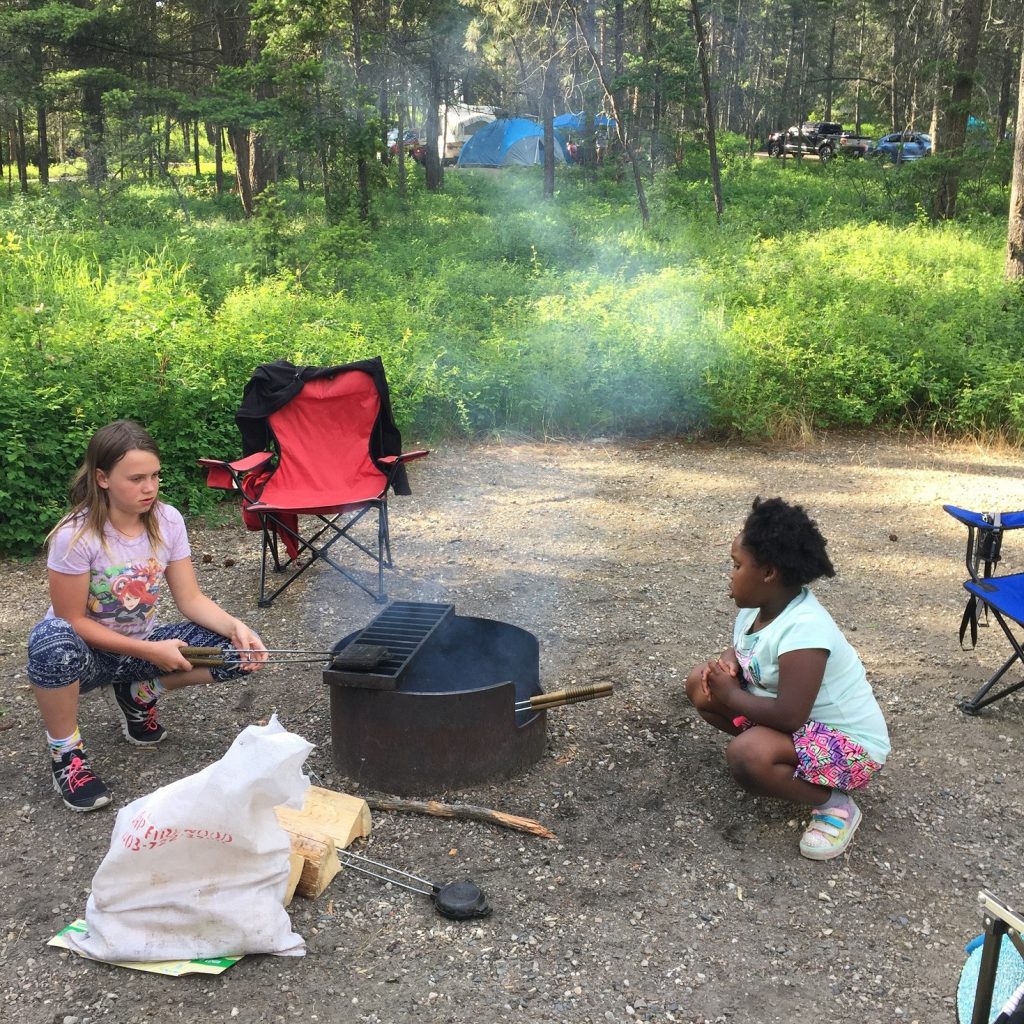 5. Be prepared for questions
Everything from how reservations at the park work, to how to use the stove, to what kind of bug/bird/rock/animal is that!  The adage "no question is a bad question" is very true in this situation. The Park Rangers and operators are your best resource. When you check in, think of all the questions that your new campers might ask and get the answers ahead of time. While you are chatting with the Ranger make sure you pick up a copy of Jerry's Scavenger hunt for the kids to do as well. Or you can download before you set out on your trip. Go to Jerry's Nature Quest for all the information. It's an amazing tool to fight any boredom that your camping kids might have, plus they receive a cool prize when they complete it.
Then just go with the flow.  Set some boundaries for the kids, get out some snacks, settle into the camp chairs and let the kids adventure while the adults get a true taste of why camping is so great.  Sit back, relax, listen to the birds and the sounds of kids exploring, and just enjoy Canada.
TIP: If you find this blog interesting why not subscribe to the enewsletter and never miss another story!
To locate campgrounds in BC go to Where to Camp at Camping & RVing BC.
Post your BC camping and travel photos using hashtag #campinbc.
It's always a great day to #Campinbc.
Fun Family Camping Trip to the Okanagan, British Columbia
It doesn't feel like summer until we visit Penticton, the interior of BC where it's always warmer and where fruit orchards and wineries make for a picturesque summer photo. With our trailer in tow, the average five-hour commute allows us to enjoy the beautiful lush scenery and mountain peak tops until we arrive at Southbeach Gardens RV & Campground, where we have become regulars.  Often times the kids will have their tablets and headphones ready for the road-trip, along with pillows and blankets next to them just in case they feel like taking a nap.  We would pack fresh fruits, lots of water and some salty snacks to avoid having to make unnecessary stops if someone gets hungry.
Upon arriving and checking-in, unpacking and settling at our camping spot becomes the next item on our to do list. We keep coming back to this campsite because it's conveniently located across the Skaha Lake, offering over 250 RV and tent spacious camping spots and lots of greenery to keep cool during the hot summer days. The kids playground, arcade and the mini golf is where the kids like to spend most of their time. For us, being able to grab the beach towels and walk across the street for a swim in the lake saves us time and makes it that much more enjoyable. Renting equipment for various water sports such as paddle boards, jet-skis and kayaks is also available at the beach.
This year we could not have asked for better weather, with temperatures tempering between high twenties and mid thirties, it was beach weather everyday. And since we booked two weeks in August, I made a list of all the places I wanted to visit and make the most of our time spent here.
One of the first places we visited was the Okanagan Lavender Herb Farm. Situated on the hills of South Kelowna overlooking the Okanagan Lake, it is the perfect spot for an afternoon stroll or catching the last sun rays before the sun sets. And if you are a lavender enthusiast like I am, then you will cherish the free sample of edible 'pure lavender and lemon balm' that you receive upon your entrance into the garden. Beside the beautiful blooming lavender buds, we really enjoyed walking through the hedge maze and writing wishes on the wishing tree; where you write your wish on a long plastic strip and tie it to the round iron structure amid all the purple plants.
On one of the 'cooler' days, we felt like leaving the beach scene and checking out the H2O Adventure and Fitness Centre where the Surf Simulator is all the hype. A fifteen-minute drive from Kelowna Downtown, the centre features three waterslides, a wave-pool, lazy river, a spray park and play area for the little ones, as well as two hot-tubs and an Olympic size pool. Of course, most of our time was spent at the Surf Simulator, where the kids got to practice their surfing moves, either standing up or on their knees for the less advanced.
With our friends from Kelowna, we visited the Kalamalka Lake. A glacial lake four kilometers south of Vernon, particularly known for its turquoise blue water due to crystals forming in the hot summer days that result in distinctive blue and green color. The sandy Kal Beach roughly stretches 300m in length and 50m in width, includes a pier, and is a popular destination for swimming, picnicking and beach volleyball. A concession stand is open during the summer months, and parking is conveniently located across the beach.
The entire Okanagan valley consists of many activities to do and places to visit, such as elegant wineries that display their ripe grapes in structured rows overlooking lakes; where wine tours are available at most wineries during the weekdays. Other events such as various festivals and farmer's markets are active on the weekends, where one can find sweet cream peaches among other local fruits. U-pick is also available at most fruit orchards if you have the time and want the freshest pick.
Save
Save
Save
A Beautiful Connection…Okanagan Lake
We arrived at Okanagan Lake  North Campground on a late afternoon in August, after driving the breathtaking Coquihalla and stopping for a fantastic meal in Peachland. My daughter and I were instantly struck by the beauty and privacy of our campsite, the huge vastness of sky above us, and the serenity of the lake spread out before us.
Later that evening, preparing for bed, we went to brush our teeth in the washroom building, and met another family. To our surprise and pleasure, it was a family from Vancouver – a family we met several years ago at a soccer extra-curricular.
My daughter and their daughter were instant friends. They and other kids spent the next several days riding their bikes up the hills or throwing themselves off the zipline and rope swing in Peachland, and floating serenely down the channel between Lake Okanagan and Skaha Lake. They spent time at each others' campsites, colouring and making up new rules to Backgammon. They rode out a rainy and cold day never losing the huge smiles on their faces!
The joy of simplicity.
The beautiful thing about camping is the experience itself: connection with the outdoors, connection with a new location, the joy of cooking and eating outside, and the wonder and serendipity of meeting old friends in new places!
It turns out that these two girls will be in the same dance class starting in September. So, fate would have had them meet anyway, but the fact that they found each other camping in the heart of the Okanagan will be a memory they treasure forever.
Written by: Nicola Doughty – Submitted as a story contest entry.
Published: September 1st, 2015