Discovering Camping in British Columbia in the Fall Season
It's time to bring out the sweaters and store the flip flops! The fall season is a perfect time to avoid the crowds and explore BC while camping. In the shoulder season, Provincial Parks and private campgrounds usually have space available, allowing you to be spontaneous in where you camp.
My husband Allan and I took a 1,500 km trip through BC a few years ago (pre COVID), with a 24ft RV rented from CanaDream.  We "loosely" followed Highway 3 from the Vancouver area, up north on Highway 6, and ending by following Route 97 south until we hit Highway 3 again. This route gave us amazing variety in the landscapes we saw. In the morning we might cross a high mountain pass surrounded by majestic evergreens. By lunchtime we were in the Okanagan area, surrounded by bald hills and semi-arid desert. The majority of roads had little traffic, so we enjoyed pleasant drives each day.  
We started the trip by spending two nights at Fort Camping in Fort Langley. The campground location was ideal for having a level campsite with clean restrooms. A short stroll brought us to the charming town of Fort Langley with more options for restaurants, boutiques and ice cream shops than was possible to explore. Since we had our bikes, we enjoyed taking the Fort to Fort Trail, a paved path off the main road. Naturally one end of that trail ended at Fort Langley National Historic Site, a chance to step back in time.
Since we had a flexible schedule, we could discover some hidden attractions along the way. One of our favourite spots was the Grist Mill in Keremeos, 47 km (29 miles) northwest of Osoyoos. Because of the heavy rain, we needed our umbrellas but that didn't stop us from enjoying the site. A cozy café offered Grist Mill cookies and scones, while the outdoor displays gave insight into how the belts and gears coordinated to grind local wheat into flour.
The Kettle River Museum in Midway packs a large amount of history in a small space. We explored the actual KVR Station, part of the legendary Kettle River Railway. The museum offers a look at how people lived before electricity and motors. You can even tour the last caboose from the railroad line.
A highlight of the trip was driving through the Okanagan valley and seeing all the fruit stands. It seemed as if there was a competition going on as to who could make the most elaborate pumpkin displays. We'd stop at one stand to buy apples and admire the pumpkins. 10 minutes later we'd stop to buy corn because we were attracted to another pumpkin display.
Our route also took us past numerous wineries…many, many wineries! The Kelowna area alone has five designated wine routes. Just follow the signs which are displayed along the road. Most signs give the name of the winery as well as how far it is off the road. Some places offer wine tours where you relax on a bus while going from one winery to another. No need to select a designated driver!
Our favourite campground was Kekuli Bay Provincial Park south of Vernon. Almost every campsite has an amazing view overlooking Kalamalka Lake. It's worth getting up early to see the sunrises. The Okanagan Rail Trail is a designated bike and hike path that goes directly through the campground. We did a 20-mile ride that goes right next to the shore. Best of all, the trail is flat!
We saw a small sign for the Nikkei Internment Memorial Centre near New Denver in the Kootenay Rockies and decided to stop. It is the only site in Canada dedicated to telling the story of the 22,000 people of Japanese descent that were interned in Canada. We toured the actual 14ft by 28ft "shacks" that housed two families with up to six children each. The centre also has displays of clothing, furniture, and a peace garden and communal bath house. A sobering yet very informative place to stop.
TIP: If you find this blog interesting why not subscribe to the enewsletter and never miss another story!
Our road trip through BC only scratched the surface. We didn't get to explore Vancouver Island or gawk at the astonishing hoodoos in the East Kootenays. We did get to experience camping in Provincial Parks and privately-owned campgrounds, meeting other campers along the way. Those we stayed at are listed below. Now we're planning our next route to check out even more that BC offers!
Fort Camping – Fort Langley
Cottonwoods Meadows RV Country Club – Chilliwack
Hazelmere RV Park – Surrey
Kekuli Bay Provincial Park – Vernon
Brookvale Holiday Resort – Osoyoos
Kootenay River RV Park – Castlegar
Sugar Lake 2 Mile – Cherryville
For other campgrounds in the area or elsewhere in British Columbia go to the Camping Map.
Share your BC travel and camping photos using hashtag #campinbc
It's always a great day to #campinbc.
Hiking to French Mine Near Hedley in British Columbia's Okanagan
While recently camped at Stemwinder Provincial Park we were searching for a hike in the region. A quick search on AllTrails brought up the Nickelplate French Mine Loop, a 6.3km circular trail near Hedley BC.
We departed Stemwinder early in the day to avoid the heat as best we could and headed east to Hedley. Hedley is a very small community located between Princeton and Keremeos along Highway 3. Hedley has a rich mining history, and from the highway you can see the remains of the old Mascot Gold Mine stretching up the mountainside. Visiting the Mascot Gold Mine has long been on my bucket list, and thanks to an $800,000 grant from the province as part of a COVID relief program, the mine is slated to reopen to visitors in 2023. In the meantime, however, we thought we would head into the backcountry to explore the French Mine.
To access the French Mine site, head east past Hedley and turn off on the Hedley Nickel Plate Road after about 3 kilometres. The Nickel Plate Road, sometimes called the Corkscrew Road, is aptly named. As we wound our way up the mountainside, we enjoyed spectacular views of the valley below.
Eventually we reached our designated start point and parked our truck and headed out on foot. We chose to hike to the Lower French Mine site first, which turned out to be a beautiful walk along an old road. As it turned out, the access road to the lower French Mine could probably be considered vehicle accessible. However, I was happy we decided to park the truck and walk in as it gave us the opportunity to really enjoy the views.
When we arrived at the Lower French Mine site we spent some time looking at the old mining infrastructure. An old ore chute and a concentrator are on the main level, and a short walk up a trail just past the concentrator takes hikers to an open shaft that heads back into the mountainside. When we visited, I was shocked by the serious wind tunnel effect when I stood in front of the mineshaft as ice-cold air poured out of the tunnel around me.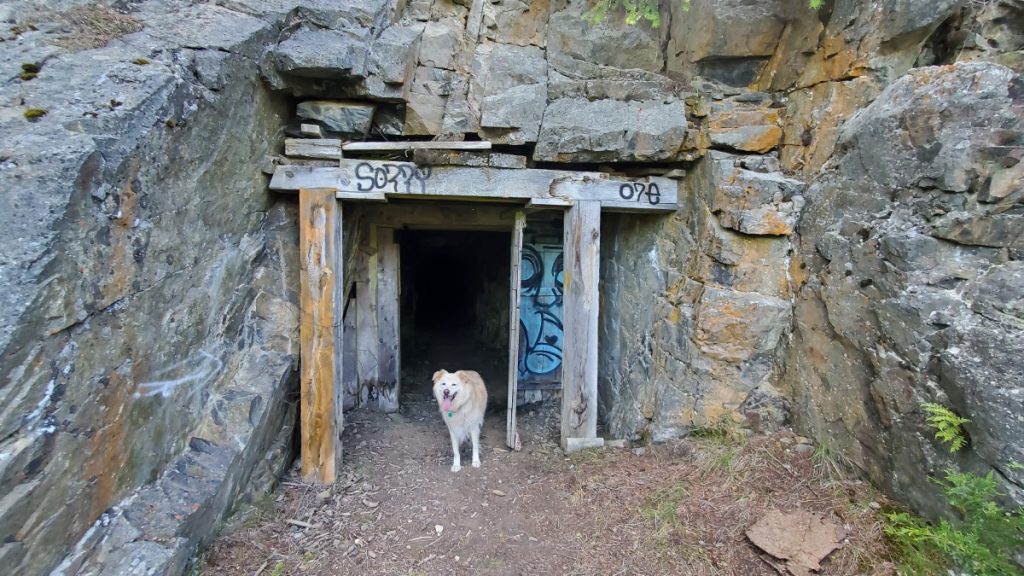 AllTrails indicates that there is a loop hike, and all we needed to do was head uphill and we would come to the Upper French Mine. I 100% do not recommend the scramble between the two mine sites unless you are an experienced scrambler or are part mountain goat. Alas, we did not know this, so as we climbed upwards, I was crossing everything I have that this was the correct trail, and I wouldn't have to turn around and go back the way we had come up.
Fortunately for me, after 20 or so tense moments, we re-emerged on level ground, scooted along a couple narrow ledges, jumped down a small cliff, and arrived at the Upper French Mine Site. As it turns out, this site is also vehicle accessible. Seriously – skip the scramble linking the two sites and from the Lower French Mine, just walk back the way you came then drive up to the Upper French Mine and save yourself the stress!
Anyway, at the Upper French Mine I was amazed to discover a massive network of tunnels and mineshafts in the mountainside. These shafts have a completely different feel than the one at the lower mine site. The main entrance is enormous, and shafts branch off in every direction imaginable. We stayed in the enormous central cavern, but I'm sure people more adventurous and better equipped than us could spend a lot of time exploring the area.
Since we were parked at the bottom and there was no way I was going back the way we arrived, we returned to our vehicle by hiking out the access road to the Upper French Mine, then down a portion of the Hedley Nickel Plate Road. All in all, our hike was around 7km and took about two hours. Both the Lower and Upper portions of French Mine are worth visiting, but as I have emphasized above, I would do it as two separate trips and not try to link them via the scramble described online.
I am always fascinated by the marks humans leave on the landscape and the French Mine area is a perfect example of this, making it a worthwhile daytrip in the Similkameen area.
TIP: If you find this blog interesting why not subscribe to the enewsletter and never miss another story!
For camping accommodations in British Columbia check out the Camping Map.
Share your BC travel and camping photos using hashtag #campinbc, explorebc
It's always a great day to #campinbc
Wintering in BC's Okanagan? Check Out Things To Do Oliver to Osoyoos
The towns of Oliver and Osoyoos, located on the southern end of British Columbia's Highway 97, are popular with outdoor enthusiasts year-round and attract thousands of snowbirds and RVers in the winter months.
Oliver
With its rich agricultural industry, Oliver currently produces half of the wine grapes for British Columbia and, with over 40 wineries, is known as Canada's wine capital.
Local bistros and winter wine tasting are a must-do as are the distilleries, cideries and breweries for tours and sampling. Firehall Brewery, with the fun tagline of the 'Beer of Wine Country', is located in an old firehall that dates to 1948. In and around town try out the food trucks and year-round fruit markets such as family owned and operated Nature's Basket and visit Big Al's Baker and Deli, a local favourite.
Shop the boutiques featuring local artists around Main Street and take in a show or play at the Venables Theatre, or a movie at the classic one-room Oliver Theatre. For some history, there's the Oliver and District Heritage Society, which offers educational programs, heritage walks and more. The museum has exhibits and artifacts, while the archives (at a separate location) houses a research library. Indoor and outdoor activities and lessons, including overall wellness, arts and culture and sports and leisure, can be booked with the Oliver Parks and Recreation Society.
Hikers and walkers enjoy the view from the (7.7 km; moderate) Golden Mile Trail, which starts at Tinhorn Creek Vineyards. Closer to town, explore Rotary Beach at Tuc-el-Nuit Lake or visit Lion's Park where you can access the Oliver hiking and biking trail at the east boundary. There is an off-leash dog park here. Other great hiking spots are Burwell Lake Recreation Site, northwest of Oliver, and Inkaneep Provincial Park and Ny-lin-tn (previously called McIntyre Bluff), both north of the town.
Winter sports enthusiasts love Baldy Mountain Resort, 40 minutes east of Oliver, which has a fantastic snowshoe rental and events program, including a moon candle-lit outing. The McKinney Nordic Ski Club, around 30 km southeast of Oliver, has 14 km of cross-country trails with a variety of difficulty and 5 kms of snowshoe trails. There is no lodge, but an outhouse is on-site.
For something unique visit Sunkeya Farm Alpacas, located northwest of Oliver. Its farm store sells yarn and alpaca fibre socks, hats, scarves, blankets and more. Be sure to call before you visit. There's also the Oliver Indoor Flea Market on Station Street where you can be sure to find a few bargains and hidden gems to enhance your RV living.
Osoyoos
Located on Osoyoos Lake, amongst grasslands and highlands, Osoyoos has a dry winter climate, generally with mild temperatures from October through April and a low average annual snowfall of only 5.4 cm. The US border is a mere 5 km from town.
Osoyoos is home to one of Canada's few true desert environments. The region caters to its many snowbirds, is very pet friendly and has a multitude of boutiques to explore and fitness and art courses to try.
Its restaurateurs and chefs are passionate about promoting local, fresh food that's been sustainably raised. Choose from casual cafés (such as Lake Village Bakery, known for its traditional artisan sourdough and fresh pastries), wine bistros and upscale dining experiences. During winter the Osoyoos Farmers Market heads indoors. The Oliver and Osoyoos Winery Association puts together a December event with special promotions called Winter With Country.
A memorable experience is a visit to the Nk'Mip Desert Cultural Centre (pronounced in-ka-meep). At this 1,600-acre desert conservation area you can learn about the Osoyoos Indian Band and take in local food and wine tastings, dinner evenings and special events.
More culture can be had at Osoyoos Performing Arts and the Art Gallery Osoyoos; the gallery offers works by local and non-local art and artisans. For winter festivals and events visit the Destination Osoyoos event calendar for performances at the South Okanagan Events Centre, Junior B hockey games (Osoyoos Coyotes at the Sunbowl Arena) and more.
Skiing, snowboarding and snowshoeing aren't far with Baldy Mountain Resort only 40 minutes northeast of Osoyoos.
Walks include the 1.5 km boardwalk at the Osoyoos Desert Centre, a 67-acre nature interpretive facility, where you can explore and learn about one of the world's rarest ecosystems (the semi-arid, antelope-brush); Pioneer Walkway, a paved path on the strip of land that separates the north and south ends of Osoyoos Lake; Legion Beach Park, a 10-minute walk from Main Street; and Osoyoos Oxbows Trailhead, located at the north end of Osoyoos Lake, a protected wetland popular with bird watchers. For dog walking areas and off-leash park info visit the city of Osoyoos webpage on dogs in parks.
Golfing in the winter and early spring is possible in Osoyoos. Contact Osoyoos Golf Club and Sonora Dunes Golf Course direct as season opening and tee times are dependent on the weather. Popular indoor activities are five-pin bowling at Kobau Lanes, curling at Osoyoos Curling Club and pickleball at the Sonora Community Centre.
Pamper yourself at Solterra Desert Spa at Spirit Ridge Resort or Levia Wellness Spa, a farm-to-table spa experience. Another 'getaway' option is booking a hotel or motel. Several Osoyoos accommodations offer special weekly winter rates for snowbirds looking for a little break from their campgrounds. Check with Destination Osoyoos for updated information and deals.
For information when in the area:
Oliver Visitor Centre: 6431 Station Street
Osoyoos Visitor Centre: 9912 BC Highway 3
Want to read more on Winter Activities check out https://www.campingrvbc.com/category/activities/winter-activities/
TIP: If you find this blog interesting why not subscribe to the enewsletter and never miss another story!
Share your BC travel and camping photos using hashtag #CampInBC and #ExploreBC
For places to camp in BC in the winter go to https://www.campingrvbc.com/winter/
5 Ways to Enjoy Winter in Wine Country, Okanagan, British Columbia
As cooler temperatures emerge, and the snow blankets the vineyards, the valley transforms from a sun-soaked paradise to the ultimate winter destination. From champagne powder to frozen waterfalls to theatrical sleigh ride shows, the winter can be a magical time to explore the Okanagan.
1. Take A Winter Road Trip
With surrounding mountains and expansive lake views, Route 97 through the Okanagan Corridor is one of BC's top scenic drives. In the winter, the sweeping landscape is enveloped in glistening tones of white and blue. Be sure that your vehicle or RV is ready for winter and always check road conditions in advance of your trip.
2. Winter in Wine Country
The colder weather brings with it the perfect opportunity to enjoy the elegant, bold reds the Okanagan is so good at crafting. Try out the exceptional vintages garnering international attention, and raise your glass to the upcoming year. Check out one of the many events at the Winter Wine Festival. (Note: the Winter Wine Festival is currently on hold. Please check back in 2023).
3. Winter Camping
What could be more magical than waking up in a winter wonderland? Enjoy the warmth of a roaring fire with mulled wine in hand, unwind in the great outdoors, and try your hand at winter camping. With many RV Parks and Provincial Campgrounds open year-round, escape to the Okanagan for the ultimate winter getaway.
4. Ski Three Resorts in a Week
The Okanagan is home to a multitude of mountain resorts so you don't have to travel far to hit the slopes. Known for unparalleled champagne powder, the mountains boast beautiful villages that will get you right into the festive spirit. And you don't have to ski to enjoy the winter culture. From dog-sledding and ice-fishing to a horse-drawn sleigh ride to a rustic cabin in the woods – there's an array of wonderful experiences for anyone looking to embrace the snow season.
5. Snowshoe the Myra Canyon Trestles
Rent a pair of snowshoes this winter and explore the historic Kettle Valley Rail Trail. At Myra Canyon there are over 18 trestles and 2 tunnels to explore.
Whatever your winter preference this season, be sure to take a step back, enjoy the view, and welcome the festive charm of the Okanagan. To start planning your winter road trip visit route97.net. For more information on winter camping visit https://www.campingrvbc.com/winter/
TIP: If you find this blog interesting why not subscribe to the enewsletter and never miss another story!
For places to camp in BC this winter check out winter camping opportunities.
Share your BC camping pictures using hashtag #campinbc
Wintering in BC's Okanagan? Check out Things To Do from Kelowna to Penticton
Snowbirds and off-season RVers head to British Columbia's mid-Okanagan, sometimes called the "Napa of the North", for more than its sunny and mild winter days. There are plenty of activities and things to try, both out of doors and in.
Kelowna
The largest city in the Okanagan, Kelowna has a thing or two to boast about. It's hip and urban yet outdoorsy, surrounded by water, mountains and agriculture, and has a fantastic food and wine scene based on local produce. Its winters are generally temperate with scenic snowshoe trails and powdery ski runs an easy drive away.
Looking for things to do in the winter? Browse some unique boutiques and shops (Bernard avenue and Pandosy Village, near the beach, are musts), sip a cider, gin or beer in a tasting room, or enjoy a farm-to-table meal. If you're hankering for BC-caught oysters or a Friday fish fry head to Codfathers Seafood Market. It's owned and operated by fishmongers who promote sustainable harvesting.
Wintertime in Kelowna means annual festivals and events and winter wine tours offer a variety of vineyards and trails to visit. Tourism Kelowna has a helpful webpage that lists what farms, markets and orchards are open. The snowy season is a great time to purchase jams, preserves, honey and cheese.
Arts and entertainment ranges from galleries and museums to events and live shows. Kelowna Museums organizes workshops and operates the Okanagan Heritage Museum, the Okanagan Military Museum and the unique Laurel Packinghouse, which is part museum part venue area.
There are a number of winter hiking spots in and around Kelowna, including Johns Family Nature Conservancy Regional Park, Rose Valley Regional Park, Myra Bellevue Provincial Park and Bear Creek Provincial Park. Mission Creek Greenway has over 20 kilometres of trails, including an area where you can spot salmon spawning.
Just 20 minutes east of the city is the Kelowna Nordic Ski and Snowshoe Club which has 75 km of groomed ski trails which meander through beautifully wooded forests and hills. Dogs are allowed on the snowshoe trails (all 70 kms) and about 1/3 of the ski trails. You can ice skate at Stuart Park, a free outdoor rink with a fire pit for warming up, hike at Knox Mountain Park, just north of downtown, and walk along the waterfront boardwalk; the trail connects to the Rotary Marsh Park, a fantastic spot for birding.
Ski and snowboard options include Big White Ski Resort (to the east) and SilverStar Mountain Resort (to the northeast), both around an hour's drive from Kelowna; shuttle service is available. These winter playgrounds also offer snowmobiling, snowshoeing and fat tire biking. For a real bird's eye view in winter book a helicopter tour with OK Heli.
After such activity relax and get pampered at a local day spa or salon. It seems fitting while in Kelowna to try a Vinotherapy massage, where the residue (pips and pulps) of wine making are rubbed into the skin.
Summerland
The town of Summerland, a leader in the agri-tourism business, is on the lower end of Okanagan Lake with Peachland to the north and Penticton to the south. Nearby vineyard slopes and hills provide outstanding viewpoints of the valleys and lake.
There are many parks and trails to explore. A popular winter hike, snowshoe or cross-country outing is the Kettle Valley Railway Trail, part of the Trans Canada Trail. The rail line was once used to transport silver ore to the BC coast. There's also the 268-acre Mount Conkle Park and its 'Bonk Loop', and for a fantastic view of Summerland hike or snowshoe up the volcanic dome of Giant's Head.
Indoor winter options include the rink at Summerland Arena or the Summerland Community Centre for bingo or a game of billiards or shuffleboard. Tour Summerland Art Gallery, the Summerland Museum and Archives Society and try specialty shops such as Summerland Sweets, which has manufactured fruit syrup, jam and candy since 1962. For some cool nostalgia check out Nixdorf Classic Cars, which boasts an inventory of 100 vehicles from 1936 to 1970, and even a muscle car section. If you're craving craft beer, be sure to visit Detonate Brewing and Giant's Head Brewing. Click here for a list of community events in Summerland.
Penticton
The hub of the South Okanagan for outdoor recreation, Penticton has over 80 wineries in the region, and over a dozen combined craft breweries, cideries and distilleries in and around downtown.
There are plenty of restaurants and ambiances to choose from, from pubs and casual spots to elegant bistros and even the rooftop patio at Slackwater Brewing, which hosts trivia nights. Be sure to check out the Penticton Ale Trail which highlight's the town's breweries and eateries. Many wineries remain open during the winter; contact the winery before setting out and do sample some ice wines. There are several wine tour companies you can book with should you prefer not to drive. Click here for a winter dining guide courtesy of Penticton Visitor Centre.
Try your hand at the Cascades Casino or watch a flick at the Landmark Cinemas. For an art fix visit the Penticton Art Gallery and shop or the Lloyd Gallery (representing over 40 Canadian artists) or give an improv workshop a go with the Penticton Arts Council.
Shows and lessons are held at the Leir House Cultural Centre and the local Elks Lodge has art workshops, as do some of the local wineries such as Noble Ridge Vineyard where you can make a silk scarf while enjoying a glass of wine. There's also Pottery at Artables.
Take in a show at the Dream Café, the Cleland Community Theatre, or the South Okanagan Events Centre, where you can also watch the Junior A Penticton Vees hockey team.
The Penticton Community Centre offers special programs and activities along with its pool and fitness area and the Penticton Curling Club has leagues from November to March. For a winter walk you can easily access the Kettle Valley Rail Trail or rent a fat bike from Freedom Bike Shop to cruise along it, or perhaps a snowshoe tour with Hoodoo Adventures is more your thing.
Brand-new to Penticton is its much-anticipated outdoor skating rink. This fully refrigerated centrally located rink can operate in temperatures up to 10°C and will offer free rentals.
Just over 30 minutes southwest is Apex Mountain Resort for downhill skiing and snowboarding; there's also a 1-km ice skating loop, ice rink and tubing area for the kid in you. Apex organizes evening snowshoe outings followed by dinner and wine at its Gunbarrel Saloon, which has many times been named best après-ski bar in Canada!
For epic cross-country skiing and snowshoeing head to the Nickel Plate Nordic Centre, just west of Apex. Shuttle bus services are available. Golf in late winter in Penticton is possible, depending on the weather of course. Contact Penticton Golf & Country Club for more information.
For information when in the area go to:
Kelowna Visitor Centre: 238 Queensway Avenue, Kelowna
Summerland Visitor Centre: 15600 Highway BC 97, Summerland
Penticton Visitor Centre: 888 Westminster Ave W #120, Penticton
Want to read more on Winter Activities check out https://www.campingrvbc.com/category/activities/winter-activities/
TIP: If you find this blog interesting why not subscribe to the enewsletter and never miss another story!
Share your BC travel and camping photos using hashtag #CampInBC, #ExploreBC, #BCNice
For places to camp in BC in the winter go to https://www.campingrvbc.com/winter/
Visit Bromley Rock Provincial Park in BC's Okanagan Similkameen
The long, hot summer days in BC's interior call for white sand, cool water, and plenty of places to recline in the shade. Bromley Rock Provincial Park, located 20 kilometres east of Princeton on the shores of the Similkameen River, offers the perfect destination for a day trip, or if you are lucky, a weekend getaway.
Bromley Rock Provincial Park is a small and extremely popular campsite in the south Okanagan. Offering just 17 sites, Bromley Rock can be tricky to get into, but for an earlier summer trip there we were fortunate to get a last-minute Discover Camping reservation. This allowed us to extend our annual day use visit and spend a few days relaxing under the shade of Douglas Firs along the banks of the Similkameen River.
Bromley Rock is well known as a popular entrance spot for floating the Similkameen River. Every afternoon, our peaceful riverside retreat became a liquid highway as people of all ages paddled and floated by in/on all manner of watercraft. From traditional black inner tubes to gigantic party unicorns and from inflatable row boats (complete with oars) to enormous rubber ducks (complete with giant inflatable sunglasses), there is no doubt that in the afternoon, the Similkameen is where the party is.
If floating is not your cup of tea, the day use area west of the campground that serves as the float launch point makes a pretty great destination all on its own. With a huge white sand beach, a deep and relatively calm pool for swimming, and a cliff perfect for jumping, it quickly became obvious that this is one of the most popular destinations in the area on a sunny afternoon. The day use site has 30 parking spots, but when we were there cars were parked all along the access road. If picnicking is more your speed, Bromley Rock's day use area offers 19 shaded picnic tables overlooking the river and near the parking lot, making it an excellent place to stop for lunch on a quieter day.
In general, we prefer a laid-back and less populated travelling experience, so we found afternoons at the main beach a bit on the overwhelming side. This was quickly resolved when we realized that we could easily walk down to the main beach each morning and evening when there was scarcely another soul around. In the afternoons, we took our lawn chairs down one of the many paths leading from the campground to the riverside. Here, we were able to soak up the sounds of the river in relative isolation, as nearly the entire campsite appeared to head for the beach each day at 11 and not return until late afternoon.
Whether you are seeking a beach party or a relaxing day at the river, Bromley Rock Provincial Park has something for everyone. With a mix of exposed and shaded campsites, a large day use area, and the extremely appealing riverfront location, Bromley Rock Provincial Park is certainly worth adding to your summer bucket list.
TIP: If you find this blog interesting why not subscribe to the enewsletter and never miss another story!
For other camping options in this area and elsewhere in British Columbia go to our Camping Map.
Share your BC travel and camping photos using hashtag #campinbc #explorebc #bcnice.
Spring Activities Abound in the Okanagan
In the mountains there is still plenty of white stuff, but in the valleys, once the snow melts, the trees start to bloom and the leaves turn green.
There are a variety of activities available in early spring, especially because the temperate climate of the Okanagan is so warm early in the season. Consider indulging in some of the following if you're looking to get camping this spring:
If you're a fan of wines and brews, consider taking one of the area's many wine tours. In Kelowna, you can take the Lakeshore Wine Route, starting at Sperling Vineyards to CedarCreek Estate Winery. Home of the award-winning restaurant, Home Block, CedarCreek is a popular way to enjoy the valley and the views of Okanagan Lake. As your day winds down, you can head back to Apple Valley Orchard and RV Park for a good night's rest. The next day, you'll be geared up to head down to Penticton to explore one of the province's mighty Ale Trail destinations. In fact, Penticton was recently named Canada's Craft Beer Capital!
You're wise to spend several days using Kelowna as your home base, especially in spring. The flowers are out and the birds are singing, so it's a great time to visit. Plan to spend a day visiting the Kettle Valley Railway in Myra-Bellevue Provincial Park, where you can enjoy biking, hiking and walking across the 18 trestles that still exist from the decommissioned railway line.
Of course, spring skiing is still an option if you're so inclined, with Big White Resort, located just 60 kilometres east of Kelowna, a short day trip away. Other great accommodations in the Kelowna area include Okanagan RV Park, West Eagle Campground and Holiday Park RV & Condo Resort.
It's a great time of year to visit the South Okanagan, as the fruit trees are in bloom in early April. Their heady scent permeates the air. In Penticton, you can enjoy time at a variety of different campgrounds and resorts, including Oxbow RV Resort, South Beach Gardens Campground or Barefoot Beach Resort. While in Penticton, you can enjoy all kinds of different activities and events. In fact, Visit Penticton has a great events calendar you can enjoy year round. Some favourite activities around the Penticton area include a day trip on the Kettle Valley Steam Railway in Summerland (and don't forget to swing by Summerland Sweets while you're in town, or to indulge the adults' sweet tooth, consider a visit to Bottleneck Drive. You'll have a chance to enjoy breweries, wineries, distilleries and cideries, all in close proximity to each other).
As you wind your way south, golf, swimming, boating and hiking are top activities to enjoy. Outside the busy summer season, there are many places to see and things to do that are just waiting to enjoy. Book a spot at Gallagher Lake, where you'll enjoy amazing views among the ponderosa pines any time of year. If you plan on staying in sleepy Oliver, consider booking at Lakeside Resort, a full-service year-round resort that's budget friendly. It's also near Nk'Mip Canyon Desert Golf Course, if you're looking to practice your swing. Also in Oliver is Fairview Mountain golf course, which is known to be open (weather permitting, of course) 11 months of the year! While you're in town, swing by the Oliver Visitor's Centre, as there are events going on all year round in Canada's Wine Capital.
Closer to the border is Osoyoos, known as Canada's Warmest Welcome, where – if you're not careful – you could drift across the American border, which bisects Osoyoos Lake. In town, you have a variety of options for accommodations, including Brookvale Holiday Resort and Cabana Beach Resort.
Stationed in Osoyoos also allows you to head east into Boundary Country or west to the Similkameen on day trips. Each are wonderful (consider visiting the Rock Creek Fall Fair, and don't forget Keremeos is known as Canada's Fruit Stand Capital) and are close enough to stay in Osoyoos, the only true desert in Canada, while exploring all the Okanagan has to offer.
For campgrounds in the Okanagan and elsewher in British Columbia go to the Camping Map.
Share your BC camping photos using hashtag #campinbc
Exploring Four of the Best RV Parks in the South Okanagan, British Columbia
On a crisp, sunny morning last spring, I headed to the Okanagan from Coquitlam to attend the Interior RV Consumer Show in Penticton. I make this trip annually to distribute camping directories for British Columbia but this year decided to take my time and explore some RV Parks in the southern region of the Okanagan Valley.
My destination on the first day was Osoyoos. I headed through the Fraser Valley on Hwy 1 to Hope then took the Crowsnest Hwy (Hwy 3) which is a gorgeous scenic drive over mountain passes and along rivers into the lush agricultural lands of the Okanagan with an abundance of orchards, vineyards and more.
Along the way it's worth taking a break at Manning Park. In the picnic area you'll see marmots scurrying in and out of underground burrows and bold whiskey jacks looking to share any snacks you are eating. Further on is Princeton which has several family style cafes, pubs and bistros to suit everyone's taste. I recommend a stop here if you are wanting refreshments.
On your way to Osoyoos you will pass through the quaint mining town of Hedley and the self-described "fruit capital of Canada" Keremeos. April is a little early to buy local fruit but the many fruit stands are open and worth a visit. Leaving Keremeos you head southwest to Osoyoos passing through Oliver. Check out the blog Take a Break Along the Crowsnest Hwy for more things to see and do along this route.
I arrived at my first overnight stop of Nk'Mip Resort in Osoyoos. This is a popular RV park with some 350 sites including 120 lakefront sites on the beach, 30/50 amp service, tent sites, convenience store, marina with equipment rentals, boat launch and more.
This resort is a wonderful spot to stay as it has so much to offer. In addition, the Restaurant at Spirit Ridge serves fabulous food, then there is the Solstice Spa, Desert Cultural Centre, Nk'Mip Cellars, Vineyard & Winery, Sonora Dunes Golf Course. And it's only a short 2 km walk or drive to the main street in Osoyoos.
After a good night's sleep, I left Nk'Mip to head back to Penticton. Before leaving Osoyoos I decided to try the local neighbourhood café, JoJo's, which is situated on the main street. What a great find. They make everything from scratch and if you are craving a muffin, cookie or eggs benny this is the place to go.
After enjoying a tasty breakfast I headed to Gallagher Lake Resort in Oliver. They have several lovely camping cabins near the beach and over 140 campsites. There are many amenities available including RV hookups, a convenience store, laundry, plus for the energetic – tennis, pickleball, volleyball court, and for the less strenuous – horseshoe pits. The campground is right on Gallagher Lake with their own private sandy beach.
Whilst in Oliver I also dropped in on The Orchard at Oliver, an RV park & motel. The campsites are set in a beautiful orchard and is a great place to relax and take in the laid-back atmosphere that is the Okanagan. You can also try something different and rent one of their rustic cabanas.
After leaving Oliver, I stopped for a quick snack in Okanagan Falls at Tickleberry's. I had never visited before, so it was a special treat. This is a family-run business known for its delicious homemade ice cream of over 50 flavours, homemade fudge, chocolates, kettle korn, and a wide range of gifts and local crafts to purchase. This is a fun experience and well worth the stop.
The last campground I visited on this trip was Barefoot Beach Resort in Penticton. This is a fairly new resort opposite Skaha Lake offering Yurts and tenting sites. Each yurt comes with a deck, two chairs and BBQ and lovely landscaped grounds. You can also enjoy the Barefoot Beach House Restaurant and Beverage House, relax on the roof top patio and enjoy fresh, Spanish-inspired cuisine, with a frosty margarita in one hand and some fantastic food in the other. They also offer a juice bar, second scoop ice cream and a rental hut and beachwear for all your needs.
From Barefoot Beach Resort I headed to the Penticton Trade & Convention Centre for the Interior RV Show. It was a whirlwind visit to the South Okanagan and next time I shall visit longer and take a few side trips to local wineries.
For the many camping opportunities in the South Okanagan and all of BC check out Where to Camp at Camping & RV in BC.
Hidden Waterways in British Columbia for the Hiker
There are many hidden waterways in British Columbia which offer some of the lesser known places to cool off in the water during the summer. Here are highlights of a few of the best waterways to cool off for the avid hiker.
Vancouver Island
San Josef Bay
Anyplace you can only reach by boat, foot, or helicopter is always less crowded, and this is one of those spots. Nestled on the northwestern point of Vancouver Island, San Josef Bay is the part of the Cape Scott Provincial Park that will most appeal to avid hikers and others who love adventure. Only 2.5 km long, it is approximately 45 minutes each way and is fun for the whole family.
The Juan de Fuca Trail
We know, that's not a waterway! But if you hike the Juan de Fuca trail you'll be wandering the west coast of Vancouver Island from Botanical Beach near Port Renfrew to China Beach west of Jordan River, hitting some of the best beaches along the way. You can camp out along the way too, so pack enough for several days. This trail is a wilderness trail and many sections are not for the faint of heart.
Vancouver Area
Norvan Falls Trail
This 12 kilometer round trip hike is part of the Lynn Headwaters Regional Park. Lynn Canyon itself is a popular spot, but the Norvan Falls Trail makes its way through an old forestry area and is easily missed. You are likely to see more rusting carts and abandoned tools from the old logging days than groups of people on this trail, and it is very peaceful. After you make it across the steel suspension bridge, you know you've almost reached Norvan Falls.
Okanagan
BX Creek and Falls
This is a great day trip, whether you're interested in enjoying the scenic natural beauty of the Vernon area, enjoy some gold rush history, or just hoping to cool off in the wilderness. This hike takes you through a wade in a waterfall pool and into the cool canyon filled with firs, ferns, cottonwoods, cedars, and birch.
Kootenay Rockies
Lake O'Hara
This is a reservations only spot for campers in Yoho National Park, and it's not so easy to find. Hike in from the trailhead which is about 12 kilometers east of Field. Making a reservation at the campground is necessary as there are only 30 campsites, but the stunning natural beauty of the emerald lake and the remote trails winding through the forests are worth it. "Yoho" itself means awe and wonder in Cree, if that tells you anything.
Northern British Columbia – Yellowhead Highway 16
Ancient Forest, Fraser River, McBride
If a quiet hike next to a winding river through a thousand-year-old cedar forest sounds like a hidden gem to you, we agree, and this is a perfect spot for you. The Fraser River and the ancient forest next to it is on the route to McBride about 113 kilometers east of Prince George. There's no fanfare here, just a sign off Highway 16 that's easily missed that will take you to the trailhead parking area. The Ancient Forest Trail is only 2.5 kilometers long and wheelchair accessible, but with untouched growth of trees up to 16 meters around, it's definitely worth a hike.
Nechako Reservoir, Quanchus Range, Tweedsmuir Provincial Park
You might want to skip the two popular hiking areas in Tweedsmuir Provincial Park, the Hunlen Falls/Turner Lake Chain and the Rainbow Range Trail. Instead, check out the truly remote north half of the park, in the Quanchus Range. You can only access this portion of the park by float plane, as it is nearly surrounded by the Nechako Reservoir, ensuring that it stays hidden from most. And remember, you need to either have a professional guide or be completely self-sufficient to hack the Quanchus Range.
Queen Charlotte Islands
East Beach Trail, Haida Gwaii
The remote East Beach Trail, in Naikoon Provincial Park on Haida Gwaii is 90 kilometers long, a 4 to 6 day moderate level hike winding along the eastern shoreline of Graham Island. For the best weather, move from Tlell in the south up to Tow Hill near Masset in the north. Expect rain, wind, and the need to cross rivers—and watch out for black bears! If you need them you'll find several shelters along the way.
Northern British Columbia – Alaska Highway 97
Mineral Licks Trail, Muncho Lake
One of the easier hikes on this list, you'll still get stunning views, lots of wildlife, and gorgeous Muncho Lake following the Mineral Licks Trail. This short two-hour hike covers about 1.3 kilometers in a loop. Watch for animals including sheep licking the rocks and soil for the minerals in them.
Conclusion
Have we sold you on hiking some of BC's lesser known spots yet? There are so many hidden adventures here to discover and enjoy. If you love hiking in the wilderness but hate the summer crowds, one of these great trips might be perfect for you. Watch for our next installment in the hidden gem waterways series on the best hidden spots for the wildlife enthusiast.
Go to Hidden Gem Waterways for Fishing in British Columbia for the first installment.
Published: July 14th, 2016