Summer in Valemount, British Columbia: Where the Mountains Move You
Imagine standing in the middle of a town with a view of three snow-capped mountain ranges. Welcome to Valemount in east-central British Columbia, a village with stand-out summer adventures and activities.
Just over an hour west of Jasper, Alberta, Valemount is in the Robson Valley, situated along and east of Highway 5 (Yellowhead Hwy) and nestled between the Rocky, Monashee and Cariboo mountains (to the east, south and west). It's a municipality with a big heart – and venturesome residents eager to show visitors what their playground is all about.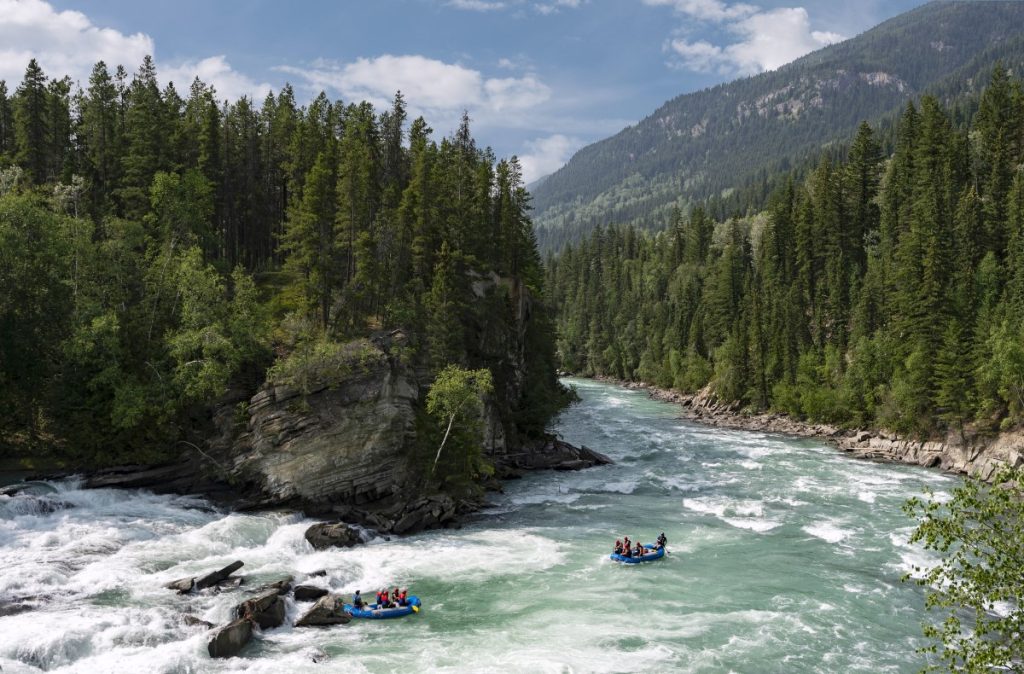 The land that would become Valemount is in the traditional territory of the Secwepemc Nation, Simpcw territory. The name Valemount was coined for the Canadian National Railway station there in 1927, and to this day it has a ViaRail station. It's the nearest community to BC's Mount Robson Provincial Park and its namesake, the highest peak in the Canadian Rockies. Choose from three campgrounds here: Lucerne, Robson River and Robson Meadows. From gentle meadows to alpine lookouts, there are hundreds of kilometres of trails to explore. (Note that the popular Berg Lake Trail will be open this summer to Kinney Lake only.) While in the area make a splash whitewater rafting on Class I to Class V rapids, or paddling or floating along the Fraser River (a clear, beautiful blue/green in this part of the province) or on the long and narrow Kinbasket Lake. Amidst the Rocky and Cariboo mountains it's actually a reservoir created by the construction of the Mica Dam; water levels can vary.
The viewpoint at Rearguard Falls Provincial Park provides an excellent opportunity to witness the end of a long journey for the mighty Chinook, the largest of the Pacific salmon. From the Fraser estuary in the province's lower mainland to this point, the fish travel upstream for over 1,200 km, though not all make it this far. George Hicks Regional Park also has a viewing platform for the salmon as they enter Swift Creek. Spawning season is generally August to September.
For other camping and RV options search via the Camping and RVing BC Coalition's campground webpage; Visit Valemount also has RV and camping information. The Valemount Visitor Centre can be found at 785 Cranberry Lake Rd (summer hours June-Sept, Mon-Fri 8:30 am-4:30 pm).
Mountain biking is a way of life in this part of BC. Be sure to check out the Valemount Bike Park. Minutes from the town core, it's a system of trails ranging from easy cross-country pedals and smooth and flowy downhills to steep and 'rooty' adrenaline-filled singletrack options. Cruise the trail and boardwalk along Cranberry Marsh (the Starratt Wildlife Management Area) where you can stop for birdwatching along the 6-km loop. Should you wish to rent a mountain bike or ebike swing by or call District Bike Co. or Bike & Bites; both shops service bikes too. Hiking trails in Valemount range from easy-medium-challenging; it's best to verify openings with the Visitor Centre before heading out as some trails may be closed for repairs or due to inclement weather. Perhaps you'll see Sasquatch near Mica Mountain (as sighted in 1955!) as you hike the Mica Mine Trail, the same trail where, in the 1890s, horses and mules hauled minerals down the mountain.
Three kilometres south of Valemount is Cedarside Regional Park on Little Cranberry Lake, a swimming spot with a sandy beach where dogs on leashes are welcome. There are toilets, picnic tables and fire pits; camping is not permitted.
Slow the pace down with some horseback riding or try fly, troll or spin cast fishing. Various species of trout fill nearby rivers and lakes (such as Moose and Shere lakes), as do Rocky Mountain whitefish. Valemount Pines Campground boasts a nine-hole golf course and grassy tent and RV campsites with spacious long-level pull-throughs and private back-in sites near a mountain.
Complement your fish dinner with a trip to the Valemount Farmers' Market, which runs every Thursday afternoon from late June to September. Along with regional produce you'll find arts and crafts. For other art options visit Mountain Driftwood Gallery & Gift. Many artisans sell in the area so check with the Visitor Centre for info on pottery, jewelry and antiques and collectibles. The Valemount Museum & Archive is located in an old railway station built in 1914. Learn about local pioneers, historic regional railroad towns and WWII Japanese internment camps. There are community events and summer festivals in and around Valemount such as the Annual Valemountain Days (June 9-11 this year), the annual Bike Fest (June 17) and Canada Day celebrations (July 1). Robson Valley Music Festival in the farming community of Dunster, 60km to the northeast, takes place on August 11-13.
Restaurant options include the Summit Grill and Cranberry Lounge in the Best Western Plus hotel and Cariboo Grill with fine comfort fare and an ample wine list in a cabin-like setting. The Gathering Tree specializes in breakfast and lunch and Valemount Swiss Bakery is known for its scrumptious sourdough breads. Get your mojo fix at Vale Coffee, a small batch roastery and takeaway café and if you're craving a pint head to Three Ranges Brewing Company for craft-brewed beer in their cozy tasting room or on the patio. The establishment is part of the BC Ale Trail, which lists over 220 craft breweries.
Whatever the outing or adrenaline rush – whether strolling past mountain wildflowers or chuting down rapids – summer in Valemount is bound to please all nature lovers.
For more information on Valemount go to the website at www.visitvalemount.ca, check out the Facebook and Instagram pages or if you are already in the area go to the Valemount Visitor Centre at 785 Cranberry Lake Rd, (250) 566-9893 visitorcentre@valemount.ca.
TIP: If you find this blog interesting why not subscribe to the enewsletter and never miss another story!
For campgrounds in this area and elsewhere in British Columbia check out the Camping Map.
Share your BC travel and camping photos using hashtag #campinbc #explorebc
It's always a great day to #CampInBC
Bridge Lake Provincial Park Nestled in the Interlakes Region of British Columbia's Cariboo
When planning a family camping trip for family stretching from Vancouver Island to the far north of BC, we recently settled on meeting in the middle, so to speak, and packed up for a week in the Cariboo.
Bridge Lake is one of many, many lakes in the Interlakes District, a region known for fishing. In fact, Highway 24, stretching from 100 Mile House to Little Fort, is often referred to as the Fishing Highway and Bridge Lake is situated smack dab in the centre.
Bridge Lake Provincial Park is quite large, at just over 400 hectares, and protects undeveloped shoreline and numerous islands within Bridge Lake itself. A small campground is located just three kilometres from the community of Bridge Lake at the south end of the lake. The Bridge Lake Provincial Park campground has 13 vehicle accessible campsites, and 3 "walk in" campsites right along the water, perfect for those willing to walk the extra 50 feet down the wide, well maintained trail.
As we were travelling with our tent trailer, we opted for one of the vehicle accessible campsites and were pleased to find our site to have a nice mix of sun and shade and lots of privacy. There is one set of outhouses in the campground loop, and one additional outhouse near the day use boat launch and walk in tenting area. There is no water available at the campsite as the previous well has been decommissioned, so it is important to plan ahead and either bring the water you need with you or be prepared to buy small bottles at one of the nearby general stores. Cell service was spotty in the campground, but several places in the park, including the boat launch, had improved reception.
Bridge Lake Provincial Park campground is located on a little peninsula that sticks out into Bridge Lake. The peninsula is criss-crossed by trails, and it is easy to walk for a kilometre or two just by following the obvious trail leaving near campsite number three and then exploring the various trails that branch down to the water. Stick to the main path and eventually you will circle back to the boat launch and walk in camping area.
Bridge Lake is an excellent water destination. During our trip we spent lots of time exploring the bay near the boat launch by paddleboard. A short paddle out of the bay brought us to a white buoy marking an unexpected shallow spot where stacked boulders littered the lake bottom making the water in which we were paddling sometimes less than a foot deep. The rocks were a bit slippery, but with caution you can have your very own walking on water moment!
For those looking for a longer paddle, there are plenty of options as well. We explored the south-east portion of the lake's shoreline as an 8 kilometre paddle which included several blue herons, lots of daydreaming about owning one of the many waterfront recreational properties, a stream flowing into the lake, and a number of small islands including one rocky outcrop that I nicknamed Seagull Island for obvious reasons.
In true Cariboo form, our trip was complete with both spectacular sunsets and spectacular thunderstorms.
Throughout the course of our trip, it seems that the campsite had 3 or 4 vehicle accessible spaces that remained empty each night. That being said, the camper turnover was nearly 100%, and we had different campsite neighbours every night of our trip. My impression is that many people used Bridge Lake Provincial Park as a stopping off point between two other destinations, but having spent the better part of a week there, I still feel like we have only scratched the surface of what the region offers and we will certainly be back!
TIP: If you find this blog interesting why not subscribe to the enewsletter and never miss another story!
Check out the blog on the Bridge Lake Ice Caves! There is an excellent series of walking and hiking trails at the Recreation Site as well as beautiful views over Bridge Lake and the ice caves themselves are fascinating both geologically and historically.
For campgrounds in this area and elsewhere in British Columbia check out the Camping Map.
Share your BC travel and camping photos using hashtag #campinbc #explorebc
It's always a great day to #CampInBC
Plan to Visit Marble Canyon Provincial Park in British Columbia's Cariboo Region
The dry interior of the province is one of our favourite camping destinations. Marble Canyon Provincial Park, located along Highway 99 between Cache Creek and Lillooet, fits the bill for everything we like.
The campsite offers 30 high density, first-come-first-serve sites and on a sunny weekend afternoon, it is pretty much guaranteed that the campground will be over capacity between the campers and the day-trippers. As the afternoon wears on, some of the day users will depart, and there is a chance that late arrivals may find a campsite in one of the parking-lot style sites. For those lucky enough to snag one of the premium lakefront sites, the busyness of the park melts away.
The campsite at Marble Canyon Provincial Park is bookended by Crown and Turquoise Lakes. When the water is high, the two lakes merge and visitors can kayak or paddle board between both lakes. A full circumnavigation of the two lakes is about two kilometres. For those looking for a longer paddle, just up the road is Pavilion Lake (watch for the next blog published soon), a gorgeous lake home to extremely rare freshwater microbialites studied by NASA!
One of our favourite things to do when visiting Marble Canyon Provincial Park is to hike to the waterfall on the opposite side of the lake. From the campsite, walk or drive to the north end of Crown Lake. From here, follow the trail along the non-highway side of the lake for about three quarters of a kilometre. The trail skirts along the lakeshore in places and climbs the hillside in others. Before long, visitors will arrive at a beautiful waterfall. In the winter, this waterfall freezes and is hilariously referred to as Icy BC (and a variety of other thematic route names including Body Shop and No Deductible) by ice climbers.
Marble Canyon Provincial Park protects a dramatic landscape of steep limestone cliffs and lovely lakes. It is extremely busy during the summer with campers and day-trippers alike, but it makes an excellent shoulder season destination as well. The first time we ever visited Marble Canyon Provincial Park was the last weekend of September – warm sunny days but certainly below freezing overnight. Our trip was instigated by a desire to climb a few of the many rock-climbing routes in the area. While it has been almost a decade since that climbing trip, Marble Canyon Provincial Park is a place we keep going back to – and keep finding new things to explore when we are there.
If you are looking for widely spaced campsites and a moderate climate, Marble Canyon Provincial Park is probably not the place for you. The campground is undeniably squishy, but for us it works, as when the small beach is busiest, during the heat of the day, we prefer to be on or in the water. During early mornings, late afternoons, and evenings, Marble Canyon Provincial Park can be a peaceful and beautiful destination for a weekend getaway.
TIP: If you find this blog interesting why not subscribe to the enewsletter and never miss another story!
For other camping opportunities in this area and throughout BC go to the Camping Map
Share your BC travel and camping pictures using hashtag #campinbc, #explorebc, #bcnice, #green
It's always a great day to #campinbc
Boating and Other Watersports are Popular in British Columbia
Does floating along in a kayak on the quiet waters of a sheltered cove appeal to you? Or, is experiencing the thrill of whitewater rafting or dancing on the wake of a boat on water skis more your style? Perhaps you enjoy the flap of the sails on the open water, or the oneness of paddleboarding.
With over 25,000 inland lakes and thousands of kilometers of rivers, plus close to 27,000 kilometers of coastline in BC, you are spoiled for choice when it comes to water activities. The region's diverse and natural beauty provides a stunning backdrop for an abundance of boating opportunities, and if you combine your boating and watersports with a camping trip you are set for a fun-filled vacation.
Boat Licensing and Regulations
All motorized boats (over 10hp) are required to be licensed. For details go to Transport Canada.
In order to operate a power-driven boat in Canada, individuals must be 16 years of age or over and hold a Canadian Boating License or Proof of Competency indicating they understand the rules of the water and how to safely operate a boat. This applies whether the boat is owned or rented. Restrictions are in place for persons under the age of 16.
Transport Canada's Safe Boating Guide is a comprehensive guide to boating in BC and Canada. Foreign recreational boaters can find information here.
Boating Equipment and Safety
Certain safety equipment is required no matter the type of pleasure craft. This includes a Personal Floatation Device (PFD) or Lifejacket for each person. Watertight flashlight, bailer and flares are also required. Review the relevant section in the Safe Boating Guide produced by Transport Canada.
Wind and storms can spring up at any time. Ensure you have a way of communicating with emergency services should the need arise.
Nautical charts can provide locations of various obstacles to look out for such as low bridges and underground cables. Be alert and watch for large vessels such as ferries, tugs and floatplanes. Take a compass with you. And be aware of swimmers, divers and water skiers.
There are certain areas where no boats, or only non-motorized boats, are allowed and there are other restrictions on some lakes and waterways in BC. Watch for the appropriate signs including (but not limited to): 1) No gas or diesel engines 2) Maximum Speed 3) Power Limit 4) No boats.
Protect yourself and obtain insurance. For larger vessels, marine insurance is required, for smaller pleasure craft you may be able to add to your home insurance policy.
Other Useful Information
Camping & RV in BC has a google map that shows where all the private campgrounds, provincial parks, national parks and recreation sites are and each listing indicates whether they are on the water, have a marina, boat rentals and more.
Read blogs on the Camping & RV in BC website that highlight some of our visitor's favourite places for boating and water activities.
TIP: If you find this blog interesting why not subscribe to the enewsletter and never miss another story!
For place to camp in British Columbia go to the Camping Map
For more information, visit:
Ahoy BC
BC Coastal Marine Parks
HelloBC
Share your BC camping and travel photos using hashtag #campinbc, #explorebc, #bcnice
It's always a great day to #campinbc
Bowron Lakes, BC: Not Just a Place to Portage!
With its pristine views and rugged adventures, you would think that the Bowron Lakes only attracts highly skilled hikers and paddlers. We found this was not the case! Yes we love hiking, camping and paddling but we had no intention of strapping on a backpack or carrying our canoe. We heard what a beautiful area it was, so we set out to explore it.
The Bowron Lakes are located in central B.C. east of Quesnel in the Cariboo Mountain area. The series of eleven lakes and three rivers are about a half-hour drive north-east of the famous historic town of Barkerville.
The Bowron area has activities for a range of outdoor enthusiasts. The famous Bowron Lake Canoe Circuit offers 116 kms of wilderness canoeing, portaging and camping and takes anywhere from six to ten days to complete. There is also a shorter trip on the west side which takes up to four days. Go to Bowron Lake Reservations for information and reservations for the circuit.
Since we came to camp, kayak, hike and fish with our family, we decided to split our nights between the Bowron Lake Provincial Park and Bowron Lake Lodge and Resort. Both campsites are located at the north and north-west end of Bowron Lake near the start of the circuit.
The provincial park has 25 sites nestled between the trees where we spent our first nights. We then moved over to the Bowron Lake Lodge and Resort where we had a lake-front site with incredible views and easy access to the lake for our kayaks. The resort also has canoes, kayaks and paddle boards to rent if you don't bring your own.
Close by is the Bear River Mercantile which is well stocked with everything you need from food, souvenirs and camping supplies. It also has some great museum-like historical displays and plenty of local information.
For day trips, we explored the quaint town of Wells which is located about 30 km from Bowron Lakes. Built in the 1930s to accommodate gold miners it once had a population of over 4,000, but now just about 250. In the summer it is a bustling little art-focused town with some well-preserved historic buildings.
Not far down the road is the historic 1860s gold rush town of Barkerville. It has more preserved buildings than you can imagine and live plays with resident actors who entertain along the streets. We had dinner at the Lung Duck Tong Restaurant which was a real hit with our family.
As much as I loved walking along the boardwalks, two of our favourites were the one-room Williams Creek Schoolhouse and the Richfield Courthouse. At the schoolhouse, listen for the teacher ringing the bell and you can join in on a re-enactment of a class lesson. At the courthouse we learned about the notorious Judge Begbie, the "Hanging Judge" whose job was to travel throughout the area maintaining the law.
Back at the campsite we had a chance to explore some of the hiking trails on both sides of the lake, kayaking and fishing on north-west end of Bowron Lake, and enjoying some stunning sunsets. The area offers amazing camping, with friendly people and beautiful scenery. Definitely make this area a destination this summer and I bet you will be planning another trip like we are!
For other camping opportunities in the Bowron Lakes area or elsewhere in BC check out the Camping Map.
Share your BC travel and camping photos using hashtag #campinbc
Published: June 20th, 2019