9 Steps To Winterizing Your RV
While many RVers in British Columbia have extended their camping into the spring and fall and even through the winter, most put their RV to bed for the winter months. For those new to RVing we offer a few important steps you need to take to ensure your RV will survive the colder winter season.
You have 2 options. You can take your recreational vehicle to an RV dealer or, you can do it yourself.
Following are steps for winterizing your RV yourself provided by GoRVing Canada.
1. Fully winterize your water system
Frozen pipes mean cracked pipes. To avoid freezing, fully winterize your water system. Each unit has specific water system winterization guidelines to follow in your owner's manual.
All units follow the most basic steps: First, ensure the water heater is off, then drain and flush all pipes. To remove every last drop of water, open all faucets while draining. When filling the system with antifreeze, make sure that the antifreeze reaches all faucets. Even pour antifreeze into all the drains.
2. Remove your batteries and store in a dry place
Winter temperatures are your RV's worst predator. For all batteries, turn off the RV's disconnect and breaker switches. Also, when disconnecting batteries, remove the negative cable first.
Single batteries are easy to winterize. Store fully-charged batteries in a warm, dry spot. Do not store batteries on a concrete floor, unless you want a dead battery by the end of winter. Concrete slowly drains the power from batteries.
Larger systems with multiple batteries will have specific instructions in the owner's manual. It's usually better to keep these batteries installed. If leaving your batteries in your RV, still disconnect the negative battery cable. Check the battery charge level periodically throughout the winter, and recharge when necessary.
3. Apply a coat of good quality wax or protectant to the RV exterior
Winterizing your RV means protecting it from all elements. To protect the exterior shell of your RV, purchase a good quality wax or protectant formula that is compatible with the composite of your unit. First, completely clean the exterior while checking for cracks or split seams. If you noticed any cracks while cleaning, patch these areas with a sealant specific to the materials of your RV. Then, wax the entire exterior.
4. Clean and dry your awning
While cleaning your RV's exterior for waxing, clean and dry the awning. It's important to make sure the awning fabric is completely dry to prevent moulding. The same goes for pop-up or fold-out trailers with fabric or canvas siding. Nothing worse than the smell of mildew.
5. Remove, clean, and replace your AC filters
While cleaning your RV's exterior and awning, you should also clean the exterior of your air conditioning. Remove, clean, and replace the air conditioner's filters before tucking your RV away for the winter. The goal is to leave your rig clean and dry so there are no surprises in the spring.
6. Service all locks and hinges
This step is quick and easy, but just as important as the rest if you want a well-working RV in the spring. Take a few minutes to lubricate your locks and hinges before stowing your RV to avoid creaks, jams, and breaks in the spring. A little lubing goes a long way!
7. Tidy and clean the interior
If your RV is going to be stored untouched for the winter months, you want to leave it sparkling clean. Again, you don't want any surprises in the spring. A clean RV offers fewer hiding spaces for critters and mould. And by clean, we mean sanitize! Aside from general cleaning, remove all clothing and blankets to be stored at home. Lift couch cushions and mattresses and leave them propped against each other or walls for optimal airflow.
8. Use a dehumidifier to avoid mould and mildew build up
There are a few options to minimize moisture damage in your RV. If you plan to store your rig nearby with a power source and can check on it often, running a dehumidifier a few times throughout the winter will do the trick. Another option is to leave moisture absorbing materials inside the RV for the winter. Dry-The-Air is a popular moisture absorber.
9. Cover your RV wheels to protect from the elements
The last step, if you will be storing your RV outside, cover your wheels to protect them from the elements.
The jury is out on whether covering the entire RV with a tarp is a good idea or not. On one hand, it protects the outer shell from snow and debris. On the other side of the debate, a tarp could trap moisture so if you do cover it, be sure to use a breathable shell.
For more on winterizing your RV and other RV maintenance tips go to GoRVing Canada.
TIP: If you find this blog interesting why not subscribe to the enewsletter and never miss another story!
If you camp during the winter months check out winter camping opportunities in British Columbia.
Share your BC travel and camping photos using hashtag #campinbc.
It's always a great day to #campinbc
Tips to Prepare Your RV for Winter Camping in BC
Imagine waking up surrounded by glistening snow, where the outdoors beckons you to do some cross-country skiing, snowshoeing, maybe ice-fishing, or just a walk in a stunning winter wonderland. Kids can build snowmen, make snow angels and toboggan. And where a cup of hot chocolate never tasted so good.
Just because winter is approaching doesn't mean that you have to take a hiatus from camping in British Columbia. For instance, did you know that there are some 150 campgrounds including a few BC Parks sites and select private campgrounds/RV parks open year-round? You just have to prepare for your camping trips so you keep warm and cozy and that your RV is prepared for winter conditions.
A friend and newbie to winter camping told me last year, "If only we had known how amazing RVing in the winter is, we would have taken this trip a long time ago! The first morning we woke up to the soft sound of snow tinkling on the roof of the RV. Our bed was toasty as we sank deeper into the flannel sheets, and stared out the window to a winter wonderland. It was breathtaking."
Does that make it sound like fun?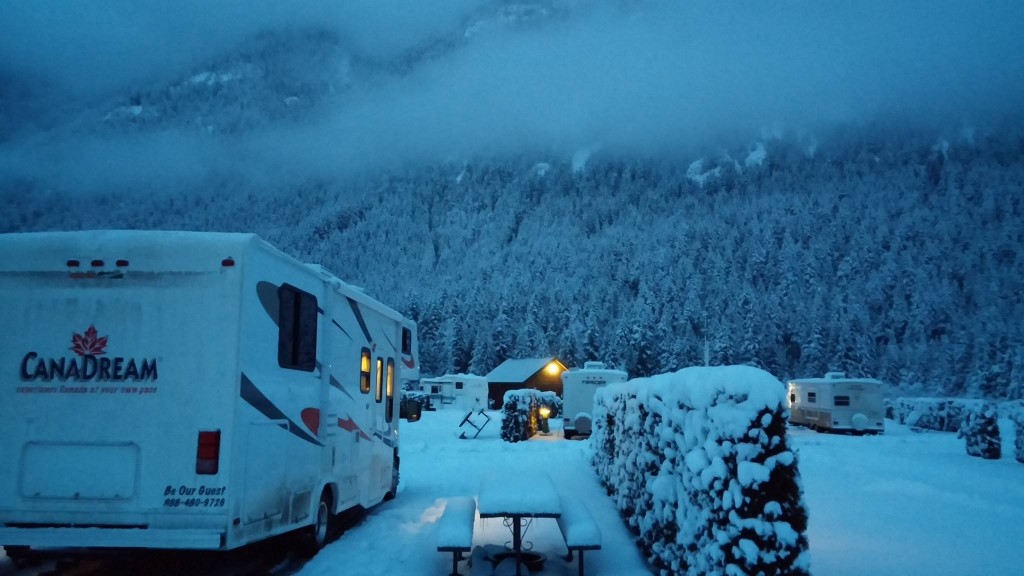 So here are some tips to help keep you safe and sound.
You do need to ensure that your pipes and holding tanks will not freeze. This is what Canadream RV Rentals had to say about winterizing the RV.
There are two types of RV you can use in the winter – winterized (no water with all pipes and holding tanks drained) and a winter unit (allows for water usage). If you are going to a destination with electricity hook-up, you can use a winter unit, where an arctic pack will heat exterior tanks so you can have running water. Units also come with a furnace which runs on propane and you will need an electrical heater as well. The temperature inside needs to be kept at a certain level to prevent freezing.
If you are renting an RV in the winter for the first time read our blog First Time RVing In Winter – What To Know About Renting An RV.
Go RVing also provides some tips for camping in winter including:
Always have enough bed quilting and winter clothing around so that everyone can easily live through a furnace failure even if stranded by weather for several days.
Park your RV in the sun whenever possible. You'll be amazed at how much a good winter sun can heat up your RV.
Park your RV on support boards. These boards will prevent your RV tires from "sinking" when the ground thaws.
If electricity is not a problem, use electric blankets at night to save on propane. Also, using a small space heater will also save on propane and wear and tear of the furnace.
Make sure you insulate your hose and use heat tape that can be crossed over itself, as this will provide the most efficient seal. (Note: you can also buy a heated hose.)
If you have a motorized RV, check your batteries for water level and periodically start your engine to keep everything in good running order.
To keep your RV battery charged, consider getting a solar panel system or an inverter
Now that you're all set to experience winter camping this year, here are some blogs and ideas for keeping you camping throughout the fall and winter.
5 Spots to Ice Fish and Camp this Winter in British Columbia
First Time RVing in Winter – What to Know about Renting an RV
Winter RV Adventure for Camping Newbies at Sunshine Valley & Manning Park, BC
Vancouver Island, BC Off-Season Adventures
5 Ways to Enjoy Winter in Wine Country, Okanagan, British Columbia
Go to our Winter Camping Map to find out where you can camp in the winter.
TIP: If you find this blog interesting why not subscribe to the enewsletter and never miss another story!
Post your BC travel and camping photos using the hashtag #CampinBC
It's always a great day to #CampinBC
Campers Etiquette – Is there such a thing?
What is etiquette in a campground?  Well, it's the respect for others that starts upon your arrival at the Campground.  It doesn't matter who you are, how much money you have or do not have, what fancy toys you have – It is a respect for the fellow camper and the campground.  The last thing you or the Campground want is to have Mr. and Mrs. Obnoxious spilling out into the park.
What is a common problem operator's encounter?  I spoke with a campground owner recently and the screening of perspective guests is key to everyone having a good night's rest and a great camping experience.  She says if someone is booking a group of "young adults without children", then it's generally a no-go for them.  Of course this does not mean they are turning away all "more than two adult" parties without children, it just means that they carefully consider it.
I myself have stayed at many campgrounds which includes private and provincial and even some recreation sites and the rules are somewhat similar:
Each person/vehicle/guest must register.
Make yourself and others in your party familiar with the campground, look at the rules and the site map.
Quiet time – (10:00 PM to 7:00 AM) times may vary at each campground. This is the one that is very troublesome for a lot of campers.  Small children wake at early hours because they are put to bed so early, PARENTS, please keep them occupied quietly until the posted quiet time ends.  Allowing the children to scream at 5:30 am really travels through the park, especially in quiet campgrounds located near water.  And this goes for the night owls too.  Our voices carry and can be heard further than the neighbouring campsite.
Pets must be on a leash at all times. Noisy, unattended pets will not be tolerated. And remember to mention the breed of your dog when booking, as some parks restrict certain breeds – and please understand that each campground has different rules pertaining to which breeds they do or do not allow, no one is singling you out.
Campfires are not permitted in every campground, this pertains to wood and propane firepits, so please check with the park you are booking to make sure they are permitted. And if wood burning campfires are permitted, use only the supplied fire rings and do not move them.  The campground has deemed that ring area the safest for your campfire enjoyment.  The tossing of anything other than wood into your fire is not permitted, this includes your unwanted food scraps.  They may not all be incinerated by the time the fire is out and this attracts unwanted pests such as mice and raccoons. Also, the burning of plastic cups, cutlery, cigarette butts, bottle caps is not a great practice either.  These items, not only do they not completely burn up and send toxic fumes into the air for you and your family, but they remain in the fire pit long after you are gone and someone will have to remove this debris.  Remember to keep the fire small and under control. Under the Wildfire Act regulations, campfires cannot be larger than 0.5 meters by 0.5 meters – roughly a foot-and-a-half by a foot-and-a-half. Please obey current fire bans.  Also the transferring of firewood, from campground to campground is shied upon by the Canadian Food Inspection Agency because pests in your firewood can destroy our forests.
Alcohol is only permitted in registered campsites.
External speaker systems are not allowed at most parks – but if they are, keep it in your campsite by turning the volume down as the rest of the campground may not enjoy your choice of music.
Generators are another area of concern for a lot of campers, not just you – the owner of the generator – but the surrounding campers. Last thing they want to hear is an extremely noisy machine interrupting their quiet time.  When choosing one ask for a demonstration so you know what you're getting yourself into. Also remember placement of it – try to situate it as far away from your neighbours and follow the parks usage times.  Every campground has certain usage times, usually twice a day.
Always be courteous and respectful of other campers as "It's always a great day to #CampinBC"
Packing Your RV & Picking a Campground
Late winter and early spring is the time when we start thinking about the warmer days to come and the camping trips we will take this year. So to get us really into the camping mood it's time to visit one of the RV and camping consumer shows that showcase the latest in recreational vehicles, camping gear, places to camp and more. If you are new to RVing and have already decided on which RV will suit your family, you might need some tips on how to pack your RV and pick a campground.
There is an abundance of information that will assist you by way of websites, printed materials and videos. Below are two videos that we hope will help as you plan your upcoming camping season.
The first, Packing Your RV, provides tips on storing groceries, cooking tips, how much water to put in your water tank, recreational items to take with you, and more. You will also want to decide what kitchenware (dishes, pots & pans, cutlery), bedding, etc. that you will need.
Next is picking a campground. There are so many sources of information and many campers like to select their campsite online and others like to have that camping directory in their hand. The good news is there is plenty of both available.
First you will need to have an idea of where you want to camp then research what is available. Because there is such a vast choice of campsites, decide what your requirements are e.g. on-site services (electricity, water, sewer), pull-thru sites, flush toilets & showers, playground, swimming, WiFi. These are just a few. The BC Super Camping Guide lists some 200 privately owned RV parks and campgrounds and national parks, all with a brief description and symbols to help you make your choice. Go Camping BC details the Provincial Parks in the province. These guides are available at many consumer RV shows and is also available online. To do research on the web go to Where to Camp on the Camping & RVing in BC website. This includes all types of camping found in British Columbia as well as trails and stocked fishing lakes.
No matter your type of camping, get out this summer and enjoy what nature has to offer.
Links to help you enjoy your RV and camping trips.
Share your BC camping, RVing and travel photos using #CampinBC
First Time RVing In Winter – What To Know About Renting An RV
My husband's family lived in the Arctic Circle before he was born, and his formative years were spent in Manitoba. So it should come as no surprise that he wants to go camping … in the winter.
I, on the other hand, don't really "do winter". I'm more of a rainforest girl. But I love to camp and miss it all winter long.
Enter the perfect solution, or so we hope … a winter RV trip. All the adventure of camping, all the chill of winter, but with the comforts of home.
This winter we're going to rent an RV from the good folks at CanaDream and take a short trip. I have to admit I'm totally out of my element so step one: book the RV.
In order to feel better prepared for the RV experience, I posed some questions to the representative at CanaDream, who was extremely helpful. Here's our conversation, which has some good procedural advice for any first-time RVer as well as stuff specific to winter use.
1. Can we leave our car with you when we pick the RV up?
Yes! Our pick-up location is about half an hour outside of Vancouver and we have a gated lot where you can leave your car.
2. What else happens at pick-up?
All Guests are invited to check in online 5 days before pick up. It is mandatory that you complete online check in as this is where you provide CanaDream with all your details, uploading driver's license, emergency contacts, you'll read and accept their terms & conditions and insurance policy, you can add on extras and also pay the mandatory security deposit by credit card. You'll watch their detailed demo videos so you know all about your RV before you get to the station. This is really helpful.
You will also select your pick up time and your drop off time from a range of available time slots. Again this is great to help you plan your departure and the return day of your vacation.
On arrival you will simply present your driver's license, credit card to confirm they match what is in their system and you'll perform a short self-guided tour (asking any questions that you need) and then you can head off on your road trip! simple.
3. Your Maxi Motorhome RV is a "winter unit" … what does that mean?
The Maxi Motorhome has been specifically designed and built to enable functioning of the RV in temperatures up to -30 degrees Celsius. With heated and insulated pipes, use of the RV furnace and generator means you can keep the RV warm and frost free, ensuring full use of the bathroom facilities and kitchen water. Giving you the ultimate winter comfort and convenience on the road, the RV comes kitted out with fleece bed linen, insulated curtains and protective floor carpets to enhance the warmth of the unit. Don't get this confused with some rental companies who "winterize" their RVs which means they drain all of the water out of the pipes and tanks to ensure the pipes don't freeze and cause damage when they thaw. CanaDream is unique in this respect with their RV having an Arctic pack to assist with the use through harsh Canadian winters.
4. Does the unit come fully stocked?
You can chose to rent a Convenience kit which provides you with all the kitchen equipment, bed linen and towels, or you can bring your own if you want to reduce the cost. Most people take the Convenience kits.
5. What extra items should we bring?
This depends on what you think you will need and of course you are welcome to bring whatever you like to make your trip more comfortable. We recommend that you pack supplies in soft bags so they can be easily stowed in the storage cupboards. I think it's nice to bring things that make you feel at home. For instance, a favourite pillow. If you have chosen not to take the Convenience kit, you will need to bring everything you require.
6. Is the RV hard to drive? Is there any way to practice?
No. The beauty of these RVs is that they are very easy to drive and as long as you are confident and use a spotter outside to help you reverse and park, you will soon enjoy driving the RV. They are all equipped with mud and snow tires, so you will have a lot of grip in the winter. We are also happy to provide snow chains. With any driving in winter make sure you pay attention to the road conditions and don't take unnecessary risks.
7. How far can we take the RV? Would we be able to use it to drive someplace for skiing, for instance?
With an RV the requirement is you have to stay on numbered public roads. You can't take it off-road, or down a logging road, for instance. Not that you would be tempted to in the winter!
Really, though, you should be able to drive the RV as you would with an ordinary vehicle, and so you could take it on a day trip … keeping in mind (as you would with any vehicle) that you need to check road conditions where you are going.
Well, it looks like we're one step closer to this crazy dream. Thanks to CanaDream for being so patient with all my questions. I'm starting to get excited for the trip!
TIP: If you find this blog interesting why not subscribe to the enewsletter and never miss another story!
Want to read about their winter camping trip? Read the blog below.
Winter RV Adventure for Camping Newbies at Sunshine Valley & Manning Park, BC
For places to camp in winter check out the Winter Camping Map
Post your BC winter camping and RVing photos at #CampinBC
RV Maintenance Tips for Keeping Your Exterior in Top Shape
Whether you're new to the  Trailer RV Lifestyle like me or a seasoned RVer, you'll want to stay on top of maintenance so you can enjoy your Recreational Vehicle for many years to come. Exterior maintenance is a great place to start.
Go RVing Canada has created a handy checklist of maintenance tips to keep your RV exterior in top shape and I have added a few comments of mine gleaned from friends and a tiny bit of experience this year after I purchased my first trailer in July 2017.  Previously, I owned a Get A Way camper van for 12 years so have some RV knowledge.
1. Wash your RV exterior after each trip
Hose off the loose dirt and grime, then a sponge wash with mild soap and water rinse does the trick. But make sure you wash your RV exterior regularly and ideally after you return from each trip. Be careful to prevent condensation and avoid spraying water directly into appliance vents.  I use a spray soap jet on the hose and a car cleaning soft brush to go over my Denali Trailer.  This includes the roof that I access with a nine foot ladder.
2. Wax or apply a protectant to your RV exterior
Wax on, wax off, channel your inner Karate Kid and apply a coat of good quality wax or protectant to your RV exterior. This can be a time-consuming task depending on the size of your RV but it is well worth the effort. Make sure the exterior is dry before you start waxing and spot-test on a small area of graphics before widespread application. Check to ensure that the wax is appropriate for use on the type of exterior on your RV.  I did this shortly after purchasing my Trailer and it certainly helps to remove the bugs and bird poop after a camping trip, especially those pesky ones that splat on the front of the vehicle.
3. Clean your awning and keep it dry for storage
Before you roll up your RV awning for storage, clean it well with mild soap and water, and lubricate moving parts with silicon spray. When you roll it up, ensure that the awning is in the locked position. I cleaned my awning once and will do it again before I winterize the trailer in November.
4. Inspect any sealed areas thoroughly to prevent water damage
Your RV is out and about in the elements day-after-day on your adventures throughout the seasons. You'll want to make sure that your RV exterior including the roof, sides, edges, windows, doors, vents, end caps, moldings, compartments and underside are sealed off and doing their job to protect the interior from potential water damage, mice or other rodents. Look for any gaps, openings or areas with aged sealant and re-caulk if necessary. Make sure to use the appropriate sealant and when in doubt, ask your RV dealer or manufacturer for advice.
Funny story on our third camping trip to Alouette in Golden Ears Provincial Park, we had a mouse in the trailer.  I had to purchase some mousetraps but did not catch any so the mouse exited. On my return I purchased some foaming pest spray and went around all of the openings on the bottom of my trailer which included the water drains, stabilizers, and other pipes.  I found a few holes the size of a dime that a mouse could squeeze through.
Another tip I picked up was placing scent-free dryer sheets in the RV to reduce bugs and keep spiders out.
5. Lubricate all hinges, locks and moving parts
No one likes creaky doors or windows or compartments for that matter. Lubricating hinges and moving parts with WD40 and all locks with a graphite spray lubricant is an easy maintenance step that takes only a couple of minutes.  When I purchased the Denali it had been stored and not used for the current season so all of the hinges squeaked.
6. Cover outside vents to keep the critters (and condensation) away
Keep the insects out and prevent nesting by installing plastic bags or covers on outside vents (furnace, refrigerator, water heater) for long-term storage. Buy a proper A/C cover (versus using a plastic bag) and cover your air conditioning unit to avoid condensation during storage.
My vents have a Max Air flow cover on them and I have purchased a full breathable RV cover for the trailer and will use this during the winter as I have to store my Denali outside.
7. Open your vents
When your RV is not being used during the summer months, the inside living area can get up to 130F degrees depending on your location. That type of intense heat will cause even the toughest materials to break down and fail over time. Open your vents to let the air in. (But remember to keep the outside vents closed to keep the rain out!)  I can keep my vents open as most have a Max Air cover but one that is not covered is rain sensitive and will automatically close when it rains.
8. Lubricate your slide-out rails
Lubricate your slide-out rails a couple of times a year to stop rust and corrosion. You can find a can of lubricant spray specifically designed for this project for under $20. This is a much cheaper solution than replacing your slide-outs down the road.  I will be doing this before I put the trailer to bed in the winter as well as coating the rubber slide-out seals with a seal product to protect the rubber.
As I use my trailer more I am sure I will come across the need to obtain other advice or maintenance tips, so I will publish a blog next year to update you on my experiences.  In the meantime for more RV maintenance tips, check out the Go RVing Canada YouTube videos on GoRVing.ca.
5 Ways to Make Your RV Feel Like Home
The vast and breathtaking landscape of British Columbia is the perfect backdrop for any RV trip. That's why so many travelers are investing in these homes on wheels and setting out to see the sights and take in the natural beauty of this scenic and picturesque part of Canada.
However, even the most seasoned traveler loves a bit of home comfort, so spending long periods of time cooped up in the same four walls of your RV can become tiresome. Fortunately, all it takes is a few finishing touches to make any campervan feel like your home-away-from-home.
Home-Away-from-Home Entertainment System
One of the main things that anyone misses when on the road for a long time is an opportunity to curl up in front of the TV with your duvet and watch a good film. It's the perfect end to any day spent hiking, climbing, skiing or kayaking and really makes you feel like you're in your own home. This is easier to achieve than you might imagine in an RV.
All you have to do is bring along your laptop or tablet, download a few movies and you're good to go. Similarly, you can even use streaming sites like Netflix by setting up your phone as a mobile data hotspot or parking up near to a public WiFi network. However, if you are going to rely on public networks then be sure to have a Virtual Private Network installed to protect your data from theft and even unblock certain sites if you've traveled in from overseas.
Stay Cozy
Temperatures can get pretty chilly in BC, and nothing will have you longing for your own bed at home more than not being able to get warm. Because of this, an essential addition to any RV is plenty of cushions, covers and duvets. While there are many heating options for the vehicles, most are costly and drain fuel very quickly.
Sticking to the traditional "wrapping-up" approach is by far your cheapest and easiest bet. Keep plenty of extra layers packed away as well so you always have an extra jumper to throw on in case of emergencies. Nothing makes a place feel like home more than being able to come back, get warm, snuggle up and rest for the evening.
Decorate
People might call you strange for hanging up posters and pictures on the walls of a vehicle—particularly if you've rented it. But if that vehicle is the place you're going to call home for any duration of time, then there's no reason why you shouldn't make it feel that way.
The one thing any traveler misses more than anything is friends and family, so why not stick photographs of your loved ones up so you never have to feel that far away. Even souvenirs and presents from specific trips can help to make the environment feel like your own. Coming home to familiar sights and faces makes you feel warm and welcome no matter where you are, so ignore what others say and get decorating!
Personalize
While decorating is a great step to aesthetically making your RV feel like your home, personalizing it is equally as important. We all have specific things that we miss when we're away and other things we can't live without, so customizing the practical aspects of your campervan to make them right for you is an essential step.
Whether you want a picnic table and chairs so you can spend the evening sat outside around the fire, an extra mini-fridge to stock up on all your favorite snacks or maybe even your full haircare and cosmetic collection so you can still look your best despite the windy mountain spots and snowy winter days, if it's important to you then make sure you have it there! One of the luxuries of traveling in an RV is you don't have to restrict what you can bring to things you can carry, so don't be afraid to stock up! Once you have, you'll be ready to plan your next road trip in no time.
Get Familiar
No matter what steps you take to make your RV feel like home, there's one that is sure to make you feel more comfortable on wheels than back home—using it! The more time you spend in the van, the more you will feel familiar, until eventually the thought of leaving it will be harder than it was to go away in the first place.
When on the road, your RV can very quickly become your sanctuary, so get stuck in, get involved and get acquainted. After you've had to change a tire halfway up a mountain pass or fix an engine problem on a deserted Yukon highway, you'll feel like your RV is as much a part of you than anything else in your life.
Do you have any more tips for making your RV feel like home? Or have you had experience road-tripping around BC? Be sure to leave a comment and share your experiences below.
Camping Kitchen: Shake and Wake Pancakes
This family-tested recipe is a great addition to your camp kitchen. Nothing says "vacation" like pancakes. Ditch the measuring tools, bowls and whisks, and use this recipe to serve up from-scratch pancakes while on the road. It can made on a camp stove, in an RV kitchen, or even in a cast-iron pan over the fire. These are thick cakes, almost like scones, and a great hearty breakfast for adventurers. Enjoy! (more…)
RV Adventure Part 2: Reserving the Campsite
So the W family has decided to take the plunge and go RVing, for the first time, in winter. With our RV booked (more…)
Published: January 21st, 2014