Exploring North Vancouver Island, British Columbia – Sayward to Port McNeill
After years of camping on Vancouver Island, we decided this summer we would head to the north end of the island. The furthest north we had travelled was Campbell River and we really wanted to explore more remote locations.
In 8 days, we travelled north from Campbell River to Port Hardy and west from Port Hardy to Cape Scott Park. We explored communities such as Sayward, Telegraph Cove, Port McNeil, Port Alice and Port Hardy and many smaller communities in between. If you are looking for a camping trip filled with beaches, cooler temperatures, small remote communities and abundant wildlife then keep reading, we found it all.
Our first stop was the Village of Sayward, located about an hour north of Campbell River. Sayward is home to about 350 people with logging being a very prominent industry. Locals describe Sayward as a remote hidden gem that stays green most of the year due to the high amounts of rain. Plan to spend some time at Kelsey Harbour watching the sea lions, kayakers launching their boats and the logging operations in the bay. Western Forest Products operates a dry land log sort; this was something new for me to see the logs being dumped into the bay and the tugboats moving them around. I was surprised to see how the tugboats lean way over in the water without tipping over.
Before leaving Sayward, we made a quick stop at the unique Cable Café which was unfortunately closed at that time, but it is worth having a look at as its outside walls are covered with logging cable.
If you are interested in seeing the Dry Land Log Sort in action check out this video https://www.youtube.com/watch?v=PqkI-C82I1A
Moving north from Sayward, we stopped at the Keta Lake rest stop for a picnic lunch. It was a great shady place to stop with 4-5 picnic tables, outhouses and a couple of trails down to the lake.
Next stop was the community of Woss in the Nimpkish Valley (75km north of Sayward), home to the longest working railway in North America. We visited the Woss 113 Heritage Park celebrating 100 years of railway with interpretive signs describing the history of the town, the link to the logging industry and the railway. Locomotive 113 is on display, which is a steam engine that was built in 1920 in Portland and restored in 1988. The town has cell service, as well as two different types of electric-charging stations.
Next stop and our home for the next four nights was Alder Bay RV Park and Marina. Alder Bay is located just south of Port McNeill, open year-round with over 80 sites which are suitable for big RVs, as well as campervans and tents. Positives about this RV park include the super clean bathrooms, 8-minute showers for only $1 and the beautiful sunsets.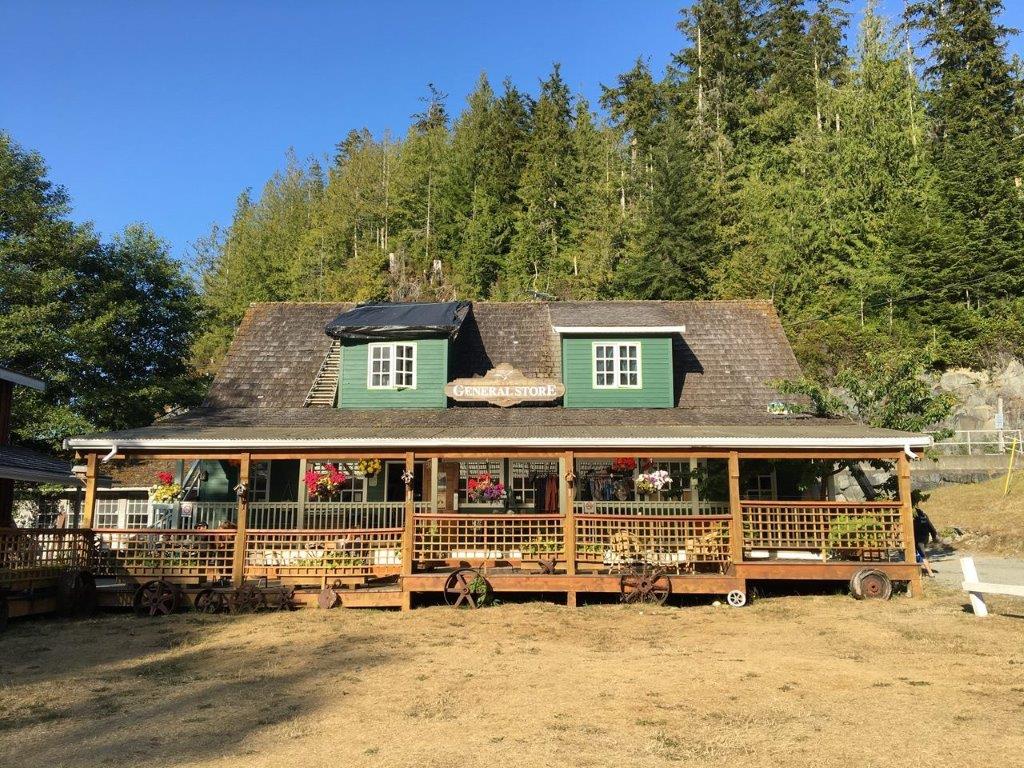 We had four jam-packed days while we stayed at Alder Bay; we spent an evening walking the boardwalk at Telegraph Cove and enjoying the setting sun. It was the perfect time for us to avoid the daytime crowds of tourists and those arriving for whale-watching trips. The General Store (established in 1942) is a welcoming business by the boat launch with all kinds of amenities including local products and wine/beer. Along the boardwalk are many of the original cabins which have been restored and available for vacationers to rent through Telegraph Cove Resort. It was fun to walk along the boardwalk and read the historic stories in front of each of the cabins. The Whale Interpretive Centre is located at the end of the boardwalk, just past the pub and restaurant, a must see for our next visit as it had closed at 6:00 pm.
The next day we headed over to Port Alice, about an hour's drive (paved road) from our campsite. Port Alice was named after Alice Whalen, mother of the four Whalen Brothers who founded the Whalen Pulp and Paper Company which built a pulp mill in Port Alice in 1917. After exploring the town and the 3km Sea Walk along the water we headed inland on the Alice Lake Loop to the Devil's Bath Cenote, Canada's largest cenote (unfortunately, no swimming access) and the Eternal Fountain, a stream with a beautiful waterfall that disappears into an underground cave. Both were accessible by logging roads and have short walks through the forest (pick up a map at the Port Alice Visitor Centre or use Backroad Maps).
After a rest day, we took the ferry from Port McNeill to Alert Bay (Cormorant Island) and Sointula (Malcolm Island). Check out the blogs written about Alert Bay – Island Hopping on Northern Vancouver Island, BC: Port McNeill to Alert Bay and Island Hopping on Northern Vancouver Island, BC: Port McNeill to Sointula.
Highlights at Alert Bay were the indigenous masks and beautiful drums at the U'mista Cultural Centre and at Sointula, the old buildings and the Beautiful Bay Trail at Bere Point Park. A little tip – you can visit both islands on the same day if you let the terminal attendant know, without double the fares!
Overall, an excellent first four days into our North Vancouver Island camping adventure!
For the second half of our trip see Port McNeill & Port Hardy to Coal Harbour & Cape Scott.
TIP: If you find this blog interesting why not subscribe to the enewsletter and never miss another story!
For camping accommodations in this area and elsewhere in British Columbia check out the Camping Map.
Share your BC travel and camping photos using hashtag #campinbc #explorebc.
Published: August 3rd, 2023