Winter Activities On British Columbia's Sunshine Coast
From the artistic community of Gibsons northeast to the harbour village of Lund, mountains meet the sea along the Sunshine Coast, a mainland area uniquely only accessible by ferry, boat or plane. Winters are typically mild and range from 2 to 10ºC (20 to 50°F) during the day. In lower elevations, rains keep the flora and forests lush, while higher areas see snow.
There's plenty to do both inside and out if you're RVing here in the winter. Make sure to get out on the water and head up some slopes. You will be rewarded with majestic views and an excellent chance of seeing animals in their natural environment.
Arts, Shops and Spas
This scenic and inspiring region boasts a thriving art community with more artists per capita than any other area in Canada. The Purple Banner Tour is a self-directed studio and gallery tour. Purple flags along the Sunshine Coast Highway and local streets from Langdale to Lund indicate galleries or artists' studios, many of which are open to the public. (Visitation appointments may be necessary.) Sunshine Coast Art Tours combines visits to some tasting rooms with a majestic flight over Sechelt Inlet. There are also many eclectic shops and boutiques to explore that sell locally produced and handmade items.
The town of Gibsons on the shores of Howe Sound has a collection of fine galleries, clothing and giftware shops and bookstores. Molly's Lane and Marine Drive are some streets to check out, as are the Gibsons Public Art Gallery and the Sunshine Coast Museum and Archives. The Kube has working artist studios, an art gallery and curated retail.
In Sechelt the Raven's Cry Theatre shows movies and hosts events and the shíshálh Nation tems swiya Museum has a large collection of artifacts including cedar baskets and ancient stone tools.
For a different experience visit the collection of yurts in Madeira Park at Fibre Works Studio & Gallery, a creative space for art exhibits and workshops. The Sunshine Coast also has funky thrift and vintage shops and there are craft fairs and year-round and seasonal markets, including the Gibsons Public Market, the Roberts Creek Community Farm Market and Powell River's Townsite Public Market. Sechelt has a winter market in the pre-Christmas season and the Powell River Community Resource Center hosts the Uptown Winter Market.
There are fun and practical general stores, including one at Roberts Creek and Halfmoon Bay. Madeira Park is the main shopping centre for the Pender Harbour region.
Historic Powell River has an educational forestry museum and, in late winter, hosts the Powell River Film Festival in the classic Patricia Theatre, Canada's oldest continuously running cinema. The townsite has over 400 buildings dating to the original 1910 town plan and, in 1995, was designated as a National Historic District of Canada. Stroll around for yourself or book a heritage walking tour. There's also the unique opportunity to take in an Indigenous experience, such as the Tla'amin Nation Cultural Tours where you can meet skilled craftspeople and learn about traditional practices.
Of course, it's not the West Coast without some zen spa treatments. A few to visit are Painted Boat Resort Spa in Madeira Park, with its Canadian Wilderness Scrub, Seabreeze Spa in Halfmoon Bay, Shades of Jade in Roberts Creek and Beyond Bliss in Powell River.
Click here for the Sunshine Coast Tourism events calendar.
Coffee Culture, Drinks and Dining
A dedicated coffee culture thrives in the Sunshine Coast. For mojo, pastries, brunch and more check out:
Black Bean Cafe, Beachcomber Coffee Company and Wheatberries Bakery in Gibsons
Gumboot Café, Roberts Creek
Basted Baker and Strait Coffee in Sechelt
Skookumchuck Café and Bakery, amongst the trees in Egmont
Base Camp Coffee, 32 Lakes Coffee Roasters and Bakery, River City Coffee Roasters and Edie Rae's Café at the Old Courthouse Inn, all in Powell River.
Nancy's Bakery, Lund (popular for its blackberry cinnamon buns).
Drinks and dining options range from sustainable restaurants and bistros to distilleries and taphouses. Here are a few to sample:
Drift Café and Bistro for West Coast French and Molly's Reach diner in Gibsons; a regular setting in The Beachcombers, a CBC TV series.
Tap Works Brewing Company, The 101 Brewhouse & Distillery, Banditry Cider, Persephone Brewing Company and farm and Sunday Cider, all Gibsons area.
Bruinwood Estate Distillery and Sea Cider Farm and Ciderhouse, Roberts Creek
The Backeddy Pub in Egmont for Pacific Northwest fare with inlet views.
Townsite Brewing for craft beer, Monks on Marine for a steak and Guinness pie and Costa Del Sol for Latin cuisine, all Powell River.
The Bricker Cider Company and TwentyTwo Taphouse in Sechelt. Also, El Segundo for Pacific tropical fusion and Jamar Canteen for Lebanese food and cooking demos. For comfort food try the Wobbly Canoe or the Gourmet Girl.
You can always refer to the BC Ale Trail for self-guided itineraries along the Sunshine Coast. Many establishments are dog friendly.
Outdoor Activities and Tours
When visiting the Sunshine Coast in winter you'll need waterproof gear and to have extra clothing on hand. Plan any hikes—particularly in the off-season—and respect trail rules and any closures.
Wildlife such as elk, deer and coyotes are active year-round and blue herons and bald eagles can be easily spotted. Along the coast you will see seals and even sea lions, and molluscs and sea anemones in tidal pools. Guided wildlife tours are recommended for safety and best viewing. If you're in Gibsons on a weekend the Nicholas Sonntag Marine Education Centre may be of interest.
Popular hikes and hiking areas include:
Soames Hill Park and "The Knob", Gibsons, for sea and island views.
Iris Griffith Wetlands Park, Baker Beach Park and Mount Daniel/Garden Bay Marine Provincial Park near Madeira Park.
Pender Hill Park and beachcombing and birdwatching around Pender Harbour.
Cliff Gilker Park, Roberts Creek.
Smuggler Cove Marine Provincial Park and trails around Halfmoon Bay.
Suncoaster Trail and Skookumchuck Narrows Provincial Park near Egmont—witness the spectacular tidal changes of the Sechelt Rapids.
Sechelt area: Wakefield Road Beach, Kinnikinnik Park, Porpoise Bay Provincial Park and the lush forest of Hidden Groves.
Willingdon Beach Trail, Powell River.
Lund and area. Explore nearby marine parks, including Desolation Sound (by boat) and the Sunshine Coast Trail, Canada's longest hut-to-hut hiking trail.
Creek areas and falls to visit in the winter are: Cliff Gilker Park, Langdale Falls, Homesite Creek, Kelly Falls, Eagle Falls, David Lam Falls and Chapman Creek Falls.
Inland from Sechelt, winter recreation fans enjoy the cross-country ski and snowshoe trails at Dakota Ridge. (Alpha Adventures organizes tours here.) The ski trails are well groomed and the snowshoe trails vary in difficulty. Just north are the trails in and around Tetrahedron, a wonderful provincial park for backcountry snowshoeing. Powell River is home to Knuckleheads, a sub-alpine area popular for snowmobiling and snowshoeing.
Tours are a great way to get out and about and experience the Sunshine Coast from a local's perspective. Sunshine Coast Tours has a boating day trip to Princess Louisa Inlet (where you can see Chatterbox Falls); you can also charter a floatplane to view this hidden gem. Harbour Air Seaplanes offers scenic flights from Sechelt. Winter kayak or go on a boat tour of the Halfmoon Bay or Pender Harbour areas; various companies offer rentals and tours. Also, Sunshine Coast Shuttles out of Powell River drives people to/from the Sunshine Coast Trail and offers some supply services.
If you fish the Sunshine Coast is a dream come true, with its inland lakes and streams, meandering coastline and the Salish Sea. The Powell River area is famous for Chinook salmon and a winter fishing charter is an unforgettable adventure. Companies include OTB Charters (Pender Harbour) and Powell River Sportfishing and Coho Point Fishing Charters. All anglers in BC must obtain separate licences to fish in tidal (salt) water and/or freshwater.
NB: Visitor Information Centres across the Sunshine Coast may have shortened business hours in the winter.
TIP: If you find this blog interesting why not subscribe to the enewsletter and never miss another story!
Sunshine Coast Tourism reminds locals and visitors that they' re on the traditional territories of the Tla'amin, Klahoose, shíshálh, Skwxwú7mesh, and Homalco Nations". Its Know Before You Go webpage has details on safe, responsible and respectful travel.
Share your BC travel and camping pictures using hashtag #campinbc #exploreBC #bcnice #sunshinecoastbc
It's always a great day to #CampinBC
Porpoise Bay Provincial Park on British Columbia's Sunshine Coast – A Great Place for a Camping Holiday
The Sunshine Coast has long been the kind of destination that is geographically quite close to Vancouver and the Fraser Valley but feels like a true getaway.
Porpoise Bay Provincial Park is an ideal destination for family fun. At only four kilometres north of Sechelt and at the very south end of the Sechelt Inlet, Porpoise Bay Provincial Park makes an excellent base camp for a larger exploration of the Sunshine Coast. There are plenty of opportunities to get active, whether your chosen speed be relaxing and swimming at the beach, hitting the trails, or exploring the local waterways and marine parks.
If a relaxing, family-friendly getaway is what you seek, Porpoise Bay Provincial Park allows you to easily set up your campsite, wander down to the beach, and basically stay there for the rest of the week. The long sandy beach is ideal for afternoon naps and the gradual grade of a large portion of the beach makes it perfect for splashing around in the shallows. Just keep in mind that there are certain parts of the beach where the shore drops away quickly, and there are no lifeguards on duty.
Adjacent to the beach there is an adventure playground and grassy area perfect for keeping kids entertained. When your day in the sun, salt, and sand is complete, use the hot showers located at either the day use or the campground to tidy up.
From the campground, there are a number of walking trails leading along Angus Creek. After crossing a bridge, head out to the estuary mudflats, which can provide excellent bird watching. The trails are not lengthy and make for a nice morning or evening stroll. Please remember to keep your pets on a leash and stick to the designated trails to protect the sensitive ecosystem.
One thing of note at Porpoise Bay Provincial Park is that a clean air policy is in effect at this park. This means that individual campsites do not have campfire rings or allow fires. If there is no campfire ban in effect and s'mores are what you desire, find one of the three communal campfire sites in the campground and get to toasting!
If a more active vacation is what you had in mind, exploring the local waterways and marine parks is easily done with Porpoise Bay as a base camp. Sechelt Inlet itself offers plenty of paddling opportunities including everything from relatively protected single day explorations close to the campground to multi-day trips north of Tuwanek and into Salmon or Narrows Inlets – watch out for afternoon headwinds and plan your paddles to maximize the typically calmer mornings when heading back to Tuwanek.
For those seeking a more exposed paddling experience, a number of marine parks dot the western side of the Sunshine Coast and make excellent day paddles. Smuggler Cove Marine Provincial Park is a lovely anchorage and is accessible by paddling around the peninsula from the launching point near Brooks Road. If you don't have a boat, the marine park is also accessible by a four-kilometre long hiking trail, also leaving from Brooks Road.
Further up the coast, the community of Pender Harbour makes a good launching point to explore the protected waters of Pender Harbour. For those looking for a little more adventure, heading out around Moore Point and down to Francis Point Provincial Park allows you to really feel the wind in your hair! On your way back, take the time to poke around the many bays and coves inside Pender Harbour and dream about what it would be like to own one of the beautiful properties in the area.
Porpoise Bay Provincial Park on the Sunshine Coast is a beautiful destination with plenty of ways to enjoy the ocean. If land-based activities are more your speed, consider a trip to Skookumchuck Narrows Provincial Park (check out this blog) to take in the misty west coast vibe and marvel at a true wonder of nature.
TIP: If you find this blog interesting why not subscribe to the enewsletter and never miss another story!
For camping accommodations in this area and elsewhere in British Columbia check out the Camping Map.
Share your BC travel and camping photos using hashtag #campinbc #explorebc #bcnice.
Exploring Sechelt on British Columbia's Sunshine Coast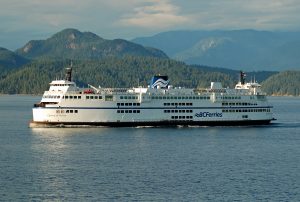 Camping season is upon us! Temperatures are heating up and the kids are almost out of school, which is a perfect combination for hitting the road and pitching your tent (or trailer, 5th wheel or RV), which is exactly what my family (and some of our friends) do every summer. One of our favourite spots to camp is the Sunshine Coast. Accessible by BC Ferry from Horseshoe Bay, the journey across Howe Sound takes 40 minutes and the viewscapes of Bowen and Gambier Islands are spectacular. Our favourite spot on the boat is on the sundeck in the front where it's the windiest! We always make a reservation, which, if you are planning to travel at peak times, is strongly recommended.
Upon arrival on the Sunshine Coast you may notice that time seems to ebb away and with it, the need for speed. Slow down and enjoy the drive from Langdale, through Gibsons to Sechelt. Highway 101 winds it's way along the coast and is dotted with signs for artisans, farm fresh produce, spectacular ocean views and beach access points. Pop into Roberts Creek for a Strait Coffee (roasted on the Sunshine Coast) at the Gumboot Café and wander down, towards the beach, to take a look at the mandala. Every summer, the mandala, with a new theme, is painted by a team of volunteers, and if you happen to be in Roberts Creek the day that they're painting, you're more than welcome to pitch in and paint a section yourself.
A visit to the Sunshine Coast isn't complete until you get out on the water. And our preferred way of doing this is on stand-up-paddleboards. Just a 5-minute drive from Sechelt, Porpoise Bay Provincial Park is located on the shores of Sechelt Inlet. The park has a sandy beach (and a playground), and is the perfect spot, for all abilities, to put a SUP in the water. Early morning's calm waters provide a serene opportunity for paddling and it's not uncommon to be visited by a curious seal. SUP board rentals (and kayaks) are available from a variety of operators, many of who will deliver the boards to your campsite.
A favourite hike of our group is the hike into Smuggler Cove Marine Provincial Park. The entrance to the park is just 15 minutes northwest of Sechelt and the 4-kilometre trail is suitable for all abilities. Enter the trail in dense forest and after a short walk you will reach a series of boardwalks over a bog. The bog is home to beavers, who, if you're lucky, can be spotted working on their lodges. The trail meanders through the forest, and viewpoints offer spectacular views of Georgia Straight and Welcome Passage. The view at the end of the trail is amazing and everyone in your group will love clambering out onto the rocky shoreline and exploring the tidal pools.
Don't miss the Sechelt Farmers and Artisans Market every Saturday during the summer. From 9am – 2:30pm Cowrie Street, in downtown Sechelt, comes to life with the sights, sounds and smells of baking, farm fresh produce, local artisans, hot food and entertainment. Why not grab the fixings for a picnic lunch to take on your hike to Smuggler Cove?
Arguably the best view of the ocean on the Sunshine Coast can be found at Davis Bay just south of Sechelt. When the tide is out a wide, sandy beach is revealed. The beach is perfect for building sandcastles and just happens to be home to the annual Davis Bay Sandcastle competition in July. There are lots of picnic tables and driftwood logs to perch on while you enjoy the ice cream cone that you grabbed from the shop across the street! Kids will often be spotted jumping off the pier, and it's an amazing spot to watch the sunset.
Hungry? Just because you're camping doesn't mean that you have to miss out on dining out. Sechelt, though small, has a wonderful dining scene. Try Lucky's Smokehouse for to-die-for pulled pork, settle in at the Lighthouse Pub for pub grub with a view or enjoy a locally-sourced meal with a visit to the Wobbly Canoe in Davis Bay. And be sure to visit the Sunshine Coast's newest craft cidery. The Bricker Cider Company opened last summer and have been serving up flights of their small-batch cider every day since.
When we visit the Sunshine Coast we camp at Porpoise Bay Provincial Park, a lovely little family-oriented campsite just minutes from downtown Sechelt.
Depending on when you visit, the community of Sechelt has a wonderful calendar of events.
Canada Day- July 1
Davis Bay Sandcastle Competition – July
Festival of the Rolling Arts – August
Festival of the Written Arts – August
If you go:
Fares on for the Langdale crossing are return fares. That's right, you only pay when you leave Horseshoe Bay!
Porpoise Bay Provincial Park is a "clean air park". Campfires are allowed only in the communal fire pits. However, campfires are sometimes banned altogether in all parks and campgrounds due to wildfires.
If this area interests you, check out our drive:
Salish Sea Route
TIP: If you find this blog interesting why not subscribe to the enewsletter and never miss another story!
For a list of RV parks, campgrounds, BC Provincial Parks and Forestry Sites check out CampingRVBC.com
Post your BC travel and camping photos using #CampinBC
It's always a great day to #campinbc
Published: June 20th, 2018