Hiking to French Mine Near Hedley in British Columbia's Okanagan
While recently camped at Stemwinder Provincial Park we were searching for a hike in the region. A quick search on AllTrails brought up the Nickelplate French Mine Loop, a 6.3km circular trail near Hedley BC.
We departed Stemwinder early in the day to avoid the heat as best we could and headed east to Hedley. Hedley is a very small community located between Princeton and Keremeos along Highway 3. Hedley has a rich mining history, and from the highway you can see the remains of the old Mascot Gold Mine stretching up the mountainside. Visiting the Mascot Gold Mine has long been on my bucket list, and thanks to an $800,000 grant from the province as part of a COVID relief program, the mine is slated to reopen to visitors in 2023. In the meantime, however, we thought we would head into the backcountry to explore the French Mine.
To access the French Mine site, head east past Hedley and turn off on the Hedley Nickel Plate Road after about 3 kilometres. The Nickel Plate Road, sometimes called the Corkscrew Road, is aptly named. As we wound our way up the mountainside, we enjoyed spectacular views of the valley below.
Eventually we reached our designated start point and parked our truck and headed out on foot. We chose to hike to the Lower French Mine site first, which turned out to be a beautiful walk along an old road. As it turned out, the access road to the lower French Mine could probably be considered vehicle accessible. However, I was happy we decided to park the truck and walk in as it gave us the opportunity to really enjoy the views.
When we arrived at the Lower French Mine site we spent some time looking at the old mining infrastructure. An old ore chute and a concentrator are on the main level, and a short walk up a trail just past the concentrator takes hikers to an open shaft that heads back into the mountainside. When we visited, I was shocked by the serious wind tunnel effect when I stood in front of the mineshaft as ice-cold air poured out of the tunnel around me.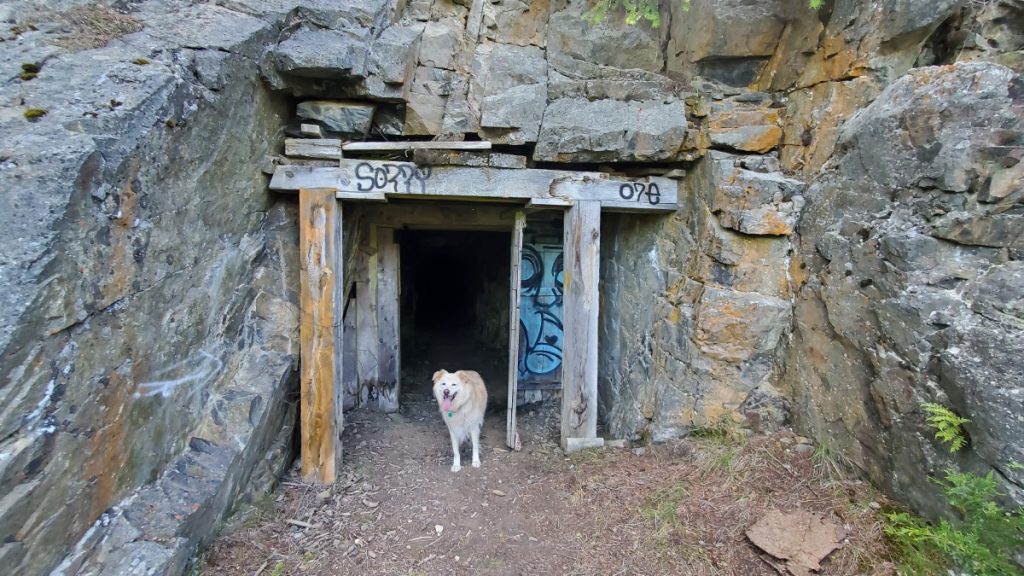 AllTrails indicates that there is a loop hike, and all we needed to do was head uphill and we would come to the Upper French Mine. I 100% do not recommend the scramble between the two mine sites unless you are an experienced scrambler or are part mountain goat. Alas, we did not know this, so as we climbed upwards, I was crossing everything I have that this was the correct trail, and I wouldn't have to turn around and go back the way we had come up.
Fortunately for me, after 20 or so tense moments, we re-emerged on level ground, scooted along a couple narrow ledges, jumped down a small cliff, and arrived at the Upper French Mine Site. As it turns out, this site is also vehicle accessible. Seriously – skip the scramble linking the two sites and from the Lower French Mine, just walk back the way you came then drive up to the Upper French Mine and save yourself the stress!
Anyway, at the Upper French Mine I was amazed to discover a massive network of tunnels and mineshafts in the mountainside. These shafts have a completely different feel than the one at the lower mine site. The main entrance is enormous, and shafts branch off in every direction imaginable. We stayed in the enormous central cavern, but I'm sure people more adventurous and better equipped than us could spend a lot of time exploring the area.
Since we were parked at the bottom and there was no way I was going back the way we arrived, we returned to our vehicle by hiking out the access road to the Upper French Mine, then down a portion of the Hedley Nickel Plate Road. All in all, our hike was around 7km and took about two hours. Both the Lower and Upper portions of French Mine are worth visiting, but as I have emphasized above, I would do it as two separate trips and not try to link them via the scramble described online.
I am always fascinated by the marks humans leave on the landscape and the French Mine area is a perfect example of this, making it a worthwhile daytrip in the Similkameen area.
TIP: If you find this blog interesting why not subscribe to the enewsletter and never miss another story!
For camping accommodations in British Columbia check out the Camping Map.
Share your BC travel and camping photos using hashtag #campinbc, explorebc
It's always a great day to #campinbc
Plan a Camping Trip to British Columbia's Similkameen Valley
BC Parks reservations can be tricky to come by for a summer weekend, so when we snagged a last minute reservation for Stemwinder Provincial Park in BC's Similkameen Valley we were excited to get out and try a new campsite.
Previously we have camped at nearby Bromley Rock Provincial Park (see our blog) so we had an idea of what the area would be like. The campsite at Stemwinder consists of 28 vehicle accessible campsites sandwiched between Highway 3 and the Similkameen River. The campground is generally laid out on two levels, the top level is right beside the highway and the sites are fairly open. The lower level, beside the river, is more treed. Our site was located right on the corner where you drive from the upper bench to the lower bench, so while it was surrounded on three sides by the campground road it still managed to be decently private since we really only had one neighbour.
The campsite at Stemwinder has pit toilets and one hand pump (on the lower level) for water. There are two short trails leading from near campsites 12 and 13 to access the river. Caution is advised, though, as Poison Ivy lurks just off the established trail! When we visited it was still quite early in the season and the Similkameen River was high. Later in the season the water would be lower and exploring the shoreline would be an option, although BC Parks cautions that the river runs fast and excellent swimming skills are required for anyone venturing into the water at this location. For a more relaxing swimming destination, head to Bromley Rock.
Stemwinder Provincial Park makes an excellent location to use as a base to explore the surrounding area. On our trip, we spent our first day visiting nearby Keremeos. Keremeos offers a huge selection of orchards and vineyards. Pick up a winery and cidery passport at your first stop of the day, and then visit a total of either three or five locations in order to be entered to win a Similkameen Wine Lovers Package. On our visit we focused on the Similkameen cideries and had a great time visiting each location and sampling their offerings.
There are plenty of opportunities to travel back in time in Keremeos. The Red Bridge, originally built in 1907 as a railway bridge, is one of the only covered bridges left on the west coast. Keremeos Grist Mill and Gardens is a provincial heritage site home to a functional water wheel from 1877. The site offers workshops, a restaurant, heritage gardens, an RV campground, and lots more.
Before heading back to our campsite, we made sure to pop in at some of the many fruit stands in Keremeos. Fresh fruit and samosas were on the menu for us and both were delightful!
Stemwinder Provincial Park is a great weekend or stopover destination when travelling through the Similkameen region. There is a lot to experience, whether you prefer sampling from vineyards and orchards, exploring a heritage site, or getting out for a hike such as the one at nearby French Mine (see blog).
TIP: If you find this blog interesting why not subscribe to the enewsletter and never miss another story!
Share your BC travel and camping photos using hashtag #campinbc, explorebc
It's always a great day to #campinbc
Visit Bromley Rock Provincial Park in BC's Okanagan Similkameen
The long, hot summer days in BC's interior call for white sand, cool water, and plenty of places to recline in the shade. Bromley Rock Provincial Park, located 20 kilometres east of Princeton on the shores of the Similkameen River, offers the perfect destination for a day trip, or if you are lucky, a weekend getaway.
Bromley Rock Provincial Park is a small and extremely popular campsite in the south Okanagan. Offering just 17 sites, Bromley Rock can be tricky to get into, but for an earlier summer trip there we were fortunate to get a last-minute Discover Camping reservation. This allowed us to extend our annual day use visit and spend a few days relaxing under the shade of Douglas Firs along the banks of the Similkameen River.
Bromley Rock is well known as a popular entrance spot for floating the Similkameen River. Every afternoon, our peaceful riverside retreat became a liquid highway as people of all ages paddled and floated by in/on all manner of watercraft. From traditional black inner tubes to gigantic party unicorns and from inflatable row boats (complete with oars) to enormous rubber ducks (complete with giant inflatable sunglasses), there is no doubt that in the afternoon, the Similkameen is where the party is.
If floating is not your cup of tea, the day use area west of the campground that serves as the float launch point makes a pretty great destination all on its own. With a huge white sand beach, a deep and relatively calm pool for swimming, and a cliff perfect for jumping, it quickly became obvious that this is one of the most popular destinations in the area on a sunny afternoon. The day use site has 30 parking spots, but when we were there cars were parked all along the access road. If picnicking is more your speed, Bromley Rock's day use area offers 19 shaded picnic tables overlooking the river and near the parking lot, making it an excellent place to stop for lunch on a quieter day.
In general, we prefer a laid-back and less populated travelling experience, so we found afternoons at the main beach a bit on the overwhelming side. This was quickly resolved when we realized that we could easily walk down to the main beach each morning and evening when there was scarcely another soul around. In the afternoons, we took our lawn chairs down one of the many paths leading from the campground to the riverside. Here, we were able to soak up the sounds of the river in relative isolation, as nearly the entire campsite appeared to head for the beach each day at 11 and not return until late afternoon.
Whether you are seeking a beach party or a relaxing day at the river, Bromley Rock Provincial Park has something for everyone. With a mix of exposed and shaded campsites, a large day use area, and the extremely appealing riverfront location, Bromley Rock Provincial Park is certainly worth adding to your summer bucket list.
TIP: If you find this blog interesting why not subscribe to the enewsletter and never miss another story!
For other camping options in this area and elsewhere in British Columbia go to our Camping Map.
Share your BC travel and camping photos using hashtag #campinbc #explorebc #bcnice.
Published: June 24th, 2021