Bowron Lakes, BC: Not Just a Place to Portage!
With its pristine views and rugged adventures, you would think that the Bowron Lakes only attracts highly skilled hikers and paddlers. We found this was not the case! Yes we love hiking, camping and paddling but we had no intention of strapping on a backpack or carrying our canoe. We heard what a beautiful area it was, so we set out to explore it.
The Bowron Lakes are located in central B.C. east of Quesnel in the Cariboo Mountain area. The series of eleven lakes and three rivers are about a half-hour drive north-east of the famous historic town of Barkerville.
The Bowron area has activities for a range of outdoor enthusiasts. The famous Bowron Lake Canoe Circuit offers 116 kms of wilderness canoeing, portaging and camping and takes anywhere from six to ten days to complete. There is also a shorter trip on the west side which takes up to four days. Go to Bowron Lake Reservations for information and reservations for the circuit.
Since we came to camp, kayak, hike and fish with our family, we decided to split our nights between the Bowron Lake Provincial Park and Bowron Lake Lodge and Resort. Both campsites are located at the north and north-west end of Bowron Lake near the start of the circuit.
The provincial park has 25 sites nestled between the trees where we spent our first nights. We then moved over to the Bowron Lake Lodge and Resort where we had a lake-front site with incredible views and easy access to the lake for our kayaks. The resort also has canoes, kayaks and paddle boards to rent if you don't bring your own.
Close by is the Bear River Mercantile which is well stocked with everything you need from food, souvenirs and camping supplies. It also has some great museum-like historical displays and plenty of local information.
For day trips, we explored the quaint town of Wells which is located about 30 km from Bowron Lakes. Built in the 1930s to accommodate gold miners it once had a population of over 4,000, but now just about 250. In the summer it is a bustling little art-focused town with some well-preserved historic buildings.
Not far down the road is the historic 1860s gold rush town of Barkerville. It has more preserved buildings than you can imagine and live plays with resident actors who entertain along the streets. We had dinner at the Lung Duck Tong Restaurant which was a real hit with our family.
As much as I loved walking along the boardwalks, two of our favourites were the one-room Williams Creek Schoolhouse and the Richfield Courthouse. At the schoolhouse, listen for the teacher ringing the bell and you can join in on a re-enactment of a class lesson. At the courthouse we learned about the notorious Judge Begbie, the "Hanging Judge" whose job was to travel throughout the area maintaining the law.
Back at the campsite we had a chance to explore some of the hiking trails on both sides of the lake, kayaking and fishing on north-west end of Bowron Lake, and enjoying some stunning sunsets. The area offers amazing camping, with friendly people and beautiful scenery. Definitely make this area a destination this summer and I bet you will be planning another trip like we are!
For other camping opportunities in the Bowron Lakes area or elsewhere in BC check out the Camping Map.
Share your BC travel and camping photos using hashtag #campinbc
Exploring Sechelt on British Columbia's Sunshine Coast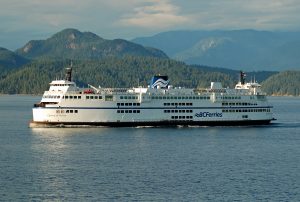 Camping season is upon us! Temperatures are heating up and the kids are almost out of school, which is a perfect combination for hitting the road and pitching your tent (or trailer, 5th wheel or RV), which is exactly what my family (and some of our friends) do every summer. One of our favourite spots to camp is the Sunshine Coast. Accessible by BC Ferry from Horseshoe Bay, the journey across Howe Sound takes 40 minutes and the viewscapes of Bowen and Gambier Islands are spectacular. Our favourite spot on the boat is on the sundeck in the front where it's the windiest! We always make a reservation, which, if you are planning to travel at peak times, is strongly recommended.
Upon arrival on the Sunshine Coast you may notice that time seems to ebb away and with it, the need for speed. Slow down and enjoy the drive from Langdale, through Gibsons to Sechelt. Highway 101 winds it's way along the coast and is dotted with signs for artisans, farm fresh produce, spectacular ocean views and beach access points. Pop into Roberts Creek for a Strait Coffee (roasted on the Sunshine Coast) at the Gumboot Café and wander down, towards the beach, to take a look at the mandala. Every summer, the mandala, with a new theme, is painted by a team of volunteers, and if you happen to be in Roberts Creek the day that they're painting, you're more than welcome to pitch in and paint a section yourself.
A visit to the Sunshine Coast isn't complete until you get out on the water. And our preferred way of doing this is on stand-up-paddleboards. Just a 5-minute drive from Sechelt, Porpoise Bay Provincial Park is located on the shores of Sechelt Inlet. The park has a sandy beach (and a playground), and is the perfect spot, for all abilities, to put a SUP in the water. Early morning's calm waters provide a serene opportunity for paddling and it's not uncommon to be visited by a curious seal. SUP board rentals (and kayaks) are available from a variety of operators, many of who will deliver the boards to your campsite.
A favourite hike of our group is the hike into Smuggler Cove Marine Provincial Park. The entrance to the park is just 15 minutes northwest of Sechelt and the 4-kilometre trail is suitable for all abilities. Enter the trail in dense forest and after a short walk you will reach a series of boardwalks over a bog. The bog is home to beavers, who, if you're lucky, can be spotted working on their lodges. The trail meanders through the forest, and viewpoints offer spectacular views of Georgia Straight and Welcome Passage. The view at the end of the trail is amazing and everyone in your group will love clambering out onto the rocky shoreline and exploring the tidal pools.
Don't miss the Sechelt Farmers and Artisans Market every Saturday during the summer. From 9am – 2:30pm Cowrie Street, in downtown Sechelt, comes to life with the sights, sounds and smells of baking, farm fresh produce, local artisans, hot food and entertainment. Why not grab the fixings for a picnic lunch to take on your hike to Smuggler Cove?
Arguably the best view of the ocean on the Sunshine Coast can be found at Davis Bay just south of Sechelt. When the tide is out a wide, sandy beach is revealed. The beach is perfect for building sandcastles and just happens to be home to the annual Davis Bay Sandcastle competition in July. There are lots of picnic tables and driftwood logs to perch on while you enjoy the ice cream cone that you grabbed from the shop across the street! Kids will often be spotted jumping off the pier, and it's an amazing spot to watch the sunset.
Hungry? Just because you're camping doesn't mean that you have to miss out on dining out. Sechelt, though small, has a wonderful dining scene. Try Lucky's Smokehouse for to-die-for pulled pork, settle in at the Lighthouse Pub for pub grub with a view or enjoy a locally-sourced meal with a visit to the Wobbly Canoe in Davis Bay. And be sure to visit the Sunshine Coast's newest craft cidery. The Bricker Cider Company opened last summer and have been serving up flights of their small-batch cider every day since.
When we visit the Sunshine Coast we camp at Porpoise Bay Provincial Park, a lovely little family-oriented campsite just minutes from downtown Sechelt.
Depending on when you visit, the community of Sechelt has a wonderful calendar of events.
Canada Day- July 1
Davis Bay Sandcastle Competition – July
Festival of the Rolling Arts – August
Festival of the Written Arts – August
If you go:
Fares on for the Langdale crossing are return fares. That's right, you only pay when you leave Horseshoe Bay!
Porpoise Bay Provincial Park is a "clean air park". Campfires are allowed only in the communal fire pits. However, campfires are sometimes banned altogether in all parks and campgrounds due to wildfires.
If this area interests you, check out our drive:
Salish Sea Route
TIP: If you find this blog interesting why not subscribe to the enewsletter and never miss another story!
For a list of RV parks, campgrounds, BC Provincial Parks and Forestry Sites check out CampingRVBC.com
Post your BC travel and camping photos using #CampinBC
It's always a great day to #campinbc
Published: June 20th, 2018