Summer in Valemount, British Columbia: Where the Mountains Move You
Imagine standing in the middle of a town with a view of three snow-capped mountain ranges. Welcome to Valemount in east-central British Columbia, a village with stand-out summer adventures and activities.
Just over an hour west of Jasper, Alberta, Valemount is in the Robson Valley, situated along and east of Highway 5 (Yellowhead Hwy) and nestled between the Rocky, Monashee and Cariboo mountains (to the east, south and west). It's a municipality with a big heart – and venturesome residents eager to show visitors what their playground is all about.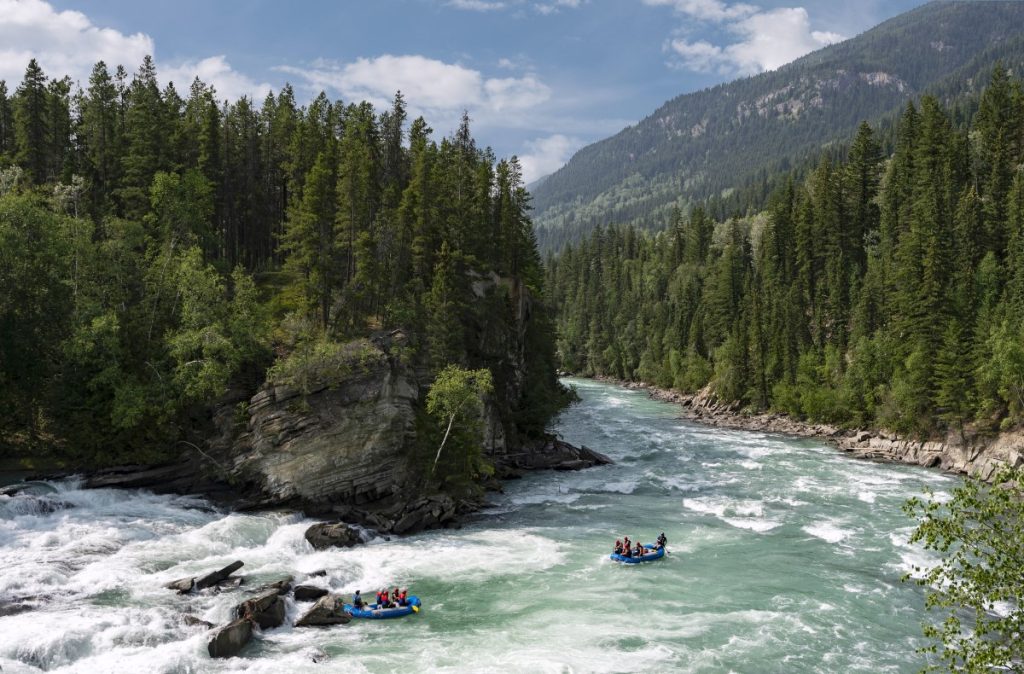 The land that would become Valemount is in the traditional territory of the Secwepemc Nation, Simpcw territory. The name Valemount was coined for the Canadian National Railway station there in 1927, and to this day it has a ViaRail station. It's the nearest community to BC's Mount Robson Provincial Park and its namesake, the highest peak in the Canadian Rockies. Choose from three campgrounds here: Lucerne, Robson River and Robson Meadows. From gentle meadows to alpine lookouts, there are hundreds of kilometres of trails to explore. (Note that the popular Berg Lake Trail will be open this summer to Kinney Lake only.) While in the area make a splash whitewater rafting on Class I to Class V rapids, or paddling or floating along the Fraser River (a clear, beautiful blue/green in this part of the province) or on the long and narrow Kinbasket Lake. Amidst the Rocky and Cariboo mountains it's actually a reservoir created by the construction of the Mica Dam; water levels can vary.
The viewpoint at Rearguard Falls Provincial Park provides an excellent opportunity to witness the end of a long journey for the mighty Chinook, the largest of the Pacific salmon. From the Fraser estuary in the province's lower mainland to this point, the fish travel upstream for over 1,200 km, though not all make it this far. George Hicks Regional Park also has a viewing platform for the salmon as they enter Swift Creek. Spawning season is generally August to September.
For other camping and RV options search via the Camping and RVing BC Coalition's campground webpage; Visit Valemount also has RV and camping information. The Valemount Visitor Centre can be found at 785 Cranberry Lake Rd (summer hours June-Sept, Mon-Fri 8:30 am-4:30 pm).
Mountain biking is a way of life in this part of BC. Be sure to check out the Valemount Bike Park. Minutes from the town core, it's a system of trails ranging from easy cross-country pedals and smooth and flowy downhills to steep and 'rooty' adrenaline-filled singletrack options. Cruise the trail and boardwalk along Cranberry Marsh (the Starratt Wildlife Management Area) where you can stop for birdwatching along the 6-km loop. Should you wish to rent a mountain bike or ebike swing by or call District Bike Co. or Bike & Bites; both shops service bikes too. Hiking trails in Valemount range from easy-medium-challenging; it's best to verify openings with the Visitor Centre before heading out as some trails may be closed for repairs or due to inclement weather. Perhaps you'll see Sasquatch near Mica Mountain (as sighted in 1955!) as you hike the Mica Mine Trail, the same trail where, in the 1890s, horses and mules hauled minerals down the mountain.
Three kilometres south of Valemount is Cedarside Regional Park on Little Cranberry Lake, a swimming spot with a sandy beach where dogs on leashes are welcome. There are toilets, picnic tables and fire pits; camping is not permitted.
Slow the pace down with some horseback riding or try fly, troll or spin cast fishing. Various species of trout fill nearby rivers and lakes (such as Moose and Shere lakes), as do Rocky Mountain whitefish. Valemount Pines Campground boasts a nine-hole golf course and grassy tent and RV campsites with spacious long-level pull-throughs and private back-in sites near a mountain.
Complement your fish dinner with a trip to the Valemount Farmers' Market, which runs every Thursday afternoon from late June to September. Along with regional produce you'll find arts and crafts. For other art options visit Mountain Driftwood Gallery & Gift. Many artisans sell in the area so check with the Visitor Centre for info on pottery, jewelry and antiques and collectibles. The Valemount Museum & Archive is located in an old railway station built in 1914. Learn about local pioneers, historic regional railroad towns and WWII Japanese internment camps. There are community events and summer festivals in and around Valemount such as the Annual Valemountain Days (June 9-11 this year), the annual Bike Fest (June 17) and Canada Day celebrations (July 1). Robson Valley Music Festival in the farming community of Dunster, 60km to the northeast, takes place on August 11-13.
Restaurant options include the Summit Grill and Cranberry Lounge in the Best Western Plus hotel and Cariboo Grill with fine comfort fare and an ample wine list in a cabin-like setting. The Gathering Tree specializes in breakfast and lunch and Valemount Swiss Bakery is known for its scrumptious sourdough breads. Get your mojo fix at Vale Coffee, a small batch roastery and takeaway café and if you're craving a pint head to Three Ranges Brewing Company for craft-brewed beer in their cozy tasting room or on the patio. The establishment is part of the BC Ale Trail, which lists over 220 craft breweries.
Whatever the outing or adrenaline rush – whether strolling past mountain wildflowers or chuting down rapids – summer in Valemount is bound to please all nature lovers.
For more information on Valemount go to the website at www.visitvalemount.ca, check out the Facebook and Instagram pages or if you are already in the area go to the Valemount Visitor Centre at 785 Cranberry Lake Rd, (250) 566-9893 visitorcentre@valemount.ca.
TIP: If you find this blog interesting why not subscribe to the enewsletter and never miss another story!
For campgrounds in this area and elsewhere in British Columbia check out the Camping Map.
Share your BC travel and camping photos using hashtag #campinbc #explorebc
It's always a great day to #CampInBC
Visit Bromley Rock Provincial Park in BC's Okanagan Similkameen
The long, hot summer days in BC's interior call for white sand, cool water, and plenty of places to recline in the shade. Bromley Rock Provincial Park, located 20 kilometres east of Princeton on the shores of the Similkameen River, offers the perfect destination for a day trip, or if you are lucky, a weekend getaway.
Bromley Rock Provincial Park is a small and extremely popular campsite in the south Okanagan. Offering just 17 sites, Bromley Rock can be tricky to get into, but for an earlier summer trip there we were fortunate to get a last-minute Discover Camping reservation. This allowed us to extend our annual day use visit and spend a few days relaxing under the shade of Douglas Firs along the banks of the Similkameen River.
Bromley Rock is well known as a popular entrance spot for floating the Similkameen River. Every afternoon, our peaceful riverside retreat became a liquid highway as people of all ages paddled and floated by in/on all manner of watercraft. From traditional black inner tubes to gigantic party unicorns and from inflatable row boats (complete with oars) to enormous rubber ducks (complete with giant inflatable sunglasses), there is no doubt that in the afternoon, the Similkameen is where the party is.
If floating is not your cup of tea, the day use area west of the campground that serves as the float launch point makes a pretty great destination all on its own. With a huge white sand beach, a deep and relatively calm pool for swimming, and a cliff perfect for jumping, it quickly became obvious that this is one of the most popular destinations in the area on a sunny afternoon. The day use site has 30 parking spots, but when we were there cars were parked all along the access road. If picnicking is more your speed, Bromley Rock's day use area offers 19 shaded picnic tables overlooking the river and near the parking lot, making it an excellent place to stop for lunch on a quieter day.
In general, we prefer a laid-back and less populated travelling experience, so we found afternoons at the main beach a bit on the overwhelming side. This was quickly resolved when we realized that we could easily walk down to the main beach each morning and evening when there was scarcely another soul around. In the afternoons, we took our lawn chairs down one of the many paths leading from the campground to the riverside. Here, we were able to soak up the sounds of the river in relative isolation, as nearly the entire campsite appeared to head for the beach each day at 11 and not return until late afternoon.
Whether you are seeking a beach party or a relaxing day at the river, Bromley Rock Provincial Park has something for everyone. With a mix of exposed and shaded campsites, a large day use area, and the extremely appealing riverfront location, Bromley Rock Provincial Park is certainly worth adding to your summer bucket list.
TIP: If you find this blog interesting why not subscribe to the enewsletter and never miss another story!
For other camping options in this area and elsewhere in British Columbia go to our Camping Map.
Share your BC travel and camping photos using hashtag #campinbc #explorebc #bcnice.
Discover 8 Camping Experiences in British Columbia This Summer
Once again this summer you're likely looking to escape the city and get outdoors. For those of us who are lucky enough to live in BC, we have an incredible backyard to explore. From remote wilderness experiences, family-friendly campgrounds to luxury glamping, BC offers an array of camping options. Here's a short list of camping options slightly off the beaten path to pitch your tent, park your RV, or claim your cabin.
Untamed Wilderness
One of BC's best kept secrets are the numerous lakes and untamed wilderness near BC's 'Fishing Highway' 24. While fishing is a popular activity, you can also spend time wildlife viewing, swimming, or paddling. Ten-ee-ah Lodge is nestled on the shore of Spout Lake, a 2 hour drive north of Cache Creek and offers stunning scenery and your choice of luxe cabins or waterfront, tree-lined campsites.
A Fishing & Paddling Haven
Head southeast and you'll find family-friendly South Point Resort on Canim Lake, one of the largest lakes in the Cariboo at 23 km long. Go swimming or fishing just steps from your lakeside campsite or cabin. Explore the shoreline and rent a pontoon boat, stand up paddle boards, or kayaks for a day.
If you haven't had your fishing fix yet, head east along Canim Lake Road to Mahood Lake Campground, another family-friendly camping spot in Wells Gray Provincial Park. Hike to three spectacular waterfalls or spend the afternoon paddling or swimming nearby.
Rugged Fraser River Canyon
The scenery from this Lillooet campground is unrivalled. Fraser Cove Campground & Guest Cabin is tucked on the shores of the mighty Fraser River and offers a unique opportunity for riverfront camping. Go fishing or rent an e-bike to explore the trails. Take in the views as you walk or bike over the nearby historic suspension bridge or visit Fort Berens Estate Winery just down the road. Bring your tent, RV or plan to stay in the charming cabin overlooking the Fraser River.
BC's Mining History
If you're interested in BC's mining history, visit Gold Panner Campground located 50 minutes east of Vernon in the forested foothills of the Monashee Mountains. Founded on a Chinese heritage mining operation, pan for gold, explore the hiking trails, and immerse yourself in history. Campers with tents and RV's are welcome, and modern chalets and rustic cabins are also available.
Further south through the Monashee Mountains, go hiking and mountain biking in the historic mining town of Trail, BC. Take in the views of the river from the Columbia River Skywalk suspension bridge or go swimming at Gyro Park. Bring your tent or RV and plan to camp at the City of Trail RV Park where tree lined sites provide shade and privacy and kids can play at the playground.
Seaside Adventures & Riverside Cottages
For seaside adventures, head north up the Sunshine Coast past Powell River to Lund, the northernmost town on Highway 101. This small marine village is the jumping off point for boaters headed to Desolation Sound or nearby islands. Bring your RV or reserve a cabin at SunLund By-The-Sea Resort & RV Park surrounded by trees and steps from the ocean. Walk tree-lined footpaths to restaurants, groceries, and Lund Harbour where you can rent kayaks, charter fishing boats, or go sightseeing.
Mountain Lake & Rainforest
Tucked deep in the rainforest and mountains on Vancouver Island, Snow Creek Recreation Site Campground is a 3.5 hour drive from Victoria, west of Port Alberni. The campground has 27 campsites and is on the shores of Sprout Lake. There is a small boat launch and it offers excellent fishing and a tranquil setting for camping. Access is via a forest service road and 4×4 vehicles are recommended. Please pack out what you pack in and be respectful of wildlife. Reserve your campsite ahead of time to guarantee your spot.
Wherever you decide to camp, be safe and have fun. For more camping trip ideas and locations visit https://www.campingrvbc.com/.
"It's always a great day to #CampinBC"
Three Places Where British Columbia's Cariboo Region Locals Like to Camp
Sometimes, the best places to explore just happen to be in your own backyard. Especially when you live in beautiful British Columbia!
Every summer, we connect with locals from the Cariboo Region as they set out on their annual camping trips with their families.
Over the past few years, these local families have shared their Cariboo Region camping experiences with us—from the new places they've only just discovered to those family-favourites that they love to revisit.
Here are three places where our local Cariboo Region friends like to camp.
Mahood Lake
Mahood Lake is a great camping destination in the southern Cariboo Region. You'll know that you're getting close when you start to see huge forests of cedar and fir trees. If you like fishing and swimming, this is the perfect lake to visit.
Our friends from Quesnel visited Mahood Lake a few years ago and set up camp at Wells Gray Provincial Park—located on the western end of Mahood Lake. They described the forest when they entered the park as though they had just stepped into a fairy tale.
They found the campsite to be very clean and accessible—featuring great places for kids to bike around and a popular playground to meet new friends at.
They also found some great hikes to explore that were accessible right from the campground—Canim River Trail, Deception Falls Trail and Mahood Falls Trail.
The closest trail was Canim River Trail—only 1 km away from their campground. Deception Falls Trail was a bit further at about 8 km away. They found both trails to be family-friendly and full of beautiful sights! They even were able to portage their kayaks down the Canim River Trail to the river.
The Mahood Falls Trail was only 5 km away from their campsite. Even riding their bikes, they found this trail to be a bit more challenging with its incline—but still safe for kids.
All that pedaling was definitely worth it when they reached the beautiful Canim Falls!
Green Lake
Our friends from 100 Mile House set out to camp at Green Lake for their camping trip last summer.
They stayed at the Sunset View campground at Green Lake Provincial Park. This has been one of their family's favourite places to camp over the years and rightfully named Sunset View—as they said that they always see the most amazing sunsets there.
They found a nice camping spot—spacious and close to the lake and a playground.
This family loves to head out and explore when they camp. Their first day trip was to Chasm Creek Valley—a quick 30-minute drive from Green Lake. Their kids were fascinated by the ancient lava rock formations, created by glacial melt water erosion.
For their second day trip, they visited Crater Lake, BC for the very first time as a family. This place featured more stunning views and waterfalls. They even brought their fishing rods to see what they could catch!
One of the most interesting sights they came across was devastation from the 2017 wildfires—now covered with vibrant greenery as it continues to grow back.
Ghost Lake
Our same friends from Quesnel went out on a second summer camping trip that year—this time, exploring along the historical Gold Rush Trail.
They set up camp at Ghost Lake, nestled into Cariboo Mountains Provincial Park. They found a very scenic camping spot at the banks of the Matthew River—looking out on beautiful turquoise water and the vast Cariboo Mountains.
They couldn't resist getting out on the water as soon as they set up camp. It was the perfect lake for afternoons filled with kayaking, paddle-boarding and cliff-jumping.
Our friends weren't the only ones who found the lake so peaceful and inviting. They even saw a deer come out onto the banks of the river to take a drink. It's always exciting to see wildlife on camping trips—and there sure is a lot to see in the Cariboo Region!
After packing up and heading to nearby Likely, BC to check out a trail, they set up camp just an hour from Ghost Lake at Ladies Creek Recreation Site on Cariboo Lake—ending the day with a beach fire-cooked dinner and a sunset paddle.
You're never short of finding new places to explore in the Cariboo Region!
TIP: If you find this blog interesting why not subscribe to the enewsletter and never miss another story!
If the Cariboo interests you, check out our drive:
Following the BC Gold Rush Trail through the Cariboo & Beyond
For other campgrounds in this area or elsewhere in British Columbia go to the Camping Map
Share your BC travel and camping photos using hashtag #campinbc, #BCNice, #explorebc
Fun Family Camping Trip to the Okanagan, British Columbia
It doesn't feel like summer until we visit Penticton, the interior of BC where it's always warmer and where fruit orchards and wineries make for a picturesque summer photo. With our trailer in tow, the average five-hour commute allows us to enjoy the beautiful lush scenery and mountain peak tops until we arrive at Southbeach Gardens RV & Campground, where we have become regulars.  Often times the kids will have their tablets and headphones ready for the road-trip, along with pillows and blankets next to them just in case they feel like taking a nap.  We would pack fresh fruits, lots of water and some salty snacks to avoid having to make unnecessary stops if someone gets hungry.
Upon arriving and checking-in, unpacking and settling at our camping spot becomes the next item on our to do list. We keep coming back to this campsite because it's conveniently located across the Skaha Lake, offering over 250 RV and tent spacious camping spots and lots of greenery to keep cool during the hot summer days. The kids playground, arcade and the mini golf is where the kids like to spend most of their time. For us, being able to grab the beach towels and walk across the street for a swim in the lake saves us time and makes it that much more enjoyable. Renting equipment for various water sports such as paddle boards, jet-skis and kayaks is also available at the beach.
This year we could not have asked for better weather, with temperatures tempering between high twenties and mid thirties, it was beach weather everyday. And since we booked two weeks in August, I made a list of all the places I wanted to visit and make the most of our time spent here.
One of the first places we visited was the Okanagan Lavender Herb Farm. Situated on the hills of South Kelowna overlooking the Okanagan Lake, it is the perfect spot for an afternoon stroll or catching the last sun rays before the sun sets. And if you are a lavender enthusiast like I am, then you will cherish the free sample of edible 'pure lavender and lemon balm' that you receive upon your entrance into the garden. Beside the beautiful blooming lavender buds, we really enjoyed walking through the hedge maze and writing wishes on the wishing tree; where you write your wish on a long plastic strip and tie it to the round iron structure amid all the purple plants.
On one of the 'cooler' days, we felt like leaving the beach scene and checking out the H2O Adventure and Fitness Centre where the Surf Simulator is all the hype. A fifteen-minute drive from Kelowna Downtown, the centre features three waterslides, a wave-pool, lazy river, a spray park and play area for the little ones, as well as two hot-tubs and an Olympic size pool. Of course, most of our time was spent at the Surf Simulator, where the kids got to practice their surfing moves, either standing up or on their knees for the less advanced.
With our friends from Kelowna, we visited the Kalamalka Lake. A glacial lake four kilometers south of Vernon, particularly known for its turquoise blue water due to crystals forming in the hot summer days that result in distinctive blue and green color. The sandy Kal Beach roughly stretches 300m in length and 50m in width, includes a pier, and is a popular destination for swimming, picnicking and beach volleyball. A concession stand is open during the summer months, and parking is conveniently located across the beach.
The entire Okanagan valley consists of many activities to do and places to visit, such as elegant wineries that display their ripe grapes in structured rows overlooking lakes; where wine tours are available at most wineries during the weekdays. Other events such as various festivals and farmer's markets are active on the weekends, where one can find sweet cream peaches among other local fruits. U-pick is also available at most fruit orchards if you have the time and want the freshest pick.
Save
Save
Save
RV Adventure Part 2: Reserving the Campsite
So the W family has decided to take the plunge and go RVing, for the first time, in winter. With our RV booked (more…)
Published: January 21st, 2014