Exploring North Vancouver Island, British Columbia – Sayward to Port McNeill
After years of camping on Vancouver Island, we decided this summer we would head to the north end of the island. The furthest north we had travelled was Campbell River and we really wanted to explore more remote locations.
In 8 days, we travelled north from Campbell River to Port Hardy and west from Port Hardy to Cape Scott Park. We explored communities such as Sayward, Telegraph Cove, Port McNeil, Port Alice and Port Hardy and many smaller communities in between. If you are looking for a camping trip filled with beaches, cooler temperatures, small remote communities and abundant wildlife then keep reading, we found it all.
Our first stop was the Village of Sayward, located about an hour north of Campbell River. Sayward is home to about 350 people with logging being a very prominent industry. Locals describe Sayward as a remote hidden gem that stays green most of the year due to the high amounts of rain. Plan to spend some time at Kelsey Harbour watching the sea lions, kayakers launching their boats and the logging operations in the bay. Western Forest Products operates a dry land log sort; this was something new for me to see the logs being dumped into the bay and the tugboats moving them around. I was surprised to see how the tugboats lean way over in the water without tipping over.
Before leaving Sayward, we made a quick stop at the unique Cable Café which was unfortunately closed at that time, but it is worth having a look at as its outside walls are covered with logging cable.
If you are interested in seeing the Dry Land Log Sort in action check out this video https://www.youtube.com/watch?v=PqkI-C82I1A
Moving north from Sayward, we stopped at the Keta Lake rest stop for a picnic lunch. It was a great shady place to stop with 4-5 picnic tables, outhouses and a couple of trails down to the lake.
Next stop was the community of Woss in the Nimpkish Valley (75km north of Sayward), home to the longest working railway in North America. We visited the Woss 113 Heritage Park celebrating 100 years of railway with interpretive signs describing the history of the town, the link to the logging industry and the railway. Locomotive 113 is on display, which is a steam engine that was built in 1920 in Portland and restored in 1988. The town has cell service, as well as two different types of electric-charging stations.
Next stop and our home for the next four nights was Alder Bay RV Park and Marina. Alder Bay is located just south of Port McNeill, open year-round with over 80 sites which are suitable for big RVs, as well as campervans and tents. Positives about this RV park include the super clean bathrooms, 8-minute showers for only $1 and the beautiful sunsets.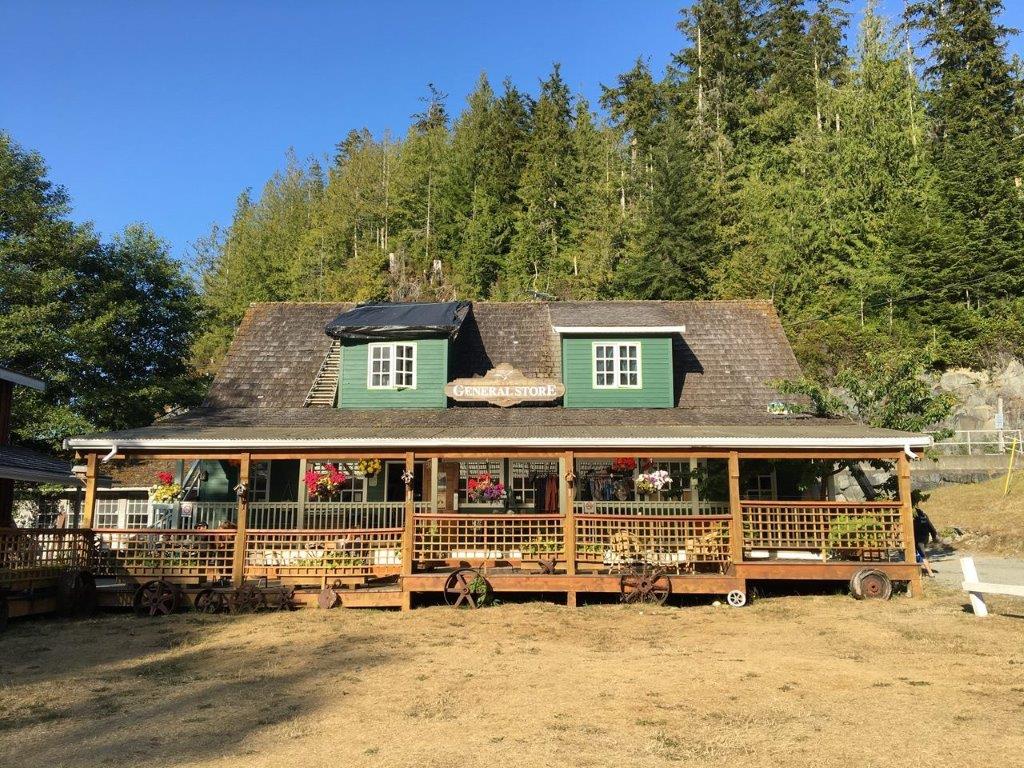 We had four jam-packed days while we stayed at Alder Bay; we spent an evening walking the boardwalk at Telegraph Cove and enjoying the setting sun. It was the perfect time for us to avoid the daytime crowds of tourists and those arriving for whale-watching trips. The General Store (established in 1942) is a welcoming business by the boat launch with all kinds of amenities including local products and wine/beer. Along the boardwalk are many of the original cabins which have been restored and available for vacationers to rent through Telegraph Cove Resort. It was fun to walk along the boardwalk and read the historic stories in front of each of the cabins. The Whale Interpretive Centre is located at the end of the boardwalk, just past the pub and restaurant, a must see for our next visit as it had closed at 6:00 pm.
The next day we headed over to Port Alice, about an hour's drive (paved road) from our campsite. Port Alice was named after Alice Whalen, mother of the four Whalen Brothers who founded the Whalen Pulp and Paper Company which built a pulp mill in Port Alice in 1917. After exploring the town and the 3km Sea Walk along the water we headed inland on the Alice Lake Loop to the Devil's Bath Cenote, Canada's largest cenote (unfortunately, no swimming access) and the Eternal Fountain, a stream with a beautiful waterfall that disappears into an underground cave. Both were accessible by logging roads and have short walks through the forest (pick up a map at the Port Alice Visitor Centre or use Backroad Maps).
After a rest day, we took the ferry from Port McNeill to Alert Bay (Cormorant Island) and Sointula (Malcolm Island). Check out the blogs written about Alert Bay – Island Hopping on Northern Vancouver Island, BC: Port McNeill to Alert Bay and Island Hopping on Northern Vancouver Island, BC: Port McNeill to Sointula.
Highlights at Alert Bay were the indigenous masks and beautiful drums at the U'mista Cultural Centre and at Sointula, the old buildings and the Beautiful Bay Trail at Bere Point Park. A little tip – you can visit both islands on the same day if you let the terminal attendant know, without double the fares!
Overall, an excellent first four days into our North Vancouver Island camping adventure!
For the second half of our trip see Port McNeill & Port Hardy to Coal Harbour & Cape Scott.
TIP: If you find this blog interesting why not subscribe to the enewsletter and never miss another story!
For camping accommodations in this area and elsewhere in British Columbia check out the Camping Map.
Share your BC travel and camping photos using hashtag #campinbc #explorebc.
Plan a Memorable Vacation in BC's Stunning Telegraph Cove and the Broughton Archipelago
Wildlife lovers rejoice! Telegraph Cove and the Broughton Archipelago are an ideal destination if your perfect holiday includes a chance of spotting whales, bears, eagles, and more.
Broughton Archipelago Provincial Park, sandwiched between Northern Vancouver Island and mainland British Columbia, is certainly in contention for one of the most beautiful parts of the province. With towering cliffs, midden beaches, rocky islets, and protected passageways through lushly forested islands, the Broughton Archipelago makes up the largest marine park in British Columbia. The park, established in 1992, is a mecca for boaters, and it is known worldwide as a premier kayaking destination. When we were in the Broughtons, we spoke with an experienced kayaker who had flown from South Africa, purchased a kayak off Craigslist in Vancouver, rented fishing equipment, and planned to spend five nights (longer if he could stretch his food by catching dinner!) in what he considered one of the world's best kayaking areas.
The marine park makes up only part of the area considered the Broughton Archipelago. To start our trip, we took an hour-long water taxi from Telegraph Cove to the Burdwood Group – a collection of small islands at the meeting point of Fife Sound, Tribune Channel, and Penphrase Passage. When we landed on the main group site in the Burdwoods, it was like we had been transported to a tropical island. The area was established as a BC Conservancy in 2009 in order to protect both aquatic and forest habitats as well as sites of cultural significance in the traditional territories of the Mamalilikulla-Qwe'Qwa'Sot'Em First Nations, including the shell midden beach on which we landed.
An afternoon paddle had us marvelling at Deep Sea Bluff – a towering cliff on mainland British Columbia near where Captain George Vancouver reportedly anchored during his exploration of the BC coast in 1793. When we arrived at the bluffs, the tide was low and the barnacle-covered intertidal zone (in this case, entirely vertical) was taller than me. After the mandatory photo "touching the mainland" we headed back to camp. Our two days in the Burdwood Group consisted of circumnavigating small islands, exploring the rather desolate feeling Echo Bay Marine Park – complete with a collapsing community recreation centre and a picturesque but condemned wharf – and visiting the fascinating personal museum collection of Billy Proctor, a lifelong resident of the Broughton Archipelago and passionate beachcomber, fisherman, and logger. Bring your wallet and pick up a copy of one of Billy's books for a fascinating read about the Broughtons.
After two days in what can only be described as beachfront paradise, we packed up and headed for the ominously named Insect Island – hoping all the while that the name had nothing to do with mosquitos! After a mostly mosquito-free night in a lovely campground (despite the decidedly uphill hike to the tenting area), we continued our travels by paddling down Misty Passage, past Monday Anchorage, through the Coach Islets, to Sedge Island. At this point, so inspired by the wide-open vistas we had seen for most of the day and not wanting to camp on the rather boxed in Sedge Island campsite, we carried on to the spectacular White Cliff Islets – one of my favourite locations from the entire trip. These tiny rock islets on the edge of Queen Charlotte Strait are nothing short of spectacular. When we visited, the few trees on the islets were filled with keen-eyed eagles and fish darted through the kelp beds below us as we paddled along.
After exploring the islets, we headed for the campsite on nearby Owl Island. Perfectly placed on the island, the campground offers a protected bay with morning sun for launching and a short trail through the trees to a gorgeous sunset viewing beach. A sunset paddle around the aptly named Fire Island was spectacular as the sun sank below the horizon. One of the best parts of kayaking is the connection immediately forged with nature and your campground compatriots. At the recommendation of some fellow kayakers, the next day we headed for Flower Island where, we were told, we "wouldn't be able to sleep because of the whales."
The paddle from Owl to Flower was another gorgeous day on the water. Once we passed Bold Head on Swanson Island it became apparent that Blackfish Sound was indeed where the whales congregate. The four-or-so kilometre paddle along Swanson Island was a non-stop show of whale blows, with our heads constantly swivelling to try and catch sight of the whales. Just after arriving at Flower Island we were treated to one of the most spectacular sights I have ever seen – a nearly five-minute performance of a humpback whale blowing and slapping its tail (known as tail lobbing) just offshore. The marine activity carried on throughout the evening with appearances from dolphins, porpoises, sea lions, humpback whales, and orcas. It was truly one of the best wildlife experiences of my life.
In the morning we paddled back to Telegraph Cove, completing our journey from the mainland back to Vancouver Island. Telegraph Cove is the perfect launching point for a kayak trip to the Broughtons, and there are numerous tour operators on the North Island who provide guided trips. If kayaking is not your speed, consider a trip with Prince of Whales Whale Watching and Wildlife Adventures or spend a full day observing grizzly bears in Knight Inlet with Tide Rip Grizzly Adventures.
Telegraph Cove is also a great destination in its own right. The community balloons in population during the summer months and as such, it is one of the most tourist-focused destinations on the North Island. Several coffee shops provide drinks and snacks, a pub on the pier offers plenty of choices including BBQ salmon dinners, and the excellent Whale Interpretive Centre is a must-visit for those wanting to know more about the creatures that call the Johnstone Strait home. Telegraph Cove Marina & RV Park offers camping and moorage. Camping is also available at Telegraph Cove Resort Forest Campground part of the Telegraph Cove Resort.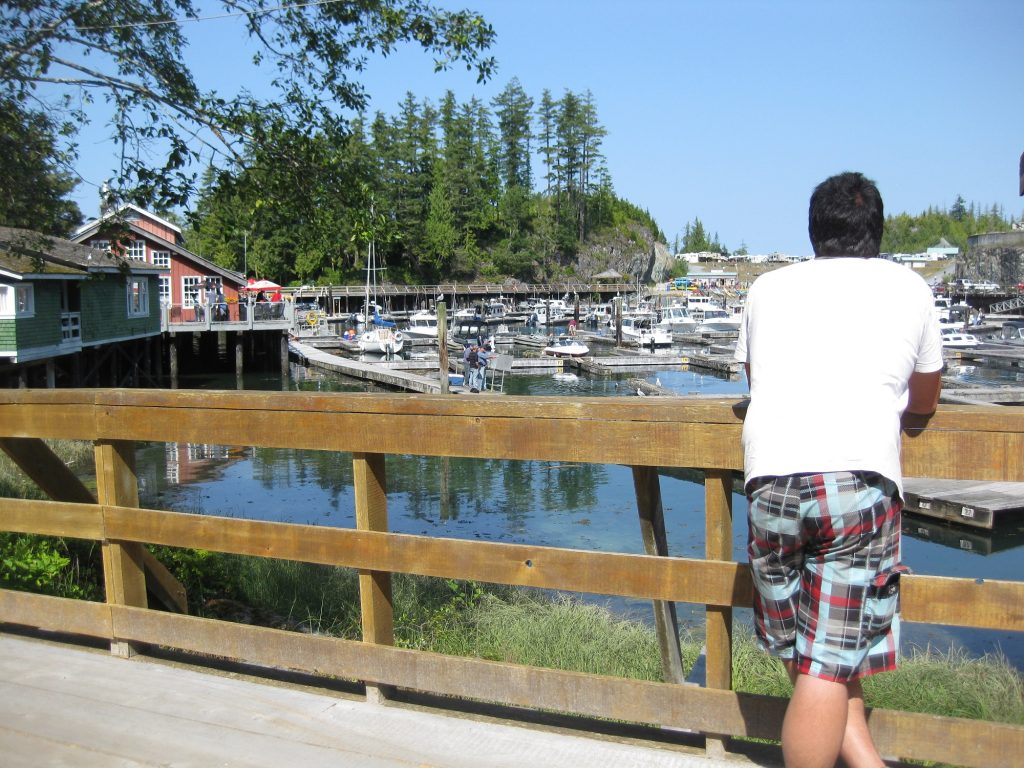 Telegraph Cove is a first-class destination for those wishing to get in touch with nature. From self-guided trips for experienced kayakers to afternoon whale watching excursions, the Broughton Archipelago is sure to delight your whole family.
TIP: If you find this blog interesting why not subscribe to the enewsletter and never miss another story!
For places to camp in British Columbia go to Camping & RVing BC Camping Map.
Share your BC travel and camping photos using the hashtag #CampinBC, #explorebc
It's always a great day to #campinbc
Published: January 6th, 2022