Camping in British Columbia: Tips for First Timers
For some people, planning a two week camping trip is second nature. Simply pull neatly organized camping supplies out of the garage, reserve some campgrounds and load up the family in the RV. Then there are those that have never gone camping before. The thought of figuring out how to sleep, cook and survive at a campground in the great outdoors is equivalent to summiting Mt. Everest. 
Relax. With a little advance planning, anyone can have at least a "semi-successful" camping experience guaranteed to provide great memories. How can you forget dad tipping over in his canoe while reaching for a stray paddle? You'll always remember the look of delight as your preschooler pokes a stick through her hot dog and roasts it over a campfire.
TIP: If you find this blog interesting why not subscribe to the enewsletter and never miss another story!
Camping, whether in a borrowed tent from your neighbour, or in a $100,000 RV, boils down to spending time with family and friends. A time to get away from work, school and Netflix. Even kids glued to their electronics will gain an appreciation for nature as they wade in icy streams, or paddle a kayak for the first time.
The following are a few simple tips to help ease the stress of planning a camping trip. Even if you just pick five tips to try, you'll be way ahead of other first-time campers!
Start small. This is not the time to plan a trip to Glacier National Park if you live outside British Columbia. Start small and drive to a campground within an hour of home.
Don't have a tent or RV? No problem. See if you can borrow a tent from a friend or rent an RV. This lets you experience a few aspects of camping without making a big financial commitment.
Make sure to make reservations at your campground. Many times, off-season reservations aren't necessary, but why take the risk?
Decide ahead of time what type of campground you want. Looking for a deluxe campground offering an Olympic sized swimming pool and organized kid's programs? Or would you prefer something more laid-back with hiking trails and a chance to relax by a lake?
Arrive early at your campsite, especially if you are unfamiliar with your RV or even how to set up the tent. You'll be more comfortable getting your campsite ready if you don't have "neighbours" sitting in their lawn chairs watching you muddle your way through leveling your RV. Speaking of RV's…make life easy and ask for a "Pull Thru" site where you simply pull the RV through a site. No awkward backing into place!
Bring a variety of card and board games in case the weather turns on you. Be brave and ban all electronic devices during the camping trip. That goes for adults as well!
The Dollar Store is a camper's best friend. Purchase a variety of plastic storage buckets to use for easy organization. Fill one with basic First Aid supplies. Don't forget bug spray! Other tubs can hold condiments, plastic dishes, and glow-sticks for late night fun.
While at the Dollar Store, pick up some flip flops for every family member to use in the campground washrooms and shower.
Bring a tablecloth. Most campground picnic tables are a bit rough and rugged. A plastic tablecloth adds elegance to your dining!
It wouldn't be camping without a campfire! Before you leave home, have kids make simple fire starters. Cut cardboard toilet paper rolls in half. Stuff each half with dryer lint, then wrap each piece in wax paper. Twist the two ends, which serve as your wick when placed on the firewood.
A play pen or pack and play keep crawling babies safe. It's easy to get distracted while setting up a campsite, so play it safe and have your little one watch you from a safe, contained place.
When you register, ask if any kid's programs are available. It's nice to break up the day with an organized event geared to kids.
When it comes to food on your first-time camping trip, forget the fancy recipes. Try a version of the ever popular "Walking Tacos". Simply give everyone their individual bag of Fritos. Heat up a can of your favorite chili and plop a few spoonful's in the bag. Top with cut up tomatoes, shredded cheese, sour cream and salsa. Dinner with no dishes!
Camping should be a time for all family members to relax, instead of one person "stuck" with cooking and cleaning up. There's nothing wrong with cereal for breakfast and peanut butter and jelly sandwiches for lunch. Bring some prepared hamburger meat from home to barbeque for dinner. Add a packaged salad mix and some purchased potato salad and you have a meal. After you have a few camping trips under your belt, try cooking in a Dutch oven or making breakfast burritos over the campfire. Just Google, "Easy Camping Recipes" and you'll have ideas galore!
Camping trips are a chance for family members to connect in a different setting than in front of the TV. Even if you are hesitant about sleeping in the great outdoors, challenge your family to give camping a try. You may find fresh air, hikes and good old S'mores make for a wonderful weekend!
For more Camping How-Tos check out these blogs
For campgrounds & RV parks in BC go to the BC Camping Map.
Share your BC camping and travel photos using hashtag #campinbc #explorebc #green #bcnice
It's always a great day to #CampinBC
5 Gift ideas for the "Happy Camper"
Still looking for a Christmas gift for a camping enthusiast? One of these just might fit the bill. Below are five gift ideas to choose from.
1. A Cake Taker Has Lots of Uses
Sometimes you have to look outside of the box for a great "camper/RVer gift. Gifts aren't just for the intended use nor the intended person, sometimes it's a gift that can have many uses and be used by the whole family. My first great gift is a simple Cake Taker. I have one that is a staple in my RV set up. We like to have everything we need for our meals handy by keeping them outside on a table, but because of critters, we don't like to leave our paper plates and napkins out. Well not anymore – this takes the cake taker to a whole different level. I place my Royale Chinet dinner plates and a stack of napkins and place them inside the cake taker and now they are protected from the little critters of the night. And the weather too. This is available at most department stores.
2. LEGO is fun for Adults too
Don't always look for a finished product to give as a gift or think that toys are just for kids. Adults are one of the largest consumers of good ol' fashioned LEGO. Our camping group (AFOL's as we are so deemed in LEGOLAND – which means Adult Fans of LEGO) love to receive LEGO kits. We have built an RV, Truck and Camper, boats, beach scenes and mini campsites. It's a gift that brings everyone to the picnic table each and every trip and also offers a chance to demonstrate their building capabilities.
3. Lights to Brighten your Camping 'Patio'
There are many necessities required for camping but each person you ask has a varied version of the list and lighting is always on it. I bought a handful of these useful lights. They have two levels of brightness and flash. Each one takes 3 AAA batteries and I hang them from the roofing of my pop-up-tent, strategically placed over the picnic table. This makes it easier to see for a great late-night game of cards.
4. A Collapsible Wash Bin is a Huge Space Saver
When we pack to go camping we are always looking for lightweight items. I just love my collapsible wash bin. I purchased this one from Amazon but I'm sure you can get them at most department stores. When it's open it sits at 5" high and collapsed is only 2 ½" saving you packing space. There is a lot of room for washing dishes as it is almost 15" X 11", so big enough that you can wash larger items.
5. Relax at Your Campsite in a Hammock
Another gift that I think most would love to receive is a hammock. Everyone needs a comfy place to retire to during the day, to read a book, listen to the sounds of nature or just take a much-deserved nap. This lightweight nylon hammock can hold more than 350 lbs., so it is an excellent spot for two to cozy up and relax in. Or, as I saw this summer on one of my many camping trips, when a mother and her three little ones set up on the site next to me. The first thing she put up was the hammock which I thought was weird that she was setting up a relaxation zone before pitching the tent, but I soon realized that this is where the youngsters played swing whilst mom was making their temporary home, and everyone was safely swinging in the hammock and no one could fall out.
For campgrounds and RV parks in British Columbia check our Camping Map
Share your BC camping photos using hashtag #campinbc.
Golden Ears Provincial Park has Lots of Camping Options
Out for one last trip with my camping buddies and every year we choose Golden Ears Provincial Park as our end of "summer" camping trip not just because it's close to home for the group, but it's also quiet and serene. If you just sit with your eyes closed you will hear the birds – chickadees, robins and the occasional raven as well as see some sweet little Chipmunks.
We have stayed in Alouette and Gold Creek campgrounds numerous times over the years. Golden Ears is one of the busiest Provincial Parks run by BC Parks and it is less than a two hour drive from downtown Vancouver (approximately 48 kms). Golden Ears is located 18 kilometres north of Maple Ridge and covers 55,000 hectares. The park was named after the twin peaks which are referred to as "Golden Ears".
There are three main campgrounds as well as a walk-in Campground at Alder Flats on the West Canyon Trail. There is a sanidump for the RVers and don't worry if you don't have the coins – you can pay at the ticket booth. There is a boat launch, a highly popular day use area that has canoe rentals. The lake has a roped off area for swimming and water fun and is large enough for water skiing.
Alouette Campground – the largest campground has 205 back in well treed campsites, a great playground for the children and also has lighted flush washrooms with showers as well as pit toilets strategically placed throughout the campsite. Its main camping season runs from the middle of June to the beginning of September.
To go to North Beach Campground you will need to check in at the ticket booth and they will give you directions to get to this little unknown part of paradise that has 54 campsites including some great pull-through campsites that are great for RVs, but be forewarned, there is no running water and pit toilets are the only washrooms available, so this could mean a short drive down to one of the other two campgrounds that have water taps. It does operate from the middle of June to the beginning of September. Gold Creek Campground which has 149 sites that can accommodate tents, tent trailers, travel trailers and I've seen a few big rigs and it operates from March to the beginning of October and also has winter camping starting the first week of October which runs until the end of March. There are also two group sites available year-round that can accommodate 15-30 people.
Are you wanting to get in touch with nature? There are quite a few trails around with different levels from beginner to novice. You have to check the posted signs because not all trails allow bicycles and are meant for foot traffic only. Some of the trails are Menzies Trail, East Canyon and West Canyon as well as a switchback trail and the Eric Dunning Trail. The ticket booth has a great Trail map for purchase. There's also a lower and upper falls trail. And if you get really adventurous, there's even horse trails. Now that's not all, there's a store on site that carries the basics, so if you forget something it's right there for you. But remember it is only open during the summer months.
For more info on the park visit Golden Ears Park.
For places to camp in British Columbia go to Camping & RVing BC Camping Map.
Post your BC travel and camping photos using the hashtag #CampinBC
5 Great Tips for the New Camper in British Columbia
If you live in Canada you know that a camping trip is one of the best ways to see this amazing country. To fully embrace what makes Canada so special, invite someone who has never camped before to join you on your next camping trip and introduce them to one of Canada's best features – the wilderness!
Over the past couple of years every time my daughter and I were getting set for a weekend camping trip, one of my friends would mention that she would love to try camping. She didn't grow up in Canada and hadn't had a chance as a kid to experience camping. This summer our schedules finally worked out and my friend and her daughter joined us for their first time ever camping adventure.
Both families learned a lot over the weekend and here are my top 5 tips to make an intro to a camping trip a success.
1. Keep it short and simple
We decided that our guests would join us on Saturday morning and spend the day and one night at the site. One night is a great way to get a good feel for camping but not too overwhelming for new campers.
2. Make a list of all the camping gear that they will need
List everything from sleeping gear to clothes that they will require including extras like sunscreen and bug spray. Have your new camper check out the list and let you know what they need to borrow. For our trip, we supplied all the camping gear (tent, stove, dishes, etc) and also ended up bringing an extra inflatable mattress for them.
3. Pick somewhere with a little bit of everything
We booked the weekend at Ellison Provincial Park in the Okanagan which is a great site for new campers. Ellison Provincial Park has flush toilets, running water, a beach, mountains, playground for the kids, and nature trails which all gave a great first impression. It's also full of families and different camper set ups – everything from the small single tent to luxury RVs and everything in between.
One of the interesting things I learned over the weekend was about the perception of camping. It wasn't that they didn't have equipment or access to equipment, it's that for my friends (and likely many others as well) they had the impression that camping is about driving way into the woods, clearing your own site and being totally isolated from civilization. While some camping is like that, having access to reserveable spots at Provincial Parks and local campgrounds really opens up the camping world to newcomers, which is less overwhelming and scary!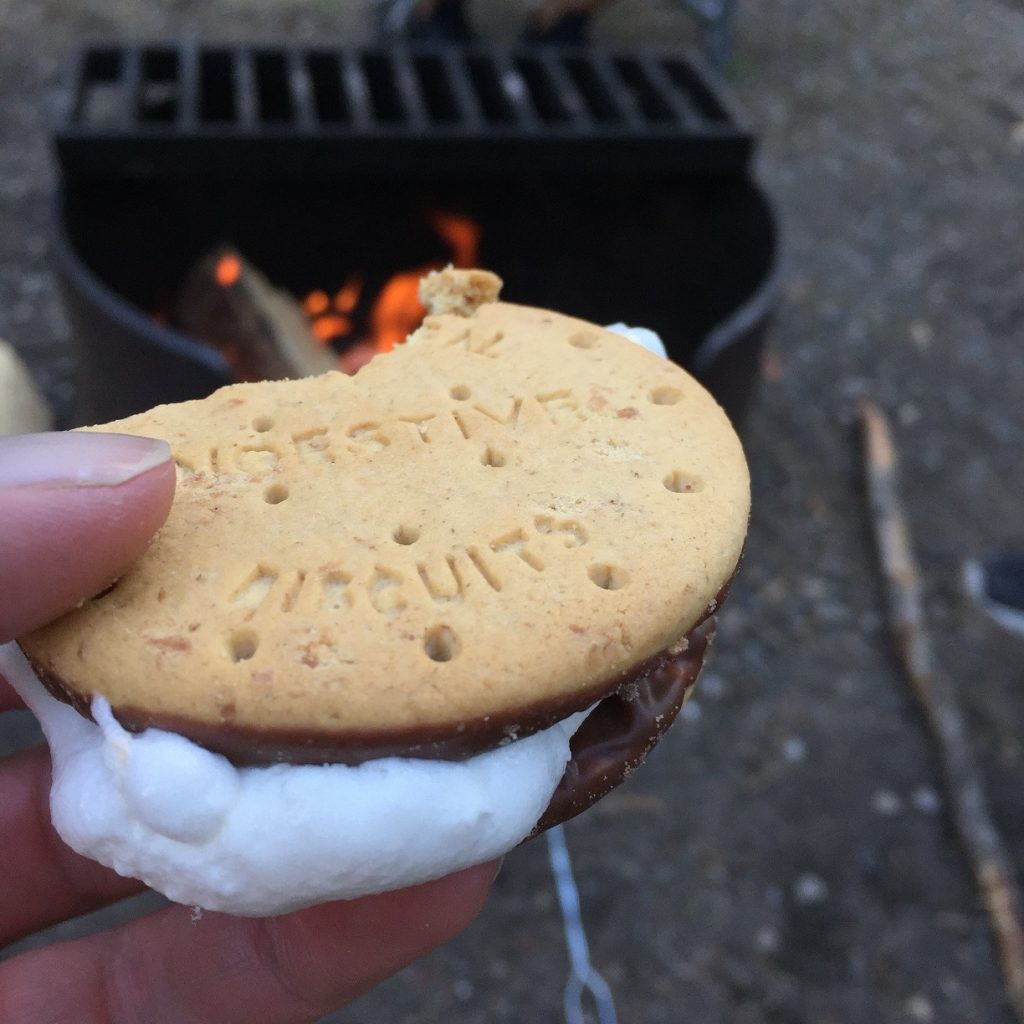 4. Keep the food simple
Don't turn off new campers by making elaborate Pinterest worthy meals that also require endless hours of clean up!  Go classic, s'mores, hotdogs on sticks over the campfire, simple bacon and eggs for breakfast.  Try and mix campfire and camp stove cooking as well. We decided to make pizzas using Pie Irons for dinner but didn't get the fire going far enough in advance so I ended up constantly trying to get the fire relit, getting some coals going, and supervising the use of the pie irons….in hindsight I should have just followed my own advice and kept it simple and planned to do hot dogs over the fire for dinner. My new little camping buddy agreed – she wondered why we didn't have hot dogs!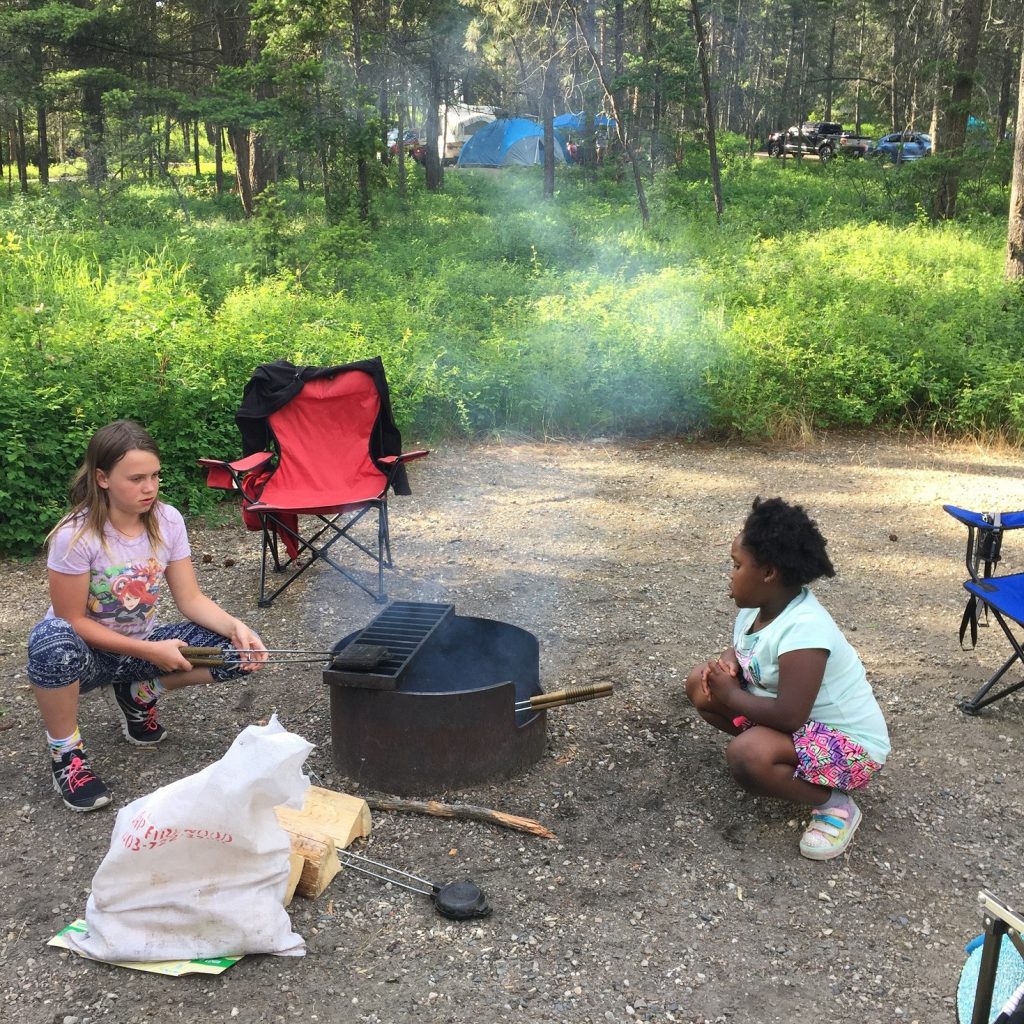 5. Be prepared for questions
Everything from how reservations at the park work, to how to use the stove, to what kind of bug/bird/rock/animal is that!  The adage "no question is a bad question" is very true in this situation. The Park Rangers and operators are your best resource. When you check in, think of all the questions that your new campers might ask and get the answers ahead of time. While you are chatting with the Ranger make sure you pick up a copy of Jerry's Scavenger hunt for the kids to do as well. Or you can download before you set out on your trip. Go to Jerry's Nature Quest for all the information. It's an amazing tool to fight any boredom that your camping kids might have, plus they receive a cool prize when they complete it.
Then just go with the flow.  Set some boundaries for the kids, get out some snacks, settle into the camp chairs and let the kids adventure while the adults get a true taste of why camping is so great.  Sit back, relax, listen to the birds and the sounds of kids exploring, and just enjoy Canada.
TIP: If you find this blog interesting why not subscribe to the enewsletter and never miss another story!
To locate campgrounds in BC go to Where to Camp at Camping & RVing BC.
Post your BC camping and travel photos using hashtag #campinbc.
It's always a great day to #Campinbc.
Yoho National Park, BC – A Jewel in the Canadian Rockies
Alberta often gets the credit for the Canadian Rockies, but BC plays host to a spectacular Rocky Mountain parks of its own – Yoho National Park. This park can be visited as a trip of its own, or it can be part of a larger circle tour through the Canadian Rockies. Either way, spectacular mountain peaks, alpine flowers, and shimmering lakes await you in Yoho National Park.
Yoho is the slightly western counterpart of the better-known Banff National Park. Covering 1,310 square kilometres, the park makes up a portion of UNESCO's Canadian Rocky Mountain Parks World Heritage Site. Yoho offers a bountiful range of both easily accessible and more challenging terrain, guaranteeing that you will find something to suit your interests no matter which direction you choose to explore.
What To Do in Yoho National Park
Highlights include:
In the Area
While you are visiting Yoho National Park, consider taking a day-trip to Golden where you can walk across Canada's longest freestanding timber frame pedestrian bridge, take a gondola ride to 7,700 feet at Kicking Horse Mountain Resort, and hit the links at the Golden Golf Club. There are many more things to do in and around Yoho National Park.
Closest Community
Field, located within Yoho National Park, is the closest place offering any sort of services. This vacation town has numerous restaurants and shops, but if you are looking to do any major resupplying you may need to consider going further afield – no pun intended! Golden is about half an hour west, while Lake Louise is half an hour east.
Where to Stay
Yoho has four first-come-first served "front country" campsites. The largest of these is Kicking Horse, which offers showers, flush toilets, and a sani-dump. For a more unique experience, consider staying at the walk-in Takakkaw Falls campground. Don't let the campground's walk-in name deter you – Parks Canada provides wheelbarrows to transport your belongings the short distance to the campground and bear boxes to store your food and other scented belongings.
Yoho National Park is one of my favourite places to visit. The combination of alpine scenery and easy accessibility makes it a great option for people of all levels of physical fitness and offers endless opportunities for exploration. Whether you are young or young at heart, Yoho has something up its sleeve to keep you entertained for a day, a week, or beyond.
For more campgrounds in and around British Columbia check out the Camping Map at Camping & RVing BC.
Check out more blogs in the National Parks & Historic Sites series:
A Primer to Canada's National Parks in BC.
Explore Fort Langley & Gulf of Georgia Cannery Historic Sites and Check Out Some of BC's Fascinating History
BC's Gulf Islands National Park Reserve Offers Rich Opportunities for Exploring
BC's National Historic Sites Offer a Glimpse into the Past – Here are 3 to Explore
Kootenay National Park, BC Offers Great Vistas, Hiking & History
Visit Mount Revelstoke National Park in August for its Stunning Vistas & Wildflowers
Yoho National Park, BC – A Jewel in the Canadian Rockies
Glacier National Park: A Special BC Destination
Pacific Rim National Park Reserve – A Great Place to Visit in the Off Season
Share your BC camping and travel photos using hashtag #campinbc
3 Stress Savers When Prepping For A Camping Trip
After a long winter hibernation, opening the door to Spring's warm weather releases an instantaneous sense of gained freedom.  Finally I can go outside and not get wet or freeze! It doesn't take statistics to know (more…)
Lists: The Key to Successful Family Camping
Maps, driving directions, packing lists, playlists – these are the fodder for a good road and camping trip. Here are some (more…)
Tips to Keeping Mosquito Free
Besides being the all time summer pest to most, it is a fly. Generally there are three types, with more than 3,000 species:
1."Ades" or better known as floodwater mosquitoes lay their eggs in early spring (more…)
Published: August 8th, 2013