Sooke to Port Renfrew: A Day Tour to Experience the Rugged Pacific Coast on Vancouver Island, British Columbia
Whenever friends or family visit Victoria and want to experience the rugged west coast but only have a day while on Vancouver Island, a drive to Port Renfrew is the place I take them! Along the route are sandy beaches, panoramic mountains and ocean views, sea lion caves, tidal pools, surfing, hiking trails and a variety of places to dine.
The route from Victoria downtown follows Highway 1 to Exit 10 (View Royal /Colwood) onto 1A that becomes Highway 14 to Port Renfrew. Highway 14 is paved to Port Renfrew and if you don't stop it's a four-hour return trip. Traffic is light on this highway so enjoy the drive.
Along the Highway 14 route to Port Renfrew are many places to explore – it would take days to see them all. I'll suggest a few must stops along the way and other places you may want to consider!!
First stop for me is Serious Coffee located just past the traffic circle on the left in Sooke. My favorite is the granola bar and lunch sandwiches which are available to go. There are a number of other options for food/beverages in Sooke.
Before you depart from Serious Coffee in Sooke set the trip odometer!!
At Muir Creek , just 13 kilometers from Sooke, there is easy access to the ocean. Turn left at the bridge into the parking lot. A flat easy access trail leads to Muir Beach.
Sheringham Point Lighthouse, a Canadian Heritage Lighthouse, is 18 kilometres from Sooke. The access road is between the Fire Hall and Shirley Delicious. Turn left on Sheringham Point Road and proceed 1 km to the parking lot on the right side where there is a short trail to the lighthouse. The site is open to the public daily from 9 am to 8 pm. Caution is recommended as the shore is exposed to high winds and rogue waves.
For lunch or dinner we often take firewood for a favorite meal of hot dogs roasted over the open fire at French Beach Provincial Park – just 3 kilometers past the Sheringham Point Road. There are fire pits beach side. Ocean access to French Beach is an easy walk just a couple of minutes from the parking lot. Enjoy the beach walk and keep an eye to the ocean for whales and sea otters, and bald eagles perched tree top.
At Kilometer 28 from Sooke is Sand Cut beach. The parking lot is on the left adjacent to the highway. The hike down is about 15 minutes through forest with boardwalks and stairs to the beach.
Past Sand Cut beach parking lot, the highway dips down to the ocean through Jordan River. Cold Shoulder Cafe is a few hundred metres from Jordan River Regional Park just past the bridge. It's on the corner where the highway makes a sharp right turn.
Continuing on Highway 14 to Port Renfrew, the next stop is Juan de Fuca Provincial Park. The park has four main areas: China Beach day use, China Beach Campground, the Juan de Fuca Marine Trail and Botanical Beach. Originally the trail was a lifesaving link from the graveyard of the Pacific that saw many shipwrecks along this coastal area.
China Beach day use and campground is at Kilometer 35 from Sooke. The trail to China Beach starts at the end of the parking lot to the left of the entrance road. Although a bit of steep walk down it's about 15 minutes along a wide and well maintained path to the beach. Enjoy the Sitka spruce, Douglas fir and cedar trees along the trail and when walking the beach watch for seals, sea lions and whales. This park is also a trail head for the Juan De Fuca Marine Trail that extends 47 kilometres to Port Renfrew.
For a stunning panoramic view of the Olympic Mountains in Washington State and Juan de Fuca Strait, take the North Main logging road right across from the entrance to China Beach day use. Proceed carefully up this active logging road for 2.2 kilometers and turn off the main road for about 100 meters. Although narrow there is sufficient space to turn around and return to Highway 14. Enjoy the views high above the water! Return down the logging road and turn right to Port Renfrew.
Continuing along Highway 14 to Port Renfrew at Kilometer 59 from Sooke is the turnoff to Sombrio Beach. This cobbled beach is popular for winter surfing and wilderness camping adjacent to the beach. If visiting during the winter a 4-wheel-drive vehicle might be required but most of the time the access road to the parking lot is accessible by car.
Proceed back to Highway 14, turn left and enjoy the short drive to Port Renfrew. If it's summertime, and the flowers are blooming under the Welcome to Port Renfrew sign, stop as the humming birds may be feeding!!
Continue driving on Highway 14 as it takes you through Port Renfrew to Botanical Beach parking lot.
There is a coastal hiking trail along Botanical Beach that is the terminus of the Juan de Fuca Trail. The trail provides access to rugged beaches with geological rock features, and at low tide there are many rich tidal pools and kelp beds to view marine life. Explore the tidal area and see pools filled with brilliantly colored marine life. But remember to just view the marine life and avoid touching the water in these sensitive ecosystem pools. Sea urchins, barnacles, mussels, anemones and sea cucumbers are just some of the thriving intertidal life. I suggest "Seashore of British Columbia Guide" to identify mammals, fish, anemones, cucumbers, crabs and many other species.
If you want to experience viewing at its best visit Botanical Beach during low tide. I suggest checking the tide table for Port Renfrew. It's best to arrive at the Park at least 1 hour before low tide. The time of the low tide will obviously determine when you have to depart. Please keep in mind when exploring the beaches and pools to be aware of wave activity and increasing water levels should the tide start coming in while you are exploring!!
So take your lunch with you and find a spot on the beach. If you didn't bring a lunch then enjoy some of the food offerings in Renfrew. I like Bridgeman's West Coast Eatery located on the dock at Pacific Gateway Marina. Other activities include kayaking and salt water fishing.
Enjoy the rugged west coast drive.
TIP: If you find this blog interesting why not subscribe to the enewsletter and never miss another story!
Also, check out the Pacific Marine Circle Tour.
For places to camp on Vancouver Island and elsewhere in British Columbia go to Camping & RVing BC Camping Map.
Share your BC travel and camping pictures using hashtag #campinbc, #explorebc, #bcnice, #green
It's always a great day to #campinbc
Discover 8 Camping Experiences in British Columbia This Summer
Once again this summer you're likely looking to escape the city and get outdoors. For those of us who are lucky enough to live in BC, we have an incredible backyard to explore. From remote wilderness experiences, family-friendly campgrounds to luxury glamping, BC offers an array of camping options. Here's a short list of camping options slightly off the beaten path to pitch your tent, park your RV, or claim your cabin.
Untamed Wilderness
One of BC's best kept secrets are the numerous lakes and untamed wilderness near BC's 'Fishing Highway' 24. While fishing is a popular activity, you can also spend time wildlife viewing, swimming, or paddling. Ten-ee-ah Lodge is nestled on the shore of Spout Lake, a 2 hour drive north of Cache Creek and offers stunning scenery and your choice of luxe cabins or waterfront, tree-lined campsites.
A Fishing & Paddling Haven
Head southeast and you'll find family-friendly South Point Resort on Canim Lake, one of the largest lakes in the Cariboo at 23 km long. Go swimming or fishing just steps from your lakeside campsite or cabin. Explore the shoreline and rent a pontoon boat, stand up paddle boards, or kayaks for a day.
If you haven't had your fishing fix yet, head east along Canim Lake Road to Mahood Lake Campground, another family-friendly camping spot in Wells Gray Provincial Park. Hike to three spectacular waterfalls or spend the afternoon paddling or swimming nearby.
Rugged Fraser River Canyon
The scenery from this Lillooet campground is unrivalled. Fraser Cove Campground & Guest Cabin is tucked on the shores of the mighty Fraser River and offers a unique opportunity for riverfront camping. Go fishing or rent an e-bike to explore the trails. Take in the views as you walk or bike over the nearby historic suspension bridge or visit Fort Berens Estate Winery just down the road. Bring your tent, RV or plan to stay in the charming cabin overlooking the Fraser River.
BC's Mining History
If you're interested in BC's mining history, visit Gold Panner Campground located 50 minutes east of Vernon in the forested foothills of the Monashee Mountains. Founded on a Chinese heritage mining operation, pan for gold, explore the hiking trails, and immerse yourself in history. Campers with tents and RV's are welcome, and modern chalets and rustic cabins are also available.
Further south through the Monashee Mountains, go hiking and mountain biking in the historic mining town of Trail, BC. Take in the views of the river from the Columbia River Skywalk suspension bridge or go swimming at Gyro Park. Bring your tent or RV and plan to camp at the City of Trail RV Park where tree lined sites provide shade and privacy and kids can play at the playground.
Seaside Adventures & Riverside Cottages
For seaside adventures, head north up the Sunshine Coast past Powell River to Lund, the northernmost town on Highway 101. This small marine village is the jumping off point for boaters headed to Desolation Sound or nearby islands. Bring your RV or reserve a cabin at SunLund By-The-Sea Resort & RV Park surrounded by trees and steps from the ocean. Walk tree-lined footpaths to restaurants, groceries, and Lund Harbour where you can rent kayaks, charter fishing boats, or go sightseeing.
Mountain Lake & Rainforest
Tucked deep in the rainforest and mountains on Vancouver Island, Snow Creek Recreation Site Campground is a 3.5 hour drive from Victoria, west of Port Alberni. The campground has 27 campsites and is on the shores of Sprout Lake. There is a small boat launch and it offers excellent fishing and a tranquil setting for camping. Access is via a forest service road and 4×4 vehicles are recommended. Please pack out what you pack in and be respectful of wildlife. Reserve your campsite ahead of time to guarantee your spot.
Wherever you decide to camp, be safe and have fun. For more camping trip ideas and locations visit https://www.campingrvbc.com/.
"It's always a great day to #CampinBC"
Exploring British Columbia's Recreation Sites and Trails: Lundbom Lake
Sometimes, the weather can be tough in the lower mainland of British Columbia. Rain and overcast skies can put a serious damper on our motivation to get out of the house and into the great outdoors. Last spring, we put the dreary weather behind us and headed to the Nicola Valley to explore Lundbom Lake, one of BC's fabulous Recreation Sites.
After doing some preliminary research at home, we discovered that Lundbom Lake, less than half an hour from Merritt, offered a huge range of outdoor activity opportunities including fishing, horseback riding, mountain biking, and ATVing. Without a second thought, we loaded up our dog, our tent trailer, and our mountain bikes and headed for the much sunnier weather of BC's interior for a weekend getaway.
Accessing Lundbom Lake is quite simple. From Merritt, take Highway 5A/97C (the Okanagan Connector) then turn off on Lundbom Lake Road – a well maintained gravel road. Upon leaving the highway, you first pass the Laurie Guichon Grasslands Interpretive Area. This is a really neat area with interpretive signage, a short trail, a viewing platform, and a wildlife tree. It makes for an interesting and informative stop to learn about grasslands ecology and local history.
Next the road passes Marquart Lake, the first option for camping. Marquart Lake is interesting because the water level has been rapidly decreasing and you can clearly see where the lake used to be. Marquart Lake has both tenting and RV sites, but we chose to carry on to Lundbom Lake, another 5-10 minutes down the road.
As you crest the hill and begin the descent towards Lundbom Lake, you first come to the Lundbom Lake West campground. This site offers quite a few campsites, as well as horse corrals. As we are not horseback riders, we chose to keep going on the road around Lundbom Lake until we came to the Lundbom Lake East campground. Here we found our perfect campsite: sunny, only feet from the lake, and level – which made it easy to set up our tent trailer!
After establishing our campsite, we had a great evening of board games, a campfire, and simply enjoying the beautiful weather. We were visited by the site operator who collected our camping fees (a very reasonable $12 per night) and gave us some tips on mountain biking in the area.
The next morning we unloaded our bikes, met up with family, and headed for the Lundbom/Tent Mountain Bike Trail. The trail, a 12-kilometer route managed by the Merritt Mountain Bike Association, is a fantastic beginner to intermediate ride leaving right from the campground. The trail has rolling hills, making it ideal for beginner mountain bikers like me who are nervous about the steep downhill sections of some mountain biking trails! The route follows old access roads and horse trails and is a great mix of open grasslands and treed areas which would provide welcome relief from the hot sun during the summer months.
As always when camping, it is important to remember that we are heading into areas where wildlife is present. On our bike ride, we saw a bear out enjoying the sunshine. Fortunately, the bear had very little interest in us and headed the other way as soon as it heard us coming, but it is always important to be Bear Aware  when heading into the wilderness.
After our ride we returned to the campground where we had a great conversation with a woman who was out for a day of fishing. She told us that Lundbom Lake has amazing fishing opportunities and even gave us a hint as to the "secret spot" to catch the biggest fish!
Our weekend at Lundbom Lake gave us a break from the dreary lower mainland weather and the opportunity to easily (and inexpensively) access the outdoors. We will definitely be back as our weekend away only scratched at the surface of the many things to do at this BC Recreation Site.
For a range of camping opportunities in British Columbia visit Where to Camp and share your BC camping and travel photos on #CampinBC.
First published November 2017 and updated September 2019.
5 Fun Family Adventures Near Wasa Lake in the East Kootenays, BC
Wasa Lake is the warmest lake in the Kootenays and is a popular summer camping destination. This Provincial campground has 104 sites (66 of them are reservable), an amphitheatre for parks talks, nature trail, kids (or adventurous adults) bike park, as well as washrooms with flush toilets and showers. Wasa Lake itself is a short walk or bike ride through the campground and has sandy beaches, a playground, boat launch and grassy picnic areas.
Although the weather was warm when we visited it wasn't hot, sunny beach weather, so we opted to explore the local area and discovered some amazing places to visit just a short drive away.
Here are five fun things to do in the area.
Explore Wasa Lake Provincial Park
We spent the better part of a day just exploring our surroundings, especially enjoying the small bike park located within the campground. It's perfect for younger riders with small jumps, obstacles like planks, bridges, rocks, and small ravines to challenge their skills.  Also, be sure to check BC Parks website for contests and things to do. You can also download a pamphlet for Jerry's Nature Quest which includes some fun games to do in the park.
Visit Fort Steele
Fort Steele is a heritage town located about 20 minutes drive from Wasa. The town has heritage houses and businesses to explore, gold panning, a bakery, an ice cream parlour and a few restaurants as well. We spent several hours exploring the town and had a great time. Be sure to take a ride on the steam train if you go – it's a fun way to step back in time.
Visit Cranbrook
Cranbrook is home of the Canadian Museum of Rail Travel. At one time this town was the major train hub for the area and is now home to a unique rail museum with restored train cars to wander through and explore. Cranbrook is the closest city to Wasa to restock your supplies and is one of the Kootenays major centres so you'll find several large grocery and hardware stores, shopping in the mall as well as in the downtown core. It's a great place to explore on days when the weather just isn't on your side!
Hit a Hot Springs (or two)
Fairmont Hot Springs, Radium Hot Springs and Lussier Hot Springs are all close by. Fairmont and Radium are developed hot springs with several pools, change rooms, places to eat and lots of parking. They are both great options for the whole family with Fairmont being the closer of the two at just a short 45-minute drive away. Lussier Hot Springs is a natural hot springs, so you'll have to park and hike in – no services, change rooms are available, it's definitely for the more adventurous campers!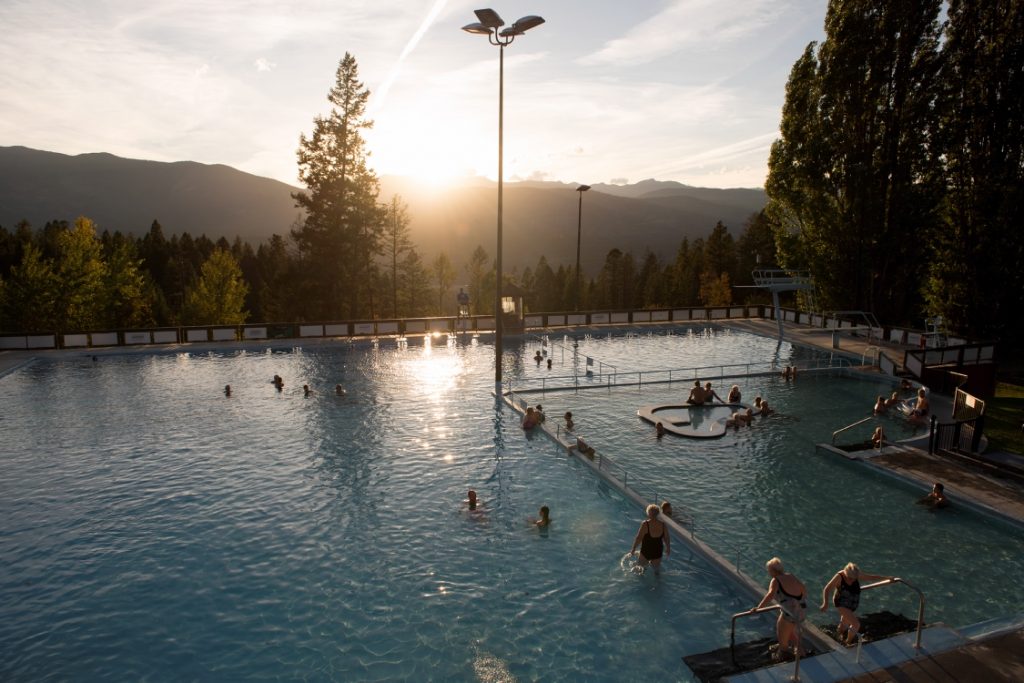 Bike One of the Loop Trails
Take one of the Loop bike trails and explore a bit more of the Wasa area. There are two bike loops to get you out of the campsite and exploring the area. The first: Wasa Lake Lions way, is a shorter loop that is a good walking trail as well, although at 8 km you'll need to be sure you have good walking shoes on and water for the walk. It's a paved flat trail, great for the whole family as even very young riders can manage this one. The second loop is the Lazy Loop bike path, and don't get confused by the name…the path isn't lazy – that's the name of the lake the path takes you to. This route is 33 km round-trip and takes you up into the mountains to get there!
We had a great time at Wasa Lake Provincial Park and exploring the East Kootenays. We're looking forward to a return visit next year.
To locate other campgrounds in this area or elsewhere in British Columbia go to the Camping Map.
Share your BC camping and travel photos using hashtag #campinbc
Save
Save
Save
Tofino, BC – A Bucket List Trip
When planning a trip to a place as unique as Tofino on Vancouver Island's Pacific Rim, be prepared to get busy and enjoy everything it has to offer. With only 4 days and 7 of us in our group, we had a jam packed but amazing visit. Relive our stay in one of the most beautiful places you'll ever see.
Day 1 – Travel and Arrival
After a scenic ferry ride from the Vancouver mainland we took a pit stop in Nanaimo, then hit the road for the 3.5-hour trek to Tofino. If you haven't done the drive before, the beaches of Parksville, goats on the roof at Coombs, Cameron Lake and Cathedral Grove are all worth while stops along the way. Our first stop in the Tofino area however was Long Beach. And they weren't kidding – it's huge! The tide was out, the breeze was blowing and all we could think about was flying kites. The kids could run while we took in the view, felt the sand between our toes and then dipped those toes in the Pacific Ocean. Ahhhhh… any stress washes away and you can't help but feel inspired with the beauty.
We carried on to check-in at our campsite, Crystal Cove Beach Resort. It was a top-notch resort and campground with everything you could need to make you feel at home. Check out their website to see for yourself! We also had firewood delivered to our site each day and we were permitted to have fires on the beach.
Crystal Cove connects right on to MacKenzie beach, which is a premiere location for taking in a sunset. You feel as if you're on the edge of the earth as the sun sinks below the horizon. This became our nightly routine.
Day 2 – Divide and Conquer
The boys were out early to the dock for a chartered salmon fishing excursion. An experience like none-other, they caught Chinook and Coho and created memories that our 7-year-old son will remember for a lifetime.
The girls explored the downtown shopping and walked to the Tonquin Beach trailhead. This well-maintained, easy trail took us down to a secluded beach. The tide was out just enough to spot a bright orange starfish and of course draw pictures in the sand.
Once the group was back together, we knew we wanted to visit the Eagle Aerie Gallery of local artist (and our friend!) Roy Henry Vickers.
Our day capped off with sunset family photos at Middle Beach with local photographer Danielle of Rooted By Love Photography.
Day 3 – Touch Pools and Surfs Up!
We had heard such great things about the Ucluelet Aquarium so off we went! Did you know everything in the aquarium is from the local bays and is Canada's first catch and release aquarium? Lucky for us, one of the knowledgeable staff offered to guide us through all the touch tanks and tell us about each of the amazing creatures – very cool!
Now for my absolute highlight of our Tofino adventure… surfing lessons! We arranged a private lesson for 5 of us (3 adults and 2 kids) through Tofino Surf School at Cox Bay. After an intro and some dry land training we hit the waves. I have to say, wetsuits are an amazing thing. Not only do you not feel cold at all, but they are extremely buoyant. Surfing is hard, but it is so much fun. There is a reason Tofino is known around the world as a surf town and it's certainly worth taking the plunge to give it a go.
Day 4 – The Final Countdown
We were pulling out that afternoon but still had some attractions to cross off our list. We're a golfing family, so our first stop was the Long Beach Golf Course for a quick round of mini golf. Every one of us managed to rack up a hole in one! To celebrate, we had lunch at the famous Tacofino food truck followed by ice cream at Chocolate Tofino.
A true hidden gem is the Tofino Botanical Garden and a perfect final stop to walk off lunch. We spent way longer here than we anticipated and thoroughly enjoyed the walk through the rain forest and along the shoreline. The kids especially loved the Children's Garden where "adults must be supervised".
This was a bucket list trip for me and it did not disappoint! The area is so beautiful and unique, it's no wonder that people travel from around the world to visit this tiny surf town.
If this area interest you, check out our drive:
From Coast to Coast on Vancouver Island: Vancouver to Tofino
TIP: If you find this blog interesting why not subscribe to the enewsletter and never miss another story!
For more campgrounds in Tofino and other areas of British Columbia check out the Camping Map.
Share your BC travel and camping photos using hashtag #campinbc.
A Slice of the Mediterranean in the Heart of Vancouver Island, BC
Did you know the Cowichan Valley has one of the warmest annual temperature averages in all of Canada? It's comparable to the Mediterranean, but right in our own backyard! You'll find lush scenery, beautiful views and a plethora of activities for a family friendly camping trip. We visited the Cowichan Valley late in August and camped 3 nights in Lake Cowichan at Lakeview Park Campground. The campground had private beach access but as new visitors to the valley, we were ready to explore!
Chemainus
After travelling across from the BC mainland on BC Ferries through Nanaimo, we ventured south towards the Cowichan Valley. A must stop along the way is Chemainus. Follow the signs for easy RV parking and get your walking shoes ready. The downtown is easily set up for mural enthusiasts with foot prints leading a tour through over 40 murals (and sculptures too!). As a bonus, be sure to check out the Chemainus Candle Company down on Maple Lane for amazing beeswax products as well as the Christmas store downtown. We didn't plan on buying Christmas ornaments in August – but we did, twice!
Duncan
The Farmer's Market is listed on all the Top Things To Do in Duncan lists, so we had to check it out for ourselves. It did not disappoint! After hitting a local coffee shop, we strolled the numerous vendors through the market, took in the performances and even bumped into Batman and Spiderman. The market truly has something for everyone. We picked up the most amazing farm bread, fresh veggies for dinner that night and the kids picked out a heaping serving of frozen yogurt – a win for everyone! As a hockey family, we also had to see the largest hockey stick and puck in the world. They even mark the perfect place to stand to capture the best "raising the stick" photo.
Lake Cowichan
The Lakeview Park Campground was just a few minutes from the shops and amenities of Lake Cowichan. After dinner one evening we parked at the visitor's centre and made the short walk to the Trans Canada Trail. Even just a simple walk surrounded by huge maples and crossing the Cowichan River was captivating. The lake itself is stunning and perfect for swimming and boating.
Port Renfrew
On a whim we opted for the 1-hour road trip to Port Renfrew to visit Botanical Beach. While the drive is pretty curvy, the scenery is beautiful and the destination is more than worth the wait. After a 1km walk or so down to the beach, you are greeted with an amazing view of the Pacific Ocean. Witnessing the waves crashing on the rocks is an experience like none other. The beach itself is pebbly, but the rocky shelves are home to so many tide pools. We saw anemones, urchins, crabs and starfish, just to name a few.
Our visit to the Cowichan Valley was better than we could have expected. We only scratched the surface of activities available and could have easily extended our visit. Not only would we recommend this destination, but we will be sure to visit again.
TIP: If you find this blog interesting why not subscribe to the enewsletter and never miss another story!
If this area interest you, check out our drives:
From Coast to Coast on Vancouver Island: Vancouver to Tofino
Salish Sea Route
To locate campgrounds in the Cowichan Valley, on Vancouver Island or elsewhere in British Columbia check out the Camping Map.
Share your BC travel and camping photos using #campinbc
It's always a great day to #campinbc
Coast Along British Columbia's Famed Fishing Highway 24 in the Cariboo
While travelling east-west between the Southern Cariboo's 100 Mile House (above the Fraser Plateau) and the town of Little Fort in BC's Thompson River Valley, you'll find the historic Highway 24 – also known as BC's Fishing Highway.
Only 97 kilometres in length (60 miles), this short yet incredibly scenic route offers quite a few places to relax, rest up and eat – along with plenty to do, see and experience – along the way. (More than fishing – think boating, swimming, wildlife viewing and more.)
Though paved and modern, what's interesting is that the route for Highway 24 (or Fishing Highway) has remained essentially the same since gold seekers and fur traders used it so many centuries ago.
After the gold discovery in the Northern Cariboo region and the gold rush of the 1800s that soon followed, the area's wilderness trails became important roads that led to the northern gold fields for thousands upon thousands of gold seekers. Along these routes, a myriad of roadhouses sprang up offering stopover points to these weary travellers. As well, the water from the area's hundreds of local lakes and connecting streams throughout these forested areas created a natural and rewarding setting for cattle ranching.
Today, the area supports key BC industries that include logging, ranching and tourism and several of the early roadhouses have been restored and are now used as recreational buildings and/or resorts.
This picturesque Highway 24 also follows a trail originally used by the Shuswap people as a trading route, and then later developed – in the early 19th century – by the Hudson's Bay Company to bring furs from the northern BC region to Fort Kamloops and the Columbia River. In fact, sections of the Hudson's Bay Fur Brigade Trail can still be seen towards the highway's eastern end, which has been aptly preserved and named as a "heritage trail."
Though named the "Fishing Highway," this route offers seemingly endless wilderness with boundless outdoor opportunities such as bird watching, boating and canoeing, hiking, horseback riding, mountain biking, swimming and other activities. (During winter, there's also snowmobiling and snowshoeing.)
You'll find this idyllic route dotted with beautiful lakes boasting picnicking areas (and bathrooms), along with cafes/restaurants, shops and places to rest up and stay for the night.
Indeed, along this relatively expanse of highway, you'll find nearly a dozen lakes dotting the scenery – with each offering opportunities to discover and explore the area, including Bridge Lake Provincial Park, Crystal Lake Recreation Site, Deka Lake (known for its sizable lake trout and rainbow trout), Eagan Lake, the peaceful and wilderness surrounded Fawn Lake (also known for its rainbow trout at certain times of the year), the five-kilometre long Hathaway Lake, the scenic Horse Lake offering views of rolling hills and vibrant colours in the fall season, Interlakes, the forested Lac Des Roches (which includes many little islands), Sheridan Lake (known for its crystal-clear water and abundant rainbow trout) and Sulphurous Lake (featuring a rocky shoreline and surrounded by low mountains).
Many of the above lakes also boast an array of other activities (along with fishing) and overnight accommodations that range from rustic cabins and RV parking to charming bed & breakfast spots, camping, upscale resorts.
Interested in learning more? Check out this YouTube clip of the Fishing Highway in action and click here for more information on this popular route.
TIP: If you find this blog interesting why not subscribe to the enewsletter and never miss another story!
If the Fishing Highway interests you, check our suggested drives:
Following the BC Gold Rush Trail through the Cariboo & Beyond
Canadian Rockies, Cowboy Country to Coast Mountains
For campgrounds in this area and elsewhere in British Columbia go to the Camping Map.
Share your BC travel and camping photos using hashtag #campinbc, #explorebc
Save
Save
Save
Save
Tips to Prepare Your RV for Winter Camping in BC
Imagine waking up surrounded by glistening snow, where the outdoors beckons you to do some cross-country skiing, snowshoeing, maybe ice-fishing, or just a walk in a stunning winter wonderland. Kids can build snowmen, make snow angels and toboggan. And where a cup of hot chocolate never tasted so good.
Just because winter is approaching doesn't mean that you have to take a hiatus from camping in British Columbia. For instance, did you know that there are some 150 campgrounds including a few BC Parks sites and select private campgrounds/RV parks open year-round? You just have to prepare for your camping trips so you keep warm and cozy and that your RV is prepared for winter conditions.
A friend and newbie to winter camping told me last year, "If only we had known how amazing RVing in the winter is, we would have taken this trip a long time ago! The first morning we woke up to the soft sound of snow tinkling on the roof of the RV. Our bed was toasty as we sank deeper into the flannel sheets, and stared out the window to a winter wonderland. It was breathtaking."
Does that make it sound like fun?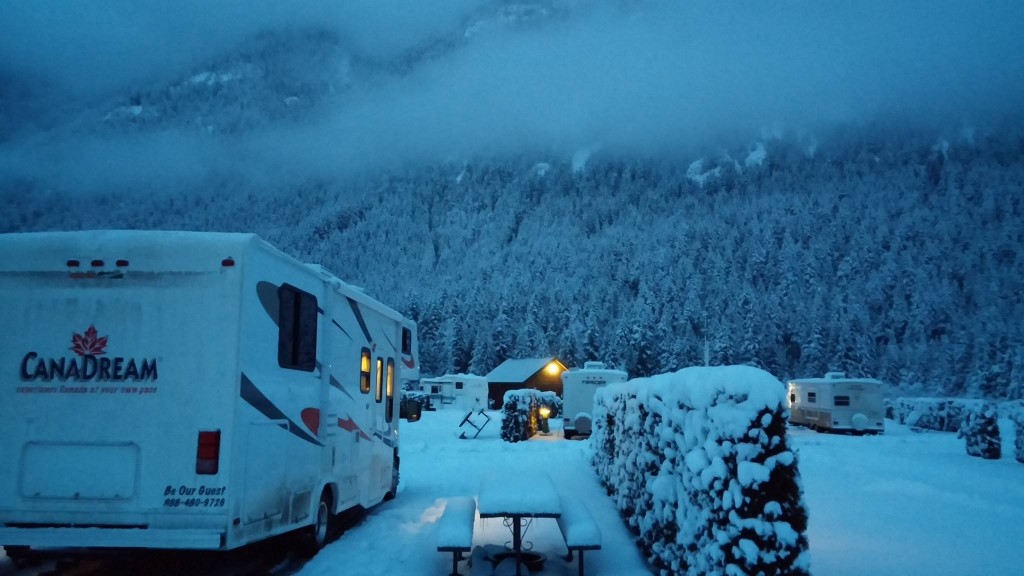 So here are some tips to help keep you safe and sound.
You do need to ensure that your pipes and holding tanks will not freeze. This is what Canadream RV Rentals had to say about winterizing the RV.
There are two types of RV you can use in the winter – winterized (no water with all pipes and holding tanks drained) and a winter unit (allows for water usage). If you are going to a destination with electricity hook-up, you can use a winter unit, where an arctic pack will heat exterior tanks so you can have running water. Units also come with a furnace which runs on propane and you will need an electrical heater as well. The temperature inside needs to be kept at a certain level to prevent freezing.
If you are renting an RV in the winter for the first time read our blog First Time RVing In Winter – What To Know About Renting An RV.
Go RVing also provides some tips for camping in winter including:
Always have enough bed quilting and winter clothing around so that everyone can easily live through a furnace failure even if stranded by weather for several days.
Park your RV in the sun whenever possible. You'll be amazed at how much a good winter sun can heat up your RV.
Park your RV on support boards. These boards will prevent your RV tires from "sinking" when the ground thaws.
If electricity is not a problem, use electric blankets at night to save on propane. Also, using a small space heater will also save on propane and wear and tear of the furnace.
Make sure you insulate your hose and use heat tape that can be crossed over itself, as this will provide the most efficient seal. (Note: you can also buy a heated hose.)
If you have a motorized RV, check your batteries for water level and periodically start your engine to keep everything in good running order.
To keep your RV battery charged, consider getting a solar panel system or an inverter
Now that you're all set to experience winter camping this year, here are some blogs and ideas for keeping you camping throughout the fall and winter.
5 Spots to Ice Fish and Camp this Winter in British Columbia
First Time RVing in Winter – What to Know about Renting an RV
Winter RV Adventure for Camping Newbies at Sunshine Valley & Manning Park, BC
Vancouver Island, BC Off-Season Adventures
5 Ways to Enjoy Winter in Wine Country, Okanagan, British Columbia
Go to our Winter Camping Map to find out where you can camp in the winter.
TIP: If you find this blog interesting why not subscribe to the enewsletter and never miss another story!
Post your BC travel and camping photos using the hashtag #CampinBC
It's always a great day to #CampinBC
Golden Ears Provincial Park has Lots of Camping Options
Out for one last trip with my camping buddies and every year we choose Golden Ears Provincial Park as our end of "summer" camping trip not just because it's close to home for the group, but it's also quiet and serene. If you just sit with your eyes closed you will hear the birds – chickadees, robins and the occasional raven as well as see some sweet little Chipmunks.
We have stayed in Alouette and Gold Creek campgrounds numerous times over the years. Golden Ears is one of the busiest Provincial Parks run by BC Parks and it is less than a two hour drive from downtown Vancouver (approximately 48 kms). Golden Ears is located 18 kilometres north of Maple Ridge and covers 55,000 hectares. The park was named after the twin peaks which are referred to as "Golden Ears".
There are three main campgrounds as well as a walk-in Campground at Alder Flats on the West Canyon Trail. There is a sanidump for the RVers and don't worry if you don't have the coins – you can pay at the ticket booth. There is a boat launch, a highly popular day use area that has canoe rentals. The lake has a roped off area for swimming and water fun and is large enough for water skiing.
Alouette Campground – the largest campground has 205 back in well treed campsites, a great playground for the children and also has lighted flush washrooms with showers as well as pit toilets strategically placed throughout the campsite. Its main camping season runs from the middle of June to the beginning of September.
To go to North Beach Campground you will need to check in at the ticket booth and they will give you directions to get to this little unknown part of paradise that has 54 campsites including some great pull-through campsites that are great for RVs, but be forewarned, there is no running water and pit toilets are the only washrooms available, so this could mean a short drive down to one of the other two campgrounds that have water taps. It does operate from the middle of June to the beginning of September. Gold Creek Campground which has 149 sites that can accommodate tents, tent trailers, travel trailers and I've seen a few big rigs and it operates from March to the beginning of October and also has winter camping starting the first week of October which runs until the end of March. There are also two group sites available year-round that can accommodate 15-30 people.
Are you wanting to get in touch with nature? There are quite a few trails around with different levels from beginner to novice. You have to check the posted signs because not all trails allow bicycles and are meant for foot traffic only. Some of the trails are Menzies Trail, East Canyon and West Canyon as well as a switchback trail and the Eric Dunning Trail. The ticket booth has a great Trail map for purchase. There's also a lower and upper falls trail. And if you get really adventurous, there's even horse trails. Now that's not all, there's a store on site that carries the basics, so if you forget something it's right there for you. But remember it is only open during the summer months.
For more info on the park visit Golden Ears Park.
For places to camp in British Columbia go to Camping & RVing BC Camping Map.
Post your BC travel and camping photos using the hashtag #CampinBC
5 Unique Locations to Explore in Nanaimo, BC
Many people pass through Nanaimo while on route to various other Vancouver Island destinations. In doing so, some of the most fascinating and unique locations are missed.
Here are five great reasons to make Nanaimo one of the top places to explore.
This small Provincial Park offers a glimpse into the early mining history of Nanaimo. In 1912 there was a working coal mine at this very location. What's left is the last remaining coal tipple on Vancouver Island.
Secured behind a chain link fence, the large structure is visible right from the parking area. There is also a short trail that circumvents the artifact.
This Provincial Park is located just south of the Duke Point ferry terminal. Heading south on Highway #1 (towards Ladysmith), turn right onto Morden Road, and follow to the end.
The Arboretum
The H.R. MacMillan Grant Ainscough Arboretum is an unofficial park owned by the Regional District of Nanaimo (RDN). The site used to attract university groups from across the province, who studied the behaviour and growth of exotic trees. What's left is 150 species of trees that are now maintained and monitored by volunteers, as well as the RDN. Visitors to the area will be delighted with the plaques and interpretive signs giving details of each trees origin.
The Arboretum is also located near the Duke Point ferry terminal. From the Duke Point Highway, follow the signs as if you are heading to Jack Point & Biggs Park (off Maughan Road). Turn right onto Phoenix Way, and immediately turn right again. You will see a yellow gate and the sign for the park.
A short 1 km hike through a grove of Douglas Fir trees takes you to a rocky shoreline of sandstone ledges and tidal pools. This area is part of the geological heritage of Vancouver Island and represents ancient sea beds.
The rocky beach offers great opportunities for wildlife viewing. Seals and otters are often found basking on the warm rocks, while Great Blue Heron, Bald Eagles and a variety of seabirds soar overhead.
The park is in Yellow Point, just south of Nanaimo. Take the Cedar Road exit from Hwy 1, and then turn onto Yellow Point Road. Follow signs to the park.
Extension Ridge
The 16-inch-wide earthquake fissure, located on the Extension Ridge trail, is known locally as 'The Abyss'. Although not much is known about this large crack in the earth, there is speculation that it could be a result of a collapsed mine tunnel that was triggered by an earthquake years ago. To date there is no information about how deep the crack really is.
The trailhead is found off Harewood Mines Road in South Nanaimo. There is a small parking area under the power lines, and a large sign to let you know you have arrived at Extension Ridge. Head up the trail (under the power lines) for approximately 100 meters and climb the stairs. Keeping right, continue to follow the trail for approximately 15 minutes to reach the earthquake fissure.
This small South Nanaimo Provincial Park has the most concentrated collection of ancient rock carvings on Vancouver Island.
A clearly marked paved trail will lead you through the park to view the petroglyphs. Information boards and replicas near the beginning of the trail provide details about the history of the area and help decipher the carvings.
The real petroglyphs are scattered around the park, and although hard to see due to being moss covered, finding them is half the fun!
Access this park right off Hwy #1. Watch for signs as you are heading north towards downtown Nanaimo. The park comes up quickly on your righthand side just after Haliburton Street. There is a large parking area at the trailhead.
If this area interests you, check out our drive:
From Coast to Coast on Vancouver Island: Vancouver to Tofino
TIP: If you find this blog interesting why not subscribe to the enewsletter and never miss another story!
For places to camp on Vancouver island and elsewhere in British Columbia go to Camping & RVing BC Camping Map.
Post your BC travel and camping photos using the hashtag #CampinBC
Published: August 16th, 2018