Osoyoos & Oliver, in the Okanagan, British Columbia – Offers Plenty To Do in the Summer
For a unique British Columbia experience, head to Canada's only true desert destination: Osoyoos. Located at the southern end of the Okanagan Valley, Osoyoos averages over 2,039 hours of sunshine every year and temperatures regularly hit the upper 30s in July and August. Fruit and wine abound, making Osoyoos an ideal summertime vacation destination.
To maximize your time in Osoyoos, it is important to take the temperatures into consideration. Start your day early at the Nk'Mip Desert Cultural Centre to learn about the unique ecosystem that makes up the traditional territory of the Osoyoos Indian Band. After taking in the indoor exhibits, head outside (bring water and sunscreen!) and wander through over two kilometres of maintained trails complete with interpretive displays featuring everything from local flora and fauna to a reconstruction of a traditional village. Take the time to complete the upper portion of the loop through the hillside of wild sage and antelope brush – the views are spectacular.
If the heat during your walk at the Cultural Centre gets too much for you to bear, head to Osoyoos Lake which is known for being the warmest freshwater lake in Canada. Sẁiẁs (Haynes Point) Provincial Park is the perfect place to unroll your beach towel for a swim or simply to nap in the sunshine. If walking is more your speed, the park is also home to a lush wetland habitat and an interpretive trail through the marsh will delight birdwatchers of all ages.
Once you have soaked up the sunshine at the beach, head for town and stop for some of the Okanagan's best gelato at Roberto's Gelato. Recommended flavours include Okanagan Apricot, Kulfi (Pistachio & Cardamom), Mango, and Chocolate Hazelnut.
In the afternoon, visit the Rattlesnake Canyon, a mining town themed amusement park complete with mini golf, go-karts, a rock-climbing wall, bumper boat, and the Tornado swing chair, which provides a great elevated view of Osoyoos.
If you are still seeking activity as the day goes on, consider heading to the Osoyoos Oxbows – a unique wetland ecosystem formed in the 1950s when the Okanagan River was straightened. Read about the Oxbows at the outdoor kiosk, and then meander along the trail listening for sounds of diverse migratory and resident birds. If you are really ambitious, bring your bicycle and cycle the 18-kilometre International Bike and Hike Trail heading north which runs parallel to the Okanagan River channel.
A 20 minute drive north is the town of Oliver. Described as the "Wine Capital of Canada" thanks to the more than 35 wineries that surround the town, Oliver is known for it's abundant orchards, spectacular vineyards, and arid climate.
It is hard to speak about Oliver without speaking about wine. I am always particularly taken with wineries with unique attributes, and a few of my favourites are definitely in Oliver. Platinum Bench Estate Winery & Artisan Bread Co. forever has a place in my heart thanks to their pairing of great wine with amazing artisan bread baked on site. For me it is a toss up between their Gorgonzola & Fig and Double Cream Brie & Pear varieties. Delicious.
If a laid back lunch is what you are after, without a doubt you need to visit the Masala Bistro at the Kismet Estate Winery. The location is convenient and the patio, from which you can sample very, very good Indian food, offers gorgeous views over the vineyards. I have to admit, when I was at Kismet there was a long line at the tasting bar so I skipped that part entirely and headed straight for the most perfect samosas I have ever tasted. The wine will have to wait for my next visit, I suppose!
If you have some time to spend in Oliver and you love the outdoors, a hike up McIntyre Bluff does not go amiss. Leaving from Covert Farms – a 650-acre organic farm and vineyard on a plateau north of Oliver – the McIntyre Bluff trail departs right from the wine shop. Parking is well marked and there is a trail log you can sign before you leave. The route heads through the Covert Farms property before starting uphill. The trail has a mostly gradual elevation gain over the next 2.5 kilometres, at which point you arrive at Rattlesnake Lake.
After Rattlesnake Lake, the trail first descends and then ascends more rapidly over the next few kilometres. Eventually the trail levels out and there is a short ridge walk before the view opens up and you are left breathless not from the climb but from the scenery. From the summit, views stretch south over Covert Farms, Oliver, and beyond. To the east, the cliff edge plummets over 850 feet to the valley bottom below. To the north, Vaseux Lake gleams. The entire trip took us about 3.5 hours and is perfectly rounded out with a stop at Covert Farms for wine tasting, a charcuterie board featuring farm-fresh products, and a wander around the property. With a little planning, and plenty of water and sunscreen as the trail is mostly exposed, McIntyre Bluff makes the perfect adventurous addition to any Oliver vacation.
Osoyoos and Oliver are the perfect places to kick back and relax in the sunshine for a couple of days while still offering a variety of activities that will be sure to keep the whole family entertained.
TIP: If you find this blog interesting why not subscribe to the enewsletter and never miss another story!
For places to camp in the South Okanagan and elsewhere in British Columbia go to Camping & RVing BC Camping Map.
Post your BC travel and camping photos using the hashtag #CampinBC
Exploring North Vancouver Island, British Columbia – Sayward to Port McNeill
After years of camping on Vancouver Island, we decided this summer we would head to the north end of the island. The furthest north we had travelled was Campbell River and we really wanted to explore more remote locations.
In 8 days, we travelled north from Campbell River to Port Hardy and west from Port Hardy to Cape Scott Park. We explored communities such as Sayward, Telegraph Cove, Port McNeil, Port Alice and Port Hardy and many smaller communities in between. If you are looking for a camping trip filled with beaches, cooler temperatures, small remote communities and abundant wildlife then keep reading, we found it all.
Our first stop was the Village of Sayward, located about an hour north of Campbell River. Sayward is home to about 350 people with logging being a very prominent industry. Locals describe Sayward as a remote hidden gem that stays green most of the year due to the high amounts of rain. Plan to spend some time at Kelsey Harbour watching the sea lions, kayakers launching their boats and the logging operations in the bay. Western Forest Products operates a dry land log sort; this was something new for me to see the logs being dumped into the bay and the tugboats moving them around. I was surprised to see how the tugboats lean way over in the water without tipping over.
Before leaving Sayward, we made a quick stop at the unique Cable Café which was unfortunately closed at that time, but it is worth having a look at as its outside walls are covered with logging cable.
If you are interested in seeing the Dry Land Log Sort in action check out this video https://www.youtube.com/watch?v=PqkI-C82I1A
Moving north from Sayward, we stopped at the Keta Lake rest stop for a picnic lunch. It was a great shady place to stop with 4-5 picnic tables, outhouses and a couple of trails down to the lake.
Next stop was the community of Woss in the Nimpkish Valley (75km north of Sayward), home to the longest working railway in North America. We visited the Woss 113 Heritage Park celebrating 100 years of railway with interpretive signs describing the history of the town, the link to the logging industry and the railway. Locomotive 113 is on display, which is a steam engine that was built in 1920 in Portland and restored in 1988. The town has cell service, as well as two different types of electric-charging stations.
Next stop and our home for the next four nights was Alder Bay RV Park and Marina. Alder Bay is located just south of Port McNeill, open year-round with over 80 sites which are suitable for big RVs, as well as campervans and tents. Positives about this RV park include the super clean bathrooms, 8-minute showers for only $1 and the beautiful sunsets.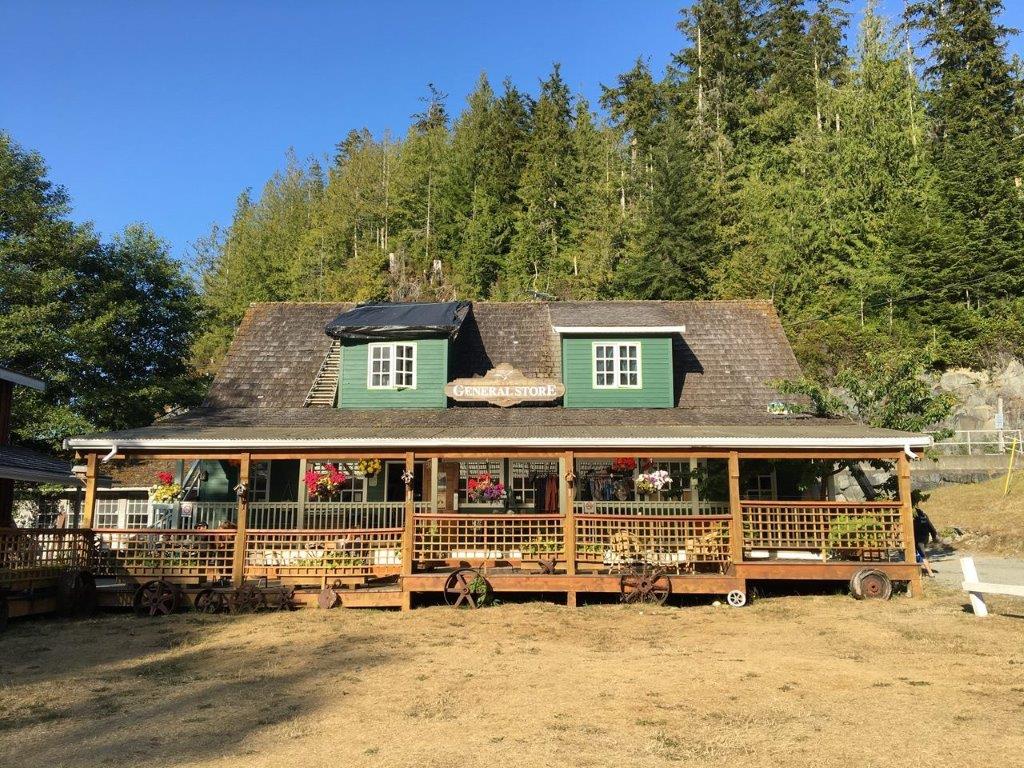 We had four jam-packed days while we stayed at Alder Bay; we spent an evening walking the boardwalk at Telegraph Cove and enjoying the setting sun. It was the perfect time for us to avoid the daytime crowds of tourists and those arriving for whale-watching trips. The General Store (established in 1942) is a welcoming business by the boat launch with all kinds of amenities including local products and wine/beer. Along the boardwalk are many of the original cabins which have been restored and available for vacationers to rent through Telegraph Cove Resort. It was fun to walk along the boardwalk and read the historic stories in front of each of the cabins. The Whale Interpretive Centre is located at the end of the boardwalk, just past the pub and restaurant, a must see for our next visit as it had closed at 6:00 pm.
The next day we headed over to Port Alice, about an hour's drive (paved road) from our campsite. Port Alice was named after Alice Whalen, mother of the four Whalen Brothers who founded the Whalen Pulp and Paper Company which built a pulp mill in Port Alice in 1917. After exploring the town and the 3km Sea Walk along the water we headed inland on the Alice Lake Loop to the Devil's Bath Cenote, Canada's largest cenote (unfortunately, no swimming access) and the Eternal Fountain, a stream with a beautiful waterfall that disappears into an underground cave. Both were accessible by logging roads and have short walks through the forest (pick up a map at the Port Alice Visitor Centre or use Backroad Maps).
After a rest day, we took the ferry from Port McNeill to Alert Bay (Cormorant Island) and Sointula (Malcolm Island). Check out the blogs written about Alert Bay – Island Hopping on Northern Vancouver Island, BC: Port McNeill to Alert Bay and Island Hopping on Northern Vancouver Island, BC: Port McNeill to Sointula.
Highlights at Alert Bay were the indigenous masks and beautiful drums at the U'mista Cultural Centre and at Sointula, the old buildings and the Beautiful Bay Trail at Bere Point Park. A little tip – you can visit both islands on the same day if you let the terminal attendant know, without double the fares!
Overall, an excellent first four days into our North Vancouver Island camping adventure!
For the second half of our trip see Port McNeill & Port Hardy to Coal Harbour & Cape Scott.
TIP: If you find this blog interesting why not subscribe to the enewsletter and never miss another story!
For camping accommodations in this area and elsewhere in British Columbia check out the Camping Map.
Share your BC travel and camping photos using hashtag #campinbc #explorebc.
Bridge Lake Ice Caves in British Columbia's Cariboo: A Cool Place to Visit on a Hot Day
On a recent trip to Bridge Lake Provincial Park (read our blog), we took a day trip to a nearby destination we had read about that seemed too good to be true on a sweltering Cariboo day – the Bridge Lake Ice Caves.
Now, if you are picturing ice caves in the traditional sense, a glistening and icy blue arch, you will be disappointed. But the Bridge Lake Ice Caves have an even more interesting heritage. A Recreation Sites and Trails BC location in partnership with numerous local organizations, the Bridge Lake Ice Caves highlight a unique geological feature of the Bridge Lake shoreline. The annual freeze/thaw process, coupled with ongoing erosion, has created a shoreline full of crevices into which the annual snowfall melts and refreezes into ice. In the bottom of these caves and crevices, the ice remains cold and persists well into the summer, if not year round.
When we visited in mid August, it was plenty hot walking the trails around the rec site, but when we descended towards the ice caves the air became cooler and cooler the further we descended. Several of the crevices we looked in contained nothing more than moist rock walls and cool temperatures, but in two areas in particular we were able to find actual ice.
According to the interpretive signage and the Recreations Sites and Trails BC website, local historians and storytellers have shared that the ice caves were used by both local First Nations and early European settlers to harvest ice to preserve food and to keep cool.
While the ice caves themselves are cool (both literally and figuratively!), the government of BC and local community organizations have done an excellent job of developing a family-friendly rec site in the heart of the Cariboo. The site has several trails named after local wildlife. On our trip we walked the Low Mobility Wolf Trail, the Beaver Trail, the Coyote Trail, and the Owl Trail. The trails are marked with totems, and represent the animal on whose trail you are travelling.
The low mobility Wolf Trail is a 0.5 kilometre, hard packed, low-grade, gravel nature trail leading from the parking lot to two viewing platforms (one of which is wheelchair accessible) overlooking the ice caves and Bridge Lake. Along the trail there are several outdoor workout facilities, including a balance beam to hop over, a push up/pull up station, and a zig-zag balance walk. At the end of the Wolf Trail there is a serious flight of stairs to run up and down for those looking for more cardio. The workout stations along the Wolf Trail are called Otter, Raven, Loon, and Eagle and each is marked with a totem.
From the end of the Wolf Trail we descended the stairs to the Beaver Trail. The Beaver Trail hugs the lakeshore and is a much rougher trail than the Wolf Trail. Next, we headed up the Coyote Trail, which was very steep and rough. This brought us to the ice caves area where we enjoyed the view and explored. To head back to the parking lot, we took the Owl Trail, which was again wide, flat, and hard packed. Along the trail there were excellent viewpoints of Bridge Lake and plenty of benches to take a break if needed.
When I first heard about the ice caves, the picture that popped into my head turned out to be completely inaccurate to what we experienced. In reality, the Bridge Lake Ice Caves recreation site provides an excellent series of walking and hiking trails. There are beautiful views over Bridge Lake and the ice caves themselves are fascinating both geologically and historically.
TIP: If you find this blog interesting why not subscribe to the enewsletter and never miss another story!
For campgrounds in this area and elsewhere in British Columbia check out the Camping Map.
Share your BC travel and camping photos using hashtag #campinbc #explorebc
It's always a great day to #CampInBC
Green Lake Provincial Park in British Columbia's Cariboo is a Great Destination for a Camping Holiday
Green Lake Provincial Park is a series of sites surrounding 14-kilometre long Green Lake in British Columbia's South Cariboo. Of the park's eleven locations, six have facilities for visitors.
The park contains three vehicle accessible campgrounds: Arrowhead, Sunset View, and Emerald Bay. On our most recent trip to Green Lake Provincial Park, we stayed at the Emerald Bay campground, which offers a mix of single and double campsites. We were very fortunate to get one of the waterfront sites, which was lovely as we almost always travel with our kayaks and we were able to keep our kayaks on our own little beach! The 51 sites at Emerald Bay are spacious and generally private, but there are a limited number of waterfront sites, and those that do have direct access to the water often have a steep trail as the access. The Arrowhead campsite, in contrast, contains 16 high-density sites. While you are undeniably close to your neighbours, your site will also be directly on the water with extremely easy access.
The Emerald Bay and Sunset View campgrounds, in addition to two other sites, Blue Spring and Little Arrowhead, all have day use facilities. Emerald Bay and Sunset View have lovely picnic shelters and all sites have picnic tables. These sites are all great options for a day at the beach!
Green Lake is known for its warm, greenish coloured water. Despite only being 14 kilometres long, Green Lake has about 57 kilometres of shoreline. The lake contains numerous small islands and peninsulas, which makes it a perfect destination to explore by kayak. Paddling from the Emerald Bay campground to the Arrowhead Campground is a nice day trip of about 17 kilometres round trip. Along the way, paddlers will pass by the Black Bear and Little Arrowhead sites. Another lovely paddle is from the Emerald Bay campsite across the lake to the Nolan Creek site, then down to the Green Lake Islands site. When paddling on Green Lake, it is important to be prepared for rough conditions, as the lake tends to get very windy in the afternoon. A life jacket is a must and all paddlers should be prepared in case of an unexpected swim.
The area surrounding Green Lake is excellent terrain for cycling and horseback riding. On our trip, we did a guided horseback trail ride at a nearby lodge and guest ranch, which was a great experience for this nervous rider. My dad, on the other hand, prefers to cover his distance in the South Cariboo by bicycle, and enjoys nice long road rides while camped at Green Lake.
Green Lake Provincial Park makes a great basecamp for exploring the region, and a few highlights include nearby Chasm Provincial Park, the Bridge Lake Ice Caves, driving to Lone Butte to see the historic water tower, and checking out the many other lakes in the area, including Bridge Lake .
Visiting Green Lake Provincial Park each summer is a tradition for many families. The park offers perfect beachfront relaxation with excellent recreation opportunities both on and off the water.
TIP: If you find this blog interesting why not subscribe to the enewsletter and never miss another story!
For campgrounds in this area and elsewhere in British Columbia check out the Camping Map.
Share your BC travel and camping photos using hashtag #campinbc #explorebc
It's always a great day to #CampInBC
Summer in Valemount, British Columbia: Where the Mountains Move You
Imagine standing in the middle of a town with a view of three snow-capped mountain ranges. Welcome to Valemount in east-central British Columbia, a village with stand-out summer adventures and activities.
Just over an hour west of Jasper, Alberta, Valemount is in the Robson Valley, situated along and east of Highway 5 (Yellowhead Hwy) and nestled between the Rocky, Monashee and Cariboo mountains (to the east, south and west). It's a municipality with a big heart – and venturesome residents eager to show visitors what their playground is all about.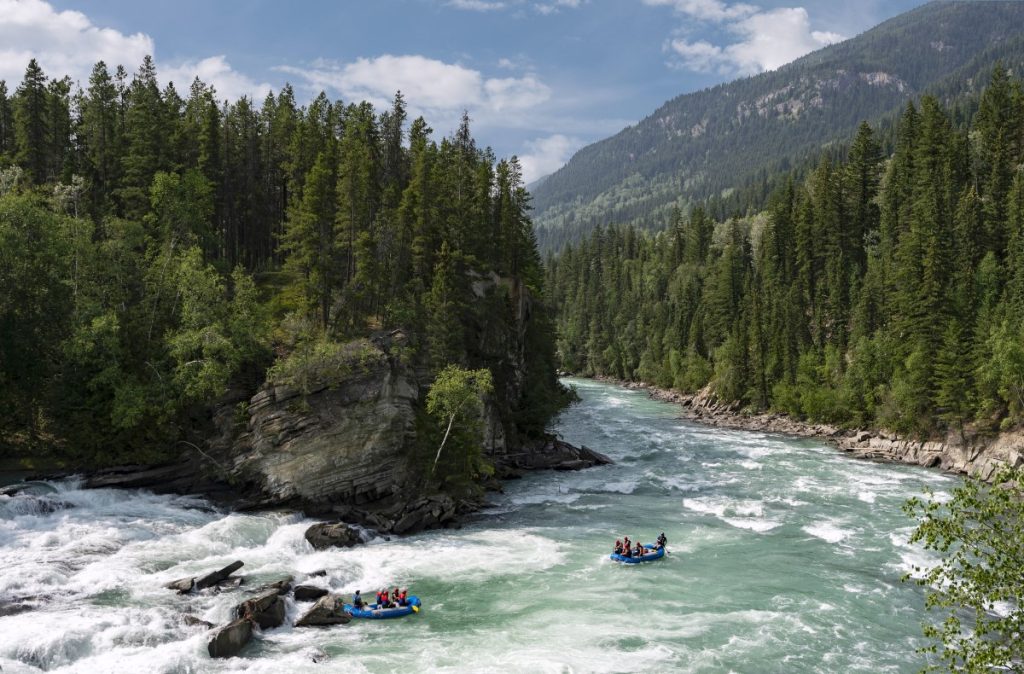 The land that would become Valemount is in the traditional territory of the Secwepemc Nation, Simpcw territory. The name Valemount was coined for the Canadian National Railway station there in 1927, and to this day it has a ViaRail station. It's the nearest community to BC's Mount Robson Provincial Park and its namesake, the highest peak in the Canadian Rockies. Choose from three campgrounds here: Lucerne, Robson River and Robson Meadows. From gentle meadows to alpine lookouts, there are hundreds of kilometres of trails to explore. (Note that the popular Berg Lake Trail will be open this summer to Kinney Lake only.) While in the area make a splash whitewater rafting on Class I to Class V rapids, or paddling or floating along the Fraser River (a clear, beautiful blue/green in this part of the province) or on the long and narrow Kinbasket Lake. Amidst the Rocky and Cariboo mountains it's actually a reservoir created by the construction of the Mica Dam; water levels can vary.
The viewpoint at Rearguard Falls Provincial Park provides an excellent opportunity to witness the end of a long journey for the mighty Chinook, the largest of the Pacific salmon. From the Fraser estuary in the province's lower mainland to this point, the fish travel upstream for over 1,200 km, though not all make it this far. George Hicks Regional Park also has a viewing platform for the salmon as they enter Swift Creek. Spawning season is generally August to September.
For other camping and RV options search via the Camping and RVing BC Coalition's campground webpage; Visit Valemount also has RV and camping information. The Valemount Visitor Centre can be found at 785 Cranberry Lake Rd (summer hours June-Sept, Mon-Fri 8:30 am-4:30 pm).
Mountain biking is a way of life in this part of BC. Be sure to check out the Valemount Bike Park. Minutes from the town core, it's a system of trails ranging from easy cross-country pedals and smooth and flowy downhills to steep and 'rooty' adrenaline-filled singletrack options. Cruise the trail and boardwalk along Cranberry Marsh (the Starratt Wildlife Management Area) where you can stop for birdwatching along the 6-km loop. Should you wish to rent a mountain bike or ebike swing by or call District Bike Co. or Bike & Bites; both shops service bikes too. Hiking trails in Valemount range from easy-medium-challenging; it's best to verify openings with the Visitor Centre before heading out as some trails may be closed for repairs or due to inclement weather. Perhaps you'll see Sasquatch near Mica Mountain (as sighted in 1955!) as you hike the Mica Mine Trail, the same trail where, in the 1890s, horses and mules hauled minerals down the mountain.
Three kilometres south of Valemount is Cedarside Regional Park on Little Cranberry Lake, a swimming spot with a sandy beach where dogs on leashes are welcome. There are toilets, picnic tables and fire pits; camping is not permitted.
Slow the pace down with some horseback riding or try fly, troll or spin cast fishing. Various species of trout fill nearby rivers and lakes (such as Moose and Shere lakes), as do Rocky Mountain whitefish. Valemount Pines Campground boasts a nine-hole golf course and grassy tent and RV campsites with spacious long-level pull-throughs and private back-in sites near a mountain.
Complement your fish dinner with a trip to the Valemount Farmers' Market, which runs every Thursday afternoon from late June to September. Along with regional produce you'll find arts and crafts. For other art options visit Mountain Driftwood Gallery & Gift. Many artisans sell in the area so check with the Visitor Centre for info on pottery, jewelry and antiques and collectibles. The Valemount Museum & Archive is located in an old railway station built in 1914. Learn about local pioneers, historic regional railroad towns and WWII Japanese internment camps. There are community events and summer festivals in and around Valemount such as the Annual Valemountain Days (June 9-11 this year), the annual Bike Fest (June 17) and Canada Day celebrations (July 1). Robson Valley Music Festival in the farming community of Dunster, 60km to the northeast, takes place on August 11-13.
Restaurant options include the Summit Grill and Cranberry Lounge in the Best Western Plus hotel and Cariboo Grill with fine comfort fare and an ample wine list in a cabin-like setting. The Gathering Tree specializes in breakfast and lunch and Valemount Swiss Bakery is known for its scrumptious sourdough breads. Get your mojo fix at Vale Coffee, a small batch roastery and takeaway café and if you're craving a pint head to Three Ranges Brewing Company for craft-brewed beer in their cozy tasting room or on the patio. The establishment is part of the BC Ale Trail, which lists over 220 craft breweries.
Whatever the outing or adrenaline rush – whether strolling past mountain wildflowers or chuting down rapids – summer in Valemount is bound to please all nature lovers.
For more information on Valemount go to the website at www.visitvalemount.ca, check out the Facebook and Instagram pages or if you are already in the area go to the Valemount Visitor Centre at 785 Cranberry Lake Rd, (250) 566-9893 visitorcentre@valemount.ca.
TIP: If you find this blog interesting why not subscribe to the enewsletter and never miss another story!
For campgrounds in this area and elsewhere in British Columbia check out the Camping Map.
Share your BC travel and camping photos using hashtag #campinbc #explorebc
It's always a great day to #CampInBC
Bridge Lake Provincial Park Nestled in the Interlakes Region of British Columbia's Cariboo
When planning a family camping trip for family stretching from Vancouver Island to the far north of BC, we recently settled on meeting in the middle, so to speak, and packed up for a week in the Cariboo.
Bridge Lake is one of many, many lakes in the Interlakes District, a region known for fishing. In fact, Highway 24, stretching from 100 Mile House to Little Fort, is often referred to as the Fishing Highway and Bridge Lake is situated smack dab in the centre.
Bridge Lake Provincial Park is quite large, at just over 400 hectares, and protects undeveloped shoreline and numerous islands within Bridge Lake itself. A small campground is located just three kilometres from the community of Bridge Lake at the south end of the lake. The Bridge Lake Provincial Park campground has 13 vehicle accessible campsites, and 3 "walk in" campsites right along the water, perfect for those willing to walk the extra 50 feet down the wide, well maintained trail.
As we were travelling with our tent trailer, we opted for one of the vehicle accessible campsites and were pleased to find our site to have a nice mix of sun and shade and lots of privacy. There is one set of outhouses in the campground loop, and one additional outhouse near the day use boat launch and walk in tenting area. There is no water available at the campsite as the previous well has been decommissioned, so it is important to plan ahead and either bring the water you need with you or be prepared to buy small bottles at one of the nearby general stores. Cell service was spotty in the campground, but several places in the park, including the boat launch, had improved reception.
Bridge Lake Provincial Park campground is located on a little peninsula that sticks out into Bridge Lake. The peninsula is criss-crossed by trails, and it is easy to walk for a kilometre or two just by following the obvious trail leaving near campsite number three and then exploring the various trails that branch down to the water. Stick to the main path and eventually you will circle back to the boat launch and walk in camping area.
Bridge Lake is an excellent water destination. During our trip we spent lots of time exploring the bay near the boat launch by paddleboard. A short paddle out of the bay brought us to a white buoy marking an unexpected shallow spot where stacked boulders littered the lake bottom making the water in which we were paddling sometimes less than a foot deep. The rocks were a bit slippery, but with caution you can have your very own walking on water moment!
For those looking for a longer paddle, there are plenty of options as well. We explored the south-east portion of the lake's shoreline as an 8 kilometre paddle which included several blue herons, lots of daydreaming about owning one of the many waterfront recreational properties, a stream flowing into the lake, and a number of small islands including one rocky outcrop that I nicknamed Seagull Island for obvious reasons.
In true Cariboo form, our trip was complete with both spectacular sunsets and spectacular thunderstorms.
Throughout the course of our trip, it seems that the campsite had 3 or 4 vehicle accessible spaces that remained empty each night. That being said, the camper turnover was nearly 100%, and we had different campsite neighbours every night of our trip. My impression is that many people used Bridge Lake Provincial Park as a stopping off point between two other destinations, but having spent the better part of a week there, I still feel like we have only scratched the surface of what the region offers and we will certainly be back!
TIP: If you find this blog interesting why not subscribe to the enewsletter and never miss another story!
Check out the blog on the Bridge Lake Ice Caves! There is an excellent series of walking and hiking trails at the Recreation Site as well as beautiful views over Bridge Lake and the ice caves themselves are fascinating both geologically and historically.
For campgrounds in this area and elsewhere in British Columbia check out the Camping Map.
Share your BC travel and camping photos using hashtag #campinbc #explorebc
It's always a great day to #CampInBC
Hiking to French Mine Near Hedley in British Columbia's Okanagan
While recently camped at Stemwinder Provincial Park we were searching for a hike in the region. A quick search on AllTrails brought up the Nickelplate French Mine Loop, a 6.3km circular trail near Hedley BC.
We departed Stemwinder early in the day to avoid the heat as best we could and headed east to Hedley. Hedley is a very small community located between Princeton and Keremeos along Highway 3. Hedley has a rich mining history, and from the highway you can see the remains of the old Mascot Gold Mine stretching up the mountainside. Visiting the Mascot Gold Mine has long been on my bucket list, and thanks to an $800,000 grant from the province as part of a COVID relief program, the mine is slated to reopen to visitors in 2023. In the meantime, however, we thought we would head into the backcountry to explore the French Mine.
To access the French Mine site, head east past Hedley and turn off on the Hedley Nickel Plate Road after about 3 kilometres. The Nickel Plate Road, sometimes called the Corkscrew Road, is aptly named. As we wound our way up the mountainside, we enjoyed spectacular views of the valley below.
Eventually we reached our designated start point and parked our truck and headed out on foot. We chose to hike to the Lower French Mine site first, which turned out to be a beautiful walk along an old road. As it turned out, the access road to the lower French Mine could probably be considered vehicle accessible. However, I was happy we decided to park the truck and walk in as it gave us the opportunity to really enjoy the views.
When we arrived at the Lower French Mine site we spent some time looking at the old mining infrastructure. An old ore chute and a concentrator are on the main level, and a short walk up a trail just past the concentrator takes hikers to an open shaft that heads back into the mountainside. When we visited, I was shocked by the serious wind tunnel effect when I stood in front of the mineshaft as ice-cold air poured out of the tunnel around me.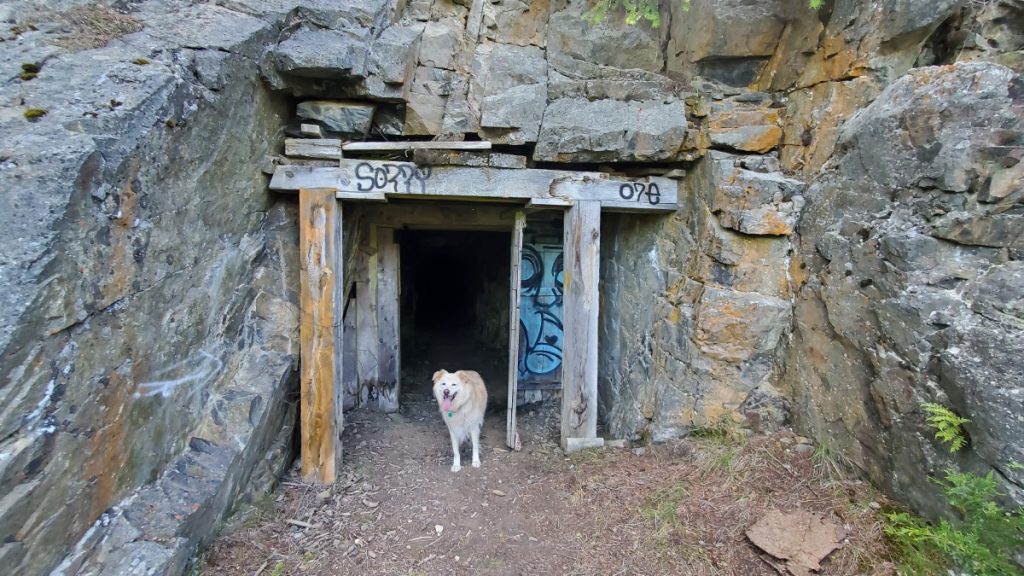 AllTrails indicates that there is a loop hike, and all we needed to do was head uphill and we would come to the Upper French Mine. I 100% do not recommend the scramble between the two mine sites unless you are an experienced scrambler or are part mountain goat. Alas, we did not know this, so as we climbed upwards, I was crossing everything I have that this was the correct trail, and I wouldn't have to turn around and go back the way we had come up.
Fortunately for me, after 20 or so tense moments, we re-emerged on level ground, scooted along a couple narrow ledges, jumped down a small cliff, and arrived at the Upper French Mine Site. As it turns out, this site is also vehicle accessible. Seriously – skip the scramble linking the two sites and from the Lower French Mine, just walk back the way you came then drive up to the Upper French Mine and save yourself the stress!
Anyway, at the Upper French Mine I was amazed to discover a massive network of tunnels and mineshafts in the mountainside. These shafts have a completely different feel than the one at the lower mine site. The main entrance is enormous, and shafts branch off in every direction imaginable. We stayed in the enormous central cavern, but I'm sure people more adventurous and better equipped than us could spend a lot of time exploring the area.
Since we were parked at the bottom and there was no way I was going back the way we arrived, we returned to our vehicle by hiking out the access road to the Upper French Mine, then down a portion of the Hedley Nickel Plate Road. All in all, our hike was around 7km and took about two hours. Both the Lower and Upper portions of French Mine are worth visiting, but as I have emphasized above, I would do it as two separate trips and not try to link them via the scramble described online.
I am always fascinated by the marks humans leave on the landscape and the French Mine area is a perfect example of this, making it a worthwhile daytrip in the Similkameen area.
TIP: If you find this blog interesting why not subscribe to the enewsletter and never miss another story!
For camping accommodations in British Columbia check out the Camping Map.
Share your BC travel and camping photos using hashtag #campinbc, explorebc
It's always a great day to #campinbc
Plan to Visit Marble Canyon Provincial Park in British Columbia's Cariboo Region
The dry interior of the province is one of our favourite camping destinations. Marble Canyon Provincial Park, located along Highway 99 between Cache Creek and Lillooet, fits the bill for everything we like.
The campsite offers 30 high density, first-come-first-serve sites and on a sunny weekend afternoon, it is pretty much guaranteed that the campground will be over capacity between the campers and the day-trippers. As the afternoon wears on, some of the day users will depart, and there is a chance that late arrivals may find a campsite in one of the parking-lot style sites. For those lucky enough to snag one of the premium lakefront sites, the busyness of the park melts away.
The campsite at Marble Canyon Provincial Park is bookended by Crown and Turquoise Lakes. When the water is high, the two lakes merge and visitors can kayak or paddle board between both lakes. A full circumnavigation of the two lakes is about two kilometres. For those looking for a longer paddle, just up the road is Pavilion Lake (watch for the next blog published soon), a gorgeous lake home to extremely rare freshwater microbialites studied by NASA!
One of our favourite things to do when visiting Marble Canyon Provincial Park is to hike to the waterfall on the opposite side of the lake. From the campsite, walk or drive to the north end of Crown Lake. From here, follow the trail along the non-highway side of the lake for about three quarters of a kilometre. The trail skirts along the lakeshore in places and climbs the hillside in others. Before long, visitors will arrive at a beautiful waterfall. In the winter, this waterfall freezes and is hilariously referred to as Icy BC (and a variety of other thematic route names including Body Shop and No Deductible) by ice climbers.
Marble Canyon Provincial Park protects a dramatic landscape of steep limestone cliffs and lovely lakes. It is extremely busy during the summer with campers and day-trippers alike, but it makes an excellent shoulder season destination as well. The first time we ever visited Marble Canyon Provincial Park was the last weekend of September – warm sunny days but certainly below freezing overnight. Our trip was instigated by a desire to climb a few of the many rock-climbing routes in the area. While it has been almost a decade since that climbing trip, Marble Canyon Provincial Park is a place we keep going back to – and keep finding new things to explore when we are there.
If you are looking for widely spaced campsites and a moderate climate, Marble Canyon Provincial Park is probably not the place for you. The campground is undeniably squishy, but for us it works, as when the small beach is busiest, during the heat of the day, we prefer to be on or in the water. During early mornings, late afternoons, and evenings, Marble Canyon Provincial Park can be a peaceful and beautiful destination for a weekend getaway.
TIP: If you find this blog interesting why not subscribe to the enewsletter and never miss another story!
For other camping opportunities in this area and throughout BC go to the Camping Map
Share your BC travel and camping pictures using hashtag #campinbc, #explorebc, #bcnice, #green
It's always a great day to #campinbc
The Final 5 Days in a Rental RV Exploring the Coastal Mountains of BC
Having picked up our RV rental in Delta, BC the first five days of our circle tour took us to Manning Park, Merritt, Kamloops and on our 4th night we stayed at Pinantan Lake Resort north off Hwy 5. This is the rest of our trip.
Day 5: We packed up at Pinantan Lake Resort and drove back the 25 km to Hwy 5 and headed to Sheridan Lake Resort, our final stop in the Cariboo Region. Once we turned on to Hwy 5 we drove 88 km to the Little Fort turn-off onto Hwy 24 and the famous Fishing Hwy. The first thing we saw was a fishing store, Little Fort Fly and Tackle. I recommend going in and taking a browse. There's plenty to see aside from the abundance of fishing tackle. On the way to Sheridan Lake we stopped at a rest area to make lunch. That's the best thing about having your home on wheels with you – the ease of preparing your own on-the-go-meals. Sheridan Lake Resort, at first glance, tells you it's a popular spot with rows of RVs, trailers and camping units, as well as the motel block. Our site was treed and beside some very friendly campers. I find that campers are gregarious and always willing to share stories, advice and help one another.
Jamie and I decided to go for a walk along the lake which was just a few short steps from our campsite. On the way we chatted with a couple of seasoned Sheridan Lakers who frequent the resort as it is close to their home of Vernon, BC. They told us they have to make two trips, one to bring in their Travel Trailer and one for the boat although, they did say that they only have to make the trip with the boat once as the resort offers moorage during the camping season.
The couple let us peek into their modified unit. They had really maximized the storage space. And even though I have been camping for more than 50 years I learned a few tips and tricks.
The next day Jamie went out in a 12 ft Lund boat to take some video and drone footage. Later we walked along the upper fenced area of the property, which was made from hand cut timber that Titus, the co-owner builds. The path was created from all the cedar chips produced by the fence cutting. There were painted rocks, fairies, houses and miniature states all lining this beautiful path that visitors seem to add to each visit. For such a busy park, it is very quiet and well maintained.
Day 7 we took a short journey to Paul Lake, before heading on to our next destination for two days at Fraser Cove Campground in Lillooet, BC. We drove along Hwy 24 to the Hwy 97 turnoff just past Lone Butte passing through the communities of 70 Mile House, Chasm, Clinton, Cache Creek and into Lillooet. Fraser Cove Campground is a very unique, quaint campground and is aimed at the smaller c-class, vans and tenters. It has a switchback that stops larger towing vehicles and motorhomes from gaining access. Peter and Dawn, the operators, are very straightforward with campers about getting you down the hill – a service that is greatly appreciated. Our site was parallel to the Mighty Fraser River with a grassy knoll and a picnic table all under this wonderful weeping willow. Jamie and I walked around the property with Dawn and Peter talking about the area and all the sturgeon that are caught (and released) in this end of the Fraser.
Peter let us use the e-bikes that he has on-site, and we rode across the old (1914) wooden bridge into town, spoke to a local who was on his motorcycle and then we rode (15 minutes) into town. Unfortunately, at the time of our visit, due to Covid 19, a lot of businesses were closed to tourists to help keep their community virus free. However, we went to the local grocery store and purchased a few items for our next stage of the journey. After we were back at the campsite we sat outside listening to the roar of the Fraser and the weeping willow above us swaying in the wind. That was a great sleep.
Day 8 we woke to the sound of the river and because the heat of the morning came early, we got ourselves ready as a friend (who's now a local) was taking us on a hike to Cayoosh Creek Dam, a fairly easy 4 km hike that takes you to a spectacular show at the dam with so much rushing water you can feel the coolness 200 yards away. Back at the campsite, we barbecued dinner and later rode over the main bridge that crosses the river.
Day 9: In the morning we packed up and headed down Hwy 99 to Whistler via scenic Duffy Lake Road, a 132 km trip, with a quick stop at Joffre Lakes to take photos. Our next camping stop was Riverside RV – A Parkbridge Camping & RV Resort. This resort has cabins, RV sites as well as some yurt rentals. Just a short walk from the resort is the renowned Scandinave Spa, as well as a 2 km walk to the Whistler Village itself. Because this was our last destination, and would be returning the vehicle the next day, I used the evening to pack up our personal effects and store them under the table and in the storage compartments outside for ease of transferring once we got back to Fraserway RV Rentals.
Day 10: Two hours and 132 km to go and we arrived at Fraserway RV in Delta. The return was very easy. We pulled up, ran inside to let them know we were back, they did a quick check of the paperwork and just like that, it was the end of a great trip. In summary, we travelled 1,500 km and filled the gas tank 4 times.
Enjoyed this blog? Read the 1st blog of our trip.
TIP: If you find this blog interesting why not subscribe to the enewsletter and never miss another story!
Other blogs and trips of interest in this area include:
Coast Along British Columbia's Famed Fishing Hwy in the Cariboo
Following the BC Gold Rush Trail through the Cariboo & Beyond
For camping in this area and throughout BC go to the Camping Map
Share your BC travel and camping pictures using hashtag #campinbc, #explorebc, #bcnice, #green
It's always a great day to #campinbc
How to Respect and Observe Wildlife and Our Natural Surroundings with the BC Camper's Code
The Camper's Code is a health and safety initiative that has nine simple rules that are easy to follow. When outdoor enthusiasts respect the rules, camping continues to be enjoyable for all and nature remains pristine and animals stay wild. This blog explains: Respect Wildlife, Take Only Photos and Control Your Pets.
Respect Wildlife
Do not approach or feed wild animals
Getting close to and feeding wildlife can be detrimental to animals and birds, their survival, and even to you. Feeding is prohibited in many municipalities and parks in British Columbia and Canada, which means people can be fined.
Approaching wildlife (or allowing wildlife to come near you) causes them to stop being wary of people and can pose grave risks to humans and animals. Be aware that animals and birds can become stressed and/or defensive when humans are too close and can be protective of their young. Avoid noises or actions that might upset them.
Let wildlife forage for their own food and roam without an audience. Feeding wild animals and leaving food out (even accidentally) or not properly disposing of garbage, teaches animals that humans provide food.
Observe from afar
If you wish to observe wildlife responsibly do so with a registered guide or from a safe distance (at least 30 metres for deer, moose and elk and 100 metres away from bears, coyotes, wolves, and cougars).
If you see wildlife beside a road while driving, slow down, stay inside the vehicle (both driver and passengers) and move on. Stopping or pulling over conditions animals into thinking that vehicles are nothing to be afraid of.
For more information, including viewing tips and guidelines, visit: BC Parks Wildlife Safety and Parks Canada Wildlife Watching.
Take Only Photos
Marvel at wildlife with cameras, binoculars and/or telephoto lenses but do not attempt any selfies or take photos of people with large or dangerous wildlife in the background. (A photo with a squirrel or chipmunk in behind—should it stay still enough—is a safer 'photo op'.)
Leave your drone behind. Drones disturb wildlife, disrupting their natural behaviour and risking injury; plus, they're prohibited in many parks. Parks Canada has fines in the thousands of dollars for the use of drones.
Follow the basic rule: If it's not yours, don't take it. Leave natural and cultural objects undisturbed. This includes shells, mushrooms, flowers and even wood; if you transport wood from one campground to the next disease and bug infestations can be transferred.
Control Your Pets
We love our pets, and a lot of people go camping and RVing with them, but they can also contaminate trails, beaches and natural resources, annoy park visitors and negatively impact wildlife.
Keep your pet(s) under control, obey the park or campground's leash length policy and know where they're allowed. Many parks are pet friendly and have off-leash areas so research this ahead of time. Be considerate of other campers and hikers, and other pets. Not all people or dogs, for instance, love all dogs. It's for the safety of your own pets, fellow campers and local wildlife to control your own animal.
When it comes to pet waste, pick it up and pack it out every time. Not doing so is disrespectful to fellow campers and can pose a danger to other domestic animals and the wildlife.
For more information and guidelines on pets in parks visit the web pages Pets in BC Parks and Dogs in Parks Canada Protected Places.
TIP: If you find this blog interesting why not subscribe to the enewsletter and never miss another story!
The Camper's Code is a collaborative campaign started in 2021 by a dozen BC-based organizations who believe deeply in the responsibility of every single person to create a safe, enjoyable, respectful camping experience for all—people, wildlife, and nature.
The Camper's Code is comprised of nine easy-to-follow rules: Respect Wildlife, Take Only Photos, Control Your Pets, Store Food Safely, Don't Litter, Practice Fire Safety and Plan Ahead and Be Prepared, Respect Others, Respect Staff and Signs.
For campgrounds and RV parks in BC go to the BC Camping Map.
Share your BC camping and travel photos using hashtags #CampinBC #explorebc #green #bcnice
It's always a great day to #CampinBC
Published: June 9th, 2022