Exploring North Vancouver Island, British Columbia – Port McNeill & Port Hardy to Coal Harbour & Cape Scott
After a busy first-four days we moved campsites from Alder Bay RV Park and Marina to Cluxewe Resort, located just 15 minutes north of Port McNeill. Cluxewe Resort is centred on the ancestral land of the Kwakiutl First Nation and is indigenous owned and operated by the friendliest helpful staff. This resort is open year-round with lots of camping options (ocean front, full service, no service etc.) and cottages available for rent. We walked for hours on the rocky beach in each direction of the resort, enjoyed beautiful sunsets and watched campers fishing for salmon off the shore.
From our new homebase, we headed over to Coal Harbour (no, not the one in Vancouver). It was a short 30-minute drive from the campsite on paved roads. Coal Harbour is located on Quatsino Sound which provides boat access to communities such as Holberg and Port Alice. It is a busy harbour with float plane and boat traffic.
We took the mail boat over to Quatsino from the dock in Coal Harbour, a small boat-access-only community with a population of only 43. The "mail boat run" delivers mail on Mondays and Thursdays, costs $25pp, and is about a one-hour trip.
After our boat ride to Quatsino, we visited the museum in the Float Plane Hanger by the dock. We learned all about its whaling history; the industry closed in 1967 due to declining stock. It also has a history of being an air force base during World War 2, a mining town (it had a 350 metre deep open-pit copper mine which closed in 1996) and now focusing on logging, tourism and fishing. The museum has a huge 6 metre jawbone of a blue whale, apparently the largest in the world! We also checked out the chain saw display, old engines and a 1917 Ford Model T and a 1928 Ford Model A.
The next morning, at about 10:00 am, we headed off on our day-long trip to Cape Scott Park on the northern tip of the Island. Be prepared for 65km each way on a dusty, bumpy logging road. We have a 4-wheel drive truck which handled the roads well, but also passed a number of low-clearance cars which also seemed to be safely navigating the road. The road was in fairly good condition as much of it had been recently graded; but from what I had read, conditions are constantly changing. There are also lots of warning signs as this is an active logging road, and the logging trucks have the right-of-way. We were incredibly impressed by the accurate signage all the way to the parking lot at Cape Scott Park.
First stop on our trip was the small village of Holberg (population of 35), about 50km along the road. At one time Holberg was a floating logging camp; now, just the remnants of the old wood pilings can be seen on the inlet. A must-stop is the Holberg Pitstop; it is a general store and features lodging. You can stock up on everything from sunscreen to beer and stay overnight in one of the newly-renovated rooms. Next trip we will definitely stay overnight, so we can explore more of the west coast area.
After the "pitstop" we continued on our way to Cape Scott Provincial Park; we were impressed with the road improvement after Holberg (or maybe we were just getting used to the bumps). We arrived at the parking lot around noon with a few spots left and headed off on the trail to San Josef Bay, a 45-minute one-way hike along a well maintained crushed-gravel trail. There are pit toilets at the trail head, as well as, at San Josef Bay. There are also bear caches at the bay and a number of beach-side campsites. We planned ahead so we arrived at low tide, so we could walk from San Josef Bay to Second Beach. It was a gorgeous, sunny day and we loved walking in the shallow surf on the beautiful, soft, sand. Beach features included caves, sea stacks, and wildlife. Other hikers continued along the full 26km Cape Scott Trail.
After our visit to San Josef Bay, we returned to Holberg and the Scarlet Ibis Pub for nachos and a nice, cold drink on the patio overlooking Holberg Inlet. Known for being Vancouver Island's Most Remote Pub, we found the staff incredibly friendly and the food, good. It was great to sit on the patio with the locals and learn more about the area.
Last stop before heading back to our campsite was the car wash just south of Port McNeill to get our dusty truck cleaned up and ready for our last adventure day before heading home.
The next morning, we went to Storey's Beach on Beaver Harbour Road just south of Port Hardy. The tide was out, and we felt like we could walk for miles on the blackish sandy beach. This is a beautiful stretch of sand that I would highly recommend. It is good for kayaking too.
TIP: If you find this blog interesting why not subscribe to the enewsletter and never miss another story!
We spent the rest of the day enjoying the beach and sunset back at Cluxewe Resort and some barbequed salmon from Scarlet Point Seafoods in Port Hardy. A great way to finish off our North Vancouver Island trip!
To read about the first half our trip go to Sayward to Port McNeill.
For camping accommodations in this area and elsewhere in British Columbia check out the Camping Map.
Share your BC travel and camping photos using hashtag #campinbc #explorebc
It's always a great day to #campinbc
Exploring North Vancouver Island, British Columbia – Sayward to Port McNeill
After years of camping on Vancouver Island, we decided this summer we would head to the north end of the island. The furthest north we had travelled was Campbell River and we really wanted to explore more remote locations.
In 8 days, we travelled north from Campbell River to Port Hardy and west from Port Hardy to Cape Scott Park. We explored communities such as Sayward, Telegraph Cove, Port McNeil, Port Alice and Port Hardy and many smaller communities in between. If you are looking for a camping trip filled with beaches, cooler temperatures, small remote communities and abundant wildlife then keep reading, we found it all.
Our first stop was the Village of Sayward, located about an hour north of Campbell River. Sayward is home to about 350 people with logging being a very prominent industry. Locals describe Sayward as a remote hidden gem that stays green most of the year due to the high amounts of rain. Plan to spend some time at Kelsey Harbour watching the sea lions, kayakers launching their boats and the logging operations in the bay. Western Forest Products operates a dry land log sort; this was something new for me to see the logs being dumped into the bay and the tugboats moving them around. I was surprised to see how the tugboats lean way over in the water without tipping over.
Before leaving Sayward, we made a quick stop at the unique Cable Café which was unfortunately closed at that time, but it is worth having a look at as its outside walls are covered with logging cable.
If you are interested in seeing the Dry Land Log Sort in action check out this video https://www.youtube.com/watch?v=PqkI-C82I1A
Moving north from Sayward, we stopped at the Keta Lake rest stop for a picnic lunch. It was a great shady place to stop with 4-5 picnic tables, outhouses and a couple of trails down to the lake.
Next stop was the community of Woss in the Nimpkish Valley (75km north of Sayward), home to the longest working railway in North America. We visited the Woss 113 Heritage Park celebrating 100 years of railway with interpretive signs describing the history of the town, the link to the logging industry and the railway. Locomotive 113 is on display, which is a steam engine that was built in 1920 in Portland and restored in 1988. The town has cell service, as well as two different types of electric-charging stations.
Next stop and our home for the next four nights was Alder Bay RV Park and Marina. Alder Bay is located just south of Port McNeill, open year-round with over 80 sites which are suitable for big RVs, as well as campervans and tents. Positives about this RV park include the super clean bathrooms, 8-minute showers for only $1 and the beautiful sunsets.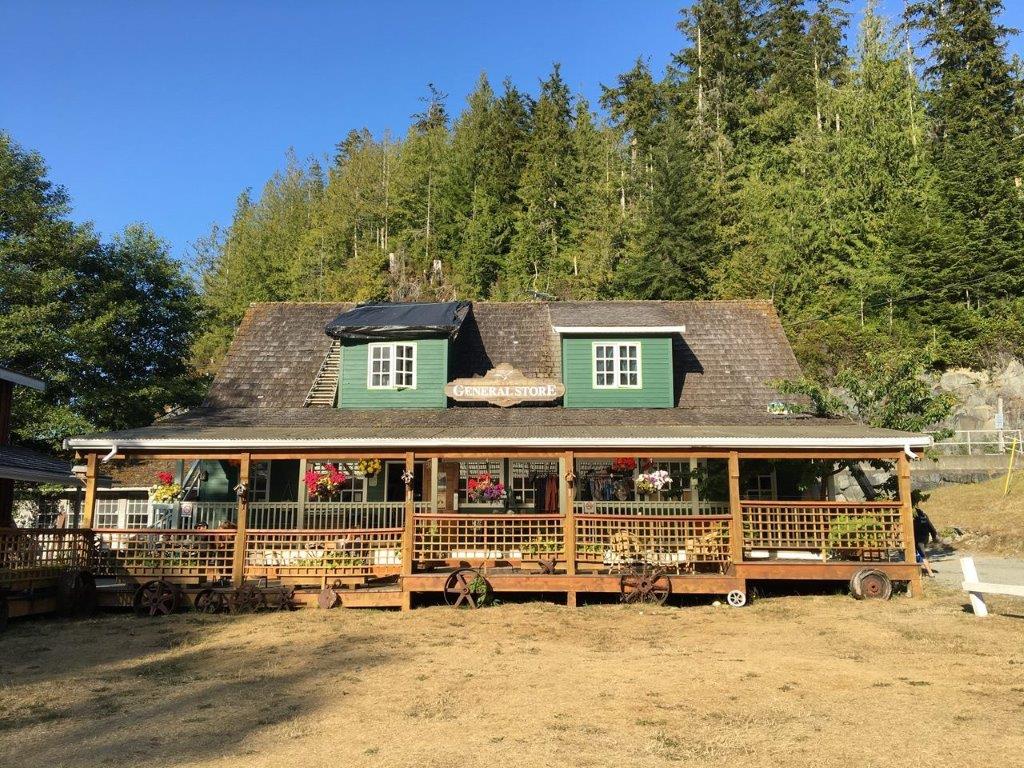 We had four jam-packed days while we stayed at Alder Bay; we spent an evening walking the boardwalk at Telegraph Cove and enjoying the setting sun. It was the perfect time for us to avoid the daytime crowds of tourists and those arriving for whale-watching trips. The General Store (established in 1942) is a welcoming business by the boat launch with all kinds of amenities including local products and wine/beer. Along the boardwalk are many of the original cabins which have been restored and available for vacationers to rent through Telegraph Cove Resort. It was fun to walk along the boardwalk and read the historic stories in front of each of the cabins. The Whale Interpretive Centre is located at the end of the boardwalk, just past the pub and restaurant, a must see for our next visit as it had closed at 6:00 pm.
The next day we headed over to Port Alice, about an hour's drive (paved road) from our campsite. Port Alice was named after Alice Whalen, mother of the four Whalen Brothers who founded the Whalen Pulp and Paper Company which built a pulp mill in Port Alice in 1917. After exploring the town and the 3km Sea Walk along the water we headed inland on the Alice Lake Loop to the Devil's Bath Cenote, Canada's largest cenote (unfortunately, no swimming access) and the Eternal Fountain, a stream with a beautiful waterfall that disappears into an underground cave. Both were accessible by logging roads and have short walks through the forest (pick up a map at the Port Alice Visitor Centre or use Backroad Maps).
After a rest day, we took the ferry from Port McNeill to Alert Bay (Cormorant Island) and Sointula (Malcolm Island). Check out the blogs written about Alert Bay – Island Hopping on Northern Vancouver Island, BC: Port McNeill to Alert Bay and Island Hopping on Northern Vancouver Island, BC: Port McNeill to Sointula.
Highlights at Alert Bay were the indigenous masks and beautiful drums at the U'mista Cultural Centre and at Sointula, the old buildings and the Beautiful Bay Trail at Bere Point Park. A little tip – you can visit both islands on the same day if you let the terminal attendant know, without double the fares!
Overall, an excellent first four days into our North Vancouver Island camping adventure!
For the second half of our trip see Port McNeill & Port Hardy to Coal Harbour & Cape Scott.
TIP: If you find this blog interesting why not subscribe to the enewsletter and never miss another story!
For camping accommodations in this area and elsewhere in British Columbia check out the Camping Map.
Share your BC travel and camping photos using hashtag #campinbc #explorebc.
Kayaking in British Columbia's Nootka Sound Off the West Coast of Vancouver Island
The west coast of Vancouver Island contains many hundreds of kilometres of coastline, ranging from protected inlets to wild and windswept shorelines. Multi-day ocean kayaking trips are an excellent way to explore some of the hidden treasures of the BC coast. When looking for a kayaking location offering a diversity of scenery, Nootka Sound scores highly as it offers both calm and protected waters in and around Bligh Island and the Spanish Pilot Group and the exposed, "next stop Japan," sort of views that make the west coast famous.
Nootka Sound is accessible from Gold River, a thousand-or-so resident town just over an hour west of Campbell River. What it lacks in cell phone service, Gold River certainly makes up for in beauty. With towering mountains and lush forests (well, those parts that don't bear the scars of decades of clear cutting), Gold River is the gateway to a wilderness paradise. Nootka Sound can be accessed directly from Gold River via private boat, an extremely long paddle, or the unique experience of the MV Uchuck III which will wet-launch potential paddlers anywhere along its route through Nootka Sound and Kyuquot Sound. For our trip, we chose none of the above, opting instead to drive another hour along logging roads in order to launch ourselves further up the inlet at the Cougar Creek Rec Site.
Launching complete, we paddled out of Cougar Creek and headed for Bligh Island Marine Provincial Park. The park is a popular recreational destination, known for its good fishing and protected waters. Our original destination for the night, a user- maintained campsite at Charlie's Beach on Bligh Island, turned out to be extremely busy, so we sought an overnight home instead on nearby Vernaci Island. While the marine park encompasses the southern part of Bligh Island, the Villaverde Islands, the Pantoja Islands, Verdia Island, Vernaci Island, and Spouter Island, good campsites are few and far between. Anyone who has paddled on the BC coast knows the struggle of the often nearly vertical water-rock-trees configuration; so when a good campsite is available, make yourself at home!
On day two, it was time to leave the protected part of Nootka Sound, take advantage of the perfect weather, and head to the exposed outer coast beyond Burdwood Point. As we set out, the sun was shining, the winds were calm, and the ocean had just enough gentle swell to be a reminder that nothing but thousands of kilometres of ocean lay directly ahead. Our crossing was uneventful, and before long we were paddling into a large crescent shaped bay rimmed by a smooth pebble beach. Rocky islets just off-shore provided picture-perfect views, and we made sure to set our tents up to maximize the panorama before us. All was perfect, and we spent the afternoon lounging in the sun and fishing off the rocks.
The west coast is an undeniably wild place, and by evening the weather had shifted and a storm was blowing in. The now relentless wind had whipped the ocean into a frenzy, turning the previously calm bay into a scene from Oahu's famous North Shore. The picture-perfect rocky islets broke up the waves and made the view to the right akin to looking into a washing machine.
The winds raged on all night, and when we woke in the morning we knew that despite the glorious sunshine, there was a zero percent chance that we were getting off the beach that day. Sometimes, when it comes to Mother Nature, all you can do is watch, snack on dehydrated cheese, and wait her out! Fortunately for us, our enormous beach provided plenty of walking opportunities and there was even a creek, complete with shallow pools sheltered from the wind, which made a perfect place to break out our air mattresses and enjoy a float. The day passed with many rounds of wilderness bocce and naps, and by the time we were huddled around the marine radio listening to the forecast while cooking dinner, we had our plan: wake up very early and make a break for it while the wind and swells were forecast to be more manageable.
As the sun rose the next morning, we loaded up our gear, investigated the fresh bear tracks on the beach, and set out into the surf. The first hour or so of our paddle was, in the words of my father, "entertaining." While we were paddling through the type of waves that make your companions disappear, we were far from the only ones on the water. If you paddle early in Nootka Sound, you are guaranteed to see recreational fisherman hauling their catch out of the water all around you.
TIP: If you find this blog interesting why not subscribe to the enewsletter and never miss another story!
Before we knew it, we were back inside the protected waters of the Spanish Pilot Group and the relentless wind and waves had completely disappeared. The power of Mother Nature is incredible, and it is so important to always be prepared for an extended and unexpected stay.
The remainder of our trip was all calm seas and sunshine and before long our trip was at an end. Nootka Sound is a wonderful place to explore for kayakers of all levels. The protected inner islands provide peaceful paddling, while the exposed outside is great for those comfortable with big seas and surf landings. With so much still to explore in the area, I am sure we will be back to see more of what Nootka Sound has to offer.
For camping and RVing options in British Columbia go to the Camping Map.
Share your BC travel and camping pictures using hashtag #campinbc, #explorebc, #bcnice, #green
It's always a great day to #campinbc
Plan a Memorable Vacation in BC's Stunning Telegraph Cove and the Broughton Archipelago
Wildlife lovers rejoice! Telegraph Cove and the Broughton Archipelago are an ideal destination if your perfect holiday includes a chance of spotting whales, bears, eagles, and more.
Broughton Archipelago Provincial Park, sandwiched between Northern Vancouver Island and mainland British Columbia, is certainly in contention for one of the most beautiful parts of the province. With towering cliffs, midden beaches, rocky islets, and protected passageways through lushly forested islands, the Broughton Archipelago makes up the largest marine park in British Columbia. The park, established in 1992, is a mecca for boaters, and it is known worldwide as a premier kayaking destination. When we were in the Broughtons, we spoke with an experienced kayaker who had flown from South Africa, purchased a kayak off Craigslist in Vancouver, rented fishing equipment, and planned to spend five nights (longer if he could stretch his food by catching dinner!) in what he considered one of the world's best kayaking areas.
The marine park makes up only part of the area considered the Broughton Archipelago. To start our trip, we took an hour-long water taxi from Telegraph Cove to the Burdwood Group – a collection of small islands at the meeting point of Fife Sound, Tribune Channel, and Penphrase Passage. When we landed on the main group site in the Burdwoods, it was like we had been transported to a tropical island. The area was established as a BC Conservancy in 2009 in order to protect both aquatic and forest habitats as well as sites of cultural significance in the traditional territories of the Mamalilikulla-Qwe'Qwa'Sot'Em First Nations, including the shell midden beach on which we landed.
An afternoon paddle had us marvelling at Deep Sea Bluff – a towering cliff on mainland British Columbia near where Captain George Vancouver reportedly anchored during his exploration of the BC coast in 1793. When we arrived at the bluffs, the tide was low and the barnacle-covered intertidal zone (in this case, entirely vertical) was taller than me. After the mandatory photo "touching the mainland" we headed back to camp. Our two days in the Burdwood Group consisted of circumnavigating small islands, exploring the rather desolate feeling Echo Bay Marine Park – complete with a collapsing community recreation centre and a picturesque but condemned wharf – and visiting the fascinating personal museum collection of Billy Proctor, a lifelong resident of the Broughton Archipelago and passionate beachcomber, fisherman, and logger. Bring your wallet and pick up a copy of one of Billy's books for a fascinating read about the Broughtons.
After two days in what can only be described as beachfront paradise, we packed up and headed for the ominously named Insect Island – hoping all the while that the name had nothing to do with mosquitos! After a mostly mosquito-free night in a lovely campground (despite the decidedly uphill hike to the tenting area), we continued our travels by paddling down Misty Passage, past Monday Anchorage, through the Coach Islets, to Sedge Island. At this point, so inspired by the wide-open vistas we had seen for most of the day and not wanting to camp on the rather boxed in Sedge Island campsite, we carried on to the spectacular White Cliff Islets – one of my favourite locations from the entire trip. These tiny rock islets on the edge of Queen Charlotte Strait are nothing short of spectacular. When we visited, the few trees on the islets were filled with keen-eyed eagles and fish darted through the kelp beds below us as we paddled along.
After exploring the islets, we headed for the campsite on nearby Owl Island. Perfectly placed on the island, the campground offers a protected bay with morning sun for launching and a short trail through the trees to a gorgeous sunset viewing beach. A sunset paddle around the aptly named Fire Island was spectacular as the sun sank below the horizon. One of the best parts of kayaking is the connection immediately forged with nature and your campground compatriots. At the recommendation of some fellow kayakers, the next day we headed for Flower Island where, we were told, we "wouldn't be able to sleep because of the whales."
The paddle from Owl to Flower was another gorgeous day on the water. Once we passed Bold Head on Swanson Island it became apparent that Blackfish Sound was indeed where the whales congregate. The four-or-so kilometre paddle along Swanson Island was a non-stop show of whale blows, with our heads constantly swivelling to try and catch sight of the whales. Just after arriving at Flower Island we were treated to one of the most spectacular sights I have ever seen – a nearly five-minute performance of a humpback whale blowing and slapping its tail (known as tail lobbing) just offshore. The marine activity carried on throughout the evening with appearances from dolphins, porpoises, sea lions, humpback whales, and orcas. It was truly one of the best wildlife experiences of my life.
In the morning we paddled back to Telegraph Cove, completing our journey from the mainland back to Vancouver Island. Telegraph Cove is the perfect launching point for a kayak trip to the Broughtons, and there are numerous tour operators on the North Island who provide guided trips. If kayaking is not your speed, consider a trip with Prince of Whales Whale Watching and Wildlife Adventures or spend a full day observing grizzly bears in Knight Inlet with Tide Rip Grizzly Adventures.
Telegraph Cove is also a great destination in its own right. The community balloons in population during the summer months and as such, it is one of the most tourist-focused destinations on the North Island. Several coffee shops provide drinks and snacks, a pub on the pier offers plenty of choices including BBQ salmon dinners, and the excellent Whale Interpretive Centre is a must-visit for those wanting to know more about the creatures that call the Johnstone Strait home. Telegraph Cove Marina & RV Park offers camping and moorage. Camping is also available at Telegraph Cove Resort Forest Campground part of the Telegraph Cove Resort.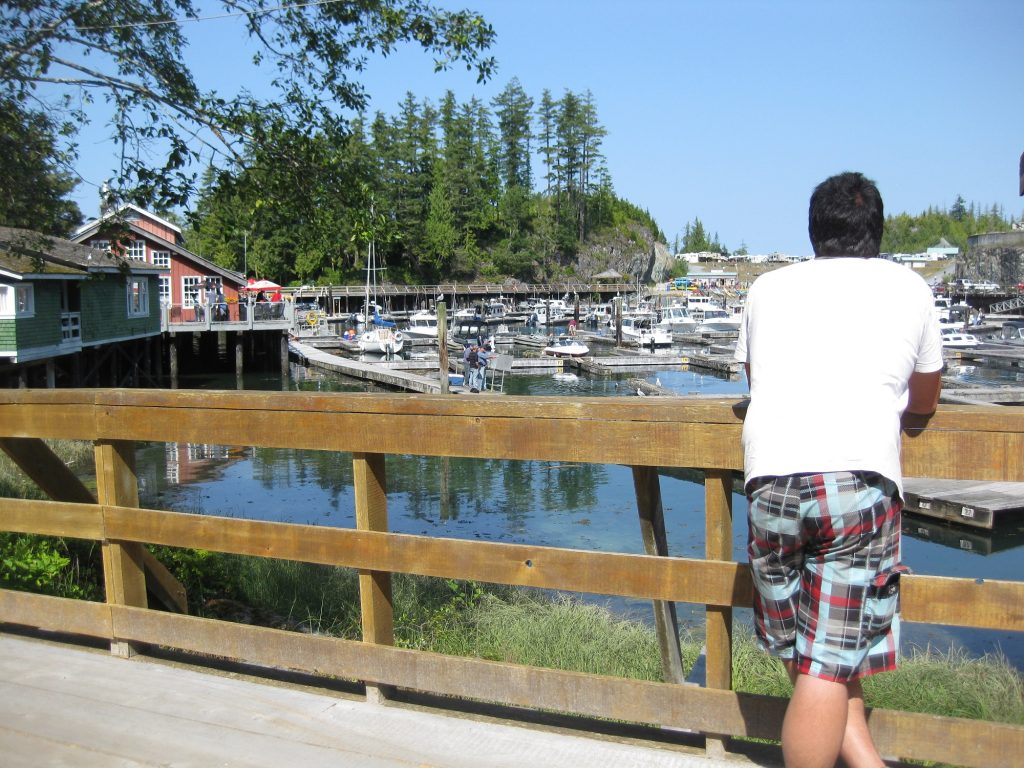 Telegraph Cove is a first-class destination for those wishing to get in touch with nature. From self-guided trips for experienced kayakers to afternoon whale watching excursions, the Broughton Archipelago is sure to delight your whole family.
TIP: If you find this blog interesting why not subscribe to the enewsletter and never miss another story!
For places to camp in British Columbia go to Camping & RVing BC Camping Map.
Share your BC travel and camping photos using the hashtag #CampinBC, #explorebc
It's always a great day to #campinbc
Vancouver Island, British Columbia Off-Season Adventures
'Canada's Mediterranean', is how I like to refer to Central Vancouver Island. It offers more year-round outdoor recreational opportunities in mind-blowing scenery, than I'll ever have time to enjoy in one lifetime. But I'm trying– and the best part is that so many activities are absolutely free!
To get you started let me give you just a couple of very different 'cool season' activities on different parts of the Island, along with two fantastic year-round RV parks located close to each mini adventure.
Life's too short not to visit the best places, right? So let's start this Island winter season sampler with…
…a Waterfall!
Stocking Creek Regional Park
Nothing screams "Vancouver Island" like a waterfall– we've got the tallest one in Canada here, but the one I'll show you today is near the popular year-round Country Maples RV Resort. Stocking Creek Falls is just south of the neat little town of Ladysmith—and you HAVE to see their downtown Christmas light up if you're here during the festive season!!
The Stocking Creek Regional Park is the start of a tranquil 2km loop trail in a lush rainforest alongside the clear babbling creek that leads to the stunning viewing platform above the picture-perfect waterfall.
And if you're nimble and sure of foot (although it's not recommended for safety reasons), it is possible to get behind the waterfall and look out through the water curtain—it's so loud back there!!!
Check out the video of the recent winter hike I took there with our RV Snowbirds. Love this park!
Groomed Trail Snowshoeing at Mt. Washington Alpine Resort
And my second 'quiet season' Island adventure, is to head up Island to the Comox Valley, and get your rig set up in another great RV park near the ocean – Seal Bay RV Park in Courtenay.
After setting up camp, it's a short drive inland and up to Mt. Washington Alpine Resort, which borders world famous Strathcona Provincial Park, BC's oldest park, and home to Canada's tallest waterfall with a drop of 440 meters!
It's also one of the few places anywhere that you can ski AND have a view of the ocean!
One of the things they brag about in the Comox Valley is that you can golf in the morning and ski in the afternoon!
Although there are exceptions to all rules, on the East Coast of Vancouver Island, the expectation is that white stuff stays on the mountains, while at sea level, anything that comes down from the sky is rain. I love snow, but I don't want home delivery– except Christmas Eve.
These days, I head to Mt. Washington to relax. I leave the downhill skiing aside, and instead, pack a lunch and head to the beautiful Raven Lodge just below the ski hill overlooking the valley and Paradise Meadows (and it is!). There you can rent some snowshoes and get out for a couple hours exploring the groomed trails in this stunning location.
Of course, the crisp mountain air and 'shoeing works up an appetite, so the perfect ending is to drop off the snowshoes and sit under the massive wood beams of the lodge, and park beside the fireplace in a big comfy chair and enjoy lunch. They make fabulous, well priced lunches, or you bring your own, and just purchase a glass of wine or a hot chocolate while telling stories or dozing by the fire and enjoying the view over the valley.
Check out the video – you want to do this – and if you haven't tried the modern snowshoes, it's as easy as walking!
45 minutes later, you're back down in Courtenay, and just outside of town, the tranquility of Seal Bay RV Park welcomes you home. It even has a stocked fishing pond onsite!
Visit Vancouver Island this Winter and Stay Awhile!
As I said, winter and summer sports are possible on the same day in Canada's Mediterranean! While the rest of Canada deals with real winter, if you have an RV, you can still stay in Canada where your dollar goes farther, enjoy the lower off-season monthly RV park rates at award winning parks, and have an active lifestyle with endless adventures.
Special Places Google Map Makes it Easy
Visit my 'Vancouver Island Special Places' Google Map, and use your favourite digital device to find other amazing places to see and things to do on Vancouver Island. The map currently has 40 different placemarks of 'must see places'.
The placemarks on the map for each location are colour-coded to indicate the activity level or fitness level needed to explore. Green ones are easy, Yellow a bit more challenging, then Blue, then Red. Clicking on a placemark will open a window of information about the spot, with a short write-up, and links to photos and videos showing you why each place is a jewel. Check it out! http://livingforest.com/islandmap
TIP: If you find this blog interesting why not subscribe to the enewsletter and never miss another story!
This winter, don't hibernate—activate!
If this area interests you, check out our drive:
From Coast to Coast on Vancouver Island: Vancouver to Tofino
For other places to camp in the winter, plus more winter blogs and how-to information go to Winter Camping in British Columbia.
Share your BC travel and winter camping photos using hashtag #CampinBC
Powell River, British Columbia, Insulated by Nature
Two ferries from the lower Mainland or one from Vancouver Island to get to Powell River could leave you feeling isolated, but locals prefer to think of it as being insulated from the busy world and high crime.  Powell River, situated on the side of a mountain is wrapped in forest, insulated by nature. With hundreds of lakes behind it and the ocean at its feet, locals have the best of both worlds.
Powell River and area population (Lund, Texada, Savary Island) is about 20,000. There are box stores, independent stores and eateries covering a wide range of tastes. At the south end of Powell River sit by the sea at "Seasider Bistro & Wine Bar" or at the north end closer to Lund enjoy a spectacular view of Okeover Inlet at "Laughing Oyster Restaurant." It's open April to October. If you want to enjoy a meal "on" the water "The Boardwalk in Lund" has gluten free cooking while a golden sun sets into the ocean.
Lund is either the beginning or the end of Highway 101 depending on who you ask. It once was a fishing village now a tourist destination for those taking off for Savary Island or other islands. "Historic Lund Hotel" was originally built in 1895, now owned by Tla'amin Nation. It has 31 rooms, a store, restaurant, pub, laundromat, and Tug Uhm Art Gallery. Camp at "Sunlund By-The-Sea Campground & Cabin," a 5 minute walk to the hotel and "downtown" Lund. Sunlund offers full facilities; pets are welcome, laundromat and showers surrounded by forest. What a setting to wake up in before going to Nancy's Bakery for one of their famous blackberry cinnamon buns. Fuel up before you leave Powell River. There isn't a service station in Lund.
If you're ready for a hike try the Sunshine Coast Trail. At 180 km. with 13 huts it's the longest free hut-to-hut trail in Canada. Pick up part of it at "Inland Lake Provincial Park" with spacious campsites among the trees. It has a 13 km wheelchair accessible trail around the lake. The road to the park is a good gravel road about 20 mins from Powell River. It's open year-round with free camping from mid-September to mid-May.
Is canoeing your desire? The Canoe Route is 57 km long taking you through 8 lakes with portages.
We live in Powell River but our favorite campground is downtown by the ocean. "Willingdon Beach Campground" has 81 sites, some full-service, some beside the beach, others snugged under the trees. An easy walking trail joins it through towering cedar and Douglas fir where pesky squirrels beg for peanuts. At one time it was the rail bed for bringing logs down from the lake to the log dump on the beach. Old logging equipment rests along the trail.  It's only 5 minutes from Westview Ferry terminal to Texada Island or Vancouver Island.
Historic Powell River Townsite was where it all started. Dr. Israel Wood Powell discovered the area in 1881 and established logging camps but thousands of years before him it was home to Tla'amin First Nations. A pulp and paper mill was built 1910- 1912 and went on to become the largest newsprint mill in the world. The company built a lovely town based on the English Garden plan. Take a walk around the old homes; tour Dr. Henderson's home and when you're tuckered out stop at "Townsite Brewery." From a 1931 building the "Townsite Market" has grown with individual stores selling produce, unique products from hand-made chocolates to children's clothes and more. "The Old Courthouse Inn" owners decorated each room in an antique theme and serve delicious meals in the cozy café. Go to the movies at the Patricia Theatre, the longest running theatre in Canada. In 1995 the federal government proclaimed this area a National Historic District.
If it's culture you want, Powell River has it every month of the year. In August they shut down Highway 101/Marine Drive to celebrate the blackberry at the Blackberry Festival. Lund is famous for their Shellfish Festival in May. Every 2 years International Choral Fest Kathaumixw fills the air with music for five days. For a complete list of all that is happening in the area stop by the Powell River Visitor's Information Centre, 4760 Joyce Ave. They have a gift store and WIFI.
There is just too much to tell in a short period of time. You'll just have to discover how Powell River is insulated by nature for yourself. Warning: People have been known to come for a visit and 30 years later they are still here.
If this area interests you, check out our drive:
Salish Sea Route
TIP: If you find this blog interesting why not subscribe to the enewsletter and never miss another story!
For Camping and RV parks in the area and elsewhere in BC go to the camping map.
Share your BC camping and travel photos using hashtag #campinbc, #explorebc
It's always a great day to #campinbc
A Slice of the Mediterranean in the Heart of Vancouver Island, BC
Did you know the Cowichan Valley has one of the warmest annual temperature averages in all of Canada? It's comparable to the Mediterranean, but right in our own backyard! You'll find lush scenery, beautiful views and a plethora of activities for a family friendly camping trip. We visited the Cowichan Valley late in August and camped 3 nights in Lake Cowichan at Lakeview Park Campground. The campground had private beach access but as new visitors to the valley, we were ready to explore!
Chemainus
After travelling across from the BC mainland on BC Ferries through Nanaimo, we ventured south towards the Cowichan Valley. A must stop along the way is Chemainus. Follow the signs for easy RV parking and get your walking shoes ready. The downtown is easily set up for mural enthusiasts with foot prints leading a tour through over 40 murals (and sculptures too!). As a bonus, be sure to check out the Chemainus Candle Company down on Maple Lane for amazing beeswax products as well as the Christmas store downtown. We didn't plan on buying Christmas ornaments in August – but we did, twice!
Duncan
The Farmer's Market is listed on all the Top Things To Do in Duncan lists, so we had to check it out for ourselves. It did not disappoint! After hitting a local coffee shop, we strolled the numerous vendors through the market, took in the performances and even bumped into Batman and Spiderman. The market truly has something for everyone. We picked up the most amazing farm bread, fresh veggies for dinner that night and the kids picked out a heaping serving of frozen yogurt – a win for everyone! As a hockey family, we also had to see the largest hockey stick and puck in the world. They even mark the perfect place to stand to capture the best "raising the stick" photo.
Lake Cowichan
The Lakeview Park Campground was just a few minutes from the shops and amenities of Lake Cowichan. After dinner one evening we parked at the visitor's centre and made the short walk to the Trans Canada Trail. Even just a simple walk surrounded by huge maples and crossing the Cowichan River was captivating. The lake itself is stunning and perfect for swimming and boating.
Port Renfrew
On a whim we opted for the 1-hour road trip to Port Renfrew to visit Botanical Beach. While the drive is pretty curvy, the scenery is beautiful and the destination is more than worth the wait. After a 1km walk or so down to the beach, you are greeted with an amazing view of the Pacific Ocean. Witnessing the waves crashing on the rocks is an experience like none other. The beach itself is pebbly, but the rocky shelves are home to so many tide pools. We saw anemones, urchins, crabs and starfish, just to name a few.
Our visit to the Cowichan Valley was better than we could have expected. We only scratched the surface of activities available and could have easily extended our visit. Not only would we recommend this destination, but we will be sure to visit again.
TIP: If you find this blog interesting why not subscribe to the enewsletter and never miss another story!
If this area interest you, check out our drives:
From Coast to Coast on Vancouver Island: Vancouver to Tofino
Salish Sea Route
To locate campgrounds in the Cowichan Valley, on Vancouver Island or elsewhere in British Columbia check out the Camping Map.
Share your BC travel and camping photos using #campinbc
It's always a great day to #campinbc
5 BC Places to Visit for Outdoor Fun and Winter Camping
If you thought that camping and RVing was devoted solely to those months without snow, you would be wrong. British Columbia is fast becoming a destination for RVing and camping, particularly with those who live in colder climes. Here are five fun things to do and places to camp in BC's winter months.
Winter Activities On British Columbia's Sunshine Coast
From the artistic community of Gibsons northeast to the harbour village of Lund, mountains meet the sea along the Sunshine Coast, a mainland area uniquely only accessible by ferry, boat or plane. Winters are typically mild and range from 2 to 10ºC (20 to 50°F) during the day. In lower elevations, rains keep the flora and forests lush, while higher areas see snow.
There's plenty to do both inside and out if you're RVing here in the winter. Make sure to get out on the water and head up some slopes. You will be rewarded with majestic views and an excellent chance of seeing animals in their natural environment. Read more.
Five Spots to Ice Fish and Camp this Winter in British Columbia
Ice fishing is often overlooked as a winter activity, especially if you live in southern B.C. But fishing opportunities do not stop when the temperature freezes – they only get more exciting. Ice fishing is a very social sport and requires only a limited amount of gear or experience. The entire lake becomes accessible without the need of a boat and you don't need the often complicated casting techniques required in other fisheries. It's as simple as drilling a hole and dropping a line. Try some winter camping while you're at it; there are many parks open year-round close to great hard water lakes. Here are our top 5 spots to try ice fishing this winter with RV spots close by. Read more.
Winter RV Adventure for Camping Newbies at Sunshine Valley & Manning Park, BC
If only we had known how amazing RVing in the winter is, we would have taken this trip a long time ago! Our journey started in earnest on a Wednesday morning when we had made arrangements to pick up a rental RV from CanaDream. We had already checked in online five days before, uploaded required documents and information, paid our deposit and reviewed demo videos so we knew all about the RV we were renting before we arrived. Upon arrival, we were greeted by friendly staff who checked that all of our details were in order and then my husband and I did a thorough walk-through of the unit. Read more.
5 Ways to Enjoy Winter in Wine Country, Okanagan, British Columbia
As cooler temperatures emerge, and the snow blankets the vineyards, the valley transforms from a sun-soaked paradise to the ultimate winter destination. From champagne powder to frozen waterfalls to theatrical sleigh ride shows, the winter can be a magical time to explore the Okanagan. Read more.
Vancouver Island, BC Off-Season Adventures
'Canada's Mediterranean', is how I like to refer to Central Vancouver Island. It offers more year-round outdoor recreational opportunities in mind-blowing scenery than I'll ever have time to enjoy in one lifetime. But I'm trying – and the best part is that so many activities are absolutely free!
To get you started let me give you just a couple of very different 'cool season' activities on different parts of the Island, along with two fantastic year-round RV parks located close to each mini adventure. Read more.
TIP: If you find this blog interesting why not subscribe to the enewsletter and never miss another story!
For places to camp in BC in the winter go to winter camping.
Share your BC travel and camping photos using hashtag #campinbc
It's always a great day to #CampinBC
5 Unique Locations to Explore in Nanaimo, BC
Many people pass through Nanaimo while on route to various other Vancouver Island destinations. In doing so, some of the most fascinating and unique locations are missed.
Here are five great reasons to make Nanaimo one of the top places to explore.
This small Provincial Park offers a glimpse into the early mining history of Nanaimo. In 1912 there was a working coal mine at this very location. What's left is the last remaining coal tipple on Vancouver Island.
Secured behind a chain link fence, the large structure is visible right from the parking area. There is also a short trail that circumvents the artifact.
This Provincial Park is located just south of the Duke Point ferry terminal. Heading south on Highway #1 (towards Ladysmith), turn right onto Morden Road, and follow to the end.
The Arboretum
The H.R. MacMillan Grant Ainscough Arboretum is an unofficial park owned by the Regional District of Nanaimo (RDN). The site used to attract university groups from across the province, who studied the behaviour and growth of exotic trees. What's left is 150 species of trees that are now maintained and monitored by volunteers, as well as the RDN. Visitors to the area will be delighted with the plaques and interpretive signs giving details of each trees origin.
The Arboretum is also located near the Duke Point ferry terminal. From the Duke Point Highway, follow the signs as if you are heading to Jack Point & Biggs Park (off Maughan Road). Turn right onto Phoenix Way, and immediately turn right again. You will see a yellow gate and the sign for the park.
A short 1 km hike through a grove of Douglas Fir trees takes you to a rocky shoreline of sandstone ledges and tidal pools. This area is part of the geological heritage of Vancouver Island and represents ancient sea beds.
The rocky beach offers great opportunities for wildlife viewing. Seals and otters are often found basking on the warm rocks, while Great Blue Heron, Bald Eagles and a variety of seabirds soar overhead.
The park is in Yellow Point, just south of Nanaimo. Take the Cedar Road exit from Hwy 1, and then turn onto Yellow Point Road. Follow signs to the park.
Extension Ridge
The 16-inch-wide earthquake fissure, located on the Extension Ridge trail, is known locally as 'The Abyss'. Although not much is known about this large crack in the earth, there is speculation that it could be a result of a collapsed mine tunnel that was triggered by an earthquake years ago. To date there is no information about how deep the crack really is.
The trailhead is found off Harewood Mines Road in South Nanaimo. There is a small parking area under the power lines, and a large sign to let you know you have arrived at Extension Ridge. Head up the trail (under the power lines) for approximately 100 meters and climb the stairs. Keeping right, continue to follow the trail for approximately 15 minutes to reach the earthquake fissure.
This small South Nanaimo Provincial Park has the most concentrated collection of ancient rock carvings on Vancouver Island.
A clearly marked paved trail will lead you through the park to view the petroglyphs. Information boards and replicas near the beginning of the trail provide details about the history of the area and help decipher the carvings.
The real petroglyphs are scattered around the park, and although hard to see due to being moss covered, finding them is half the fun!
Access this park right off Hwy #1. Watch for signs as you are heading north towards downtown Nanaimo. The park comes up quickly on your righthand side just after Haliburton Street. There is a large parking area at the trailhead.
If this area interests you, check out our drive:
From Coast to Coast on Vancouver Island: Vancouver to Tofino
TIP: If you find this blog interesting why not subscribe to the enewsletter and never miss another story!
For places to camp on Vancouver island and elsewhere in British Columbia go to Camping & RVing BC Camping Map.
Post your BC travel and camping photos using the hashtag #CampinBC
Planning Your Perfect Road Trip in British Columbia
Over the past six or seven years, my husband and I have taken the business of road-tripping seriously. From a 78-day camping trip across Canada with two people and a dog in a Hyundai Elantra to countless adventures around our home province of British Columbia, it is fair to say that we have planning a road trip down to a fine art. Whether you have an extended period of time or just a few days over a weekend, with a little planning and a whole lot of enthusiasm, you too can plan a perfect road trip to discover some of what British Columbia has to offer.
Be Flexible…
Road trips are one of my favourite ways to travel thanks to their flexibility. There is something about being able to stop at anything (and everything) that strikes your interest without having to worry about keeping to a tight tour schedule that just works for me. Nothing appealing to you in a particular spot? Move on. Can't imagine leaving town without visiting the third ice cream shop? No problem!
Being flexible allows you to take things as they come while travelling. One of the joys of a road trip is finding all the hidden gems along the way. One of my favourite road trip tips is to visit as many of the local Visitor Centres as possible. I was very fortunate that I spent ten years working at the Hope Visitor Centre & Museum Complex, and during this time I learned SO much about British Columbia. Each local Visitor Centre is a wealth of knowledge, and it is pretty much guaranteed that the counsellors will be able to point you to something unique and excellent to see or do in the community.  From the perfect hike to fascinating museums to the best local coffee, the best way to experience what a community has to offer is to speak to the locals – after all, they are the experts!
…But Not Too Flexible
My favourite way to travel is with no expectations, but the reality is that travelling, particularly in the summer, can be challenging when it comes to campsite reservations and ferry traffic. Doing some research ahead of time allows you to take calculated risks and have a backup plan if things go sideways. When I travel to Vancouver Island, I always weigh the benefits of flexibility with the guaranteed convenience (and also expense) of making a reservation. If I have lots of time and am sailing from Horseshoe Bay, I take a missed ferry as an opportunity to explore the village. If I am heading to the island for something with a specific timeline – a wedding, funeral, or other family obligation, for example, I am inclined to make a reservation to guarantee my timely arrival.
Another benefit of pre-trip planning is that it allows you to reduce your stress and have some increased flexibility. I know this may seem counterintuitive, but if you pull into the provincial park you intended to stay at and find it full, it is awfully nice to be able to recall from your research that there is another campsite 45 minutes up the road. This exact situation happened to us on a road trip in the Fraser Canyon when our intended spot (Skihist) was full, our "backup" spot (Goldpan) was full, and we ended up at the Acacia Grove RV Park in Spences Bridge. A valuable resource for camping research is the Camping & RV in BC website. Simply type in your destination (or thereabouts) and get a whole list of private, Provincial Park, and National Park campgrounds in the area.
Know Yourself…
One of the keys to a successful road trip is to know your likes and dislikes as a traveller. If you spend time each day haunting your local coffee shop, it is pretty likely that you will want to check out the best of the best in each community you travel through. If you can't go a day without strapping on your sneakers and going for a hike or jog, then checking out the local trails is a must. If, on the other hand, you find coffee and running the height of boredom, then don't spend your trip doing something just because someone told you they liked it. Do your research, keep an open mind, and then make your decisions about what you are going to see and do.
British Columbia is ripe road-tripping territory with endless gorgeous routes to explore. Over the next few months, I will be highlighting a few of my favourite road trip experiences in BC here on the blog. What are some of your favourite BC road trip routes?
Share your British Columbia travel and camping photos using #campinbc
Published: June 7th, 2018