A Primer to Canada's National Parks in British Columbia
National Parks are one of my favourite places to visit. In fact, after my husband and I got married in 2014, we packed almost everything we owned into a storage locker and set out on what turned out to be a 78-day camping trip across Canada focused primarily on visiting our National Parks and National Historic sites, guided by our National Geographic Guide to the National Parks of Canada.
Parks Canada has 148 National Parks, Historic Sites, and Marine Conservation Areas in the country. Of these 148 sites, nineteen are in British Columbia, which gives us plenty to explore!
Here are a few highlights to whet your appetite!
Hiking in Yoho National Park
The 8.5 kilometre one-way trail in Yoho National Park to the Twin Falls Tea House National Historic Site is definitely worth your sweat! On the way back, take the alternate route passing by Marpole Lake for some spectacular views and to enjoy the black and orange streaked cliffs.
Meadows in the Sky Parkway, Mount Revelstoke National Park
How often do you get to cover almost 2,000 metres of elevation in just 26-kilometres – and on a good paved road, nonetheless! Mount Revelstoke National Park provides that opportunity. For those feeing more adventurous however, leave the car at the bottom and hike the 10-kilometre Summit Trail to the top.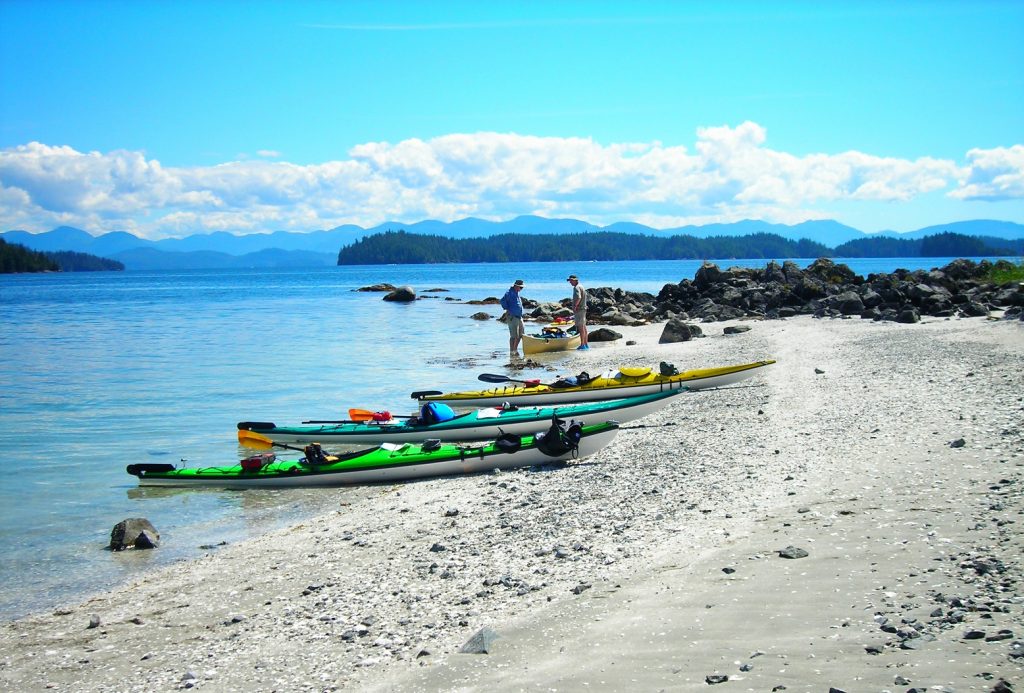 Kayaking the Broken Group Islands in Pacific Rim National Park Reserve
For an adventure like none other, leave the city behind and head to Pacific Rim National Park Reserve's Broken Group Islands. The Broken Group is made up of over one hundred islands of various sizes, some of which offer camping. If you are an experienced kayaker, you can head out on your own. If not, many tour operators can assist you with all stages of your trip. Make sure you give yourself at least three or four days to paddle to really experience the Broken Group.
Relaxing at Radium Hot Springs in Kootenay National Park
For utter relaxation, head to Radium Hot Springs in Kootenay National Park and soak your troubles away. The odourless and clear naturally heated mineral pools are the biggest in Canada. The facility also offers a full-service day spa in case you are somehow still holding on to your worries after your soak in the hot springs.
Step back in History at Fort Langley National Historic Site
No matter which National Park or National Historic Site you choose, breathtaking scenery and fascinating history are waiting for you. Canada's National Parks truly are some of the best places in the world, and living in British Columbia, we are so lucky to have many of them in our own backyard. The National Parks and National Historic Sites in British Columbia are:
Yoho National Park
Rogers Pass National Historic Site
Mount Revelstoke National Park
Glacier National Park
Kootenay National Park
Gulf of Georgia Cannery National Historic Site
Fort Langley National Historic Site
Gulf Islands National Park Reserve
Fort Rodd Hill and Fisgard Lighthouse National Historic Sites
Pacific Rim National Park Reserve
Fort St. James National Historic Site
Gwaii Haanas National Park Reserve and Haida Heritage Site
Gwaii Haanas National Marine Conservation Area Reserve and Haida Heritage Site
Chilkoot Trail National Historic Site
TIP: If you find this blog interesting why not subscribe to the enewsletter and never miss another story!
Note: During the summer of 2020 amid the ongoing COVID-19 pandemic you may find some services, facilities and programs closed. For private campgrounds check at BC private campgrounds. For information on BC Parks go to the BC Provincial Parks website and Parks Canada for their updated details. Please make sure you follow BC's health and safety recommendations when camping and traveling in this province.
For more campgrounds in and around British Columbia check out the Camping Map at Camping & RVing BC.
Check out more blogs in the National Parks & Historic Sites series:
A Primer to Canada's National Parks in BC.
Explore Fort Langley & Gulf of Georgia Cannery Historic Sites and Check Out Some of BC's Fascinating History
BC's Gulf Islands National Park Reserve Offers Rich Opportunities for Exploring
BC's National Historic Sites Offer a Glimpse into the Past – Here are 3 to Explore
Kootenay National Park, BC Offers Great Vistas, Hiking & History
Visit Mount Revelstoke National Park in August for its Stunning Vistas & Wildflowers
Yoho National Park, BC – A Jewel in the Canadian Rockies
Glacier National Park: A Special BC Destination
Pacific Rim National Park Reserve – A Great Place to Visit in the Off Season
Share your BC camping and travel photos using hashtag #campinbc, #TravelinBCLocal, #ExploreBCLocal, #StayLocal #BCLocalStaycation
Published: June 24, 2020
Last Updated: June 25, 2020