Winter RV Adventure for Camping Newbies at Sunshine Valley & Manning Park, BC
If only we had known how amazing RVing in the winter is, we would have taken this trip a long time ago! Our journey started in earnest on a Wednesday morning when we had made arrangements to pick up a rental RV from CanaDream. We had already checked in online five days before, uploaded required documents and information, paid our deposit and reviewed demo videos so we knew all about the RV we were renting before we arrived. Upon arrival, we were greeted by friendly staff who checked that all of our details were in order and then my husband and I did a thorough walk-through of the unit.
For information on renting an RV check out the blog First Time RVing In Winter – What To Know About Renting An RV.
From the lot we hit the highway (under a torrential downpour) and a couple of hours later, arrived at Sunshine Valley as the rain turned to giant snowflakes. Despite our worries about driving the unit in the snow, it handled beautifully. Our guess is it's so heavy it crushes down the snow – whatever the reason, it performed well on both bare and snowy roads for the whole trip.
We soon found out we were one of only a few campers! Yes, the site was dotted with RVs, but these were 'weekend guys' – members who leave their unit up year-round to visit on the weekends like a cabin. Pretty ingenious, if you ask me! Meanwhile we pretty well had the place to ourselves.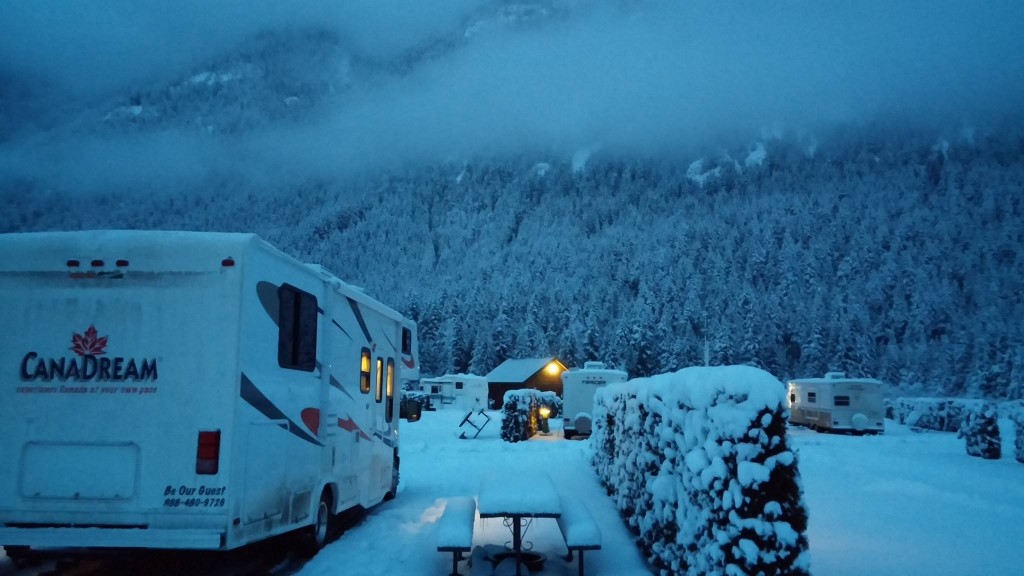 Once we pulled into our spot and my husband hooked up the power, we pushed a button to send out the slide-out and began to set up our new home. Here are some of the items we quickly realized we should have brought. Perhaps this list will help with your planning!
Some RV Packing Extras (Forgotten by Some Novices)
Electric kettle (unit comes with a stove-top kettle but electric would be easier)
Toaster
A snowy shoe/boot mat (for at the bottom of the stairs)
Slippers (this isn't a tent – you do a fair bit of walking around inside!)
Frying pan
A flat, small baking sheet and aluminum foil
Extra cutlery (there's exactly enough for 4 people)
A small drying rack (unless you have a family member who loves to dry dishes!)
Oven mitts
Dishwashing gloves as the water can get nice and hot
Toilet paper (one-ply) – one roll was provided
Swim towels (you get lovely shower towels in the unit, but some microtowels are helpful)
Having set up our beds (our daughter immediately chose the alcove above the driver) we hit the (indoor) swimming pool and hot tubs and began to plan the next day's activities. Our new winter camping adventure had begun!
The next morning we woke up to the soft sound of snow tinkling on the roof of the RV. Our bed was toasty as we sank deeper into the flannel sheets, and stared out the window to a winter wonderland. It was breathtaking.
My daughter and I stirred first and prepared a batch of wake-and-shake pancakes and some berry sauce. We woke up my husband with a hot coffee, ate breakfast, and they headed out to the lodge for a swim and a shower while I tidied up and battened down the hatches for our planned day trip.
The roads looked nicely plowed, and Manning's toboggan run and skating rink were open, and so we drove out of the park and up the highway to this gorgeous alpine resort. At first we weren't sure about our choice not to bring a second vehicle, but the RV crushed any snow in our way and powered up the hills no problem.
Another perk of bringing the RV? Sheer convenience at Manning Park. We decided against ice skating (our daughter's not really sure on her skates) and threw on our snowsuits for some toboggan runs.
Once we were tired and ready for a meal we stopped into the lounge for some pub fare. The great thing about having the RV right there was we were able to change into comfortable clothes very easily. Once our bellies were full, we headed back to the RV resort for naps, more swimming, dinner, and a movie.
It was the perfect day trip and a great way to round out our visit.
TIP: If you find this blog interesting why not subscribe to the enewsletter and never miss another story!
New to winter camping? Check out the following blog.
First Time RVing in Winter – What to Know about Renting an RV
Share your BC camping and travel photos using #CampinBC
It's always a great day to #CampinBC
Published: February 14, 2018
Last Updated: October 17, 2022